The Buick Encore is a diminutive subcompact crossover that's easy to drive, has an attractive starting price, and is a little more refined than the Chevy Trax, which uses the same chassis and engine.
In 2020, Buick also introduced the slightly bigger and similarly affordable Encore GX, which is instead based on the Chevy Trailblazer.
In this article, we'll take a look at some of the most common problems and issues owners have reported, and provide solutions for each one.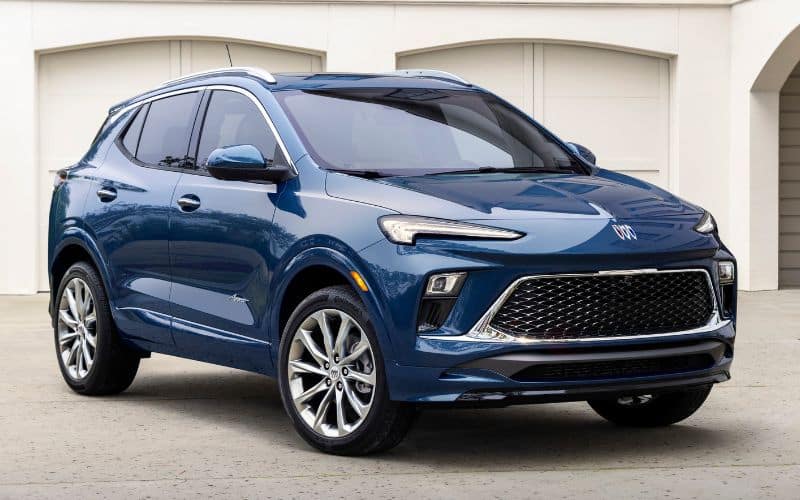 1. Turbo Failure
The most common issue of the Buick Encore is a blown turbocharger which often results in a Check Engine Light and the car not wanting to accelerate.
This can affect all model years of the Encore from 2013 to 2022. It's also a common problem in other GM vehicles equipped with the same 1.4-liter Ecotec engine.
Some Encore owners have even had to replace their turbocharger more than once.
Other symptoms of turbo issues include:
Hesitation when going uphill
Oil consumption
Coolant leak
P0299 or underboost trouble code
Here's how a few owners described their experience on BuickForums.com:
"The turbo went out on my 2016 Encore last July at 40k miles. It has been maintained regularly. It took 3 weeks to fix. I brought it home and it immediately leaked oil all over my driveway as soon as I got home."
"I've loved my 2018 Buick Encore Preferred. I get 28 city and 38 hwy. unfortunately I took it for my 30K service Wednesday and yesterday the check engine light came on so I drove straight to the dealer and they told me it needed a turbo."
"2020 Encore Turbo Failure. Found this forum after my turbo failed on my current Encore lease, the vehicle has less than 16k miles."
"I've got over 200K miles on it as of Jan 2021. Bought new with 9 miles on it. Turbo has gone out twice."
Turbo failures in the Buick Encore are often caused by excess heat from the exhaust manifold. It 'cooks' the oil in the turbo oil feed line until it eventually becomes blocked, preventing the turbo from getting proper cooling and lubrication.
The turbo coolant line is also prone to leaks which can eventually lead to a damaged turbo if the coolant gets too low or doesn't reach the turbo at all.
To prevent premature turbo failures, most owners recommend changing the oil more frequently and not rely on the oil life monitor on the dash. It's also a good idea to replace the turbo oil feed line every 30,000 to 50,000 miles, which only costs around $20, to make sure it's not blocked.
Dealers might charge up to $3,000 to replace the turbo out of warranty but you can get it fixed by most competent mechanics for less than half that.
2. Cooling System Problems
The Buick Encore has the same 1.4-liter turbocharged engine used in the Chevy Cruze, Sonic and Trax, which has lots of cooling system parts and hoses made out of plastic that are prone to failure.
Coolant leaks and overheating problems are more common in the early model years of the Buick Encore from 2013 to 2017.
Newer model years can also have coolant system problems as time goes on because the plastic parts will eventually wear out and crack.
Cooling system parts that are likely to fail on the Buick Encore include:
Water Pump
Thermostat housing
Water Outlet
Hoses
Reservoir and cap
Radiator end tanks
Temperature sensor
Symptoms of cooling system issues include:
Coolant smell
Low coolant levels
Gurgling sound
Heater doesn't work properly
Engine temperature reads too low
Error message for 'AC Off Due to High Engine Temperature'
White smoke from exhaust
Here's how a few owners described their issues on BuickForums.com:
"I own a 2013 Buick Encore with 61,000 miles on vehicle and am also losing coolant due to turbo lines. Took to dealer where I purchased the car and was told this is not covered by powertrain warranty. Repair estimate is $780.00."
"Mine is at 64,000 miles and having to replace the hoses because of coolant leaking. I like the car but I don't want to have to make this repair every couple of years. I have only had the car for 2 years."
"Our 2015 Encore just stopped heating. Took it to our dealership and it is the turbo coolant and return pipe… $1200 for the repair on a $100 part. The car only has 22,000 miles."
If you let your car's coolant levels get too low, it will start overheating. If the engine gets too hot, the head gasket and/or cylinder head can crack, and you're going to need an expensive rebuild.
Coolant leaks are pretty much unavoidable in the Buick Encore, so you have to regularly check the coolant levels and fix the leaks as soon as they appear. You can replace parts as they break which might cost you a few hundred dollars every few years.
If it's just a small leak, you can top up the coolant reservoir every few weeks and keep an eye on your engine temperatures to avoid damaging your engine. If the temperature is getting too high, it's best to pull over and turn the engine off to let it cool down a bit.
3. PCV System Issues
One of the Buick Encore's most common problems is a blocked PCV (Positive Crankcase Ventilation) system which causes lots of different drivability issues.
The PCV system reduces the engine's emissions by recirculating blow-by gasses, which are unburned combustion gasses, back into the engine so that they can be fully burned off and not just released into the atmosphere.
A blocked PCV system creates excess pressure in the crankcase which can make the engine run rough and puts extra strain on the oil seals.
Symptoms of a clogged PCV system include:
Misfires
Rough idle
Oil leaks and oil consumption issues
Blue smoke out of exhaust
Brown milky residue on oil cap
Trouble codes for P0171 or P0106
Hissing sound from dipstick tube
Check engine light
These problems can occur in all model years of the Buick Encore from 2013 to 2022. PCV issues are also common in other GM vehicles that used the early variants of the 1.4-liter EcoTec engine.
It doesn't affect the 2016 Sport Touring model because it came with the slightly more powerful 153 hp 1,4-liter direct injected engine used in the 2nd gen Cruze, which had better reliability across the board. From 2017 to 2019, this updated engine was only offered as an option on the Sport Touring and Essence models.
Here is what a few Encore owners had to say about their PCV issues:
"2017 Encore with clogged PCV at 87k. Got a check engine light. Took it to the dealer and based on code P1101 and initial test they said that the PCV valve is clogged. On top of that they quoted me $1,300 to get it repaired out of warranty."
"I have a 2014 Buick Encore w/85,000 miles. Engine light came on yesterday. P0106 code was read. The Dealership is saying it needs a new cam cover and intake manifold. We had the cam cover replaced at about 40k miles bec it was leaking."
Due to the number of complaints GM received, they extended the warranty for the PCV system in the 2013 to 2016 model years of the Buick Encore, as well as other vehicles equipped with the 1.4-liter engine.
In a lot of cases, replacing the valve cover usually fixes the issues and won't cost you much. You might also have to replace the intake manifold which contains one of the three PCV check valves.
GM didn't update the Buick Encore's intake manifold even in the later model years, so the PCV system can still go bad after several years.
You can replace the intake manifold with upgraded aftermarket units from companies like Dorman which are supposed to last longer or get a PCV fix kit from CruzeKits.com to make the system significantly more reliable.
4. Reduced Performance in Cold Weather
Several Buick Encore owners have had issues with their cars running rough and going into limp mode when the ambient temperature drops below freezing.
This problem can affect all Buick Encores from 2013 to 2022 that use the base 1.4-liter Ecotec engine.
Here's how one owner on BuickForums.com described their experience:
"Coming home pre-blizzard (no snow yet) on Monday evening the display showed "Engine Power Reduced" (or similar) and the Encore reduced speed to a below walking speed at a traffic light in town (not fun). I wouldn't even call it "limp mode"! We pulled over and started it up a couple of times and it finally returned to reasonable speeds but engine light remains lit."
Another owner on BuickForum.com had this to say:
"We are having trouble with our 2015 Buick Encore Turbo. We are in a cold snap, and the turbo is not working on the car. Engine light has turned on, the car revs up high before shifting, can't go over 60 mph. Is anyone else experiencing this, and is there a fix to help the turbo perform in cold weather? (Also, just rolled over 10k miles)."
Common symptoms can include:
Loss of power/acceleration
Blue smoke from exhaust
Engine keeps stalling
Check engine light
Burning oil smell
The symptoms are very similar to what one would experience when dealing with PCV problems because really cold temperatures can cause ice to form inside the PCV system which leads to blockages.
Ice can also form inside the intercooler which restricts airflow to the turbo — which would lead many to believe that the turbo isn't working properly or at all.
GM released a TSB (Technical Service Bulletin) for the Buick Encore and Chevy Trax that recommends installing a winter cover for the front grille, a heated PCV bypass system, and replacing the intercooler with an updated unit to eliminate the icing issues.
Related: How Long Do Buick Encore Last? (Solved & Explained)
5. All-Wheel Drive Issues
Older Buick Encores will sometimes display a warning on the dash indicating 'All Wheel Drive Off' or 'Service All Wheel Drive system.'
When these messages appear, the all-wheel drive system does indeed stop functioning and no power is sent to the rear wheels.
This problem typically occurs in the 2013 to 2018 model years of the Buick Encore. It also affects the Chevrolet Trax.
Here is how a few owners of BuickForums.com described the issue:
"While going about 15 mph on snow packed street, my 2014 Encore (3.8K) started to fishtail badly and at same time a "ding" sounded. I let the vehicle coast to a stop and the All Wheel Drive Message was on the DIC."
"I had that message appear yesterday on my 2017 Premium Encore. We were having very snowy weather and the message appeared. I turned the engine off and restarted and the message disappeared. I had a similar issue with my 2013 Encore, message would appear when weather got below zero but not consistently. This 2017 Encore only has about 5,500 miles."
"I have had the same message 2 or 3 times while driving in the snow in the last 2 years or so. When I came to a stop sign, I just turned car off and on, and the AWD was back working again."
"2015 Buick Encore purchased as dealer certified, pre-owned with approx. 25,000 miles. First "major" snow fall for the season came and while driving just a short distance, car was slipping/losing traction and then AWD message came on saying system was off."
In a lot of cases, just pulling over and turning the car off and on again can get rid of the error and make the all-wheel drive act as if nothing ever happened.
According to a TSB released by GM, the problem is caused by corroded wiring and connectors on the Rear Differential Clutch Module (RDCM), which is a computer module that controls how power is sent to the rear wheels.
To fix the all-wheel drive system's issues, dealers will usually replace the module with an updated unit and also replace the wiring harness if necessary. The module typically costs around $250.
6. Radio Failures
Many Buick Encore owners have complained about encountering issues with the radio head unit.
Several people have reported the following issues:
Screen keeps turning on and off
Screen goes black or is too dim
Navigation screen freezes
Radio won't turn on
Slow to boot up
In addition, the base sound system has very poor sound quality compared to the upgraded Bose system found in higher trim levels.
Here's how a few owners described their issues:
"I have a 2013 Buick Encore with the base audio system with less than 70,000 miles on it. Everything was working fine when I drove to work one day. When I started the vehicle up to drive home the display wouldn't come on and I could get no sound. I restarted, checked all fuses, disconnected the battery to no avail. The unit radio/display was dead."
"The Intellilink Screen goes black, it seems like it's a low voltage issue. If I'm driving around town it will shut off and goes black and it will shut off a dozen times. Now it does come back on by itself after a minute or two."
Radio issues and glitches can often be caused by a weak 12-volt battery or some other type of electrical or wiring issue.
Your radio might also be running on older software, so it's worth checking if there are any updates available for it. In a lot of cases, it might just need to be reset to factory settings.
If the issue persists after doing some preliminary troubleshooting, you'll need to have it checked at the dealer or an automotive electrician.
A new head unit will likely cost you at least $1,000 at the dealer, but you can easily find used ones online for around $100. However, you'll still have to get it reprogrammed to work with your vehicle.
7. Noisy Brakes When Reversing
The Buick Encore's brakes have a tendency to make squealing or screeching noises when backing up.
Despite the noise, the brakes still function normally and no degradation in performance has been associated with the noise.
The noise is also more likely to occur after the car has been sitting for a while in damp or humid conditions, but will eventually go away after driving for a bit.
Here's how a few owners described their issues on BuickForums.com:
"I have a 2013 Encore. Most of the time, when I backup the rear brakes (I think) screech. This has been happening in both wet and dry weather."
"I purchased my 2013 Encore August 2013, and have had the brake squeal backing up since the beginning."
"My Brother's 2017 Encore with under 20,000 miles is making brake noise. His dealership said the fix recommended in the TSB has a 50-50 chance of fixing the problem."
It also seems to affect the newer Encore GX:
"I bought a 2020 Buick Encore GX which now has over 2500 miles on it and it is still squealing when it is cold and I back down my driveway."
"2020 GX with 4400 miles with brake squeal when backing. Calling dealership Monday."
According to TSBs released by GM, the brake noise is caused by the type of compound used in the brake pads. It can also be caused by corrosion on the brake rotors.
Any competent mechanic should be able to help you figure out how to get rid of the noise by fitting a new set of pads and refinishing or replacing the brake rotors. You can also try aftermarket pads if the factory ones are constantly giving you problems.
8. Blind Spot Monitor Issues
The Blind Spot Monitor in newer model years of the Buick Encore can be very unreliable and constantly alert you with lots of false positives.
This issue is more common in the 2017 to 2020 model years of the Buick Encore.
Here is how a few owners described their issues:
"My new 2018 Encore has its driver's side blind spot indicator on virtually all the time, even when no other cars are around."
We just bought a 2017 Encore and the driver's side blind-spot light is coming on when it should not. It seems to be electrical, as sometimes it will flash in time with the turn signals, and sometimes (but not always) it lights up when accelerating.
"2019 Buick Encore with 27K miles and passenger blind spot monitoring keeps coming on and wont go off."
False positives from the blind spot monitor are usually caused by unwanted radar reflections. The driver side is also more sensitive than the passenger side.
A TSB released by GM recommends wrapping the bottom of the blind spot monitor's sensor module with aluminum tape to prevent unwanted reflections from triggering false alarms.
If the issue persists, the sensor might be defective and will need to be replaced. A new module typically costs around $100 to $200 a piece.
9. Dim Instrument Cluster
Several Buick Encore owners have complained that the instrument cluster can be very difficult to read because the backlighting is too dim.
Here is how a few owners described their experience:
"I love the Encore except for the fact that I CAN NOT read the instrument cluster on a sunny day. I had to pull off the road and check the gauges for a few seconds to see how much fuel was remaining."
"On my 2014 Encore "convenience package" the instrument cluster lighting is very dim. Both the little screen in the middle and the speedometer, etc… I have a difficult time seeing it in daylight."
If your Buick Encore's instrument cluster isn't very bright and is hard to read, check if the Instrument Panel Illumination Control next to the headlight switch is turned up to the highest setting.
The instrument cluster's lights will also automatically dim whenever the headlights turn on if the switch is set to auto. Try turning the headlight switch to the off position to see if the gauges get brighter.
The auto headlights are also triggered by a light sensor on the dash. If this sensor is blocked or if your windshield is dirty, the headlights will turn on which can be hard to notice during the daytime.
10. Chrome Trim Peeling
It's common to see the interior chrome trim pieces that surround the radio/navigation screen and shifter start flaking or chipping off in a lot of Buick Encores after only a few years of use.
Although it's merely a cosmetic issue, it can make the car look a lot older than it is, especially compared to many of its rivals.
Here is how a few owners described the problem:
"Just purchased a 2013 Encore and this is the only real problem I am having. Every Encore I have looked at over the past 8 months has had this problem."
"We purchased a 2015 Encore Leather that had the same problem with the chrome peeling off."
"I have the same issue. Around the radio and gear shift bezel as well."
"The interior fake chrome trim around instrument panel is chipping. Took to Buick dealership and was informed it is not covered under warranty. It makes my relatively new car look cheap and dirty."
Getting all the chrome trim replaced can cost you several hundred dollars at the dealer.
Most Encore owners just wrap the old trim pieces in vinyl which is a much simpler and cost-effective solution. You can also take them off and repaint them, but this will require a lot more prep work.
Buick Encore Pros & Cons
Pros
Easy to drive
Very affordable
Quiet cabin
Comfortable ride
Relatively spacious
Very reliable overall
Available with all-wheel drive
High safety ratings
Cons
Cooling system problems
Average, if not boring, acceleration
Fuel economy around town
Related: Buick Encore In Snow & Winter Driving? (Solved & Explained)
What Do The Reviews Say?
"The 2019 Buick Encore is a bit more upscale than other subcompact crossovers thanks to its long list of features and quiet interior. You also get easy maneuverability and decent fuel economy. The only significant downside is the Encore's lackluster power."
"The Encore's steering feels precise and responsive and provides good on-center feel. The effort feels right, too, and is well-matched for the size of this vehicle. The steering is quite well done."
"Buick is known for its quiet cabins, and the Encore's doesn't disappoint. The climate control system works great, but Buick should've applied more attention to the seats and suspension tuning."
"The Encore offers easy entry and exit, great visibility, and a wide range of seat adjustments to suit all types of drivers. Other subcompacts offer better control organization and more rear legroom, but this little Buick isn't bad."
"Buick uses pretty nice materials throughout the cabin, and the low levels of noise promote a peaceful environment. But the overall interior styling fails to reflect real quality. The switches and knobs look like they've been picked from a standard GM parts bin. That's a shame because the cabin is otherwise solidly put together."
What's the Resale Value of a Buick Encore?
Here's a quick look at used car pricing on Edmunds at the time of writing.
| | | |
| --- | --- | --- |
| Year | Mileage | Price |
| 2022 | 3,307 | $23,991 |
| 2021 | 15,057 | $21,210 |
| 2020 | 27,987 | $20,477 |
| 2019 | 39,928 | $18,790 |
| 2018 | 46,811 | $18,119 |
| 2017 | 60,057 | $17,998 |
| 2016 | 65,225 | $15,500 |
| 2015 | 73,629 | $14,495 |
| 2014 | 80,433 | $13,995 |
| 2013 | 91,968 | $11,903 |