The TLX was born in 2014 when Acura made the bold move of combining two of its older models, the TSX and the TL.
The result? A premium, performance-focused sedan that is hard to look away from and offers class-leading reliability.
Like any vehicle though, it's not without its quirks and issues – we'll take a closer look at these in this article.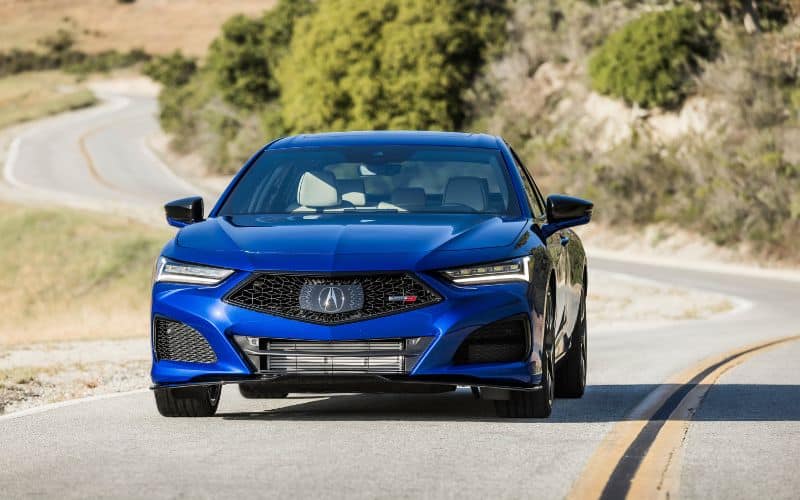 1. Transmission Jerks Between Gears
The most commonly reported problem with the Acura TLX is related to its transmission, these issues were widespread on the 2015 models.
According to data from Car Complaints and Car Problem Zoo, two sites dedicated to collecting car owner feedback, the 2015 TLX was plagued by a clunky transmission issue that had a number of symptoms, including:
The car jerks and hesitates
Downshifts dramatically
Slams into gear when accelerating and when slowing down
Jolts all the time
Lurches forward
These symptoms have been reported when the car is cold and when warmed up.
Here's what some unhappy owners had to say:
"The transmission jerks and hesitates between gears, especially after driving the car for more than 5/10 minutes. It doesn't do it all the time, but enough to drive you crazy and occasionally make driving a challenge. I have been back to Acura 5 times and they have done the software updates and say they changed the transmission. Nothing has changed. I met with the regional rep who informed me that is how high gear transmissions shift because of all the gears. My previous car was an 8 speed auto and never, ever did this. Then he said the transmission was designed this way to meet government economy rates. You are kidding me? I felt like I got the complaint run-around and my only solution is arbitration."
"Same issue as everybody – else transmission is a mystery and jerks from 1 to 2nd and 2nd to 3rd. Took the car to the dealer twice. They admit the issue. Better now after the second attempt, however don't consider it resolved yet. Had a TL 2012, no problems with it. Very disappointed on this issue, however experience with the dealer has been exceptional. They are concerned and trying to resolve the issue. Perhaps the last time owning an Acura though as this is over a 45K car here in Canada, therefore not acceptable in my opinion."
Solution
In some cases, owners have been able to have this problem resolved by having the transmission flushed and a software update of the transmission however this has not worked for everyone.
A lawsuit was filed over the 2015 TLX transmission problems, that alleges the transmission is unsafe and a hazard to driving. The lawsuit also alleges that the car is made with a defective transmission, which the automaker knew about and hid from its customers.
In 2014, the 2015 TLX was recalled to replace the transmission although this was for issues with shifting into park, a separate issue altogether – see below.
2. Shifting to Park Problems
The 2015 TLX model was also plagued by another transmission issue, owners reported that the car would shift to park whilst driving whilst other owners were unable to shift to park at all.
The following symptoms have been reported:
Car shifts to park whilst driving
Warning lights on the dash illuminated
Vehicle lost power and stalls
Car suddenly decelerates
When shifting into park the car rolls forward
Car can't be shifted from park
Car can't be shifted to park
Here's one owners account:
"At 70 mph the vehicle lost power, all warning lights came on, I had to maneuver thru traffic and drift to the shoulder, the transmission was locked up and could not be shifted from park to any gear, the accelerator would not work. The car had to be towed. The dealership said the vehicle computer had to be re-flashed/programmed. This condition could have caused an accident for an inexperienced driver. There are no fault codes indicated as to why or what caused this issue. I did find through research that a wiring harness is causing these conditions in the make, model and year vehicle. Also the transmission is related to this problem."
Solution
There have been two transmission recalls for the 2015 TLX, its always a good idea to run a VIN check on the NHTSA website to see if you have been affected. Here is a summary of the recalls:
2015 TLX recalled for an automatic transmission parking pawl that may become contaminated or the park rod may become dislodged or broken. This may prevent the transmission from shifting into the Park position, therefore the vehicle might roll away.
2015 TLX recalled as the wire harness connections may have insufficient crimps, and, as a result, the transmission may unexpectedly shift to neutral, increasing the risk of a crash.
Related: 8 Best & Worst Acura TLX Years (Pictures & Stats)
3. Auto Idle Stop Problems
A commonly reported problem on the Acura TLX is due to its Auto Idle Stop feature or sometimes referred to as Idle Engine Stop, this has been reported on a number of model years including 2015, 2016, 2017, 2018, 2019 and 2020.
The features is designed to help maximize fuel efficiency by automatically shutting off the engine when not in use, and then automatically restarting the engine when it's time to go. Every time the vehicle is started, idle stop is automatically enabled.
Owners have reported that the feature works fine most of the time but there have been occasions where the car didn't turn itself back on again once they lifted their foot off the brake pedal.
Here's a typical example:
"I stopped (stationary) at a light to make a left turn into the freeway. While stationary the engine went into automatic idle stop to save gas and once the light turned green the car was not able to turn on at all and had to call aaa. It was giving me error messages in regards to fuel pump and brake system etc. In the dash."
Other owners have also reported the following:
Intermittent Idle Stop problems
Electronics freeze up
Car requires numerous presses of the start button to get the car to fully shut down and restart
Solution
Owners have been able to rectify this by simply replacing the battery, however in some instances the starter motor may need replacing too.
However, some owners have reported that after 3-4 months of being problem free following a battery swap – the Idle Stop problems returned, and so a battery swap might just be a quick fix for a deeper problem possibly related to the charging strategy of the car, potentially an incorrectly sized alternator.
One solution is to disable the Auto Idle Stop feature although this might be extremely difficult.
4. Vehicle Stability Assist Problems
A number of Acura TLX drivers have reported receiving error messages on the dash about the Vehicle Stability Assist, this is reported on models from 2015 – 2018.
Most commonly a warning message appears reading:
"Vehicle Stability Assist: 61 – 12"
Across owner forums such as Acurazine.com and TLXForums.com this is a topic that's been posted about many times.
Vehicle Stability Assist is a great safety feature in the winter when roads are slippery – should the system detect understeer or oversteer i.e. loss of control, it will stabilize the vehicle and correct its trajectory, the response is so quick that the instability may be corrected before you even know it's occurring.
Solution
In most instances owners have been able to rectify this problem by replacing the battery.
If you are experiencing this problem the first thing you should do is get your battery tested and go from there.
5. Brake Pedal Noise
A number of 2021 Acura TLX owners have reported having problems with their brakes. Specifcially – when the brakes are depressed, their is a loud spring release / clicking noise.
Owners have reported the noise has got progressively louder as they accumulate more miles.
Solution
Despite this being a well knwon issue there isn't currently solution, here what the owners have had to say:
"My dealer won't try to fix it until Acura comes out with a fix. I think our best bet is that enough owners complain to Acura about it and hopefully they come up with a fix."
"My dealership advised me to contact Acura, so I plan to write them an email soon."
6. Horn Rattle / Clicking Noise
Across various Acura owners forums you can find a number of TLX owners complaining that their is a rattle noise coming from their horn.
Here's how one owner describes it:
Anyone else have a little rattle in their horn? (center of steering wheel) I can get it to stop if I pull the top lip up towards me but that seems to last only about 30 minutes or so.
"The rattle is not very loud but clearly audible and consistent over moderately rough road. (vibrations to steering wheel create the rattle) I'm tempted to ask dealer to take a look next service."
Solution
If you're experieincg the horn rattle you may need a replacement clock spring and a replacement plastic trim for where the airbag sits on.
Other owners have had the issue resolved by having their steering rack replaced.
Although here's one owners DIY fix:
"I have a DIY fix that has solved 95% of the problem. Gently pull the horn button away from the back of the steering wheel, and inserted some felt tape at like the 2 o clock position just behind the horn button."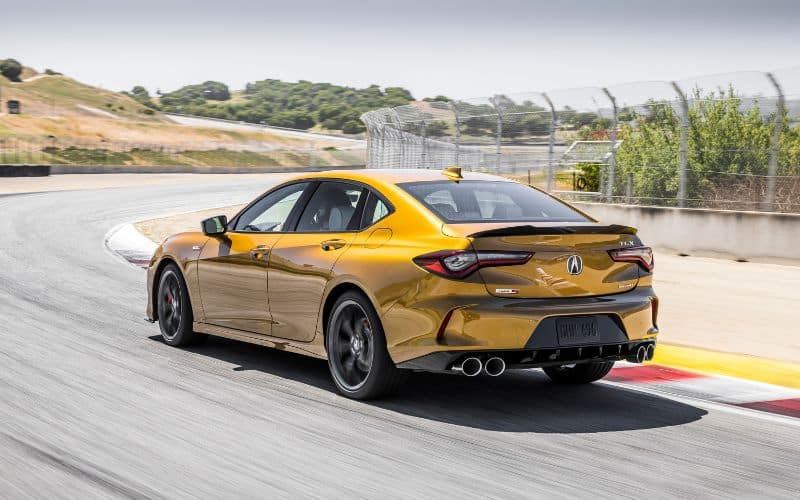 Acura TLX Pros and Cons
If you're considering an Acura TLX as your next car you might be wondering what its strengths and weaknesses are…
Pros
Head turning aesthetics
Responsive driving characteristics
Solid value
Strong reliability ratings
Excellent build qulity
Plenty of standard equipment
Top notch optional audio systems
Cons
Small trunk
Cramped rear quarters for the sedans size
Not as engaging to drive as segments top choices
Hindered by significant curb weight
Not as luxurious as some alternatives
Related: How Long Do Acura TLX Last? (Solved & Explained)
Acura TLX Reliability Compared to Similar Cars
Consumer Reports rankings detailed below is based on the model's newest three years, the Acura TLX sits at second place, with a great score of 87/100.
Make & Model
Consumer Reports
Reliability Score
Infiniti Q50
90
Acura TLX
87
Audi A4
77
Tesla Model 3
59
BMW 3 Series
58
Lexus IS
58
Genesis G70
55
Volkswagen Arteon
49
Kia Stinger
46
Volvo S60
29
Polestar 2
28
Cadillac CT5
27
Alfa Romeo Giulia
18
Source: Consumer Reports
Acura TLX Used Value
We've taken a look on Car Gurus to gauge the resale value of a Acura TLX, below are typical asking prices for each model year.
According to Car Edge, an Acura TLX will depreciate 34% after 5 years and have a 5 year resale value of $30,757.
Note: Used model prices will vary depending on trim level.
| | | |
| --- | --- | --- |
| Model Year | Mileage (miles) | Resale Price |
| 2022 | 5,854 | $42,891 |
| 2021 | 23,681 | $41,492 |
| 2020 | 54,995 | $35,000 |
| 2019 | 65,550 | $26,996 |
| 2018 | 102,279 | $24,900 |
| 2017 | 105,850 | $21,495 |
| 2016 | 70,301 | $21,700 |
| 2015 | 115,404 | $15,858 |
Source: Car Gurus
Related: Acura TLX in Snow & Winter Driving (Explained)
What Do Owners Like and Dislike About the Acura TLX?
Based on owner feedback from the Kelley Blue Book site here are what real-life owners love and hate about the Acura TLX.
Likes
Great handling
Stylish
Upscale interior
Quiet ride
Fun to drive
Build quality
Lots of features
Dislikes
Limited colors
Fuel economy
Technology
Owners Reviews
"I drove the top of line Advance TLX and it was very comfy and comfortable. It had features like heated/ventilated seats, heated steering wheel, Apple CarPlay, BSM and Lane departure warning I would recommend this car"
Source: Kelley Blue Book
"I love my TLX, it's beautiful inside out, very stylish, comfortable and reliable. I bought the advance pack and I love the audio system. Great value overall"
Source: Kelley Blue Book
"This car is fantastic!! Let me say to many who believe it to be just a "High end Accord" drive one, there is a world of difference between the two…"
Source: Edmunds
How Reliable Are Acura Cars?
According to a recent report from Consumer Reports, Acura are ranked the 8th most reliable car manufacturer out of 28 brands, with a score of 64/100.
| | | |
| --- | --- | --- |
| Ranking | Brand | Score |
| 1 | Lexus | 76 |
| 2 | Mazda | 75 |
| 3 | Toyota | 71 |
| 4 | Infiniti | 69 |
| 5 | Buick | 66 |
| 6 | Honda | 66 |
| 7 | Subaru | 66 |
| 8 | Acura | 64 |
| 9 | Nissan | 63 |
| 10 | Mini | 60 |
| 11 | Hyundai | 56 |
| 12 | Chrysler | 54 |
| 13 | Porsche | 52 |
| 14 | Chevy | 48 |
| 15 | Audi | 47 |
| 16 | Cadillac | 47 |
| 17 | BMW | 45 |
| 18 | Ford | 44 |
| 19 | Kia | 43 |
| 20 | Volvo | 42 |
| 21 | Ram | 40 |
| 22 | GMC | 37 |
| 23 | Mercedes-Benz | 34 |
| 24 | Volkswagen | 31 |
| 25 | Genesis | 30 |
| 26 | Jeep | 26 |
| 27 | Tesla | 25 |
| 28 | Lincoln | 18 |
Source: Consumer Reports
Related: Acura TLX Beeping Problems? (15 Common Causes)
Sources
https://www.consumerreports.org/cars/acura/tlx/
https://www.carcomplaints.com/Acura/TLX/
https://www.carproblemzoo.com/acura/tlx/
https://www.kbb.com/acura/tlx/
https://www.edmunds.com/acura/tlx/
https://caredge.com/acura/tlx/depreciation
https://www.cargurus.com/Cars/l-Used-Acura-TLX-d2278
https://www.acurainfocenter.com/the-latest/auto-idle-stop-explained