The Q3 made its debut for the 2007 model year and is Audi's offering to the luxury mid-size SUV segment.
It's one of the frontrunners in the segment too, making a great family hauler for those on a higher budget.
The Q7 is not perfect though – in this article, we'll uncover its most common problems.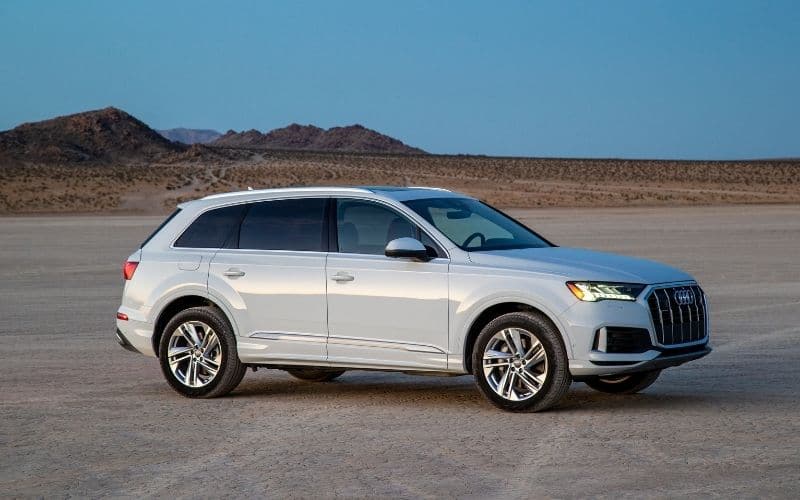 1. Fuel Leakage
A common problem faced by owners of the Audi Q7 is fuel leakage from the left and right fuel rails. This affected certain model year 2016 – 2018 Q7s and was caused by variations in the welding process.
The fuel rail is high-pressure tubing that supplies the injectors with fuel.
The biggest potential risk with this issue is that gas is highly flammable and it could lead to a fire should an ignition source come into contact with the leaking gas.
Most owners first notice this problem by the odor of gasoline.
Here's one owner's experience:
"Gas pipe above the engine popped when trying to start the car and all the gas leaked out. Might have caught on fire if the engine was hot."
Solution
As this problem was covered by recall you should leave this to Audi to fix, they will replace the fuel rails at no additional cost.
To see if you have been affected by this or any other recall, you can run a VIN check on Audi's website using their recall lookup tool – you will need your 17-digit vehicle identification number. Alternatively, you can use the NHTSA website.
If a recall doesn't appear, it means you're vehicle currently doesn't have any open recalls.
2. Marker Light Failure
A common complaint from Audi Q7 owners is that the vehicle's marker lights become inoperable.
Marker lights are an important safety feature designed to show motorists about the other vehicles on the road. They indicate things like vehicle size, shape and direction of travel.
Volkswagen, Audi's parent company recalled 79,895 Audi vehicles due to programming and software issues that inadvertently make the side marker lights inoperative in conjunction with the parking lights or headlights.
This recall affected 2017 Q7 vehicles.
Owners are usually first aware of this problem by a warning message being displayed on the digital display e.g. "Front left side marker light defective. See owner's manual".
Solution
Recalls should always be left to the manufacturer to deal with. In this case, Audi will need to rectify the software issues and you'll be good to go.
If you're unsure whether you've been affected run a VIN check or alternatively contact your dealer.
Some owners have had repeat problems with the markers lights despite the recall:
"Front right side market defective light and all lights seem to work. This seems to be a consistent problem for Audi. This should not be an owner's issue as dealerships are claiming to replace the entire light for $6,000 which is ludicrous just for a defective side marker light. I don't believe they fixed the problem from the last recall of side marker light controls. This is a major road hazard."
3. Water Pump Failure
A commonly reported complaint from Audi Q7 owners is that their vehicle is leaking coolant, the problem is often due to a failed water pump.
A water pump is a vital part of the car's cooling system, Its main function is to continually circulate coolant from the radiator to the vehicle's engine block to prevent overheating.
Water pumps are meant to be fairly robust with lifespans often exceeding at least 80,000 miles, however many Q7 owners have experienced premature failure of this part.
There have been a few notable recalls regarding Audi water pumps, and the German brand has been plagued by the issue.
Here's what an owner of a 2019 Q7 had to say:
"With 49,520 miles, low coolant warning came on during vehicle start-up. Periodic checks had not revealed a drop in coolant. Added coolant to minimum line, and drove to dealer for 50k mile servicing. Water pump had failed! good thing it was under warranty. Replaced at no cost. It would have been a $1500 repair otherwise. Water pumps should not fail at 50k miles, not on a car this expensive. Audi had a massive recall on earlier model years of this car – it appears the current design is no better."
If the water pump fails, it can cause the engine to overheat – the hotter the engine gets the higher the chance of serious damage, including a cracked engine block and damage to the cylinders, pistons, and head gasket.
One Audi Q7 owner speculated that the pumps are almost guaranteed to fail within 15 – 40,000 miles because of the use of plastic parts inside the pump unit.
Solution
Run a VIN check to see if you have been affected by one of Audi's water pump recalls.
If you aren't covered by a recall and you have noticed coolant leaking from your Q7 or a low coolant warning, the problem could well be caused by a failed water pump, outside of warranty this can cost between $1500 and $2000 to replace.
4. Engine Misfires
A commonly reported problem with Audi Q7 is that the engine misfires, this is often accompanied by a Check Engine Light.
According to Repair Pal, the most commonly reported problem with the Q7 for model years 2007, 2008, 2009 and 2011 is a misfiring engine.
Misfires happen when the combustion reaction doesn't initiate, and the cylinder remains unfired. Misfires happen upon engine startup and can even occur when the engine is idling. When a misfire occurs, the engine may momentarily stumble, and it may even lose speed (RPMs).
Some owners were convinced there was a design flaw with the engine, and the problem is most prevalent on a cold startup.
Here's one owner's account:
"The engine misfires when cold. Took it to the Audi dealer and was told it was due to carbon build-in engine valves. We have only been using Chevron 93 octane fuel. They want to charge $1390 to clean the valves, which is ridiculous. This seems to be a common problem with this model. Buyer beware!"
Solution
Some owners have been able to rectify this problem by cleaning the valves, while others have needed to replace the secondary air pump. According to Repair Pal however, a powertrain control module (PCM) software update is available to correct this issue.
Some owners have still had cylinder misfiring issues even after the software update.
Related: 10 Best & Worst Audi Q7 Years (With Facts & Stats)
5. Exploding Sunroof
A number of Audi Q7 owners have reported that the sunroof glass suddenly shattered for no apparent reason without any sign of trauma or impact.
This has startled unsuspecting drivers as it often makes a loud explosive noise, almost like a tire blow-out.
Here's one owner's experience:
"Without warning, my Q7 sunroof exploded. I escaped being injured by flying glass shards because the sun/shade was drawn closed so glass did not enter the cabin. I contacted my local Audi dealer for a replacement part and asked them to research if the sunroof glass was defective. The dealership has not alluded to any defect study of Audi Q7 sunroof glass shattering. Upon repair, Audi service team concluded that both pieces of the panoramic sunroof must be replaced because ' they changed the profile of the glass and now the new front glass does not line up properly to the rear glass'. The entire sunroof was replaced at my expense."
This frightening phenomenon has been reported on models from 2016 onwards and reports suggest this happens mostly on hot, sunny days.
Solution
As this usually occurs on sunny days when the weather is hot, some have speculated that it is caused by a design defect that hasn't allowed for heat expansion, others believe it's due to low-quality glass.
If your sunroof shatters there's no legal requirement to have it replaced however it is probably best to do so, and you should contact your insurance if the Audi won't replace it under warranty.
Audi Q7 Pros and Cons
Pros
Premium cabin materials
Stylish
Lots of tech goodies
Upscale furnishings
Sporty
Great family hauler
Excellent driving dynamics
Cons
Upper trims are very expensive
When the third row is in use there is a cargo space shortage
Not as spacious as some competitors
Related: How Long Do Audi Q7 Last? (Solved & Explained)
Audi Q7 Reliability Compared to Similar Cars
Consumer Reports rankings detailed below is based on the model's newest three years, the Audi Q7 has a fairly mediocre score of 45/100.
Make & Model
Consumer Reports
Reliability Score
Lexus GX
100
Lexus RX
76
Lexus RX L
76
Acura MDX
61
BMW X5
58
Audi Q7
45
GMC Acadia
43
Porsche Cayenne
43
Cadillac XT6
37
Lincoln Nautilus
31
Infiniti QX60
30
Land Rover Defender
25
Land Rover Discovery
25
Land Rover Range Rover Sport
25
Jaguar I-Pace
24
Volvo XC90
17
Audi Q8
5
Audi e-Tron
5
Genesis GV80
5
Mercedes-Benz GLE
5
Tesla Model X
5
Lincoln Aviator
3
Source: Consumer Reports
Audi Q7 Used Value
We've taken a look on Car Gurus to gauge the resale value of a Audi Q7, below are typical asking prices for each model year.
According to Car Edge, a Audi Q7 will depreciate 47% after 5 years and have a 5 year resale value of $36,060.
Note: Used model prices will vary depending on trim level.
| | | |
| --- | --- | --- |
| Model Year | Mileage (miles) | Resale Price |
| 2022 | 2,715 | $63,954 |
| 2021 | 13,398 | $67,811 |
| 2020 | 5,095 | $61,466 |
| 2019 | 26,130 | $43,995 |
| 2018 | 45,909 | $40,999 |
| 2017 | 29,266 | $30,999 |
| 2016 | – | – |
| 2015 | 53,694 | $29,000 |
| 2014 | 80,120 | $21,000 |
| 2013 | 102,807 | $13,000 |
| 2012 | 82,112 | $13,990 |
| 2011 | 103,585 | $14,500 |
| 2010 | 64,236 | $14,990 |
Source: Car Gurus
What Do Owners Like and Dislike About the Audi Q7?
Based on owner feedback from the Kelley Blue Book site here are what real-life owners love and hate about the Audi Q7.
Likes
Powerful
Comfortable
Good mileage
Reliability
Fit and finish
Ride
Dislikes
Tire noise
Squeaky brakes
Annoying warning light
Confusing technology
Lack of interior storage
Owners Reviews
"This is the best road trip car I've ever driven. Spacious, safe and speedy with Sirius XM. The only thing that would make it better would be if it was a hybrid."
Source: Kelley Blue Book
"The Audi Q7 is a great car, not only comfortable and high performance, but the gas consumption is really low for a big car like that: a full tank (20 gallons), giving me more than 500 miles! Also, when you're driving it, sometimes it feels like an electric car because it's so soft."
Source: Kelley Blue Book
"Superb handling, excellent ride and usable technology. Yes, there are times I think the vehicle is smarter than me, for the most part, it's intuitive and responsive."
Source: Edmunds
How Reliable Are Audi Cars?
According to a recent report from Consumer Reports, Audi are ranked the 15th most reliable car manufacturer out of 28 brands, with a score of 47/100.
| | | |
| --- | --- | --- |
| Ranking | Brand | Score |
| 1 | Lexus | 76 |
| 2 | Mazda | 75 |
| 3 | Toyota | 71 |
| 4 | Infiniti | 69 |
| 5 | Buick | 66 |
| 6 | Honda | 66 |
| 7 | Subaru | 66 |
| 8 | Acura | 64 |
| 9 | Nissan | 63 |
| 10 | Mini | 60 |
| 11 | Hyundai | 56 |
| 12 | Chrysler | 54 |
| 13 | Porsche | 52 |
| 14 | Chevy | 48 |
| 15 | Audi | 47 |
| 16 | Cadillac | 47 |
| 17 | BMW | 45 |
| 18 | Ford | 44 |
| 19 | Kia | 43 |
| 20 | Volvo | 42 |
| 21 | Ram | 40 |
| 22 | GMC | 37 |
| 23 | Mercedes-Benz | 34 |
| 24 | Volkswagen | 31 |
| 25 | Genesis | 30 |
| 26 | Jeep | 26 |
| 27 | Tesla | 25 |
| 28 | Lincoln | 18 |
Source: Consumer Reports
Audi Q7 Model Years With the Most Problems
To get a better idea of which Audi Q7 has the most problems the fairest way is to compare models based on the number of vehicles sold in relation to the number of reported problems.
We're using Car Complaints PPMY index which means problems reported per thousand vehicles per Year.
For example, newer cars will have fewer complaints simply because they've been around for less time.
Based on this index, the most problematic years are:
2010 – 0.70 PPMY
2012 – 0.62 PPMY
2017 – 0.47 PPMY
And the least problematic years are:
2021 – 0.07 PPMY
2020 – 0.17 PPMY
2008 – 0.18 PPMY
Audi Q7
Model Year
Problems
Sales
Vehicle Age
PPMY Index
2021
2
29,966
1
0.07
2020
4
11,823
2
0.17
2019
33
45,461
3
0.24
2018
64
47,542
4
0.34
2017
122
51,474
5
0.47
2016
–
–
6
–
2015
43
22,838
7
0.27
2014
42
12,912
8
0.41
2013
33
10,518
9
0.35
2012
34
5,479
10
0.62
2011
18
4,790
11
0.34
2010
31
3,681
12
0.70
2009
31
7,178
13
0.33
2008
39
15,528
14
0.18
2007
115
24,931
15
0.31
Source: Car Problem Zoo
Sources
https://www.consumerreports.org/cars/audi/q7/
https://www.carcomplaints.com/Audi/Q7/
https://www.carproblemzoo.com/audi/q7/
https://www.edmunds.com/audi/q7/
https://caredge.com/audi/q7/depreciation