The BMW 2-Series is a small luxury 2-door that offers sporty handling and quick acceleration.
Although it's been rated as one of BMW's more reliable models, it still has its share of good and bad years.
In this article, we'll discuss the best and worst years of the 2-Series…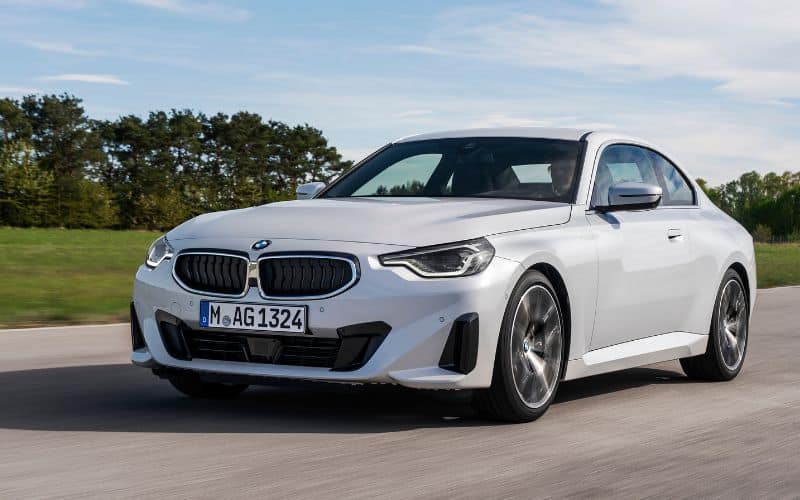 Here's The Short Answer To What The Best And Worst Years For The BMW 2 Series:
The best BMW 2-Series model years are 2021, 2020, 2023, 2019, 2018 and 2016. The worst model years of the 2-Series are the 2014, 2015, 2017, and 2022. This is based on auto industry reviews, NHTSA statistics, reported problems, and consumer feedback.
What Are The Best Years For The BMW 2-Series?
2021 BMW 2-Series
2021 was the last model year of the first generation BMW 2-Series and has more standard features than the older models.
For starters, it's the only first gen 2-Series that comes with Apple CarPlay, Sirius XM and real-time traffic updates as standard, which were previously only available as part of the Premium package.
The 4-door 2-Series Gran Coupe, which uses a completely different platform altogether, also got both Apple CarPlay and Android Auto as standard starting in 2021.
This is also the final model year a manual transmission was offered in the standard 2-Series models; though it's still available in the current M2.
It is also the last year of the 2-Series convertible which was completely discontinued for the second generation.
Aside from receiving all the collective upgrades from the older models, the 2021 2-Series should have already sorted out any remaining mechanical quirks of BMW's extremely reliable B58 and B48 engines.
Owners give this final model year of the first generation 2-Series high marks for its nimble handling, brisk acceleration, high quality interiors, and attractive styling.
Edmunds: 4.8 / 5.0
Kelley Blue Book: 4.3 / 5.0
JD Power: 81 / 100
2021 BMW 2-Series, Edmunds review:
"My car is a 2021 230i MSport with 6 speed manual. I was going to get the base suspension but my sales rep recommended the MSport based on my needs and wants, and I'm glad of that recommendation now. The car comes with performance non-runflats/top speed limiter increased from 130 to 155. My experience so far is that the car has bags of personality and feels neutral and agile on back roads. The interior quality is high and the climate control holds temperature well."
"Sadly, 2021 is the last year of the BMW M240i convertible. Unfortunately, the market just isn't there for sporty convertibles. Too bad, because this is one heck of a car. Superb handling. Outstanding acceleration. Surprisingly smooth and comfortable ride. The front seats are fantastic. Everything in this car fits and works together like a well-oiled swiss watch. It is an absolute joy to drive. It feels solid. It is dependable."
2023 BMW 2-Series
The 2023 BMW 2-Series is the second model year of the second gen G42 model.
Although the 2022 and 2023 models are mechanically the same, the 2023 2-Series is the first model year to get the impressively massive curved widescreen display across the board.
This display really elevates the interior and brings it up to par with more expensive BMWs and above many of its rivals in the compact luxury class.
Since it's the second year of the G42 platform, it should have less issues overall compared to the 2022 model.
2023 also marks the debut of the second generation BMW M2, featuring the same S58 engine found in the current generation M3 and M4, and is capable of producing up to 453 hp.
Although many BMW enthusiasts are still on the fence about the second generation's slightly larger size, added weight and some of its styling cues, the 2023 2-Series is still an amazing package that offers great performance and cutting edge tech while still being relatively affordable.
Edmunds: 4.7 / 5.0
Kelley Blue Book: 4.4 / 5.0
JD Power: 83 / 100
2021 BMW 2-Series, Edmunds review:
"The six cylinder is silky smooth and pouts out good power. Coming from a tuned hatchback it initially felt like a big car with a very long hood. Since getting used to it I like just about every aspect of this car. In the US we don't get the sport seats, apparently, so that's a negative. That might be the only negative I can't think of. Even the mileage is surprisingly good."
2020 and 2019 BMW 2-Series
Starting with the 2019 model year, all variants of the 2-Series received modern driver assists like forward collision warning, automatic braking, lane departure warning and parking sensors as standard equipment.
In previous models, these were only available as part of the Driving Assistance package.
The BMW M2 Competition was also released in 2019. The Competition model comes with a detuned version of the S55 engine from the M3 and M4, but it still produces 405 hp, or 40 hp more than the older M2's 365 hp.
The 2020 BMW 2-Series, which is the second to last model year of the first generation, is another good choice because it has the latest styling updates which includes a gloss black grille frame for the 230i, new wheel designs and darker tail lights.
This is also the year that rain-sensing wipers became standard across the range.
For these model years, even the base 230i has many of the bells and whistles you would expect from a modern luxury vehicle.
2020 BMW 2-Series:
Edmunds: 4.8 / 5.0
Kelley Blue Book: 4.5 / 5.0
JD Power: 81 / 100
2019 BMW 2-Series:
Edmunds: 4.8 / 5.0
Kelley Blue Book: 4.5 / 5.0
JD Power: 84 / 100
2020 BMW 2-Series, Edmunds review:
"The 2 series is a perfect size if you want a fun car to drive that is practical for daily use. Great driving dynamics . The 230i is not underpowered going 0-60 in 5.3 second."
2018 BMW 2-Series
The 2018 2-Series has tech updates such as iDrive 6.0, as well as optional Apple CarPlay and wireless charging.
These features are an absolute must for any modern luxury vehicle and makes previous models feel a bit outdated.
This is also the first year the updated digital instrument cluster was introduced.
Many owners of the older models complained that the backlighting of the analog dash was difficult to see when the sun was out.
The new standard LED headlights and taillights also provide better visibility when driving in the dark.
The standard wheel designs for the 230i and M240i were also updated for this model year.
2018 is the second model year of the 230i with the B48 engine and the M240i with the B58 engine.
Any early issues with these engines should have been figured out by now — although both of them have been considered as BMW's most reliable engines by a large margin since they were introduced.
2018 BMW 2-Series:
Edmunds: 4.8 / 5.0
Kelley Blue Book: 4.6 / 5.0
JD Power: 83 / 100
2018 BMW 2-Series, Edmunds review:
"I bought my 2018 230i after having a 2012 Turbo Beetle; they're both small and have 4 cylinder engines. I live this car so much!! It's peppy, tech forward and has a decent sized back seat (large enough for people to actually sit back there, unlike the beetle). The led headlights are absolutely beautiful and are very bright! The car is responsive and the different driving modes are fun. Sport Plus will knock you back in your seat a little bit and with eco pro you can get almost 40 mpg on the freeway."
2016 BMW 2-Series
The 2016 model year of the 2-Series fixed major issues with the base 228i's N20 and N26 engines.
Early versions of the N20 engine had lots of reports of timing chain issues, mainly caused by premature wear of the plastic timing chain guides.
This was eventually fixed in 2015, but some of the 2015 models can still suffer from timing chain problems.
The optional Luxury package was also introduced in 2016 which added more leather to the interior and chrome accents for the exterior.
This was also the first year of the high performance BMW M2 which came with an uprated N55 engine capable of producing 365 hp.
Although the M2 Competition makes more power, many enthusiasts prefer the non-Competition model's exhaust sound.
2016 BMW 2-Series:
Edmunds: 4.4 / 5.0
Kelley Blue Book: 4.6 / 5.0
JD Power: 85 / 100
2016 BMW 2-Series, Edmunds review:
"This car is the funnest toy I have ever had! Incredibly fast, AWD holds the road in any weather, comfort and layout feel like a cockpit, and fuel economy is surprisingly high. It draws compliments from people who talk to me about its appearance. Back seats are serviceable and trunk adequate, but the car is best for two adults who have no kids and infrequent needs to carry passengers. Cannot wait to drive it each day. No complaints…"The Ultimate Driving Machine" tagline fits perfectly."
"UPDATE at 3 years of ownership: I am still in love with this BMW 2-series. No mechanical or any other problems and it runs as perfectly as it did the first day I drove it. It is STILL my favorite toy!"
Consumer Scores For the Best BMW 2-Series Years
Model Year
Edmunds
Consumer Rating
Kelley Blue Book
Consumer Rating
JD Power
Consumer Rating
2023 BMW 2-Series
4.7 / 5.0
4.4 / 5.0
83 / 100
2021 BMW 2-Series
4.8 / 5.0
4.3 / 5.0
81 / 100
2020 BMW 2-Series
4.8 / 5.0
4.5 / 5.0
81 / 100
2019 BMW 2-Series
4.8 / 5.0
4.5 / 5.0
84 / 100
2018 BMW 2-Series
4.8 / 5.0
4.6 / 5.0
83 / 100
2016 BMW 2-Series
4.4 / 5.0
4.6 / 5.0
85 / 100
Related: 11 Most Common BMW 2 Series Problems (Explained)
What Are The Worst Years For The BMW 2-Series?
2014 & 2015 BMW 2-Series
The timing chain issues of the N20 and N26 engines found in the 228i and 220i are still a legitimate concern in the 2014 and 2015 model years.
BMW only updated the timing chain components in cars built after January 2015, so many 2015 models can end up having engine problems that are expensive to repair as they get older.
Although reports of timing chain failures for the 2-Series are fairly rare, lots of older BMW models equipped with the same N20 and N26 engines had to have their timing chain components replaced fairly early on.
"As others have said, if you go 228i (n20/n26) stick with models made after January 2015. BMW revised the timing chain parts after that time. What happens is a chain guide piece breaks off, that then falls into the the chain that drives the oil pump. So the oil pump chain breaks and you have no oil flow, In a matter of seconds your engine is toast."
"Just had mine done at 69k miles on a N26 would have cost $4400 USD but they covered it. No noise, just a low oil pressure light."
"Mine was giving up the ghost when I bought the car at 47k miles. The earlier N20 timing system is not robust."
Being the oldest model years of the 2-Series, they are also more prone to typical BMW problems like oil and coolant leaks as the plastics and seals wear out over time.
"2015 228i 85k miles. My coolant level sensor leaked and the reservoir needs to be replaced."
"Right after I filled up the gas on my 14 m235i I noticed some white smoke coming off from my front grilles. Popped the hood real quick and found out one of the coolant hoses exploded and there was coolant everywhere . Luckily I was driving it when the hose broke on me. Car has 76k miles."
"I bought my 2014 M235i a year ago and the charge pipe (stock) blew about 1,000 miles into my ownership (8,000 miles total). Car was stock and BMW replaced on warranty with a new OEM chargepipe."
The 2014 and 2015 model years of the 228i and M235i also had a fuel pump recall because many owners encountered stalling and starting issues.
The 2014 BMW 2-Series had a total of 8 complaints on the NHTSA website
The 2015 BMW 2-Series had a total of 12 complaints on the NHTSA website
Common problems:
Low oil pressure
Coolant leaks
Blown charge pipe
Rattling exhaust
Fuel pump recall
2017 BMW 2-Series
2017 was the first year the B48 and B58 engines were used in the BMW 2-Series, which usually means more teething problems and reliability issues.
Although these engines are regarded as two of the most bulletproof BMW engines in the past few decades, it's still a good idea to avoid the early versions.
"I have a 2017 230xi with 65,000 miles. In the last six months, I've replaced the water pump, turbo coolant hose, the coolant line from "expansion tank to side of cylinder head," and brake fluid, which has cost me over $5,000."
Despite the engine and model updates, the 2017 2-Series still doesn't have Apple CarPlay or the digital gauge cluster of the newer LCI models.
The older gauges are very difficult to see during the daytime and you have to turn on your headlights to turn on the backlighting.
"The dial is already maxed out, and what I realized is that the tach and speedometer are not lit up at ALL during the daytime. The headlights have to be on for the cluster to be lit up."
"I noticed the same thing. And even with the headlights on, the gauges are very dimly lit."
"No daytime backlighting on the main gauges. This is the case on all 2 Series cars. It's one of my biggest beefs about the model line."
The 2017 BMW 2-Series had a total of 24 complaints on the NHTSA website
Common Problems:
Outdated tech
Early engine issues
Coolant leaks
Oil leaks
Blown charge pipe
2022 BMW 2-Series
The 2022 2-Series was the first year of the G42 model but it lacks the large curved display that was introduced in 2023.
This immediately makes the car look a bit dated and can affect future resale values.
Being a first model year, it's also more prone to teething issues, especially in terms of tech and software.
Some owners have reported several glitches during the first few months of ownership.
"I've had the following so far. Mirrors failing to open out from closed position. HUD height resetting back to default."
"I've had the HUD resetting too, along with time format going back to 12 hour, Sport Plus going back to Sport in the individual settings and the best one I have had is the car saw a bus number on the back of a bus and must have interpreted the layout as a road sign and said the speed limit was 110mph, in a 20mph zone."
These tech issues can often be solved by software updates, but it's always a good idea to avoid the first model year of any new model to avoid having to deal with niggling problems that might not end up getting fixed at all.
The 2022 BMW 2-Series only has 1 complaint on the NHTSA website at the time of writing
Common Problems:
Lacks curved display
Software glitches
What Years Have The Most Complaints?
Model Year
Complaints
(NHTSA.gov)
Recalls
(NHTSA.gov)
2023 BMW 2-Series
3
2
2022 BMW 2-Series
1
2
2021 BMW 2-Series
3
4
2020 BMW 2-Series
3
3
2019 BMW 2-Series
1
1
2018 BMW 2-Series
4
2
2017 BMW 2-Series
24
0
2016 BMW 2-Series
22
0
2015 BMW 2-Series
12
0
2014 BMW 2-Series
8
1
What Problems Do BMW 2-Series Have?
Blown charge pipe
Coolant leaks
Possible timing chain issues
Oil leaks
Water pump failure
Moisture in lights
Grinding manual transmission
What Are The Best Alternatives To The BMW 2-Series?
| | | | |
| --- | --- | --- | --- |
| Make & Model | Score | MSRP | Fuel Economy (MPG) |
| Acura Integra | 8.8 | $31,500 – $36,500 | 26-30 City / 36-37 Hwy |
| BMW 2-Series | 8.4 | $37,800 – $50,900 | 22-26 City / 32-35 Hwy |
| Kia Stinger | 8.4 | $36,690 – $54,090 | 17-22 City / 24-32 Hwy |
| Audi A3 | 8.1 | $34,900 – $36,900 | 27-28 City / 35-38 Hwy |
| Mini Cooper | 7.9 | $25,800 – $35,400 | 22-29 City / 31-38 Hwy |
| Lexus RC | 7.2 | $44,670 – $53,945 | 9-21 City / 26-31 Hwy |
| Infiniti Q50 | 7.2 | $42,650 – $58,500 | 19-20 City / 26-29 Hwy |
| Mercedes Benz CLA | 7.1 | $39,350 – $57,800 | 20-25 City / 28-36 Hwy |
| Cadillac CT4 | 6.2 | $34,595 – $61,495 | 15-23 City / 23-34 Hwy |
Source: cars.usnews.com
References
https://www.edmunds.com/bmw/2-series/
https://www.caranddriver.com/bmw/2-series
https://www.cars.com/research/bmw-m240/
https://www.kbb.com/bmw/2-series/2023/
https://www.jdpower.com/cars/2023/bmw/2-series
https://cars.usnews.com/cars-trucks/bmw/2-series
https://www.carcomplaints.com/BMW/228/