The Enclave is the largest and most luxurious SUV in Buick's lineup.
One of its main selling points is its third-row seats which makes it a very comfortable family hauler.
In this article, we'll take a look at some of the most common issues and problems of the first and second generation Buick Enclave, and provide solutions for each one.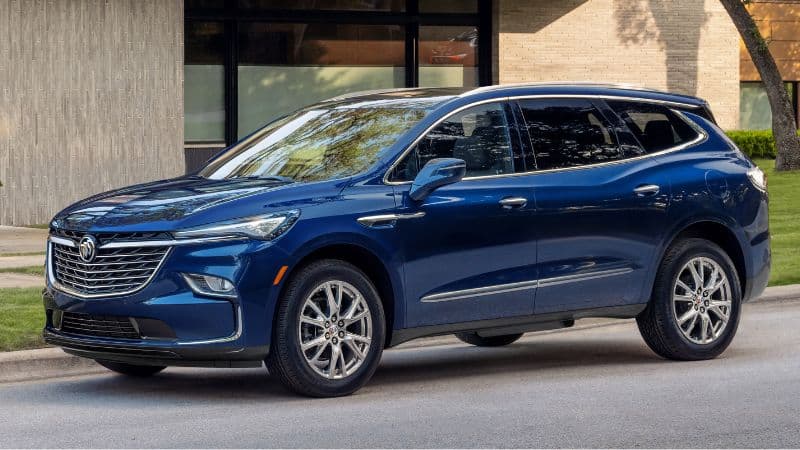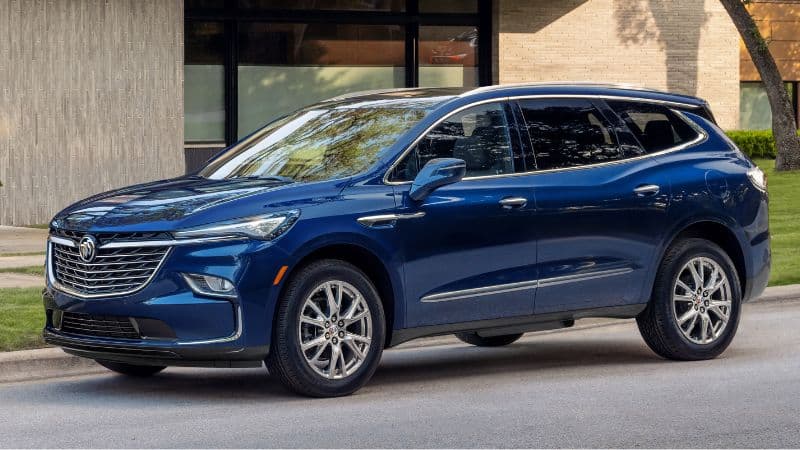 1. Broken Transmission Wave Plate
Lots of older Buick Enclaves have suffered from lots of transmission issues and failures.
The 2008 to 2009 model years of the Enclave had lots of early transmission failures because GM fitted them with a weak wave plate that would easily break and damage other vital components.
This was a common issue in lots of other GM vehicles that used the same 6-speed automatic such as the GMC Acadia, Chevy Traverse and Chevy Malibu.
GM updated the wave plate in newer model years of the first gen Buick Enclave, but these can also break, although at much lower rates.
Symptoms of a broken wave plate include:
Won't shift into 3rd, 5th and Reverse
Bucking or shuddering
Check engine light
Hesitates to accelerate
Needs higher RPMs to get to speed
Here is how a few owners on EnclaveForum.net described their experience:
"My 08 Enclave just past my powertrain warranty at 102K and I think my wave plate broke.Yesterday after grocery, I shift into R but went I pressed the gas its just revs and rpm moves but my car is not moving. I switched the shift from R to P then D then to R again and it moves but with strong revs but slow movement on the car."
"My 09 had 73K miles when I had to have the transmission rebuilt about a month ago (absolutely no codes). At about 36K miles, I had a slipping shifting going into 3rd and 5th. The dealer didn't find the 3-5-R waveplate broken, but other stuff was bent. The TECM was replaced and reprogrammed. It all worked fine until about 72K miles, when I noticed a 2 second delay going to drive. This got worse, then I had 2 instances where the vehicle wouldn't shift past 2nd gear."
Aside from updating the wave plate in newer model years, GM also extended the transmission warranty on the 2007 to 2009 Buick Enclaves to 10 years or 120,000 miles.
When the wave plate breaks into little pieces, the transmission has to be opened up, cleaned out, and completely rebuilt. Getting this done out of warranty can easily cost over $3,000.
You can get a used transmission for much cheaper, but this might also fail at some point, so it's better to look for a remanufactured transmission or get your old one rebuilt with new parts.
2. Torque Converter Failure
The 6-speed automatic in the first generation Buick Enclave is also prone to torque converter failures.
Torque converter failures can happen on all model years of the first gen Enclave, especially once it gets close to 100,000 miles.
Shuddering at around 40 mph and when going uphill are the most common symptoms of a failing torque converter in the Buick Enclave
Here is how a few owners described their experience on EnclaveForum.net:
"My 2014 Buick Enclave just had the torque converter replaced as well. Shuddering started back at about 96k miles and the dealer told us to return if it got worse or the engine light comes on."
"I have kept up with all my maintenance and fluid changes and will soon be replacing the torque converter. My transmission shop says it's the one converter he keeps in stock because of so many replacements on front wheel drive GM vehicles. Our 2012 Enclave only has 98,000 miles and has been babied and cared for."
"My 2012 enclave is in the Buick dealership right now. It was just diagnosed with needing a new torque converter. It shutters at 45 Like clockwork."
Many Enclave owners were able to get rid of the transmission shudder by replacing the transmission fluid and using an 'anti-shudder' additive, but this is usually a temporary fix.
Replacing the torque converter usually costs around $1,500 if done by an independent garage or a transmission shop.
3. Transmission Shudder
The 2018 Buick Enclave, which was the first model year of the second generation with the 9-speed transmission, has a tendency to suffer from hesitation and shuddering or jerkiness.
Here is how a few owners described their experience:
"I just bought a cherry Enclave with only 28,000 miles. I love it but the transmission shudders between gears."
"I purchased a 2018 enclave two months ago with 40,000 miles on it. Almost immediately I felt the shuddering from gears shifting because I just went through the same experience with my 2010 Yukon and that's why I traded it in the first place. I took it to the dealership today and 3 1/2 hours later they told me they reprogrammed the ECM and changed the transmission fluid."
The shudder or jerkiness in early second gen Enclaves can be usually fixed by replacing the transmission fluid and updating the transmission software at the dealer.
4. Timing Chain Issues
Early model years of the first generation Buick Enclave are prone to timing chain problems which can eventually ruin the engine.
The 2009 Buick Enclave has the most reports of timing chain stretch, but it can also occur in newer model years of the first generation Enclave, as well as late builds of the 2008 Enclave.
The timing chain is responsible for keeping the rotating assembly of the engine synchronized. When it stretches or becomes loose, the valves will hit the pistons and damage lots of related parts.
This is a common problem on lots of GM vehicles equipped with the 3.6-liter LLT V6 engine such as the Chevy Malibu, Chevy Traverse, Chevy Equinox, Cadillac CTS, Buick LaCrosse, Saturn Outlook and GMC Acadia, among many others.
Common symptoms of a stretched timing chain in the Enclave include:
Rattling from the engine
Check engine light
Car shakes or vibrates excessively
Misfires
Engine shuts down, stalling
Rough idle
A few owners on EnclaveForum.net had this to say:
"I have an 09 Enclave. In December of 2015 with 119K miles, I had a timing chain problem. That repair was covered by a "special" extended warrantee of GM due to this being a known problem with this model year. Currently, 16 months and 24K miles later… guess what… timing chain problems again."
"My 2014 Enclave Leather Group is at the dealer for a timing chain replacement. Over the last few months, I would hear a loud clapping/knocking noise when I started it in the morning. Yesterday the dealer informed me that the noise was coming from the timing chain."
GM extended the warranty for engines affected by timing chain failures on the 2009 Buick Enclave to 10 years or 120,000 miles.
However, this warranty doesn't cover other model years that have suffered from timing chain problems.
Replacing the timing chain is a fairly big job, but if it's left off for too long, be prepared for a major engine overhaul costing over $3,000.
If you want to avoid major engine problems caused by timing chain issues in your first gen Enclave, you can change your oil more frequently using high quality synthetic oil. You should also have your mechanic check timing chain, guides and tensioners periodically.
5. Power Steering Pump Failure
Lots of first generation Buick Enclave owners have encountered issues with the power steering.
The most common symptoms of steering problems in the Buick Enclave include:
Leaking power steering fluid
Steering wheel is difficult to turn at low speeds
Squealing or whining noise when turning the wheel
These steering issues can affect all model years of the first generation Buick Enclave from 2008 to 2017, but tends to happen more on the 2008 to 2011 models.
Here is how a few owners described their experience on EnclaveForum.net:
"My 2012 Enclave is at dealership now with a leaking of power steering fluid. Two weeks ago a power steering hose was replaced and cost $225. Still leaking and making same squeaking, whining noise. Now they are replacing the power steering gear at a cost of $1800."
"Just took in my 2011 Enclave because of low-speed steering shudder and whining noise when turning wheel, and got hit with the dreaded $1700 bill for rack replacement."
Due to the number of failures, GM extended the warranty on the power steering pump of the 2008 to 2011 model years of the Buick Enclave to 10 years or 150,000 miles.
Replacing the power steering pump and steering gear at the dealer typically costs around $1,800 if done out of warranty.
Once dealers replace the power steering pump and steering rack, they'll also change the steering fluid to DEXRON-VI transmission fluid to prevent future leaks and failures.
6. AC Evaporator Leaks
Air conditioner problems are very common on the first generation Buick Enclave. Most AC problems are caused by a leaking front or rear evaporator.
Although GM has taken steps to address the issue, A/C can still affect all model years of the first gen Enclave from 2008 to 2017.
Similar A/C problems are also common on the Chevy Traverse and GMC Acadia, which use the same platform as the Enclave.
Symptoms that owners have reported include:
A/C blows warm air or doesn't get very cold
Switches from cold to warm air intermittently
A/C button flashes twice
Strange odor from vents
Here is how a few owners on EnclaveForum.net described their experience:
"We have a 2015 Enclave that just hit 30,000 miles, halfway through its second summer of AC use. It was in the shop last week due to have a leaking rear evaporator replaced."
"We bought our Enclave new in January 2015. We just had our 3rd rear evaporator failure. Twice covered by warranty (original then extended), once out of pocket."
Another owner on BuickForums.com had this to say:
"I have owned three Buick Enclaves. All three of them have had A/C issues. This one really is going to be painful at $1200 to replace the rear evaporator. I paid $800 on a 2010 enclave that failed a hose at the font bumper area."
According to a TSB (Technical Service Bulletin) released by GM, the blower fan motor in the 2013 to 2016 model years of the Enclave had a tendency to blow copper particles onto the rear evaporator which eventually caused it to leak.
When dealers replaced the rear evaporator, they would also replace the blower motor with an updated part to avoid future issues. Total cost to get this fixed at the dealer is usually around $1,200.
However, the updated blower motor doesn't necessarily completely fix the problem and some owners have had to replace their evaporator more than once.
Leaks are also fairly common with the front evaporator. Although a new evaporator only costs around $300, getting it installed is pretty difficult because the entire dashboard has to be removed. The added labor typically pushes the total repair cost to almost $2,000.
If the evaporator leak isn't too bad, you could just have it refilled to get the A/C going again, but this might only last a few months at most.
7. HVAC Blend Door Failure
The Buick Enclave's HVAC blend door actuators are also quite prone to failure which would cause some of the vents to not blow cold air at all.
Faulty blend door actuators are a common issue on all model years of the first generation Buick Enclave from 2008 to 2017. It also affects the Chevy Traverse and GMC Acadia.
Here is how a few owners on EnclaveForum.net described their experience:
"I noticed yesterday that the A/C on my 2017 Buick Enclave wasn't cooling like it should. It's a dual climate control system and it is blowing cold air out of the two drivers side vents, and only slightly cool air out of the two passenger vents and the ceiling vents for the 2nd and 3rd row seating."
"Well, this story begins when my 2010 Enclave began blowing ONLY very hot air on the passenger side of the dual climate. Before I could even get to the dealer, the driver's side also started blowing hot air ONLY. I took it to them, and they recalibrated the temperature actuators and told me that, more than likely, once they start acting up, they will have to be replaced. We got the A/C back for about two days, then back to the hot air. The quote from the dealer for the 2 actuators and labor was around $600."
The first gen Enclave has 4 blend door actuators in total so you'll have to figure out which ones need to be replaced.
Actuators are fairly cheap at around $50 a piece, but they're all hidden behind the dash and can be difficult to get to which increases the total repair price if you have it done at the dealer.
You can also get it fixed at any reputable independent garage for a bit cheaper, but if you're the DIY type, you can also find lots of instructions online and on YouTube on how to do it yourself.
After replacing the actuator, you'll still have to recalibrate them using the following steps:
Turn the key to the 'On' position.
Turn on the HVAC and set it to 'Auto.'
Turn off the car without touching the A/C controls.
Remove the HVAC fuse from the fuse box for a minute or two.
Put the fuse back in.
Start the car and wait for the actuators to self-calibrate.
8. Power Liftgate Problems
The first generation Buick Enclave has had lots of problems with its power liftgate.
Common liftgate problems include:
Opens on its own
Won't open at all
Fails to stay up
Here is how a few owners described their experience:
"My Enclave is starting to have problems with the lift gate. After being open for a while, it just slowly starts to come down on its own, then slams shut for the last few centimeters. almost got me the first time."
"The power Liftgate on our 2008 Enclave stopped working completely ! I have to crawl in and actuate the release with a screwdriver to open it. Even if I use the key fob, the touchpad on the rear door, or use the inside control(the on/off switch in either position)."
"I have a 2014 Enclave. I was grabbing my laptop out of my trunk area this morning and the liftgate started to close down on my head and upper back. It was pushing me down so I pushed up, hoping a sensor would go off and open the liftgate again, but it kept going."
"Several times recently we've woken in the morning to find the liftgate cycling open until it hits the garage door. It'll then close, go through its latching noises, then reopen. The cycle repeats endlessly until the liftgate is put in manual mode and manually cycled open and closed. That'll keep it quiet for a few days."
Several owners of the second generation Buick Enclave have also reported issues with the liftgate opening on its own:
"My new 2020 Enclave has this same problem. It had been parked in the garage for several hours, when suddenly the liftgate started opening and hitting the garage door and then closing."
"My new 2020 Enclave has this same problem, Wife was driving down the highway (35 mph+) and the rear hatch open today."
GM announced a recall for the first generation Buick Enclave to address an issue where the liftgate might slam closed on its own once the struts that hold it up start wearing out.
Dealers would reprogram the software so that it would keep the liftgate up even if the struts were already weak.
Replacing worn out liftgate struts is fairly easy and only costs around $50 for a new pair of struts.
Issues where the liftgate would open on its own were usually caused by a faulty external liftgate switch or button. These would often break due to water intrusion and would simply need to be replaced.
If it won't open at all, you can still manually open using the emergency release lever that's on the interior side of the liftgate.
It might not be opening due to a blown fuse, a broken latch, a faulty motor, or some other electrical issue that needs to be diagnosed by an experienced mechanic.
9. Sunroof Leak
Early model years of the Buick Enclave were very prone to water leaks coming in through the sunroof.
Water leaks from the sunroof were especially common on the 2008 Buick Enclave.
Aside from soaking the car's interior, sunroof leaks will cause other problems such as:
Dampness and discoloration of headliner and A and B-pillar
Electrical issues
Mold problems
Here is how a few owners on EnclaveForum.net described their issues:
"Our 2008 Buick Enclave developed a roof leak before the manufacturer's bumper-to-bumper warranty expired. We took our Enclave to dealer A three times but the roof leak continued."
"We have a 2008 Enclave and the water leak from the sunroof just happened to us and affected the electrical system in our car."
"I have a '08 and have had the front sunroof drains repaired/serviced 3 times under warranty. Last week during a torrential rainstorm the interior was soaked."
Another Buick Enclave owner on CarComplaints.com had this to say:
"Purchased this Enclave in November 2010 used. I love this car. It is always parked under a shelter at work or at home. Late 2013 we were out in a terrible storm and realized we were getting water thru the sun visors, then the vents. The only time it leaks is when you are driving in the rain or parked in the rain."
A few owners of the second generation Enclave also reported sunroof leaks on BuickForums.com:
"I have a fairly new 2018 Buick Enclave leaking water through the rear sunroof. I bought the car brand new and it has been always kept in my garage. One day in March I kept the car outside and there was a storm. Later, my wife found that the water was dripping through the ANC microphone close to the rear sunroof."
"I have a 2018, it is just out of warranty and not even 50K miles. It is having the same issue with the sunroof. It's insane!!!"
GM issued several TSBs for the Buick Enclave, as well as the GMC Acadia, Chevy Traverse and Saturn Outlook, to address the sunroof leaks.
For the 2008 models, drain tube extensions were added to allow water to properly drain away.
Leaks are also often caused by blocked drain tubes which just need to be completely cleaned out and unclogged. This is a fairly common issue on all vehicles equipped with a sunroof.
The leaks can also be caused by worn out weather seals which need to be completely replaced. Some dealers will also completely replace the sunroof assembly to fix the water leaks.
10. Grinding Sound from Brakes
Many owners of the second generation Buick Enclave have complained about a loud grinding noise during braking, usually after the vehicle has been sitting overnight.
This problem has been noted on many 2020 to 2021 models, but can also affect newer model years as well.
The noise doesn't negatively affect braking performance and usually goes away after driving the vehicle for a few more minutes. However, some owners have also noticed vibration in the brake pedal when the grinding occurs.
This issue also affects the Chevy Traverse, Chevy Blazer, GMC Acadia, Cadillac XT5 and Cadillac XT6.
Here is how a few owners on EnclaveForum.net described their issues:
"I have a 2021 enclave with only 1000 miles on it. Have experienced the same noisy grinding sounds and vibration in the pedal when braking around 30 to 35 mph."
"Picked up my new 2021 Enclave Avenir June 17th and after it sits in the garage over night, the next day I drive it the front brakes make a grinding sound and an annoying vibration the first 1-3 times I apply the brakes and then it goes away."
GM has released a few TSBs (Technical Service Bulletin) to address the grinding noise from the brakes.
According to the TSBs, the noise is likely caused by the compounds used for the front disc brake pads.
The only solution so far is to replace the brake pads and resurface the brake rotors. If the issue persists, you can also try replacing the brake pads with aftermarket ones.
11. Chintzy Cabin Materials
From 2016, the Enclave has received criticism from auto journalists for interior quality that may leave some wanting more.
Essentially, the interior and cabin materials aren't quite as rich as those found on some of its rivals and Buick has been accused of cost cutting measures.
The fit and finish on competitors might be better however the Enclave does have a relatively low starting price.
Related: How Long Do Buick Enclaves Last? (Solved & Explained)
Buick Enclave Pros & Cons
Pros
Luxury interior
Second-row captain's chairs
Third row seats
Lots of room for passengers and cargo
Quiet and comfortable ride
Plenty of standard features and tech
Available all-wheel drive
Affordable used prices
Cons
Interior materials not as nice as similarly-priced rivals
Not very fuel efficient
Reliability of early models
Lower resale
What Do The Reviews Say?
"The 2023 Buick Enclave is a midsize three-row SUV with seating for seven passengers. In this class of vehicles, the Enclave earns praise for its generous interior and cargo space, quiet and comfortable ride, and long list of standard features. In 2022, the Enclave received several updates that include freshened styling, interior updates and more standard technology features."
"The Buick Enclave's driving dynamics are typical of what you'll find in the three-row crossover SUV segment. The 3.6-liter V6 has plenty of power, even though the 7.5-second 0-60 mph time of our all-wheel-drive Avenir test vehicle was just average for the class."
"Most three-row SUVs offer good comfort in the first two rows, and the Enclave is no exception. Though the leather itself is a little stiff, the seats have good cushioning. There's even a rudimentary massaging function on all but the base trim. All passengers are treated to nice seat and armrest padding throughout the cabin. Air vents for every row are a plus, and seat heating and ventilation functions work quite well."
"The Enclave offers stellar ride quality with or without the optional adaptive suspension, and the cabin is very well insulated from outside noise."
"The Enclave's simple cabin layout may be a bit boring, but it's also easy to use. An abundance of room and the ability to slide the second-row captain's chairs make for a very comfortable interior. Getting in and out of the first- or second-row seats is a cinch thanks to the Enclave's relatively low ride height."
"If cargo space is what you need, then the Enclave is your class champion. By the numbers, it has a huge cargo area (23.6 cubic feet) behind the rear seats and a whopping 97.4 cubic feet with all the rows folded. Our test vehicle featured electronically folding third-row seats, which is a nice convenience."
"The EPA rates the all-wheel-drive Enclave at 20 mpg combined (17 city/25 highway), which is slightly lower than most of its peers. "
What's the Resale Value of a Buick Enclave?
Here's a quick look at used car pricing on Edmunds at the time of writing.
| | | |
| --- | --- | --- |
| Year | Mileage | Price |
| 2023 | 10,280 | $40,995 |
| 2022 | 19,532 | $37,000 |
| 2021 | 23,097 | $35,988 |
| 2020 | 33,368 | $31,955 |
| 2019 | 36,247 | $29,648 |
| 2018 | 43,315 | $25,995 |
| 2017 | 50,820 | $21,976 |
| 2016 | 66,638 | $19,992 |
| 2015 | 75,619 | $17,900 |
| 2014 | 83,654 | $16,950 |
Related: 15 Midsize SUVs with the Best Ground Clearance (With Pics)