The Chevy Blazer was revived in 2019 after GM first retired the nameplate in 2005.
The original model was a rugged and boxy 2-door pickup-based SUV.
However, the modern Chevy Blazer has evolved into a sleek and sporty midsize 2-row crossover.
In this article, we'll take a look at the Blazer's most common problems…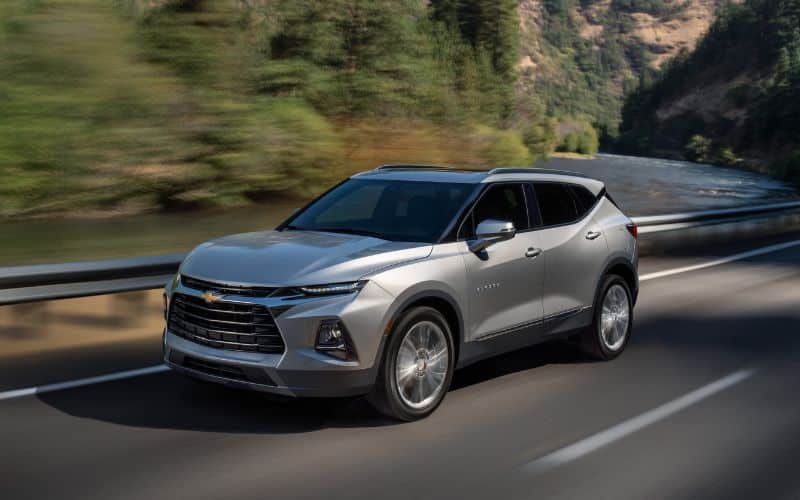 1. Shift to Park Error Message
One of the most common problems of the new Chevy Blazer is the random 'Shift to Park' error message even when the shifter is already in Park.
When this error appears, other strange electrical issues tend to occur, such as:
Can't completely turn off the car's electrical system
Door locks won't work
Car horn will start honking when you get out of the car
This 'Shift to Park' issue occurs mostly in the 2019 model years of the Blazer, and we've seen a few reports of it happening in the 2020 model. It also shows up in a lot of other GM vehicles like the GMC Acadia, Chevy Malibu and Chevy Traverse.
Here is how a few owners described the issue:
"Shift to park displays despite being in park. I cannot turn off the car or lock the doors."
"Intermittent shift to park. When vehicle is in Park, instrument panel says Shift to Park. Car honks, lights blink."
"Shift to park message comes on DIC. Sometimes can't shut vehicle off. Have to move shifter several times so message will disappear."
Solution
The 'Shift to Park' error message is caused by a faulty microswitch in the shifter assembly that tells the car's computers when the car is in Park as a safety measure.
The most common workaround to this problem is to simply press the shifter button several times and move around the shift lever a bit.
This eventually activates the switch and gets rid of the error message and the accompanying electrical issues.
GM has issued a TSB (Technical Service Bulletin) that recommends replacing the entire shifter assembly in order to fix the faulty Park switch.
If the car is no longer under warranty, the part itself costs around $100.
Some owners were also able to get rid of the error by 'shorting' the Park switch permanently.
2. Excessive Vibration at Speed
Some Chevy Blazers equipped with the V6 engine have vibration issues while cruising at highway speeds. This problem only occurs in the 2019 and 2020 models.
The vibration or shuddering is similar to the feeling you get when driving over rumble strips but at a much lower intensity.
It's also often accompanied by a light chatter or flutter sound.
It usually starts at around 35 mph while the engine is running at 1,500 RPMs. This is when the Active Fuel Management (AFM) deactivates 2 cylinders to save on gas and runs in V4 mode, which you can tell by a light on the dash.
Some vehicles have this issue as soon as they leave the factory while others only exhibit it after a couple thousand miles.
Other GM vehicles that use the same V6 engine like the GMC Acadia and Cadillac XT5 also have similar issues.
Here is how a few Chevy Blazer owners describe the issue:
"I took my 2019 Blazer RS into the dealership for a slight shudder when cruising at 35 to 40 mph with very light throttle. I didn't experience this issue in the 5K miles I have put on the Blazer up until then."
"It almost feels like the transmission is holding the higher gear and lugging the motor because the noise disappears after a downshift."
"Car shudders at highway speeds. Seems to want to deactivate cylinders too much. Doesn't seem to be as much of an issue at lower speeds."
Solution
Unfortunately, GM doesn't provide any way to permanently disable the AFM system.
Some owners have resorted to using an aftermarket AFM disabler, which can be plugged into the OBDII port, to get rid of the annoying vibrations. However, this does result in slightly worse gas mileage.
Dealers who are not familiar with the issue will typically try to balance the tires or check the drivetrain and engine mounts to no avail since it's actually caused by the cylinder deactivation.
Older GM vehicles that had similar issues did get a software update which seems to have gotten rid of the vibrations, but there are no official updates for the Blazer yet.
3. Instrument Cluster Issues
The 2021 models of the Chevrolet Blazer are more prone to instrument cluster issues than all other model years.
Owners report that the entire instrument cluster will intermittently turn itself off and start back up again while they're driving.
Sometimes, the dash will only light back up after restarting the car.
This issue only occurs in the RS and Premier trim levels which have the larger digital display in the middle. It doesn't affect the drivability of the vehicle, but you'll momentarily lose the speedometer, as well as other important information that's displayed on the digital dash.
The same issue has also been reported in 2021 models of the GMC Acadia, Chevy Camaro and Chevy Malibu.
Here is how one Chevy Blazer owner described their experience:
"I just purchased my 2021 Blazer RS, and the dash started acting up after 3000 miles. It's like the truck is turning off as I'm driving, but it doesn't feel like it. It did it going 45mph, 20, and in Park. All other electronics work except the auto shut off feature."
Solution
GM has released a TSB to address the instrument cluster issues which recommends updating the car's software.
However, some owners report that the issue hasn't completely gone away even after getting the software fix done.
Since the problem only seems to affect a specific model year, it could also be caused by a manufacturing defect.
Another likely cause is an incompatible device plugged into the USB or OBD port.
If the instrument cluster itself is defective, they're fairly easy to replace and typically cost a couple of hundred dollars.
4. Transmission Issues
Many owners have encountered different issues with the Chevy Blazer's 9-speed transmission which is also used in other GM vehicles.
Not all Chevy Blazers have transmission problems, but it's one of the more common complaints on different Chevy Blazer forums.
Some of the reported transmission issues include:
Shuddering when accelerating from a stop
Unable to shift out of certain gears
Hesitation or delayed acceleration
Whining noise when decelerating
Here is how a few owners described their transmission woes:
"In low gear from full stop, my Blazer 2020 hesitates and has shudder like symptoms. Took it to 3 dealers and they wrote it off as 'functioning as designed'."
"My 2019 RS has 36K on it and it has been doing this jerking thing all winter. Usually after being parked overnight or for a long time. I put it into Drive and it does not go into gear. Today it did this and there was a bad whine when I let off the gas and the car started decelerating."
"I've noticed a short hesitation when going from R to D even after waiting a second or two before gassing it."
Solution
The easiest and most common fix for a lot of the transmission issues mentioned above is to drain and refill the transmission fluid.
Some of GM's modern transmissions used an older formulation of transmission fluid that caused excessive wear on the torque converter.
Replacing the older fluid with Mobil 1 DEXRON usually got rid of lots of transmission problems.
If the issue persists, you should insist that the dealer looks for other mechanical faults while the vehicle is still under warranty since replacing the transmission can cost several thousand dollars.
5. Parking Brake Issues
Some Chevy Blazers have issues with the electronic parking brake intermittently engaging on its own.
The Chevy Blazer's parking brake is designed to automatically switch on from time to time as the car's safety systems check if it's working properly or if certain conditions are met.
However, several owners of the 2021 model year have complained that it engages on its own at random times for no apparent reason.
Similar issues have also been reported for 2021 models of the GMC Acadia, Chevy Traverse, Cadillac XT5 and Buick Enclave.
Here is how a few Chevy Blazer owners describe their experience:
"When I park I shut off my Blazer, the next time I get in to go the park brake is applied."
"This has happened randomly since I picked up my vehicle 3 weeks ago. It will almost always do it if I'm on an incline but will also do it in my garage sometimes."
"My parking brake randomly sets itself. 2021 with 7,000 miles. Has been doing it since day one and I can never figure out why."
"I have a 2021 with 2,200 miles and my parking brake sets automatically too. Not since day one. It started about 6 weeks in."
Solution
GM released a TSB that recommends updating the Electronic Brake Control Module's (EBCM) software to get rid of the parking brake issue.
The older EBCM software would send a power off signal to the electronic parking brake, which caused it to engage for safety reasons, whenever the vehicle was parked and turned off for some time.
So far, we haven't seen any further complaints of any strange parking brake issues after updating the EBCM software.
6. Cameras Stop Working
A number of owners have also had issues with the Chevy Blazer's camera system.
In a lot of cases, the cameras will simply stop working and show either a black or blue screen.
Others report a less serious issue where the rear camera randomly has a slight delay switching on or off.
Here is how one Chevy Blazer owner described their issue:
"I lose my cameras once a week. They will eventually come back. They sometimes return after I turn the car off and back on. Then there are times they don't come back on for a few days."
Some owners say that the camera problems occur more often during heavy downpours. In a lot of cases, the camera issues only occur a few times a year.
Solution
GM released a TSB that recommends updating the Video Processing Module's (VPM) software to fix the intermittent camera system errors.
If the software update doesn't fix the problem, replacing the cameras and/or the VPM is the next step.
Faulty wiring or water leaks causing a short circuit are other possible causes which explains why it usually only starts acting up when it's raining.
7. Fuel System Problems
Fuel system issues are very common in older Chevy Blazers sold from 1995 to 2005.
These older models often have inaccurate fuel gauges that make it difficult to know when you need to fill up for gas and can sometimes leave you stranded with an empty tank.
Another common problem is the fuel pump which sends fuel from the gas tank to the engine.
Symptoms of bad fuel pump include:
Reduced power and acceleration
Engine misfire
Check engine light
Engine won't fire up at all
Solution
In a lot of cases, the fuel gauge still won't show the correct fuel levels even after replacing the fuel sending unit.
This is because the fuel gauge issue is usually caused by other electrical problems such as:
Defective instrument cluster
Faulty wiring to the sending unit
Bad ground wire
A lot of owners don't bother tracking down the cause of the fuel gauge problems due to the age of the vehicle. Instead, they just keep track of their mileage every time they fill up their gas tank using the trip meter.
A lot of fuel pump issues also persist even after fitting a new OEM unit. Like the fuel gauge issue, the actual cause is often a bad ground wire which has corroded due to age.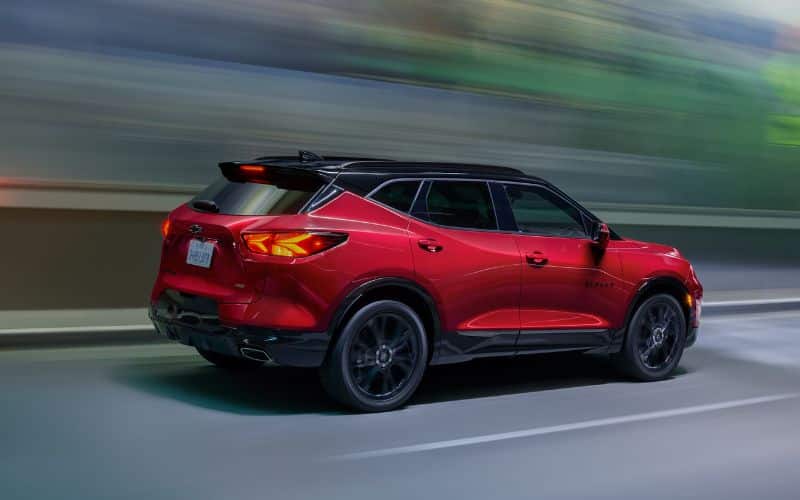 Chevrolet Blazer Model Years With the Most Problems
| | |
| --- | --- |
| Chevrolet Blazer | Problems |
| 2022 | 9 |
| 2021 | 16 |
| 2020 | 25 |
| 2019 | 49 |
| 2005 | 16 |
| 2004 | 54 |
| 2003 | 83 |
| 2002 | 255 |
| 2001 | 331 |
| 2000 | 608 |
| 1999 | 441 |
| 1998 | 727 |
| 1997 | 772 |
| 1996 | 1,155 |
Source: Car Problem Zoo
Chevrolet Blazer Pros and Cons
If you're considering a Chevrolet Blazer as your next car you might be wondering what its strengths and weaknesses are…
Pros
Sleek and sporty styling
Great ride quality
Good handling
Powerful V6 engine
Cons
Lacks off-road capabilities
Issues with electronics
A bit overpriced
Related: 15 Best & Worst Chevrolet Blazer Years (Facts & Stats)
Chevrolet Blazer Reliability Compared to Similar Cars
Consumer Reports ranks the Chevrolet Blazer in 3rd place with a score of 75/100.
| | |
| --- | --- |
| Make & Model | Consumer ReportsReliability Score |
| Subaru Outback | 100 |
| Nissan Murano | 77 |
| Chevrolet Blazer | 75 |
| Honda Passport | 58 |
| Ford Edge | 56 |
| Volkswagen Atlas Cross Sport | 41 |
| Jeep Grand Cherokee | 35 |
Source: Consumer Reports
Chevrolet Blazer Used Value
We've taken a look on Car Gurus to gauge the resale value of a Chevrolet Blazer, below are typical asking prices for each model year.
According to Car Edge, a Chevrolet Blazer will depreciate 35% after 5 years and have a 5 year resale value of $27,886.
Note: Used model prices will vary depending on trim level.
| | | |
| --- | --- | --- |
| Model Year | Mileage (miles) | Resale Price |
| 2022 | 2,599 | $37,995 |
| 2021 | 19,783 | $39,395 |
| 2020 | 41,605 | $27,798 |
| 2019 | 35,035 | $30,411 |
Source: Car Gurus
What Do Owners Like and Dislike About the Chevrolet Blazer?
Based on owner feedback from the Kelley Blue Book site here are what real-life owners love and hate about the Chevrolet Blazer.
Likes
Smooth to drive
Great horsepower
Acceleration
Looks
Handling
Safety features
Dislikes
Fuel consumption
Loud when idling
Brake issues
Not comfortable during long drives
Owners Reviews
"I purchased the 22 Blazer RS FWD in December '21 and can't believe how much fun it is to drive. Plenty of power and handles nimbly. Average fuel economy for me has been 19 mpg. I highly recommend this vehicle!"
Source: Kelley Blue Book
"This blazer is Excellent. I love how smooth it drives."
Source: Edmunds
"The Blazer is a very smooth ride and spacious. I am really enjoying it."
Source: Edmunds
How Reliable Are Chevrolet Cars?
According to a recent report from Consumer Reports, Chevrolet are ranked the 14th most reliable car manufacturer out of 28 brands, with a score of 48/100.
| | | |
| --- | --- | --- |
| Rank | Brand | Score |
| 1 | Lexus | 76 |
| 2 | Mazda | 75 |
| 3 | Toyota | 71 |
| 4 | Infiniti | 69 |
| 5 | Buick | 66 |
| 6 | Honda | 66 |
| 7 | Subaru | 66 |
| 8 | Acura | 64 |
| 9 | Nissan | 63 |
| 10 | Mini | 60 |
| 11 | Hyundai | 56 |
| 12 | Chrysler | 54 |
| 13 | Porsche | 52 |
| 14 | Chevrolet | 48 |
| 15 | Audi | 47 |
| 16 | Cadillac | 47 |
| 17 | BMW | 45 |
| 18 | Ford | 44 |
| 19 | Kia | 43 |
| 20 | Volvo | 42 |
| 21 | Ram | 40 |
| 22 | GMC | 37 |
| 23 | Mercedes-Benz | 34 |
| 24 | Volkswagen | 31 |
| 25 | Genesis | 30 |
| 26 | Jeep | 26 |
| 27 | Tesla | 25 |
| 28 | Lincoln | 18 |
Source: Consumer Reports
Related: Chevrolet Blazer Beeping? (13 Common Causes)
Sources
https://www.consumerreports.org/cars/chevrolet/blazer/
https://www.carcomplaints.com/Chevrolet/Blazer/
https://www.carproblemzoo.com/chevrolet/blazer/
https://www.kbb.com/chevrolet/blazer/
https://www.edmunds.com/chevrolet/blazer/
https://caredge.com/chevrolet/blazer/depreciation