The Trax is Chevrolet's smallest and most economical crossover on sale today.
It arrived in the United States as a 2015 model after its debut in other countries in 2013.
Will the Trax get you through a winter storm? Read on to find out...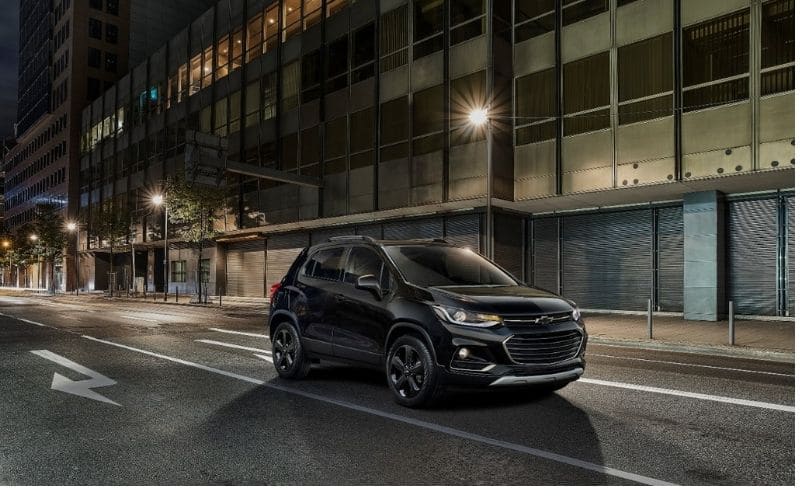 Here is the short answer to whether the Chevrolet Trax is good for snow and winter driving:
The Trax can be suitable for driving in light to moderate snow when equipped with the right winter tires. The AWD models are the optimal choice for winter, however even basic trim levels are equipped with features such as stability control, ABS and traction control, all of which make a safer winter vehicle.
Is a Chevrolet Trax Good in the Snow?
When properly equipped, the Trax offers a safe and reliable winter driving experience.
With the available all-wheel-drive, the Trax will easily find traction in light or moderate snow. However, even with all-wheel drive, the Trax will not perform exceptionally in deep snow or extreme snow conditions.
Front-wheel-drive versions will still perform well as the weight of the engine sits over the driven wheel providing plenty of grip – however it will lack the braking capability of the all-wheel-drive versions.
With the front-wheel drive model, the Trax is only available with front disc brakes and rear drum brakes.
Drum brakes are considered antiquated parts by many but are still utilized on economical vehicles.
This saves you some money while sacrificing vehicle performance.
The all-wheel-drive versions have standard 4-wheel disc brakes that will perform more predictably and reliably, especially in slick conditions.
If you like the distinctive shape of the vehicle but are concerned about the lack of standard features, consider the Buick Encore, Buick's better-equipped version of this vehicle.
The Trax will be easy to maneuver in any weather because of its compact size. It should be capable of turning and stopping quicker than larger, heavier vehicles in the snow.
Even with all-wheel drive, the Trax will not perform exceptionally in deep snow, due to its 6.2 inch ground clearance.
The Trax may be able to help you drive safely on the road but will struggle in unplowed parking lots or driveways.
What Features Will Improve Winter Driving?
For 2021, the Trax is available in LS or LT trim levels. The Trax LT will have more standard features than the LS.
There are some features that stand out for drivers facing wintry weather.
Available All-Wheel Drive (AWD)
The Trax LT or LS AWD will ease the challenge of accelerating on a snow-covered surface.
While AWD helps drivers get moving and build confidence, it does not help a vehicle stop quicker.
AWD allows the vehicle to track straight as the vehicle builds speed and avoid spinning when turning.
StabiliTrak
StabiliTrak is Chevrolet's stability control system. It combines a typical traction control system with some additional assists.
Traction control can reduce power or change brake pressure at each wheel.
Even if you push the accelerator all the way down, the traction control system can limit power and figure out how to safely accelerate.
The most notable feature within this feature is Chevrolet's Brake Assist.
If a driver hits the brake pedal hard and fast, the vehicle can quickly determine whether additional brake pressure is needed and apply more brake if needed.
StabiliTrak is standard on every 2021 Trax.
Anti-Lock Brakes (ABS)
Anti-lock brakes are standard on every Trax. This can help drivers decrease stopping distances, especially under heavy braking in snowy conditions.
Remember that even though every Trax has ABS, some have rear drum brakes instead of disc brakes.
You may also be interested in our article: Chevrolet Trax Beeping? (9 Causes & Solutions)
Daytime Running Lamps
Every Trax has standard daytime running lights.
Lights always help make a vehicle more visible but can be significantly more helpful during darker winter months.
LS models have halogen lights while LT models are equipped with standard LED lights.
Traffic Monitoring
Blind spot monitoring and rear cross traffic alert are available as an option for the LT trim.
Blind spot monitoring alerts drivers when approaching vehicles are entering or currently traveling through the driver's blind spots. An amber light on the side-view mirror glass helps drivers detect nearby vehicles.
Rear cross traffic alert notifies drivers of lane changes behind them.
When visibility decreases during winter months, these features can help drivers make better decisions in traffic while focusing on slippery roads.
These features are not available for the LS trim.
OnStar
All 2021 Trax models are capable of utilizing GM's popular OnStar driver assistance service.
You need to select a paid subscription to use these services, which have expanded immensely since their introduction.
Trax drivers get peace of mind knowing they can get help at the push of a button.
Navigation and emergency assistance are very popular options offered with OnStar. In 2021, drivers can utilize an incredible amount of technology with OnStar.
For example, OnStar can notify a dealer's service department when scheduled maintenance is due for a car.
Does a Trax Have Snow Mode?
The Trax does not have a snow mode. This is another way Chevrolet keeps costs low for the Trax .
The automatic AWD and StabiliTrak should be more than helpful in the snow.
Snow modes are available in some larger and more capable Chevrolet's like the Tahoe.
Can You Install Additional Snow Gear on a Trax?
Even though the Trax can be equipped with AWD and intelligent traction management, its driving characteristics can be greatly improved with some popular winter accessories.
You can install:
Snow tires
Snow socks
Snow chains
Snow tires are the most common winter accessory. Many winter tires can be studded with small metal bits that improve traction on ice and packed snow. It is important to check local regulations because tires fitted with studs may be illegal during certain months.
Always make sure you are selecting the proper size tire for your vehicle to avoid rubbing fenders or causing incorrect speedometer information.
Always have new tires balanced by a professional.
Snow tires can help a Trax turn and stop with much less sliding in a shorter distance.
How Much Snow Can a Trax Handle?
A Trax cannot handle large amounts of snow due to its 6.2 inch ground clearance.
It should make driving in light or moderate snow easy but will struggle in deep snow.
Even if you live in an area where roads are well-maintained, remember that driveways and parking lots may be neglected.
If your driveway is not clear or has an incline, you may need to consider a vehicle with more ground clearance than the Trax.
How Does the Trax Handle Low Winter Temperatures?
The Trax should not have any issues in low temperatures. Its modern electrical system should provide plenty of power to start the vehicle and keep it running smoothly.
If the vehicle has issues during winter months, you may have:
A dead battery
Oil with inappropriate viscosity
Contaminated fuel
Your local service department should be able to quickly diagnose and fix these issues.
You may also be interested in our article: Buick Encore in snow and winter driving
Can a Chevy Trax Drive on Ice?
A Trax will handle ice well when driven carefully, however almost every vehicle will struggle for grip on ice.
Studded snow tires are one of the best solutions for driving on icy roads.
Does the Trax have 4WD?
The Trax does not have four-wheel drive (4WD). An automatic AWD system is available as an option.
This means the driver does not have to determine when AWD is necessary.
The vehicle operates as a front-wheel-drive car until wheel slip is detected. When the wheels slip, all wheels will immediately be used to move the vehicle forward.
What About Older Trax Models and Winter Driving?
The Trax was released in 2013. There have been no major mechanical changes for this vehicle, meaning the vehicle may have older styling, but it will drive just like a new model.
Does the Trax Need Snow Tires?
Yes, the Trax should be fitted with winter tires. Look for snowflakes on the tire's sidewall, which will mark a true winter tire. These tires will make the vehicle much safer in snowy conditions.
You may want to skip the optional 18" wheels for the Trax. The standard 16" wheel can accommodate a deeper tread and may provide better ride quality.
You may also be interested in our article: Chevrolet Traverse in snow and winter driving
Can You Mount a Snow Plow on a Trax?
You should not attempt to install a plow on a Trax. It was not designed for any plowing duties. This would be problematic for the following reasons:
1. The Trax is small: It does not have enough weight to make it an effective plow vehicle.
2. The small engine: The Trax does not have enough power to push or pull much weight.
3. No aftermarket support: There is no existing plow mount for a Trax.
Resources