The Hyundai Elantra is a popular compact car that was launched in 1990.
It is well known for offering lots of value, top-notch reliability, solid handling and has even won the North American Car of the Year award.
Despite its impressive quality, the Hyundai Elantra, like any other car, has had its fair share of problems over the years.
In this article, we'll take a closer look at the Elantra's most common complaints.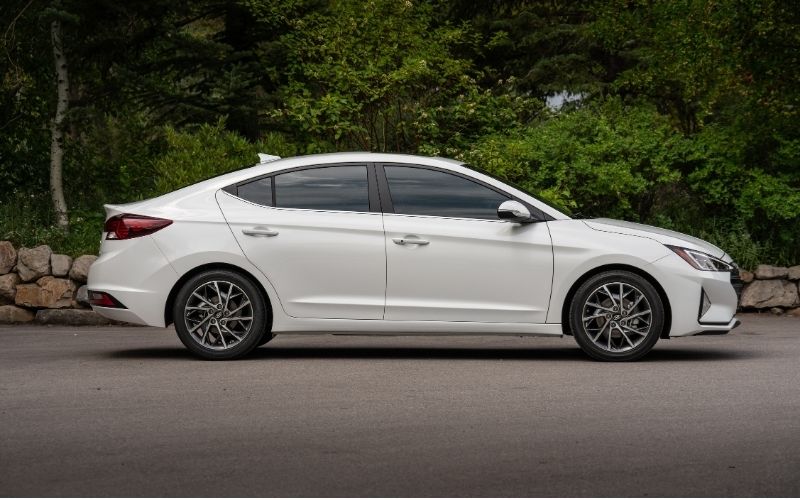 1. Air Bag Related Problems
We found numerous complaints about the Hyundai Elantra's airbags across various model years.
On CarProblemZoo.com, a site dedicated to owner feedback, the Elantra has racked up 1,181 complaints pertaining to air bag issues since '96.
Outlined below are the specifics.
Airbag Warning Light On
The most common issue owners had is that the airbag warning light came out.
This is of course particularly worrisome as in most cases when this light comes on it means a problem has been detected in the system, and one or more airbags might not inflate in the event of a collision.
While it's possible that all the airbags may deploy as intended even with an air bag warning light, a failure in the airbags is a critical safety concern.
Airbag Failure During Crash
Some Elantra owners have reported that their airbags did not deploy during a crash, which put them at serious risk of injury.
Some owners were lucky to escape with only mild injuries whilst other people had more serious injuries and were fortunate to survive.
This problem has been reported in recent years and there have also been recall campaigns for this very issues in the past.
Side/Window Airbag
A few owners have reported that following a crash the passenger side airbag failed to activate.
One owner had this to say:
"This car [2012 Elantra] was in a rollover accident in motion on a highway and the passenger side airbags didn't deploy."
This complaint left owners reluctant to travel with a passenger.
Possible Causes & Solutions
Airbag issues have plagued the Elantra across numerous generations. That's why it's a good idea to find the root of the problem.
Faulty Wiring: When the airbag systems electrical wiring is faulty, whether before or upon crash/collision impact, the airbags will not deploy as they should.
Defective Electrical Components: During a crash or rollover, if the airbags fail to deploy it could often be caused by failed or defective electrical parts. It could also be that the electrical components were poorly installed or did not meet the specification.
Faulty Airbag Sensor: If the airbags on your Elantra failed to deploy, it may be due to a failed sensor. A poor quality or badly designed sensor will fail to detect an impact, thus the airbags will not deploy.
Drained Backup Battery: A depleted 12V battery is one of the core reasons why the airbag light remains on for an inexplicable amount of time. If the battery is on the brink of failure your best bet is to replace it.
Defective Clock Spring: The clock spring provides the connection between the airbags and the wiring. If it is worn out or corroded, the spring sends a report of some sort to the airbag control module, which could trigger the light.
Airbags Not Replaced After Previous Crash: If you buy a used Elantra that was involved in a crash, the previous owner may not have replaced the airbags. Its important to have the cars airbags checked and make sure everything is in good working order.
Solutions
Replace the 12V battery
Have the clock spring fixed
Reset the airbag light to turn it off
If you're having airbag problems, you should always speak to your dealership and have the problem resolved right away.
Related: Hyundai Elantra Best & Worst Years (With Facts & Stats)
2. Engine & Engine Cooling Problems
On Carproblemzoo we found reports of over 1,087 engine and engine cooling problems. Below we'll dive into a bit more detail about these issues.
On Carcomplaints, engine problems were the worst complaint and were most prevalent on 2013 models.
Engine Cuts Out
Numerous Elantra owners have reported that the car died while driving, others stated that with the pedal pressed all the way to the floor the car failed to accelerate.
The issue seems most prevalent when drivers slow down to turn, stop or change lanes and has left owners frustrated and scared.
The problems were often accompanied by strange knocking and ticking sounds coming from under the hood.
Check Engine Light On
Hyundai Elantra owners also complained about a Check Engine Light that stays on.
Some owners have reported that the light comes on even when there is no apparent issue, whilst others have had their car shake violently and stall.
Engine Clicking And Tapping Noises
There have also been reports about a problem with strange noises coming from the engine.
Owners say the problem sounds as though it is coming from the top of the motor, and can often occur when starting the car from cold.
Possible Causes and Solutions
Below are possible reasons for the problems with the Hyundai Elantra's engine
Defective Piston Rings: If your piston rings are worn out then your car will struggle to control oil pressure and regulate engine oil consumption, a common sympton of damaged piston rings is loss of power for acceleration.
Failing oil pump: If an oil pump fails it will starve the engine of necessary lubrication. Its important to ensure that the engine oil you use in your engine is of correct viscosity, making it light enough to flow fast through the pump.
Failed Oxygen Sensor: If your check engine light comes on intermittently or has stayed constantly, it may be due to a failed oxygen sensor.
Defective Starter: If you're starter is going bad then you will often here clicking, grinding, or whirring sounds and the although the starter may engage the engine will fail to turn over.
Solution
Engine-related issues may be resolved by replacing piston rings, oil pumps, starters or some other components. If the issue is serious you may need an engine rebuild.
However, if you're not mechanically inclined, we advise taking your Elantra to your dealer or a trusted mechanic.
3. Steering Problems
Another commonly reported gripe of Elantra owners pertains to issues with the steering.
Owners have reported that the power steering has failed and they are left with no other option other than to turn the wheel manually.
This complaint has often been accompanied by noises coming from the steering column.
One disgruntled owner had this to say:
"On five different occasions over the past several months, the power steering has ceased to function, generally after the car has been driven and then parked."
Possible Causes & Solutions
Having to turn the steering wheel without power steering is arduous to say the least. Let's look at why this may be happening.
Low Fluid Level: The power steering in your car constitutes a type of hydraulic power system, and utimately low fluid prevents your power steering from working
Bad Serpentine Belt: Serpentine belts are made of heavy-duty rubber and make up part of the power steering pump. Over time, this rubber will stretch out, causing the belt to gradually lose tension. If a belt becomes overly loose, it may have difficulty turning the power steering pump. This can causes your power steering to feel alot heavier.
Failed Steering Rack: If your power steering has failed then this can be traced back to a failed steering rack, this will certainly make it much harder to steer.
Solution
Have your car looked at by a trained mechanic or Hyundai dealer.
Top off your power steering fluid
Related: How Long Do Hyundai Elantras Last?
4. Faulty Service Brakes
On Carproblemzoo, Hyundai Elantra owners reported 583 problems relating to the vehicle's service brakes. Below is a categorization of some of the specific issues with the Elantras service brakes:
Brake Failure
Hyundai Elantra owners have complained about a reduction in brake force and outright brake failure whilst driving. Some drivers were involved in crashes due to the failure of the brakes.
Brake Light On
Hyundai Elantra owners have reported that the brake light would be stuck on.
One owner reported that they checked the fuses and nothing was blown whilst another reported that the light was draining their battery.
There has been a recall for this issue, if you think your car may have been affected it's best to check on Hyundai's recall page on their website.
The problem is common across many model years.
Possible Causes and Solutions
Below are possible reasons for the problems with the Hyundai Elantra's service brakes:
Low brake fluid
Damaged electronics
Worn out brake light bulbs
Faulty brake pads/rotors
Solution
Faulty brakes are not an issue to be taken lightly, we strongly advise you consult a trained mechanic for a proper diagnosis.
General Pros And Cons
Here are the general advantages and disadvantages of the Hyundai Elantra:
Pros
Below are some of the positives of owning an Elantra model:
1. Excellent handling: The Hyundai Elantra offers its owners a comfortable ride with great handling. Auto reviewers often praise the Elantra for its overall driving experience with responsive steering. It's also great for maneuvering into tight parking spaces.
2. Modern Exterior: The Elantra boasts a futuristic, clean, modern style with angular exterior details. The car has a very unique look overall.
3. Safety Features: The Elantra also comes with a top-class safety suite, this explains why its received the NHTSA's coveted 5-star award.
Its safety features include:
Automatic Emergency Braking with Pedestrian Detection
Blind Spot Detection with Rear Cross-traffic Alert
Lane Departure Warning with Lane Change Assist
Rearview Camera with Dynamic Guidelines
Electronic Stability Control
Experience the Hyundai Elantra Safety Features
4. Affordability: The Elantra comes with a very attractive sticker price and in terms of ownership costs it is also very affordable to maintain and repair.
5. Reliability: Despite the problems we've outlined above, the Elantra is considered a very reliable car. In fact, RepairPal gave it a 4.5/5.0 rating which ranks it 8th out of 36 for compact cars.
6. Excellent hybrid model: The Elantra is also available in a hybrid format which is a great choice for those looking to reduce their carbon footprint. the Elantra hybrid has excellent efficiancy.
Cons
Now let's look at the downsides of owning an Elantra. Below are some of them:
Histroy of air bag problems
Engine problems
Inconsistent interior materials
Service brakes issues
Problems with steering
What Do the Reviews Say?
"Although I am usually a crossover kind of diver I decided to give the 2020 Elantra a go. I was not disappointed. I went with the Value due to the sunroof! I sacrificed a few things for it but in the end I can not say enough great things about this car. Gas mileage is great, ride is smooth. I enjoy that I have 3 different modes to drive in, Smart, normal and sport. I feel as if it has plenty of space in the back for kids and adults. The display is easy to use and the apple car play is fantastic. The lane assistance was surprising to test out. Doesn't read lanes so well in rain, but that is to be expected right? Although I didn't get the infinity sound system I still find that my sound is great, I'm a rocker and like my music LOUD! I have only put a couple hundred miles on it in the last week that I have owned it, but I would recommend it to many commuters and honestly single families. I have owned two other Hyundai's and have not been disappointed thus far. Their warranties are truly the best."
Source: Edmunds
"If you are looking for some additional features, good gas mileage and good warranty you should go for this car without any second thought."
Source: Edmunds
What Is the Resale Value of a Hyundai Elantra?
| | | |
| --- | --- | --- |
| Model Year | Mileage | Price |
| 2015 Hyundai Elantra | 92,245 miles | $8,599 |
| 2016 Hyundai Elantra | 60,000 miles | $10,995 |
| 2017 Hyundai Elantra | 58,704 miles | $12,900 |
| 2018 Hyundai Elantra | 52,474 miles | $12,100 |
| 2019 Hyundai Elantra | 74,817 miles | $12,990 |
| 2020 Hyundai Elantra | 41,423 miles | $14,999 |
Related: How Long Will a Hyundai Elantra Hybrid Last?
How Reliable Are Hyundai Cars?
According to a recent report from Consumer Reports, Hyundai are ranked the 11th most reliable car manufacturer out of 28 brands.
| | | |
| --- | --- | --- |
| Ranking | Brand | Score |
| 1 | Lexus | 76 |
| 2 | Mazda | 75 |
| 3 | Toyota | 71 |
| 4 | Infiniti | 69 |
| 5 | Buick | 66 |
| 6 | Honda | 66 |
| 7 | Subaru | 66 |
| 8 | Acura | 64 |
| 9 | Nissan | 63 |
| 10 | Mini | 60 |
| 11 | Hyundai | 56 |
| 12 | Chrysler | 54 |
| 13 | Porsche | 52 |
| 14 | Chevy | 48 |
| 15 | Audi | 47 |
| 16 | Cadillac | 47 |
| 17 | BMW | 45 |
| 18 | Ford | 44 |
| 19 | Kia | 43 |
| 20 | Volvo | 42 |
| 21 | Ram | 40 |
| 22 | GMC | 37 |
| 23 | Mercedes-Benz | 34 |
| 24 | Volkswagen | 31 |
| 25 | Genesis | 30 |
| 26 | Jeep | 26 |
| 27 | Tesla | 25 |
| 28 | Lincoln | 18 |