Are you searching for a compact SUV? Have you given any thought to how quiet their cabins are?
It is an aspect of vehicle design and engineering that automakers spend a great deal of time and money on, and it can make a big difference to your driving experience.
We've compiled a list of compact SUVs with the quietest cabins…
#1: Genesis GV70
Is that a Bentley Bentagya? You'd be forgiven for mistaking the handsome 2023 Genesis GV70 for the luxury SUV. Stylish, elegant, and sleek, the Genesis GV70 is one of the most beautiful compact SUVs on North American roads today.
However, that's not why it is number 1 on our list of 7 compact SUVs with the quietest cabins.
This SUV is whisper-quiet: high-end materials make it stylish and give it excellent NVH (Noise, Vibration, and Harshness) levels.
Inside, you are met with incredibly detailed finishes that make for an astounding place to be. Genesis truly wants to comfort its GV70 passengers in luxury.
With a long list of standard features, excellent handling dynamics, ample interior space, and a satisfying interior to sit in, the 2023 Genesis GV70 deserves a place on your compact SUV buying list.
Another pleasant surprise? The 2023 Genesis GV70 has a retail price starting at $44,275.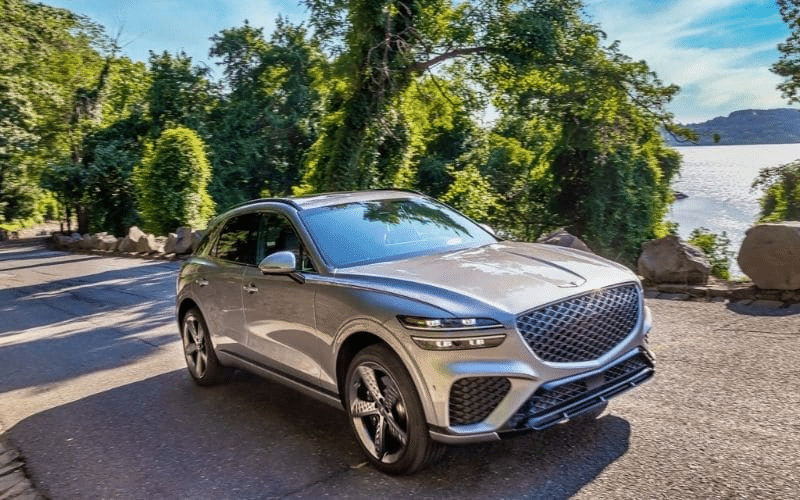 #2: Acura RDX
One of the most popular models in Acura's excellent line-up is the RDX.
With the Acura RDX, you get high levels of value for a luxury compact SUV that undercuts many rivals costing several thousand more.
It might lack the design presence and outright luxury of the 2023 Genesis GV70, but it bests many more vehicles – and it is one of the nicest SUVs to drive, thanks to an extremely quiet cabin.
Fit and finish in the Acura RDX is top-spec, as you'd expect from Honda's luxury brand.
The design is clear and practical, with lots of room and cargo space.
The Acura RDX, while similar to the Honda CR-V, is more sporty in its aspirations and more athletic in its exterior styling.
While it is light and airy inside, you'll be amazed by its low cabin noise levels. For a long trip, this will be a fantastic family vehicle.
The 2023 Acura RDX has a retail price starting at $42,745.
#3: Honda CR-V
The Honda CR-V has been extensively redesigned for the 2023 model year, sporting a roomier interior, and bolder exterior styling.
What that means is that the 2023 Honda CR-V cements its place in the ultra-competitive compact SUV market as one of its leaders. At $29,705, the 2023 Honda CR-V offers far more than most SUVs priced tens of thousands more.
As we've mentioned, the CR-V and RDX share underpinnings, and while the Acura is sportier and offers more luxury there's nothing to detract from the package that is the CR-V.
Inside, it is incredibly quiet. Engineers have spent a great deal of investment to enhance occupant comfort, and one of those critical areas is reducing noise.
It is minimalist without being spartan and modern without being simplistic: the CR-V has an excellent blend of function and form.
Don't forget: Honda is widely regarded for making some of the most reliable and robust vehicles on the market. What a package!
#4: Mercedes-Benz GLB-Class
This vehicle category isn't short of stunning models. The Mercedes-Benz GLB-Class is one of them – it has a purposeful stance that is immediately recognizable as Mercedes-Benz. This is an athlete in a tailored Italian suit.
Inside, the 2023 Mercedes-Benz GLB-Class features classic SUV styling. It offers upright seating with ample room in the spacious cabin.
As you'd expect, the interior is fancy: metallic trim inlays, sharp infotainment screen, and incredible attention to detail for all touch points. It feels classy and sophisticated – precisely what you expect and want in a Mercedes-Benz.
The premium look and feel extends beneath the skin. This is a quiet drive, even at freeway speeds. Tranquil, relaxing, and comfortable: an excellent family vehicle. It is highly desirable!
The 2023 Mercedes-Benz GLB-Class has a retail price starting at $40,950.
#5: Lexus NX
No list would be complete without a Lexus in this category. The 2023 Lexus NX is an upscale compact SUV with sharp styling and refinement.
Under the skin, the Lexus sets itself apart from its rivals.
This Japanese brand is synonymous with quality, reliability, and durability. This NX model is no different. It translates into a quiet cabin, putting it on our list of subcompact SUVs with the quietest cabins.
Large swathes of leather, a huge touchscreen, and solid-feeling controls add up to an interior that rivals the most luxurious in this segment.
Befitting a Lexus, this one is easy to drive and offers high levels of practicality. You'll be sure to turn your head to look back at it after you've parked.
Drivers can choose between gas and hybrid models.
The retail pricing for the 2023 Lexus NX starts at $39,755.
#6: BMW X3
For driving pleasure, this is one of the best compact SUVs to be sat behind the steering wheel. Sporty, agile, and sharp: the handling is crisp and belies its SUV dimensions. The BMW X3 is a marvel to drive.
Under the hood, you have a selection of engines to choose from, and when specced with an M Sport Suspension package, it will be an absolute joy to play with on a mountain pass.
Of course, the good news doesn't stop there: it can also be a fuel-efficient commuter when asked.
Inside, the 2023 BMW X3 is as polished as the exterior.
It boasts an ultra-clean and minimalist design with upscale materials.
The steering wheel is chunky and meaty, imbuing the driver with confidence. Central on the dashboard is a large infotainment screen with a few controls below.
Thick carpets, high levels of sound deadening, and typical BMW engineering mean this car is quiet – even when driving at 75 mph.
The 2023 BMW X3 has a retail price starting at $47,195. Be careful with the optional extras: you could soon find yourself approaching $60,000 with just a few boxes ticked.
#7: Mazda CX-5
The 2023 Mazda CX-5 is a beautiful vehicle. At $27,975, it also offers luxury-level SUV motoring at an affordable sticker price. It is one of the most stylish models in this class and has won numerous awards since its market introduction.
This is one SUV that has a car-like driving feel, a spacious interior, and respectable cargo-carrying capabilities.
Inside, the stylish theme continues with a flowing design. A large touchscreen sits atop the center console, and there are manual controls for the climate and air conditioner functions and very little else.
Its clean, modern, and timeless design upstages its European rivals.
That all translates to a quiet, calm, and relaxing cabin – precisely like its design.
That's the Mazda philosophy at work. In the CX-5, it works beautifully.