The Ford F-250 makes up part of the iconic Ford Super Duty lineup.
At its core, the F-250 is a heavy-duty truck with impressive towing capabilities, lots of tech features and a fancy cabin.
Despite receiving high praise from automotive outlets and owners alike, its had its share of problems over the years.
In this article we'll cover the most prevalent issues with the Ford F-250.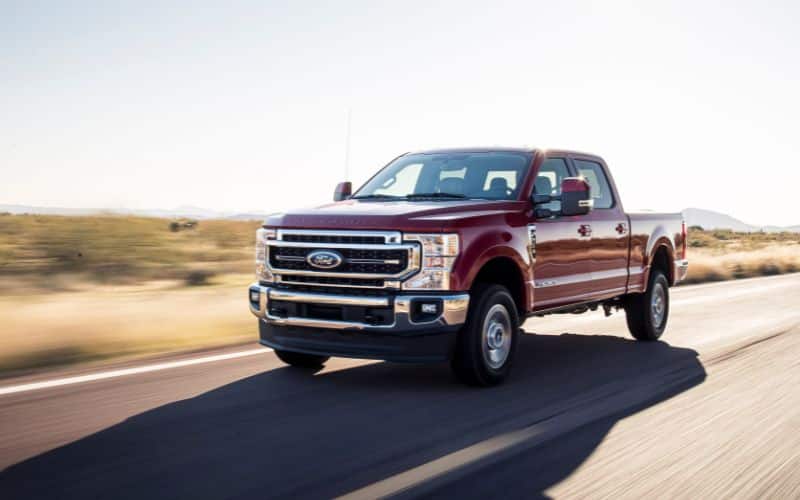 1. Death Wobble
The most commonly reported problem with the Ford F-250 is often referred to as the 'Death Wobble'. Although this problem dates back to 2005 it seemed to peak for the 2017, 2018 and 2019 model years.
As the name suggests, the Death Wobble is when the vehicle shakes violently and becomes extremely difficult to control leaving owners fearing for their life.
Here is what owners have experienced:
Hit a bump in the road and the steering wheel started shaking uncontrollably
Front end vibrating at speeds over 60mph
The steering wheel shaft is rattling and shaking
Solution
If you encounter the Death Wobble, the first thing you should do is slow right down or even completely stop the vehicle.
Online you will find a wide range of solutions for this issue ranging from having the steering aligned to changing the dual steering damper to tightening up the track bar joints at the axle.
However Ford has not offered a solution; according to some experts, there is no one-size-fits-all fix.
A class action lawsuit has been filed in 2019 and currently, there have been no recalls for this issue.
2. Sunroof Leaking
A commonly reported F-250 problem is that the sunroof leaks, this issue has been reported on models as old as 2006 although it seems most prevalent on the 2017, 2018 and 2019 models with the panoramic roof.
The panoramic roofs are notorious for leaking, here's one owner's account:
"My F-250 has been leaking a little every now & then for about past 6 months but last month it got a lot worse. When I dropped it off the dealer informed me that ford warranty or extended warranty doesn't cover water leaks beyond 36000 miles."
Whilst another owner had this to say:
"I just went through the whole leaking fiasco with my 2019 F250. 3 months in/out of the shop. Every time it rained, the whole process started over. I got Ford themselves involved after the first 4 trips to dealer to have it fixed with no solution. I was within my warranty period but it continued to flood my interior weekly. I filed a deal with Ford under the Lemon Law, but it was rejected due to the truck being past 24,000 miles, even though it was still under warranty til 36,000. I did alot of research trying to find my own solution and how Ford hasn't addressed this is beyond me. There are thousands of stories just like yours on forums and websites everywhere."
Solution
In many instances a leaking sunroof on a Ford F-250 can be caused by clogged drains. You will need to locate where the drain comes out by opening the front doors and looking in between the fender and leading edge of the doors – you should see the drain outlet. From that point you can blow air backwards to unclog it.
Drain outlet location will vary depending on model year.
However, clogged drains aren't always the cause and many drivers have been unable to find a solution.
3. Broken Drive Shaft
Driveshaft fractures are a common problem for 2017 – 2022 Ford F-250s. This was due to underbody heat and noise insulators that may loosen and contact the aluminum driveshaft, causing it to fracture.
This affected models equipped with gasoline engines and aluminum driveshafts.
A drive shaft is a rod-like part that transmits torque from your vehicle's engine to the wheels, it runs the length of the vehicle.
This problem is fairly serious as it can cause a loss of control should the driveshaft touch the ground.
Solution
Ford recalled nearly a quarter of a million heavy-duty pickup trucks in the United States due to issues with the drive shaft. The fix was to repair the drive shaft as required and properly attach the underbody insulators.
The recall affected certain F-250 and F-350 models, from model years 2017 to 2022.
To see if you've been affected you should contact your dealer or run a VIN check on the NHTSA website.
4. Engine Knocking
A number of F-250 owners have reported a knocking noise coming from their engine, this problem has mostly been reported on the 2016 models although it has been reported on more recent models too.
Owners have reported a slight stutter in the engine as though it wasn't getting enough fuel.
Others have reported it feels like the engine is falling apart.
Solution
The engine knocking is often accompanied by the truck shaking, otherwise known as the death wobble.
The engine will need the fault codes extracted in order to find out the exact problem.
Engine knocking can be caused by many things and on the F-250 the exact reason is unknown although we suspect it is linked to the spark plug issues which we will cover in the section below.
If you're looking at a used F-250 listen out for a knocking noise from the engine.
5. Engine Ejects Spark Plugs
Spark plugs ejecting from the engine head is a common phenomenon on the Ford F-250.
This is a known issue with the V8 engine and mostly affected models from 1999 – 2008.
The symptoms include:
Tapping and knocking noise
Engine misfires
Check Engine Light ON
One owner had this to say:
"Spark plug blew out of my 6. 8l v-10 Ford F-250. Caused extensive damage and a small fire."
It is thought that this is caused by the threads on the cylinder head being too short and soft.
Pressure from combustion overwhelms the spark plugs and ejects them destroying the threads and damaging the cylinder head.
Solution
In most instances, the spark plug port threads will need fixing and possibly the replacement of the cylinder head and cylinder head gasket.
Fortunately, Ford has updated the design of its models to prevent this from happening.
6. Coolant Leak
One of the most commonly reported problems with the F-250 is coolant leaking from the radiator.
This has been reported on models dating back as far as 2003 and as recent as 2018.
Many owners have noticed a leak coming from the radiator creating a puddle on their driveway.
Solution
The problem has often been attributed to a defective thermostat bypass, which can lead to pressure spikes in the cooling system which ultimately leads to radiator failure.
Although there are many reasons why coolant may leak, in most instances on the F-250 the problem has been resolved by replacing the thermostat assembly and radiator.
Here's one owners account:
"Noticed coolant puddle under driver's front side bumper. Went to Ford dealer. Was advised at 2 separate dealerships that I needed a new radiator installed. Had it replaced as advised. Service tech said they had seen others like this, but normally around 70k miles. $1500.00 repair bill for a 3-year-old truck."
7. Air Bag Failure
A known fault with the 2016 Ford F-250 was that dust could interfere with the electrical connections to the airbag and cause it to not deploy.
The most common symptoms of this problem are:
A popping or clicking sound coming from inside the steering wheel
Loss of illumination and use of the switches on the steering wheel
Horn not working
Airbag warning light ON
Solution
Ford recalled over 310,000 Super Duty trucks in total including the Ford F-250.
To see if you have been affected by the recall, run a VIN check on your vehicle on the NHTSA website.
8. Cab Squeaks
Although not the most serious problem it is undoubtedly one of the most irritating – numerous F-250 owners have complained of cab squeaking noises and considering the price of a new F-250 it is inexcusable.
Here's what owners had to say:
"At 2,800 miles I'm starting to develop some cab squeeks and rattles that are becoming pretty annoying"
"Me TOO. MY 2017 CC has too many rattles, seat squeaks/grinds"
Aside from cab squeaks another common squeaking issue is due to the front leaf springs – owners describe their truck sounding like an old ship when they hit a speed bump which compresses the front springs.
Solution
The cab squeaks are something of a mystery on the newer models, if its really driving you crazy we'd suggest having a chat with your dealer about it.
9. Front Brake Rotors Warped
A very common issue with the F-250 is front brake rotors that warp under very little mileage.
The symptoms associated with this are:
Steering wobble
Brake noise
Brake pedal vibration
Steering wheel vibration
Shake upon braking
Here's an owners account:
"Front brake rotors warped in what seems like very little mileage. Result: steering wobble and hopping about under braking. On the first truck, I turned the rotors and they were warped again within 30K miles."
Solution
If the rotors are warped they will need to be replaced, it might be worth investing in some upgraded parts though and avoiding the OEM parts.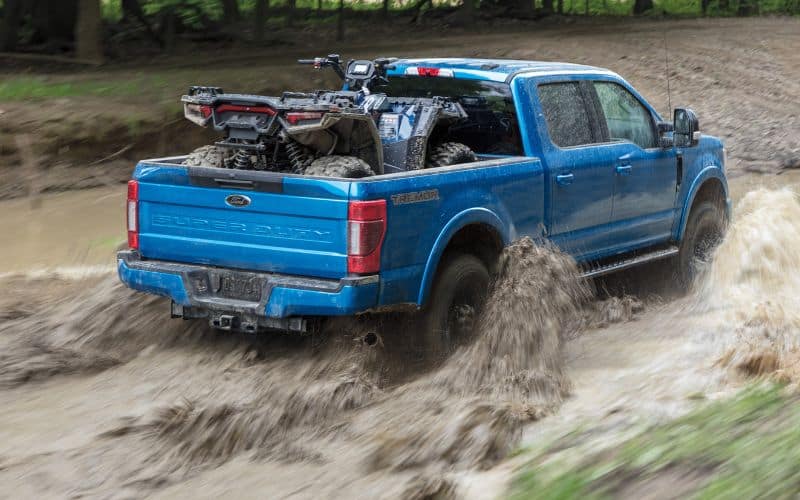 Ford F-250 Model Years With the Most Problems
The most problematic years are:
2017 – 1,553 Problems
1999 – 1,475 Problems
2019 – 1,409 Problems
The least problematic years are:
2022 – 5 Problems
2021 – 28 Problems
2020 – 84 Problems
Ford F-250
Model Year
Problems
2022
5
2021
28
2020
84
2019
1,409
2018
524
2017
1,553
2016
211
2015
314
2014
187
2013
149
2012
436
2011
515
2010
132
2009
110
2008
378
2007
136
2006
575
2005
487
2004
554
2003
393
2002
529
2001
733
2000
926
1999
1,475
1998
122
1997
351
1996
193
Source: Car Problem Zoo
Ford F-250 Pros and Cons
If you're considering a Ford F-250 as your next car you might be wondering what its strengths and weaknesses are…
Pros
Massive torque and tow ratings
Very comfortable
Quiet cabin
State-of-the-art tech both inside and out
Excellent off-road "Tremor" package
Cons
Not the best driving manners at highway speeds
Some cabin pieces are a bit cheap
Top trims are eyewateringly expensive
Lifted models are more difficult to get in and out of
Cabin not as nice as Rams
Related: Ford F-250 Alarm Going Off? (9 Causes & Solutions)
Ford F-250 Reliability Compared to Similar Cars
Consumer Reports rankings detailed below is based on the model's last three years, the Ford F-250 sits near the top, with a decent score of 59/100.
| | |
| --- | --- |
| Make & Model | Consumer ReportsReliability Score |
| Chevrolet Silverado 2500 HD | 78 |
| GMC Sierra 2500HD | 78 |
| Ford F-250 | 59 |
| Toyota Tundra | 58 |
| Ram 2500 | 57 |
| Ram 1500 | 52 |
| Ford F-350 | 33 |
| Ford F-150 | 29 |
| Nissan Titan | 29 |
| Chevrolet Silverado 1500 | 11 |
| GMC Sierra 1500 | 11 |
| Ram 1500 Classic | 11 |
Source: Consumer Reports
Ford F-250 Used Value
We've taken a look on Car Gurus to gauge the resale value of a Ford F-250, below are typical asking prices for each model year.
According to Auto Padre, a Ford F-250 will depreciate 17% after 5 years and have a 5 year resale value of $62,448.
Note: Used model prices will vary depending on trim level.
| | | |
| --- | --- | --- |
| Model Year | Mileage (miles) | Resale Price |
| 2022 | 1,206 | $73,555 |
| 2021 | 22,919 | $59,997 |
| 2020 | 88,279 | $38,982 |
| 2019 | 5,539 | $56,990 |
| 2018 | 100,010 | $46,595 |
| 2017 | 125,230 | $44,971 |
| 2016 | 99,370 | $28,000 |
| 2015 | 29,441 | $57,995 |
| 2014 | 246,069 | $32,550 |
| 2013 | 130,303 | $39,995 |
| 2012 | 139,450 | $39,950 |
| 2011 | 125,783 | $36,995 |
| 2010 | 126,460 | $12,495 |
Source: Car Gurus
Related: 12 Best & Worst Ford F-250 Years (With Facts & Stats)
What Do Owners Like and Dislike About the Ford F-250?
Based on owner feedback from the Kelley Blue Book site here are what real-life owners love and hate about the Ford F-250.
Likes
Strong truck
Drives good
Good off-road capability
Great all-around truck
Dependable
Dislikes
Dated interior
Fuel consumption
Too many pop-ups on instrument cluster
Owners Reviews
"Great rig, though the interior needs some updating. Transmission is good though slips from time to time."
Source: Kelley Blue Book
"Drives good pulls great. Looks good. New trucks are cool. Tremor package works well off-road. Very happy overall."
Source: Kelley Blue Book
"My truck is tremendous. It has all the power that I need for towing my trailer. It is faster then you might think. Comfort is very good. This truck has been trouble free."
Source: Edmunds
"This truck has been bullet proof. It Just rolled over 50k miles and I've done nothing but get in it and work it hard every day (I'm a contractor), and it performs flawlessly. It runs and looks as good as the day I bought it (and I'm not easy on trucks). I drive 25K miles every year, job site to job site. Start stop. I've never had it to the dealer for a problem only oil change and tires. love It!"
Source: Kelley Blue Book
How Reliable Are Ford Cars?
According to a recent report from Consumer Reports, Ford are ranked the 18th most reliable car manufacturer out of 28 brands, with a score of 44/100.
| | | |
| --- | --- | --- |
| Rank | Brand | Score |
| 1 | Lexus | 76 |
| 2 | Mazda | 75 |
| 3 | Toyota | 71 |
| 4 | Infiniti | 69 |
| 5 | Buick | 66 |
| 6 | Honda | 66 |
| 7 | Subaru | 66 |
| 8 | Acura | 64 |
| 9 | Nissan | 63 |
| 10 | Mini | 60 |
| 11 | Hyundai | 56 |
| 12 | Chrysler | 54 |
| 13 | Porsche | 52 |
| 14 | Chevy | 48 |
| 15 | Audi | 47 |
| 16 | Cadillac | 47 |
| 17 | BMW | 45 |
| 18 | Ford | 44 |
| 19 | Kia | 43 |
| 20 | Volvo | 42 |
| 21 | Ram | 40 |
| 22 | GMC | 37 |
| 23 | Mercedes-Benz | 34 |
| 24 | Volkswagen | 31 |
| 25 | Genesis | 30 |
| 26 | Jeep | 26 |
| 27 | Tesla | 25 |
| 28 | Lincoln | 18 |
Source: Consumer Reports
Related: 8 Common Ford F-250 Locking Problems (Solved & Explained)
Sources
https://www.consumerreports.org/cars/ford/f-250/
https://www.carcomplaints.com/Ford/F-250/
https://www.carproblemzoo.com/ford/f-250/
https://www.kbb.com/ford/f250/
https://www.edmunds.com/ford/f-250-super-duty/
https://caredge.com/ford/f-250-super-duty/depreciation