The Ford Fusion is a midsize car that was sold from the 2006 to 2020 model years.
With its slick looks, optional all-wheel drive and myriad powertrains options, the Fusion is an attractive option.
But like any car it's not without its flaws, in this article we'll cover its most common problems.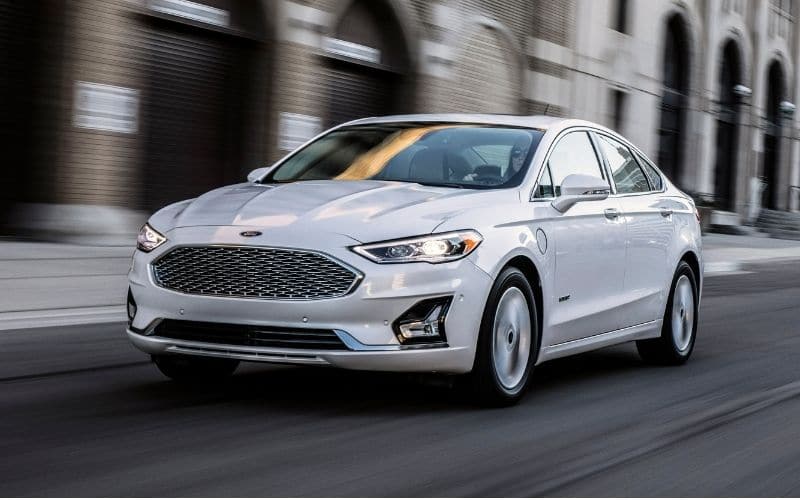 1. Power Steering Failure
According to data from Car Problem Zoo, a site that collects car owners' feedback, the most commonly reported issue with the Fusion is related to its steering, specifically that the power steering fails whilst driving.
These issues have been widely reported on the following model years:
| | |
| --- | --- |
| Model Year | Steering Complaints |
| 2010 | 1,530 |
| 2011 | 1,192 |
| 2012 | 1,126 |
| 2013 | 312 |
| 2014 | 235 |
| 2015 | 118 |
| 2016 | 110 |
source: Car Problem Zoo
The worst affected years for this issue are 2010, 2011 and 2012.
If you're driving at low speeds and you lose power steering, although incredibly inconvenient it shouldn't be too difficult to pull over and call for roadside assistance.
However, should this occur at high speeds, losing power steering is incredibly dangerous and as you'll see from these owners accounts, it is also terrifying.
"Lost power steering, almost crashed into a vehicle and had to pull off the highway, again almost crashing into the guard rail."
"I just picked up my 4 yr old and was on the highway when the check engine light came on. The power steering cut out while we were driving. The dash said there was a power steering failure. Kind of figured that out when the steering wheel would not turn. Scared the sh*t out of me. Ran off the road but didn't hit anyone or anything and only a few scratches to the car."
Solution
The 2011-2012 Fusion models without a 3.5L engine were recalled due to power steering failure caused by a steering motor sensor fault.
Ford resolved this by checking the Power Steering Control Module (PSCM) for Diagnostic Trouble Codes (DTC)
If any loss of steering assist DTC's are found, the steering gear will be replaced.
If no trouble codes are found, the PSCM software will be updated.
All of which should be done free of charge.
Certain 2013-2016 Ford Fusion models were recalled as the electric power steering gear motor attachment bolts may fail due to corrosion from road salt or other contaminants.
Should the bolts corrode, the steering gear motor may detach from the gear housing resulting in a loss of power steering.
Ford will need to replace steering gear motor bolts
This recall mostly affected those from regions where the roads are heavily salted in the winter.
To be on the safe side, run a VIN check on your vehicle to see whether or not you have been affected by a recall.
Should you lose your power steering whilst driving be prepared to use all of your strength to turn the wheel. Stop as soon as possible. If the power steering has failed because the engine has cut out you may need additional pressure on the brakes to stop the car.
2. Head Gasket Failure / Engine Failure
A commonly reported issue with 2013 – 2019 Ford Fusion models equipped with the 1.5l and 2.0l EcoBoost engine is that the head gasket fails. Many owners have reported coolant leaking and engine misfires which are common symptoms of a blown head gasket – this can lead to engine failure.
The head gasket seals the gap between the cylinder head and engine block.
This seal helps pressurize the gasses inside the combustion chamber and also keeps the oil and coolant from mixing together.
In the case of a blown head gasket, external oil or coolant will leak out from the seams between the engine block and the cylinder head.
Here's what a few unhappy owners had to say:
"Head gasket failed at 75,000 miles and allowed coolant to mix with oil causing the engine to fail and needing to be replaced. Needless to say, this is a very costly repair that I feel is Ford motor CO.'s responsibility. This is a far too frequent issue not to receive compensation."
"Coolant is leaking into the engine causing the engine to fail. The engine is going to have to be replaced. This is a known problem in the 2013 to 2019 Ford Fusions. Ford refuses to deal with the issue."
"Coolant leaking into the engine. Engine light on. Engine needs to be replaced according to service center. Known issue with 2016 Ford Fusions with 1. 5l ecoboost engines. Safety at risk due to overheating."
Some consumers state the check engine light comes on whilst others state they had no such warning.
Solution
Some owners have been able to get away with just replacing the head gasket whilst other owners have had to replace the engine entirely. Sadly, not everyone who experienced engine failure was able to afford the repair as it is one of the most expensive repairs to make on any vehicle.
If you're driving your Fusion and you suddenly notice a misfire or the engine is making strange noises, pull over and stop the car.
Driving with a blown head gasket will only make things far worse – it's best to have your car towed to a mechanic.
Ford previously recalled certain 2013 and 2014 Ford vehicles equipped with the 1.6L engine for coolant leaking and engine overheating issues under recall campaigns 12V551 and 17V209.
However, our research indicates that 2013-2019 Fusions with 1.5L and 2.0L Ecoboost engines with similar problems have not been recalled.
3. Airbag Problems
On the Car Problem Zoo website, the Ford Fusion has amassed 3,443 complaints for airbag-related issues alone and it is the second most commonly reported problem after power steering loss.
Airbag related problems have been widely reported on 2006, 2007, 2008, 2009, 2010, 2011 and 2012 Ford Fusion Models.
These problems are mostly related to the notorious Takata airbags that were recalled as they were known to explode due to propellant degradation, firing off sharp metal fragments causing serious injury and in some cases death.
To make matters worse, the dangerous airbags that should have been discarded were accidentally installed on some models, forcing Ford to issue another recall.
Many owners were left waiting for an unreasonable amount of time for parts to arrive at their dealership and for the problem to be resolved, drawing further criticism.
Solution
2006 through 2012 Ford Fusion sedans have been recalled for airbag issues.
Whether you're the owner of Fusion or in the market for a used one – always run the VIN on using either Ford's lookup tool on their website or on the NHTSA website to see if the vehicle has been subject to a recall.
Due to the severity of this problem, it is imperative that you leave this to the dealership to fix, and if your car has been recalled they will carry out the repairs free of charge.
4. Throttle Body Failure
Widely reported on models from 2010 – 2016, Ford Fusion owners have described how their car stalls, hesitates and jerks whilst driving, in many instances, this has been linked to a faulty throttle body.
A throttle body is essentially a butterfly valve that regulates how much air can enter the engine.
Not enough, no power will get generated.
Here's what the owners had to say:
"Wrench light would come on and car would jerk and chug, lose acceleration (went into limp mode). Started out once just one day then 2 days later I couldn't even go 100 yards. Check engine light then came on. Had to have it towed. Needed the throttle body replaced."
"I love Ford but this is crazy… After talking to the dealership Ford knows there is a problem with their throttle bodies, I just don't understand why they have not already taken care of the problem so their customers are not sitting on the side of the road in a brand new car."
"Only had the vehicle for 7 months and it started bucking and shaking while idling at stop lights, then the check engine light came on. Took it to Ford service, who still has the vehicle, trying to get a new "throttle body" which is a defective part on a lot of Ford vehicles from what I've found out!"
Solution
If your Ford Fusion is stalling and hesitating it could well be caused by a faulty throttle body, in which case it will need to be replaced.
Online estimates put the cost of a new throttle body, including parts and labor in the region of $1000.
5. Service Brakes Issues
A commonly reported problem with Ford Fusion models 2006, 2007, 2008, 2009, 2010 Ford Fusions is braking issues (and to a lesser extent 2011 and 2012 models).
Owners have reported a wide range of problems regarding the brakes on their Fusion.
Here are the main issues:
Have to apply extra pressure to get the car to stop
While driving the brakes failed and the pedal extended to the floor
Takes a long time for car to stop after pressing brakes
In some cases, this has caused drivers to crash their vehicles.
Solution
Ford issued a recall for the 2006 – 2010 Ford Fusion models due to problems with the valves within the ABS Hydraulic Control Unit, essentially the valves were prone to not closing properly negatively impacting the braking of the car.
To be on the safe side, run a VIN check to see if you have been affected by the recall.
6. Bushing Failure
On 2013-2016 Ford Fusion models, the bushing that attaches the shifter cable to the transmission was known to degrade or detach, this prevents the car from shifting into the desired gear.
This owner sums up the problem, that affected almost 3 million Ford owners:
"When shifting in to any gear (reverse, neutral, drive, or speed), the shifter does not click into place. While shifting, the dash does not illuminate with the corresponding gear. The car stays in park regardless of acceleration being applied or not. This poses a safety hazard while driving as this can switch at any point, posing potential harm to other drivers as well."
Owners also report the issue caused their vehicle to completely stop working.
In other instances, Ford vehicles have rolled away as the owners thought the transmission was in Park because the gearshift is in that position but the gearbox isn't actually in that gear.
Solution
A recall was issued that affected nearly half a million 2013-2016 Ford Fusion models equipped with the 1.5-liter, 1.6-liter, or 2.0-liter engines and the 6F35 or ECVT transmissions.
The breakdown of the bushing has been linked to heat and humidity.
To rectify this problem Ford will replace the under hood shift bushing and add a protective cap over the shift cable bushing, at no cost to the customer.
Ford Fusion Model Years With the Most Problems
To get a better idea of which Ford Fusion has the most problems the fairest way is to compare models based on the number of vehicles sold in relation to the number of reported problems.
We're using the Car Problem Zoo PPMY index which means problems reported per thousand vehicles per Year.
For example, newer cars will have fewer complaints simply because they've been around for less time.
Based on this index, the most problematic years are:
2010 – 2.09 PPMY
2011 – 1.45 PPMY
2013 – 1.00 PPMY
And the least problematic years are:
2020 – 0.14 PPMY
2018 – 0.26 PPMY
2019 – 0.29 PPMY
Ford Fusion
Model Year
Problems
Sales
Vehicle Age
PPMY Index
2020
33
119,925
2
0.14
2019
89
100,566
3
0.29
2018
115
108,825
4
0.26
2017
528
215,612
5
0.49
2016
1,101
277,383
6
0.66
2015
819
186,055
7
0.63
2014
1,263
264,915
8
0.60
2013
1,961
218,176
9
1.00
2012
2,507
296,093
10
0.85
2011
3,170
198,596
11
1.45
2010
6,278
249,794
12
2.09
2009
1,112
103,478
13
0.83
2008
1,459
137,991
14
0.76
2007
1,194
146,797
15
0.54
2006
866
125,637
16
0.43
Source: Car Problem Zoo
Ford Fusion Pros and Cons
If you're considering a Ford Fusion as your next car you might be wondering what its strengths and weaknesses are…
Pros
Stylish, refined and attractive
Solid handling
Good standard safety features
Wide range of powertrain options
Optional AWD
Cons
Can be expensive depending on the trim / options etc. and competitors generally deliver better packages
Base engine lacks oompf
Poor cargo room in hybrid models
Related: How Long Do Ford Fusion Hybrids Last? (12 Important Facts)
Ford Fusion Reliability Compared to Similar Cars
Consumer Reports rankings detailed below is based on the model's last three years, the Ford Fusion sits right at the bottom, with a poor score of 20/100.
| | |
| --- | --- |
| Make & Model | Consumer ReportsReliability Score |
| Honda Accord | 91 |
| Hyundai Sonata | 69 |
| Kia Optima | 56 |
| Ford Fusion | 20 |
Source: Consumer Reports
Repair Pal ranks the Ford Fusion in 18th position for reliability out of 24 midsize cars.
| | | |
| --- | --- | --- |
| | Model | Reliability |
| 1 | Honda Accord | 4.5 / 5.0 |
| 2 | Mitsubishi Galant | 4.5 / 5.0 |
| 3 | Toyota Camry | 4.0 / 5.0 |
| 4 | Toyota Prius V | 4.0 / 5.0 |
| 5 | Hyundai Sonata | 4.0 / 5.0 |
| 6 | Mazda6 | 4.0 / 5.0 |
| 7 | Chevrolet Malibu Limited | 4.0 / 5.0 |
| 8 | Kia Optima | 4.0 / 5.0 |
| 9 | Chevrolet Malibu | 4.0 / 5.0 |
| 10 | Toyota Prius | 4.0 / 5.0 |
| 11 | Nissan Altima | 4.0 / 5.0 |
| 12 | Chrysler 200 | 4.0 / 5.0 |
| 13 | Buick Regal | 4.0 / 5.0 |
| 14 | Honda Crosstour | 4.0 / 5.0 |
| 15 | Buick LaCrosse | 4.0 / 5.0 |
| 16 | Subaru Legacy | 4.0 / 5.0 |
| 17 | Volkswagen Passat | 4.0 / 5.0 |
| 18 | Ford Fusion | 4.0 / 5.0 |
| 19 | Dodge Challenger | 3.5 / 5.0 |
| 20 | Ford Mustang | 3.5 / 5.0 |
| 21 | Chevrolet Camaro | 3.5 / 5.0 |
| 22 | Honda Accord Crosstour | 3.5 / 5.0 |
| 23 | Chevrolet Corvette | 3.0 / 5.0 |
| 24 | Volkswagen CC | 2.5 / 5.0 |
| | Avg. Midsize Car | 4.0 |
Source: Repair Pal
Ford Fusion Used Value
We've taken a look on Car Gurus to gauge the resale value of a Ford Fusion, below are typical asking prices for each model year.
According to Car Edge, a Ford Fusion will depreciate 31% after 5 years and have a 5 year resale value of $17,756.
Note: Used model prices will vary depending on trim level.
| | | |
| --- | --- | --- |
| Model Year | Mileage (miles) | Resale Price |
| 2020 | 78,919 | $18,347 |
| 2019 | 16,514 | $22,253 |
| 2018 | 57,373 | $19,000 |
| 2017 | 114,850 | $11,510 |
| 2016 | 54,283 | $16,500 |
| 2015 | 35,159 | $16,960 |
| 2014 | 194,000 | $3,241 |
| 2013 | 146,958 | $5,995 |
| 2012 | 70,668 | $7,995 |
| 2011 | 137,670 | $5,999 |
| 2010 | 95,770 | $8,900 |
Source: Car Gurus
Related: Ford Fusion Tune-Up & Maintenance Costs (Complete Guide)
What Do Owners Like and Dislike About the Ford Fusion?
Based on owner feedback from the Kelley Blue Book site here are what real-life owners love and hate about the Ford Fusion.
Likes
Good handling
Fun to drive
Fuel economy
Design and styling
Reliable
Dislikes
Expensive parts
Stiff suspension
Owners Reviews
"Car has a lot of good safety features, I feel safe when I'm driving my vehicle. Great rear leg space."
Source: Kelley Blue Book
"Overall nice car, but I've had transmission issues. Brought back to the dealer several times in order to prove that a hard shift from 1st to 2nd and 2nd to 3rd gear was truly an issue. Finally had the transmission rebuilt under warranty, but I can still feel the car shift into gears…"
Source: Kelley Blue Book
"Had a 2014 ford fusion loved it but wanted something different so traded in for a VW Passat in 2016. A few months ago I traded that off for a new 2019 ford fusion SE. I drive a lot of different cars for work and I can say the ford fusion is the best in its class."
Source: Edmunds
"We've owned this 2015 Fusion SE 2.0 turbo-charged vehicle for almost 6 years. Only normal maintenance and we have done 89,000miles. Truly have peace of mind driving daily with confidence with this car. Great power too."
Source: Edmunds
How Reliable Are Ford Cars?
According to a recent report from Consumer Reports, Ford are ranked the 18th most reliable car manufacturer out of 28 brands, with a score of 44/100.
| | | |
| --- | --- | --- |
| 1 | Lexus | 76 |
| 2 | Mazda | 75 |
| 3 | Toyota | 71 |
| 4 | Infiniti | 69 |
| 5 | Buick | 66 |
| 6 | Honda | 66 |
| 7 | Subaru | 66 |
| 8 | Acura | 64 |
| 9 | Nissan | 63 |
| 10 | Mini | 60 |
| 11 | Hyundai | 56 |
| 12 | Chrysler | 54 |
| 13 | Porsche | 52 |
| 14 | Chevy | 48 |
| 15 | Audi | 47 |
| 16 | Cadillac | 47 |
| 17 | BMW | 45 |
| 18 | Ford | 44 |
| 19 | Kia | 43 |
| 20 | Volvo | 42 |
| 21 | Ram | 40 |
| 22 | GMC | 37 |
| 23 | Mercedes-Benz | 34 |
| 24 | Volkswagen | 31 |
| 25 | Genesis | 30 |
| 26 | Jeep | 26 |
| 27 | Tesla | 25 |
| 28 | Lincoln | 18 |
Source: Consumer Reports
Related: Why is My Ford Fusion Beeping? (6 Common Causes)
Sources
https://www.consumerreports.org/cars/ford/fusion/
https://www.carcomplaints.com/Ford/Fusion/
https://www.carproblemzoo.com/ford/fusion/
https://www.kbb.com/ford/fusion/
https://www.edmunds.com/ford/fusion/
https://caredge.com/ford/fusion/depreciation
https://www.lieffcabraser.com/defect/ford-coolant/
https://www.motor1.com/news/592353/ford-recall-nearly-3-million-vehicles-for-shifter-bushing-fault/