Ford brought back the Ranger to the North American market in 2019 after an 8-year hiatus.
The new Ford Ranger is now the same mid-size pickup truck that's sold internationally, albeit with a different engine.
In this article we'll take a look at the common problems found in the new Ford Ranger and the last few generations of the original compact pickup model first introduced in 1983.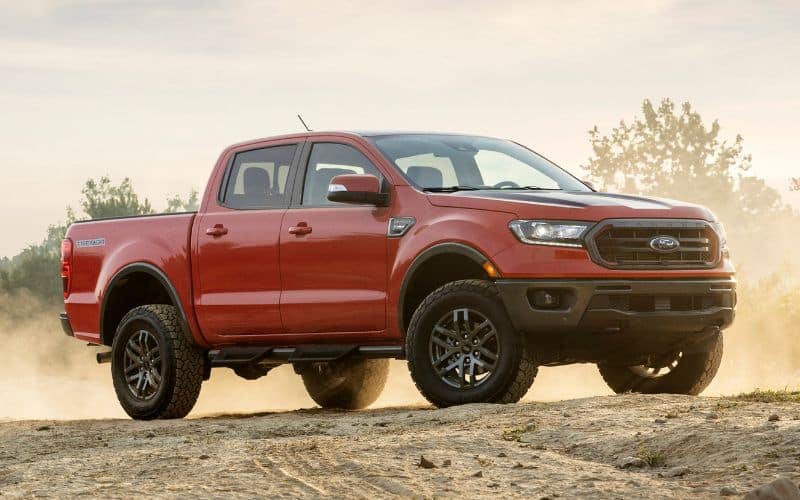 1. Jerky Acceleration from Stop
One of the most talked about issues on the Ranger 5G Forum is the shuddering or jerky acceleration when coming from a stop.
On the NHTSA website, another common complaint for the fifth-generation Ford Ranger is that it jerks or surges forward when trying to bring the truck to a stop.
Owners have also had the following transmission/powertrain issues:
Rough/hard shifts
Delayed shifting
Lugging when driving up inclines
These issues are often reported in the 2019 to 2020 models the most, but it's not unheard of in the newer model years.
Here is how a few owners described their experience:
"I have had my 2019 Ford Ranger XLT supercrew in the dealers shop twice. Both for automatic transmission related problems. The first issue happened just shy of 20K miles. The truck would shake and jerk when starting from a light or stop."
"The 10r80 10 speed Transmission will slip, shutter, stall, jump in and out of gear, slam into gear, and often times will wait till you are at a complete stop to downshift into 1st gear which makes the entire truck lunge forward almost like you've been rear ended."
Solution
Ford has released a TSB (Technical Service Bulletin) to address the shudder when accelerating from a stop. The recommended fix is to adjust the pinion angle of the rear axle using a shim.
Despite having these adjustments performed at the dealer, some have complained that the shuddering hasn't disappeared.
Some members of the Ranger 5G forum have reported that replacing the EGR valve or the EGR pressure sensor eventually got rid of the problem for them.
Other transmission issues were also fixed by simply updating the transmission PCM software.
Some owners have also reported success by paying for an aftermarket tune instead.
2. Soft or Mushy Brake Pedal
Lots of fifth-gen Ford Ranger owners have complained about the truck's lack of brake pedal feel. Compared to other vehicles, many people say that there isn't any braking feedback until you press the pedal to the floor and way past the level of the gas pedal.
Although this doesn't affect the Ranger's braking performance, it can be unsettling if you're not used to it, especially if you're using it to tow heavy loads.
Here is how two owners described the issue:
"Brake pedal travel is long, soft and inconsistent. Feels like as if there is air in the line."
"When applying brake you have to pump brakes, if going at a low speed you'll only slow down about 20% if going 50mph or higher you have to pump brakes 2-3 times to get the mushyness to go away and start braking properly"
Solution
If you're worried about the Ranger's braking system, it's best to take it to the dealer so they properly bleed the brakes and check if the pads and rotors are properly installed and adjusted.
In order to bleed the fifth-gen Ranger's brakes the vehicle has to be hooked up to a FORScan or Ford's diagnostic computer.
If everything checks out ok but you're still not satisfied with the brakes, you can install aftermarket parts like brake pads, rotors and calipers to improve the performance.
Unfortunately, unless Ford redesigns the Ranger's brakes the brake pedal will always be slightly spongy or mushy.
3. Fuel Contaminated Oil
Quite a few owners have reported on fifth gen Ranger forums that they've noticed their oil has been contaminated with small amounts of gas.
Some people only find out when they change their oil and detect a strong gasoline odor.
Others can smell gas when they check the dipstick or if they leave the car parked inside their garage for a long time.
A few owners have also noticed that their oil level keeps getting higher as more gas gets mixed in.
Although there haven't been any reported engine failures that can be directly attributed to fuel contaminating the oil, it might be an indicator of an underlying problem that needs to be addressed.
Too much gas in the oil can also affect its lubricant properties and cause more long-term damage.
Here is one owner's report:
"Just checked mine this morning. Drove until normal operating temps then let it sit for 12min exactly (kind of impatient) but my oil dipstick smelled really strong gas but it at least was under the max line or at least up to it."
It's important to note that out of hundreds of thousands of fifth-gen Rangers sold in the U.S. so far, less than a hundred have reported fuel dilution issues.
Some fuel dilution is normal in modern engines, but it seems to be more of an issue with the Ranger.
Solution
Those who are concerned about the fuel dilution issue make a point to monitor their oil levels to see if it gets worse over time. Some also have their old oil lab tested to find out how much gas is in it.
A couple of forum members have also reported that they fixed their oil problems by either changing the high-pressure fuel pump or the injectors.
If you're noticing gas mixing in with your oil, it's worth mentioning it to your dealer when you take it in for service to see what they think of the problem.
4. Vibration at High Speeds
Many have complained of constant vibrations whenever they travel at highway speeds.
These vibrations have been reported for the 2019 to 2022 models of the fifth-gen Ford Ranger.
While it's usually a minor annoyance, it can also lead to massive failures that could leave you stranded.
Here is a how a few owners described their experience:
"Noticed since I bought my 219 XLT 4×4 Sport Supercab that I have a slight vibration/droning at highway speed. It seems to be between 55-65mph with the peak around 58-62mph."
"2019 Ford Ranger with less than 600 miles on the odometer. The drive shaft fell out. While driving on the freeway about 60 mph I started noticing a strong vibration. When exiting the highway the vibration became a violent shake and banging noise."
"So I looked at my driveshaft today and it is about a tooth or two out of phase."
The most common cause of these issues is improper installation of the driveshaft making it run 'out of phase' and causing the truck to shake once it reaches a certain speed. Running the driveshaft out of phase for extended periods can severely weaken it and cause it to suddenly break while you're driving.
The Ranger Tremor uses a different driveshaft design so it's usually not affected by this problem.
Vibrations can also be caused by issues with the wheels and tires such as:
Bad alignment
Flat spots
Improperly balanced wheels and tires
Solution
To get rid of the high-speed vibrations, it's best to take your truck back to the dealer so they can check if your driveshaft is properly aligned.
Dealerships also have the equipment to load balance the wheels and tires in case it's not the driveshaft that's causing the issue.
They can also check if there's something wrong with the transmission and replace it if necessary.
5. Ticking or Buzzing from Engine at Low RPM
Another common complaint with the fifth-gen Ranger is the loud buzzing or ticking noise it creates when the engine is at around 1,500 to 2,000 RPM. It doesn't occur on all Rangers, but it can be quite noticeable and annoying in quite a few examples.
The noise is often attributed to either the fuel injectors or the fuel pump and is considered a normal characteristic of the engine.
Here are some accounts from actual owners:
"I picked up my 2020 Ranger two weeks ago, and I first noticed the buzzing on Day 2. I can hear it all the time, especially while accelerating. It's pretty loud when the engine is cold, but it quiets down when it's warmed up."
"I have this issue since i bought the truck. Everytime you hit the gas pedal you can hear it, even on cruising speed. But I noticed this couple of day I can only hear a bit of buzz from acceleration, not like before it was crazy loud."
Solution
To reduce the engine sound coming into the cabin, you can install the Ranger Lariat's engine cover to somewhat muffle the sound.
If you already have the engine cover installed and it's still bothersome, some people report that it eventually gets quieter over time. There have also been instances where the noise is significantly reduced after an oil change.
You can also take the truck back to the dealer so they can if there's anything out of the ordinary. While at the dealer, you can also check if your Ranger's engine is louder than the other Rangers on the lot.
6. Timing Chain Issues
There aren't many issues with the third generation Ranger, which was sold from 1998 to 2011, that can't be attributed to age. But one issue you have to watch out for is the 4.0-liter V6's timing chain guides which can break after several years.
When the chain guides go, the engine will create what Ford owners refer to as a 'death rattle' caused by the slack in the timing chain.
As it gets worse, the rattle will make the car sound like a diesel engine and it will often run very poorly or not at all.
Here is how one Ranger owner described the symptoms:
"Getting knocking/ticking at engine 2000 Ford Ranger 4.0L V6 OHV. The truck doesn't overheat or throw codes, just constant ticking."
Solution
Replace all the timing chain components on both the front and rear of the engine is a pretty big job that requires taking out the entire engine.
To keep the timing chain components in good condition for as long as possible, it's important to get regular oil changes using high quality synthetic oil.
A lot of people with older Rangers simply replace the engine altogether since putting in a used engine can be cheaper, quicker and simpler than replacing the timing chain.
7. Auto Start-Stop
Although not a problem per se, for a number of 5th-Gen Ranger owners the engine Auto Start-Stop feature is an annoyance.
The feature automatically shuts down and restarts the engine to reduce the amount of time the engine spends idling, in order to reduce fuel consumption and emissions.
The main complaint with the A.S.S is that it needs to be disabled every time you use the vehicle.
Solution
According to a number of owners, the auto start feature can be disabled using FORSCAN, in order to do this you will need a moderate level of programming skill.
Other owners have had success with the "Autostop Eliminator" which is a plug & play device.
The device remembers when you turn the auto start-stop feature off and works to retain your preference for this functionality, automatically.
One hack we came across showed that by disconnecting a small plug on the negative battery terminal you will be able to completely disable the A.S.S feature without affecting other driving features.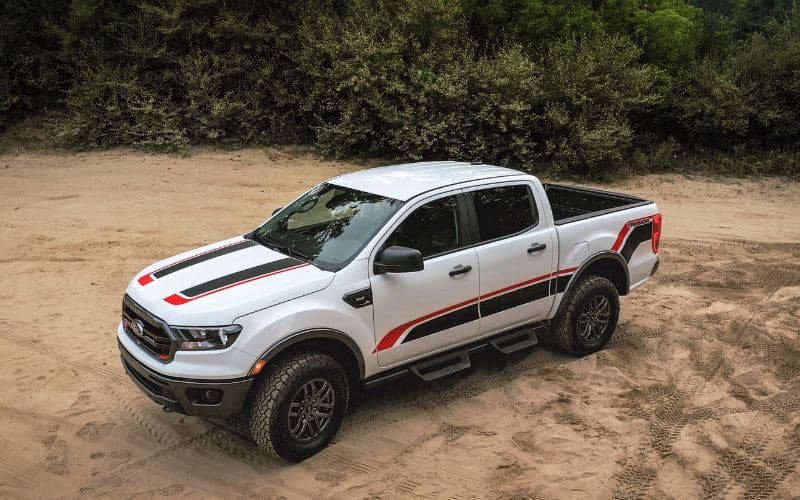 Ford Ranger Pros and Cons
If you're considering a Ford Ranger as your next car you might be wondering what its strengths and weaknesses are…
Pros
EcoBoost engine has lots of grunt
Good towing capacity
Modern tech and safety features
Good value for money
Fits in tight spaces
Cons
Bouncy ride on uneven surfaces
Interior is behind the times
Lags behind rivals in the off-road department
Related: 18 Best & Worst Ford Ranger Years (With Facts & Stats)
Ford Ranger Reliability Compared to Similar Cars
Consumer Reports ranks the Ford Ranger in 1st place with a score of 68/100.
| | |
| --- | --- |
| Make & Model | Consumer ReportsReliability Score |
| Ford Ranger | 68 |
| Honda Ridgeline | 68 |
| Toyota Tacoma | 59 |
| Ford Maverick | 50 |
| Hyundai Santa Cruz | 30 |
| Nissan Frontier | 30 |
| Chevrolet Colorado | 29 |
| GMC Canyon | 29 |
| Jeep Gladiator | 23 |
Source: Consumer Reports
Ford Ranger Used Value
We've taken a look on Car Gurus to gauge the resale value of a Ford Ranger, below are typical asking prices for each model year.
According to Car Edge, a Ford Ranger will depreciate 24% after 5 years and have a 5 year resale value of $30,898.
Note: Used model prices will vary depending on trim level.
| | | |
| --- | --- | --- |
| Model Year | Mileage (miles) | Resale Price |
| 2022 | 8,306 | $41,995 |
| 2021 | 4,138 | $42,587 |
| 2020 | 27,531 | $31,700 |
| 2019 | 29,601 | $33,995 |
| 2011 | 29,535 | $20,879 |
| 2010 | 72,534 | $11,998 |
Source: Car Gurus
Related: Ford Ranger Beeping? (7 Causes & Solutions)
What Do Owners Like and Dislike About the Ford Ranger?
Based on owner feedback from the Kelley Blue Book site here are what real-life owners love and hate about the Ford Ranger.
Likes
Powerful
Great sound
Reliable
High resale value
Sharp design
Smooth drive
Decent mileage
Dislikes
Rough over bumps
Clunky first gear
Wind noise
Owners Reviews
"There is literally nothing bad to say about the Ford Ranger. It has more power than a Tacoma, Frontier, or Ridgeline. The most dependable medium truck you can buy. Great price point…all the technology that I need, and it's American!"
Source: Kelley Blue Book
"Awesome truck overall. Very impressed with the mid-size truck. I've always had full-size. The Lariat package is nice along with 4×4."
Source: Edmunds
"Nice little truck. Actually fun to drive. Excessive speed and power. Comfortable, nice place to be. Great interface. Looks awesome after leveling."
Source: Edmunds
How Reliable Are Ford Cars?
According to a recent report from Consumer Reports, Ford are ranked the 18th most reliable car manufacturer out of 28 brands, with a score of 44/100.
| | | |
| --- | --- | --- |
| Rank | Brand | Score |
| 1 | Lexus | 76 |
| 2 | Mazda | 75 |
| 3 | Toyota | 71 |
| 4 | Infiniti | 69 |
| 5 | Buick | 66 |
| 6 | Honda | 66 |
| 7 | Subaru | 66 |
| 8 | Acura | 64 |
| 9 | Nissan | 63 |
| 10 | Mini | 60 |
| 11 | Hyundai | 56 |
| 12 | Chrysler | 54 |
| 13 | Porsche | 52 |
| 14 | Chevy | 48 |
| 15 | Audi | 47 |
| 16 | Cadillac | 47 |
| 17 | BMW | 45 |
| 18 | Ford | 44 |
| 19 | Kia | 43 |
| 20 | Volvo | 42 |
| 21 | Ram | 40 |
| 22 | GMC | 37 |
| 23 | Mercedes-Benz | 34 |
| 24 | Volkswagen | 31 |
| 25 | Genesis | 30 |
| 26 | Jeep | 26 |
| 27 | Tesla | 25 |
| 28 | Lincoln | 18 |
Source: Consumer Reports
Sources
https://www.consumerreports.org/cars/ford/ranger/
https://www.carcomplaints.com/Ford/Ranger/
https://www.carproblemzoo.com/ford/ranger/
https://www.kbb.com/ford/ranger/
https://www.edmunds.com/ford/ranger/
https://caredge.com/ford/ranger/depreciation