Not only do larger vehicles provide better protection for drivers and passengers in case of an accident, but they also offer more space, including larger trunks, compared to mid-size or smaller cars.
In fact, spacious interiors and ample trunk space often take precedence over fancy tech features that are commonplace in modern cars, and these are two key factors that make the cars on our list deserving of recognition.
Let's look at eight full-sized cars with the most trunk space.
#1: 2019 Chevrolet Impala (18.8 ft³)
The 2019 Chevrolet Impala takes the number one spot for the biggest trunk of any full-size sedan – a whopping 18.8 cubic feet.
This 4-door, 5-seater can hold a staggering five large suitcases with room to spare on the sides for smaller vanity bags, backpacks, and other luggage items.
Fold down the rear seats, and you have even more space to transport those bulky or oversized items that would otherwise not fit into the trunk.
With a 60/40 rear seat split, you can fold down one or both sections of the seat as needed depending on what it is that you need to transport. The seats also fold completely flat for an even, sturdy base for transporting even the most fragile items.
The 2020 Chevy Impala makes for an excellent full-size sedan. On used car marketplaces, you can find them starting at $16,100 to make for an incredible deal.
#2: 2023 BMW 7 Series (18.2 ft³)
One of the most luxurious cars on our list, the BMW 7 Series has a trunk space of 18.2 cubic feet.
This is incredibly large for a full-size luxury car that retailed for $94,295 new. With a price tag like that, you expect comfort and excellent cargo space, and the 7 Series does deliver on that.
This 2023 BMW model can hold several large suitcases (or golf bags, for golf enthusiasts) and has rear seats that fold down for even more trunk space to transport larger and bulkier items.
With an impressively large and comfortable interior, the vehicle can seat five people comfortably with no sacrifice in rear legroom.
The BMW 7 Series is also available as a hybrid, but the storage of the electrical components has seen a decrease in the trunk space, with only 14.8 cubic feet of space available.
That is a minor penalty to pay for a more eco-friendly option of your favorite German full-size vehicle.
#3: 2023 Lexus LS (16.9 ft³)
The name Lexus is synonymous with luxury, reliability and quality craftsmanship. Lexus is popular among drivers seeking a more refined style with their sedans. But, just how big is the trunk space in one of these full-size luxury vehicles?
The 2023 Lexus LS features an impressively large trunk space, measuring 16.9 cubic feet. With the ability to hold up to six suitcases with room to spare, the 4-door, 5-seater retails at $78,035.
The interior of the Lexus LS is a bit different from any of the vehicles on our list, as it features bucket seats. With the option to swap out the rear middle seat for a center console, the car can be adapted to suit an individual's needs.
The only drawback to the 2023 Lexus LS is that the rear seats do not fold down, so there is no transporting larger items in this vehicle.
#4: 2023 Honda Accord (16.7 ft³)
Coming in at number four on our list is everyone's favorite, the Honda Accord. With a retail price of only $28,390, the 2023 Honda Accord is affordable and has an excellent trunk space of 16.7 cubic feet.
With just enough room for at least six suitcases, folding the rear seats will give you additional space for another two.
The Honda Accord features a stylish and roomy cabin, with excellent front and rear legroom space for maximum occupant comfort.
This 4-door, 5-seater boasts exceptional space compared with many other cars in its class, making it great value for money and a good choice for drivers who prefer space over fancy bells and whistles.
Honda has all but perfected the design of the Accord over the years, giving Honda fans much more than they could ever dream of in terms of style and comfort.
#5: 2023 Dodge Charger (16.5 ft³)
An American classic, the 2023 Dodge Charger has a surprisingly large trunk that provides 16.5 cubic feet of storage space without compromising leg room and passenger comfort.
Rear seats have a 60/40 split, allowing additional cargo space to be added to the vehicle by folding down these seats with a gentle tug of easily located nylon tabs.
The Dodge Charger can easily hold luggage for all five passengers and boasts several in-cabin stowage options.
Retailing at $34,240, the Charger is one of the more affordable full-size vehicles offering great trunk space without compromising interior comfort.
#6: 2023 Chrysler 300 (16.3 ft³)
Chrysler is the epitome of style and comfort, and with 16.3 cubic feet of trunk space, the 2023 Chrysler 300 is among the best.
With enough room for front and rear passengers to travel comfortably with sufficient leg room, the trunk is spacious enough to easily hold six suitcases.
This four-door, five-seater full-size sedan is one of the more popular models from Chrysler, and is great for vacations, helping your friends move, or simply transporting equipment or luggage.
Though Chrysler ensured that the interior cabin of the 300 was spacious and roomy, the design does not allow the rear seats to fold down.
The 2023 Chrysler 300 retails for $35,140, which is fairly average for a vehicle in its class and has just enough bells and whistles to be considered a luxury car.
#7: 2022 Toyota Avalon (16.1 ft³)
The 2022 Toyota Avalon is another full-size car offering incredible cargo and trunk space. It comes in at number seven on our list, with trunk space of 16.1 cubic feet. That is enough to hold seven carry-on suitcases comfortably.
With ample space in the rear, the rear seats have a 60/40 split and fold down to increase the trunk size to an incredible 22.04 cubic feet.
Space and comfort are just two features that you would expect from the Japanese carmaker, and the Avalon delivers just that and more, with ample leg room for passengers in the rear cabin.
The Avalon retails for $37,920, making it an affordable option for those who value comfort and spaciousness in their vehicle.
Sadly Toyota discontinued the Avalon in the US market, making the 2022 model year the last model produced.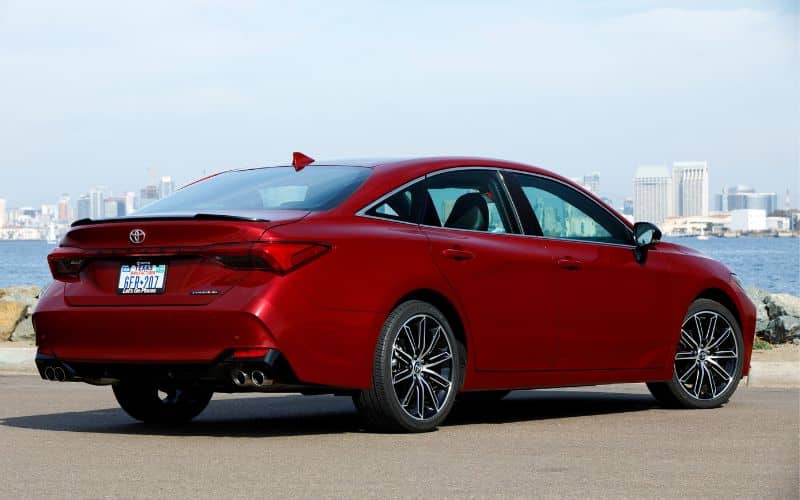 #8: 2022 Volkswagen Passat (15.9 ft³)
While the German automaker stopped offering the Volkswagen Passat in the United States after 2022, you can still find them on dealer lots.
These will wow you with their spaciousness and comfort. Boasting 15.9 cubic feet of trunk space, this sedan is one of the best in its class and features a 60/40 split ratio on the rear seats, allowing you to fold them down for even more space to transport larger cargo.
Full-size sedans like the Passat are great for those family weekends away, and the 15.9 cubic feet of trunk space easily holds up to six carry-on suitcases quite comfortably.
Folding the rear seats increases the available trunk space to an impressive 40.6 cubic feet, making transporting just about any large appliance or extra luggage possible.
The Passat is known for comfort and space, and the in-cabin stowage is just another feature that makes this Volkswagen noteworthy.
With a retail value of $28,570 in 2022, you can find these from $20,900 on the used car market. The Passat makes for an affordable full-size vehicle with great trunk space.
Related: 9 Subcompact Cars With the Most Trunk Space (With Pictures)