The GMC Yukon has a 10-speed automatic transmission, available 420 horsepower and a choice of three trims.
It's known for its powerful V8 engines, three-row hauling capacity and impressive towing abilities.
But can this full size SUV live up to its name and handle arctic climates like those found in the Yukon territory?
Read on to find out…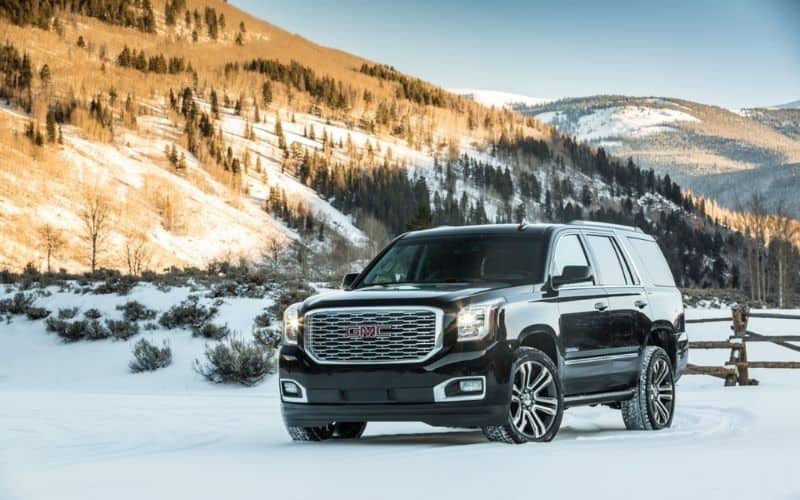 Here is the short answer to whether the GMC Yukon is good for snow and winter driving:
The GMC Yukon is a first-class choice for snow and winter driving, it's got a good 8-inch ground clearance and can be equipped with 4WD so it can easily handle snowy terrain. All Yukons are fitted with StabiliTrak Stability Control and ABS which are designed to keep you safe in low-traction conditions.
Is the GMC Yukon Good in the Snow?
The GMC Yukon is an excellent winter vehicle and for those in need of a big SUV that can handle extreme weather conditions – the Yukon ticks a lot of boxes.
All trims are available with a proper 4WD system which is really helpful when you're stuck in deep snow or driving over difficult terrain.
Even rear-wheel drive GMC Yukons will be decent in the slippery stuff if they're fitted with the right tires.
They're much heavier in the back compared to a similarly sized RWD pickup, so they have inherently better rear-wheel traction and will be less prone to fishtailing.
It also has good ground clearance at around 8 inches so it can comfortably drive over unplowed roads and snow-covered driveways.
Engine choices for the Yukon are all quite powerful which help it easily push through really deep sections of snow and just power through all sorts of winter and off-road terrain.
The Yukon can also be equipped with tons of creature comforts and modern driver aids to help you deal with really cold weather and the difficult driving conditions that winter brings.
What Features Will Improve Winter Driving?
The GMC can be an outstanding winter vehicle if it's fitted with the right options and features.
Let's take a look at the features that significantly improve the Yukon's winter capabilities.
Four-Wheel Drive (4WD)
Available on all trims, The Yukon's 4WD system can be switched from 2WD to 4WD Auto.
4WD is the most important feature to have in the Yukon if you plan on driving it in places with lots of snow and ice.
It gives you more traction and improves the vehicle's handling on slippery surfaces by sending power to all four wheels.
When driving normally in the winter, you can leave it in 4WD Auto and it will automatically transfer power to the front wheels when its computer thinks it's necessary.
If you have the 2-speed transfer case, you can also switch between 4Hi or 4Lo.
If you're going through difficult terrain where you're more likely to get stuck, you can switch it to 4Hi or 4Lo depending on how much power you need to send to the wheels to keep you moving.
If you have the Autotrac single speed transfer case, you won't have the 4Lo option with lower gearing.
But you can still switch it to permanent 4WD when the terrain gets tricky.
StabiliTrak
The StabiliTrak, Electronic Stability Control system, is an innovative feature that comes as standard on the Yukon.
As the name implies, StabiliTrak is designed to keep your vehicle stable and on track, it helps drivers be more confident, especially in low-traction, uncertain driving situations.
The system works by using a complex sensor system to determine whether your vehicle is correctly responding to specific inputs during emergencies.
The system will analyze real-time data to establish which operation it needs to complete, which can mean enabling a specific brake(s) or reducing engine power.
In slippery conditions, it automatically intervenes when it senses a loss of traction / wheel slippage, to help you maintain control when driving on wet or snow-covered roads.
Traction Select System
The GMC Yukon also feature a Traction Select System.
In 4WD models, it lets you manually select between
Normal
Sport
Off-Road
Tow mode
Each setting optimizes the vehicle's power output, as well as the stability and traction control settings.
Off-Road mode is not available in RWD Yukons but is instead replaced by a Snow/Ice mode which makes it less prone to wheelspin.
Limited Slip Differential
New AT4 and Denali GMC Yukons come with an Electronic Limited Slip Differential (eLSD) which significantly improves traction by making sure that both rear wheels are always turning and moving you forward.
Lower trim levels of the latest generations come with a Mechanical Limited Slip Differential as standard.
It does the same thing as an eLSD but is less precise because it's all mechanical and doesn't have a computer to tell it when to lock the rear wheels.
It's still significantly better than a standard open differential which has a tendency to spin one wheel endlessly on slippery or uneven terrain.
Anti-Lock Braking System
Large SUVs like the Yukon need lots of braking power to control the weight of the vehicle.
To address this, the Yukon comes standard with an Anti-Lock Braking System and 4-wheel disc brakes.
ABS improves braking performance by modulating the brakes on and off when it detects that the wheels are locking up which will cause the tires to lose traction.
By allowing the wheels to spin the tires are able to maximize their grip on the road even when it's extremely slippery.
ABS also lets you steer the vehicle even during hard braking — letting you avoid obstacles and perform evasive maneuvers during emergencies
Please also read our article: how long do GMC Yukon last?
Adaptive Air Suspension
The AT4 and Denali trim levels can be optioned with GM's Adaptive Air Ride Suspension.
This allows you to lower or raise the ride height of the vehicle to best suit the driving conditions.
If you're driving through town or on highways, you can lower the suspension to lower the vehicle's center of gravity and improve its handling.
You can also lift up the suspension to its maximum ride height when you're driving on uneven surfaces or through deep snow.
Heated Mirrors, Seats and Steering Wheel
The Yukon comes with heated mirrors as standard which improves visibility during the winter time when they can easily become frosted.
Heated front seats are also standard for all trim levels except for the base model.
Heated rear seats and a heated steering wheel are also available as standard or as an option depending on the model.
All of these extra creature comforts make driving in cold weather more bearable and less of a chore.
Remote Engine Start
Remote Start is another nice feature to have in the winter especially if it's freezing outside.
You can start the Yukon's engine using the key fob, and the climate control system and heated seats will warm up the cabin before you climb in.
On newer models, you can also activate Remote Start through an app on your smartphone.
GMC Pro Safety Plus
Newer generations of the Yukon come with driver assistance technologies called GMC Pro Safety Plus.
These driver aids use different sensors to warn you of dangerous situations and keep you alert while you're driving.
They're especially helpful in the winter where sudden steering movements and braking can easily make you lose control of the vehicle — especially on really slippery roads.
On the top trim levels, like the Yukon AT4 and Denali, you get the entire suite of driver assist features which includes:
Automatic Emergency Braking
Forward Collision Alert
Front Pedestrian Braking
Lane Change Alert with Side Blind Zone Alert
Lane Keep Assist With Lane Departure Warning
Rear Pedestrian Alert
Rear Cross Traffic Alert
Following Distance Indicator
Lower trim levels such as the Yukon SLE and SLT will have some of these as standard, while others may be available as options.
Does the GMC Yukon Have a Snow Mode?
For 2021, a Snow/Ice mode is included in the RWD Yukons as part of its Traction Select System.
This reduces the chances of wheelspin by adjusting engine output and the transmission settings.
AWD Yukons do not have a Snow Mode, but instead feature an Off-Road Mode.
On older 4WD Yukons without the Traction Select System, you can just manually choose which 4-wheel drive setting is appropriate for the road conditions.
All Yukons also have a Traction Control button that lets you switch off traction control if you need more wheelspin to get yourself unstuck or up a slippery incline.
You may also be interested in our article: how long do Dodge Durango last?
Can You Install Additional Snow Gear on the GMC Yukon?
If you need more out of your Yukon than what the standard equipment can offer, you can easily outfit with lots of different accessories to make it a better winter warrior.
It's a very popular vehicle, and it shares the same platform as the Chevy Tahoe, as well as other GM pickups, so you'll have lots of choice when it comes to factory and aftermarket accessories.
Here are just a couple of things you can add to your GMC Yukon to prepare it for extreme winter conditions:
Snow tires
Snow chains
Studded tires
Snow socks
Block heater
Tow hook
All-weather floor mats
Keep in mind, some trim levels of the Yukon, like the Denali, use really large 20 to 22-inch wheels. And these may not have enough clearance in the wheel well to properly fit snow chains, so check with your local tire shop if snow chains will work with your Yukon.
How Much Snow Can a GMC Yukon Handle?
The GMC Yukon has pretty good ground clearance which stands at 8 inches.
This will allow it to easily drive through several inches of snow and through unplowed roads.
GMC Yukons also have lots of power and are quite heavy so they can easily push through really deep snow with ease.
However, if the snow goes past it's undercarriage, it can still get stuck and high centered even with 4WD on therefore we'd advise not driving through snow deeper than 7 inches if it can be avoided.
It's also a pretty big vehicle so it can be difficult to control in extreme off-road situations.
Related: 20 Best & Worst GMC Yukon Years (With Pictures)
How Does the GMC Yukon Handle Low Winter Temperatures?
The Yukon uses modern fuel-injected engines which can easily adapt to changing weather conditions, temperatures and climates.
As long as the battery is in good condition, it should have no trouble starting up as soon as you get in and push the start button.
If you want to keep your Yukon in top condition during really long and cold winters, here are some things you can do to it:
Switch to cold-weather rated engine oil
Install a block heater
Use a battery tender or a battery warmer
Put on a set of snow tires or snow-rated all-seasons
Keep emergency winter gear such as jump packs, tow straps and ice scrapers in the car
Can a GMC Yukon Drive on Ice?
The Yukon will have no problem driving on slippery ice as long as you drive carefully and equip it with a good set of winter tires.
Just because it has 4WD and Stability Control doesn't mean it's immune to slipping and sliding.
Since it's a large and heavy vehicle, your main concern should be slowing down and stopping when the roads become slick.
It's going to have a lot of inertia and forward momentum when it's moving, so you need to give yourself lots of space and brake earlier when you're driving on ice.
Does the GMC Yukon Have 4WD?
The Yukon has always had a 4WD option even when it was first introduced.
Newer generations of the Yukon just have more sophisticated systems and have more modes included with its 4WD system.
Yukons also have locking rear differentials which give it better traction in snow, slush and ice.
What About Older GMC Yukons Models And Winter Driving?
Older GMC Yukons may not have all the modern safety features and electronics that the latest generations have, but as long as it's equipped with 4WD, they can still be very good winter vehicles.
Your main concern will be the overall reliability of the vehicle — especially if you're driving or looking at a first generation Yukon from the 1990s.
The first generation Yukons came with ABS which should help a lot when you're trying to slow the vehicle down while driving on slippery patches of ice.
The StabiliTrak Stability Control System was introduced early in the second generation Yukon's lifecycle.
This means, they're going to be safer to drive in the winter compared to the first generation models.
Do GMC Yukons Need Snow Tires?
For the best performance and safety during the winter months, we highly advise investing in a good set of snow tires for your Yukon.
The advantages to snow tires are unrivaled when you need grip, traction, and control in hazardous, snowy road conditions.
Winter tires offer better steering and braking and can also reduce hydroplaning.
Can You Mount A Snow Plow on a GMC Yukon?
The GMC Yukon is built on the same platform that all other GM trucks use, and it uses a body-on-frame construction.
So it should be easy to mount a snow plow onto the Yukon's frame.
The Yukon's weight, along with the fairly powerful and torquey engine options, also help it push through deep snow banks with ease.
There are definitely lots of better options if you're thinking about plowing snow than a top-of-the-line Yukon Denali, but there's no doubt that it can do the job fairly well.