The first Accord Hybrid was introduced in 2005 but was discontinued soon after in 2007.
After skipping a generation, the hybrid version was reintroduced in 2014 along with the release of the ninth gen Accord and has been part of the Accord lineup ever since.
In this article, we'll take a look at the common problems Accord Hybrid owners have had to deal with across its different model years.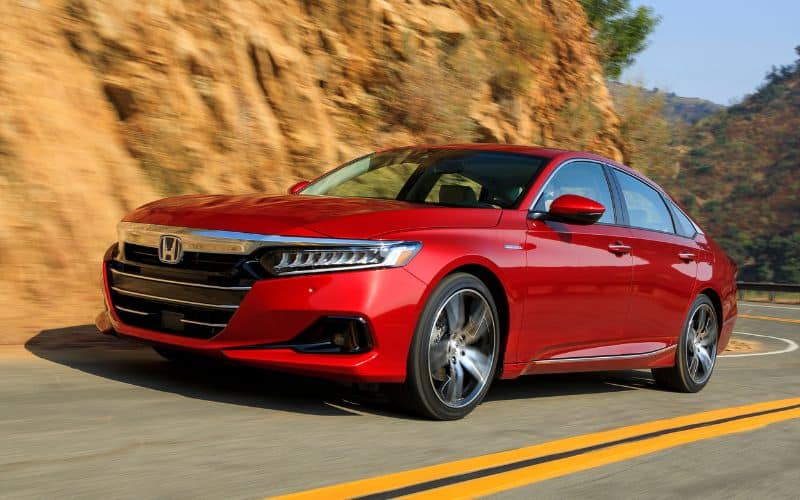 1. Hybrid Battery Issues
Like all batteries, the Honda Accord Hybrid's high-voltage battery will eventually degrade over time.  This is a common concern for those who own or are considering older Accord Hybrids — such as the seventh and ninth generation models to be specific.
These older hybrids also used nickel-metal hydride (NiMH) batteries which don't last as long as more modern Lithium-ion (Li-ion) batteries which Honda only started using in the Accord Hybrid in 2017.
Nonetheless, on different Internet forums dedicated to the Honda Accord, most 2005 to 2007 Accord Hybrid owners manage to get around 10 to 15 years out of the hybrid (IMA) battery before it needs to be replaced.
When the high voltage hybrid battery goes, you might experience symptoms like:
Poor fuel economy
IMA and check engine light comes on
Battery quickly loses charge
Battery won't fully charge
Hybrid system won't work
In a lot of cases, older Accord Hybrids can still be driven normally even when the hybrid battery goes.
You might notice some errors and strange behavior from the hybrid IMA system, but the internal combustion engine should still work.
The 12-volt battery might also have issues because it's usually charged by the hybrid system.
Here's how a few Accord owners described their hybrid battery problems:
"Hybrid battery lately acting weird. It charges to full, 6/7 bar lines and then discharges all of a sudden. Have 92K miles."
"My 2005 Accord Hybrid with 95,000 miles is indicating it needs a new battery. The IMA light and engine light keep coming on, going off and coming back again."
Solution
Though hybrid batteries typically come with an 8-year/100,000-mile warranty they're expected to last well over 10 years before you'll start to notice significant degradation. In some states, like California, hybrid batteries come with a longer 10-year/150,000-mile warranty.
For older Accord Hybrids, replacing the NiMH hybrid battery with an aftermarket or remanufactured unit will usually cost around $1,500 which isn't much to get several more years of use out of the car.
Replacement Li-ion hybrid batteries for newer Accord Hybrids might be slightly more expensive, but this shouldn't be much of a concern since these modern batteries are designed to last even longer.
2. Defective DRLs (Daytime Running Lamps)
The facelifted ninth generation Accord has DRL headlights that eventually stop fully lighting up after some time.
This issue only affects the 2017 model year of the Honda Accord Hybrid, as well as the 2016 to 2017 non-hybrid models Other model years don't use the same headlight assembly.
Daytime Running Lamps make your car more visible to pedestrians and other vehicles.
They're not absolutely necessary for nighttime visibility, but it's quite disappointing to see one or both headlights fail in a relatively short amount of time.
In a lot of cases, the LED strips that surround the headlight assembly do still light up, but it looks like it's only lit up part way because the heat of the LEDs have burnt up the lens.
Here is how one 2017 Accord Hybrid owner described their experience:
"Mine also experienced the DRL burn out at 28,000 miles."
Solution
In 2019, Honda extended the warranty of the 2016 and 2017 Accord's DRL LEDs to 10 years and an unlimited number of miles.
Normally, you'll need to replace the entire headlight assembly in order to fix the DRL issue.
These headlights typically cost around $500 a piece without the extended warranty.
Some Accord owners remove the fuse that automatically turns on the DRLs when the car is turned on. With the fuse gone, the DRLs only light up when the headlights are turned on which dramatically increases the usable lifespan of the DRLs.
3. Dashboard Rattles
Although rattles are not uncommon in different generations of the Accord, early model years of the tenth gen Accords have many reports of dashboard rattles and squeaks.
On the Car Complaints website, dashboard rattles are the most commonly reported issue for the 2018 Accord — and both hybrid and non-hybrid models suffer from the same problem.
Rattles can be very hard to track down and will sometimes require tearing out the entire dashboard to figure out what is causing the noise.
Here is how a few unhappy owners described their experience:
I've had my 2019 Accord Hybrid Touring for less than a month. It's already been back to the dealer once to "fix" the squeak/rattle in the trim around the HUD where it meets the windshield.
3 months ago as the weather warmed, my 4 month old 2019 Accord Hybrid Touring started squeaking.
I own a 2018 Accord Hybrid Touring. Lately I have been hearing a squeak coming from the dash when I drive over small bumps in the road. I am pretty sure the squeak is coming from the Heads Up Display unit because when I hold the HUD down to the dash, the squeak stops.
Related: 11 Best & Worst Honda Accord Hybrid Years (Facts & Stats)
Solution
Honda released a TSB to fix the rattling or buzzing coming from the HUD (Heads-Up Display). The fix involves removing the dashboard and sticking felt or foam where the HUD's trim pieces meet.
Lots of 10th gen Accord owners were also able to get rid of the rattle by simply sticking foam or similar materials in between some of the gaps to dampen the noise.
4. Buzzing Sound at Highway Speeds
Many owners of early 10th gen Accord Hybrids have noticed a constant buzzing or humming sound whenever they reach 50 to 60 MPH. It usually goes away whenever the windows are rolled down a bit or if they slow down or speed up a bit.
This loud buzzing is caused by a defective Active Noise Cancellation (ANC) system which uses the speakers to cancel out low frequency vibrations and noises to make the cabin quieter.
Buzzing or humming problems are fairly common in the 2018 to 2020 Accord Hybrid. It can also affect the 2005 to 2007 Accord Hybrid which was the first Accord to be equipped with such a system.
Here's how a few Accord owners described their experience:
"Bought a brand new 2020 Accord Hybrid Touring and within 20 miles of starting to drive it the loud humming noise started — very startling and disappointing."
"I own a 2020 Accord Hybrid with same problem. Opening a window slightly does solve the issue for that moment."
Solution
Due to the number of complaints, Honda released a TSB (Technical Service Bulletin) in 2021 to address the problem.
To get rid of the noise, the existing ANC unit has to be replaced with an updated one which has newer software.
If the car is still under warranty, the dealer should perform the repair free of charge.
In older 7th gen Accord Hybrids, the ANC system can be turned off, but this is not possible in newer models. If you have a newer Accord Hybrid with a defective ANC and you don't want to pay for a new unit, you can simply unplug the ANC from under the dash just behind the glove compartment.
5. Phantom Braking
There have been many reports of the tenth generation Accord's CMBS (Collision Mitigation Braking System) randomly triggering on its own for no apparent reason.
Phantom braking problems are often reported in the 2018 and 2019 model years of the Honda Accord, but other model years can also be affected.
The NHTSA launched an investigation in February 2022 to determine the cause of the problem due to the number of complaints it has received — particularly with the 2018 and 2019 Accord — and the fact that some instances have resulted in collisions and injuries.
Here is how a few owners described their experience:
"My 2017 Accord Hybrid's collision mitigation braking system, no less than 10 times weekly, senses on-coming traffic, well outside my path, and initiates braking."
"Every single time I turn on my 18 accord I have to turn off the emergency braking system because it's almost caused accidents more than I can remember."
"I purchased a new 2018 Honda Accord hybrid for my daughter. When she was driving back from class on a road at 35 mph, the collision mitigation system brake warning flashed then braked immediately, stopping the car in traffic. "
Solution
If you're encountering issues with the Accord's automatic braking, you can always turn it off by pressing the Safety Support Switch on the dash and selecting the CMBS feature using the scroll wheel on the steering wheel.
Honda has not officially released any fix for the reported automatic braking problems, but it did update the Accord's software in 2019 to fix issues with the Adaptive Cruise Control and the CMBS.
This might explain why there haven't been many issues reported for the 2020 and newer model years.
Many people also suspect that the false alarms occur when the front camera gets hit with glare from the sun or another light source. It's probably a good idea to keep the bottom edge of the windshield where the camera is located clean to prevent false alarms.
6. Surging While Cruising
A number of Accord Hybrid owners have noticed that their car will sometimes surge or jerk when the car switches from EV mode to using the engine to drive the wheels.
Those who have noticed the problem say that it feels like the car is slightly pulsing forwards and backwards.
Most owners say that it usually occurs in the following conditions:
While cruising between 45 to 60 mph
When the engine is running at low RPMs
The engine hasn't fully warmed up yet
'Econ' mode is selected
There are more reports of this surging issue with the 9th and early 10th gen Accord Hybrids. But it can also occur in other model years.
Once you press the accelerator a little more, the surging usually disappears and the car accelerates normally, so it doesn't really affect the Accord Hybrid's drivability.
Here's how a few Accord Hybrid owners described the issue:
"I purchased a 2014 Touring hybrid and with my new car at cruising speeds on the highway you can feel the car gently jolt back and forth almost like a transition from gas/electric."
I have a 2018 HAH Touring with 54k miles and I have the transmission/engine hesitation quite often
I have a 2019 with about 19K miles on it. Since about 10K miles I have noticed the car has these slight hesitations when vehicle speed is between 40 and 65 miles per hour. While driving a consistent speed using manual acceleration, the car almost feels like someone is tapping the brakes or the system can't figure out if it should be running on electric or gas.
Solution
The surging usually only occurs a handful of times a year so most owners consider it a non-issue.
If the surging continues for more than a few seconds and becomes too bothersome, pulling over and restarting the car usually gets rid of it completely.
So far, Honda has not released any fixes or software updates that directly address the problem. It's worth noting though that other hybrid vehicles can also have the same problems when transitioning from EV to engine mode, so it's not exclusive to the Accord Hybrid.
7. Mediocre Gas Mileage
On Car Complaints, a website that keeps track of owner feedback, poor fuel economy is the most common issue people have with the Accord Hybrid.
This is not much of a surprise when it comes to the 2005 to 2007 Accord Hybrid because it uses the same V6 engine as the non-hybrid model. However, owners of newer generation Accord Hybrids say that they haven't gotten anywhere close to the claimed 45 to 50 mpg.
One of the more common complaints with the ninth generation Accord Hybrid from 2014, 2015 and 2017 is that the gas mileage seems to drop a bit with each passing year.
Here's how a few Accord Hybrid owners describe their issues:
"Bought 2014 Honda Hybrid brand new. I always get 36/38 mpg no matter what I do."
"My husband and I bought a 2019 Hybrid Accord in December 2018. We have put 4,000 miles on the car in the last 3-4 months and have gotten 37 mpg as our average. My husband and I drive the car and both of us have averaged 37 mpg. We are driving both highway/city."
"The Accord is a nice vehicle and gets good fuel economy. I average 43 which is below the 47 they claim but could be my driving habits."
Solution
The best way to improve the Accord Hybrid's fuel economy is to drive less aggressively and pay attention to the dash to make sure you're not using the internal combustion engine unnecessarily.
Using the regen paddles as often as you can also charges up the hybrid battery and ensures that there's always enough energy to power the electric motors. Whenever the hybrid battery is low, the engine works harder to charge it back up which inevitably consumes more fuel.
With these techniques, you can easily improve the Accord Hybrid's mileage from the low to mid 30s to around 45 mpg combined.
Related: How Long Do Honda Accord Hybrids Last? (12 Important Facts)
Honda Accord Hybrid Pros and Cons
Pros
Excellent reliability
Low maintenance costs
Modern driver and safety tech
Good acceleration
Great handling
Affordable
Gets great gas mileage
Cons
Can develop rattles and squeaks
Some find the seats uncomfortable
Poor gas mileage in old models
Honda Accord Reliability Compared to Similar Cars
Consumer Reports ranks the Honda Accord (including gas and hybrid) in 2nd place with a score of 84/100.
Make & Model
Consumer Reports
Reliability Score
Toyota Camry
86
Honda Accord
84
Mazda6
65
Ford Fusion
47
Hyundai Sonata
45
Kia Optima
45
Chevrolet Malibu
21
Source: Consumer Reports
Honda Accord Hybrid Used Value
We've taken a look on Car Gurus to gauge the resale value of a Honda Accord Hybrid, below are typical asking prices for each model year.
According to Car Edge, a Honda Accord will depreciate 21% after 5 years and have a 5 year resale value of $29,394.
Note: Used model prices will vary depending on trim level.
| | | |
| --- | --- | --- |
| Model Year | Mileage (miles) | Resale Price |
| 2022 | 16,945 | $31,395 |
| 2021 | 17,710 | $29,798 |
| 2020 | 23,334 | $34,949 |
| 2019 | 33,479 | $27,087 |
| 2018 | 47,720 | $27,887 |
| 2017 | 87,719 | $18,917 |
| 2015 | 101,915 | $16,750 |
| 2014 | 91,164 | $18,475 |
| 2007 | 116,110 | $7,490 |
| 2006 | 168,992 | $6,375 |
| 2005 | 238,888 | $4,499 |
Source: Car Gurus
What Do Owners Like and Dislike About the Honda Accord Hybrid?
Based on owner feedback from the Kelley Blue Book site here are what real-life owners love and hate about the Honda Accord.
Likes
Smooth ride
Its looks and quietness are second to none
Excellent feel on the highway
Stylish, sporty mixed with luxury touches, value
Efficiency. Reliability. Performance. Space.
Dislikes
Dashboard rattling noise
Sometimes noisy. Minor comfort issues.
The only con is there was no spare tire
Owners Reviews
"Great features, one of the best car I've owned. Drives very smooth. The engine don't make much noise. Also a gas saver"
Source: Kelley Blue Book
"My Honda Accord Hybrid 2022 Model EX-L has all the special features I could ever want or need in an automobile. My average gas mileage in town and on the road have both averaged 45 miles per gallon. The acceleration rate is fine for a senior citizen that does not need to drive like a teenager, and the transmission is smooth and quiet."
Source: Edmunds
"I have put 18,000 miles on my 2022 Accord Touring Hybrid and must say this is a dream car in every way. The interior amenities are top notch. No hard plastics or cheap fillers, everything is high quality and built to last. The car is very quiet even when accelerating in sport mode. The 19" wheels tend to get damaged often by potholes since the tread is low profile, and since this car comes with a tire inflator versus a spare tire, I have been stranded on the side of the road a few times."
Source: Edmunds
How Reliable Are Honda Cars?
According to a recent report from Consumer Reports, Honda are ranked the 6th most reliable car manufacturer out of 28 brands, with a score of 66/100.
| | | |
| --- | --- | --- |
| Rank | Brand | Score |
| 1 | Lexus | 76 |
| 2 | Mazda | 75 |
| 3 | Toyota | 71 |
| 4 | Infiniti | 69 |
| 5 | Buick | 66 |
| 6 | Honda | 66 |
| 7 | Subaru | 66 |
| 8 | Acura | 64 |
| 9 | Nissan | 63 |
| 10 | Mini | 60 |
| 11 | Hyundai | 56 |
| 12 | Chrysler | 54 |
| 13 | Porsche | 52 |
| 14 | Chevrolet | 48 |
| 15 | Audi | 47 |
| 16 | Cadillac | 47 |
| 17 | BMW | 45 |
| 18 | Ford | 44 |
| 19 | Kia | 43 |
| 20 | Volvo | 42 |
| 21 | Ram | 40 |
| 22 | GMC | 37 |
| 23 | Mercedes-Benz | 34 |
| 24 | Volkswagen | 31 |
| 25 | Genesis | 30 |
| 26 | Jeep | 26 |
| 27 | Tesla | 25 |
| 28 | Lincoln | 18 |
Source: Consumer Reports
Related: 22 Best & Worst Honda Accord Years (With Facts & Stats)
Sources
https://www.consumerreports.org/cars/honda/accord/
https://www.carcomplaints.com/Honda/Accord/
https://www.carproblemzoo.com/honda/accord/
https://www.kbb.com/honda/accord/
https://www.edmunds.com/honda/accord/
https://caredge.com/honda/accord/depreciation