The first Honda CR-V Hybrid was introduced as a 2020 model when the fifth-gen CR-V got a mid-cycle update and facelift.
The CR-V Hybrid boasts better fuel economy than the gas-only model though it comes with a larger 2.0-liter engine.
In this article, we'll take a look at the common problems CR-V Hybrid owners have encountered.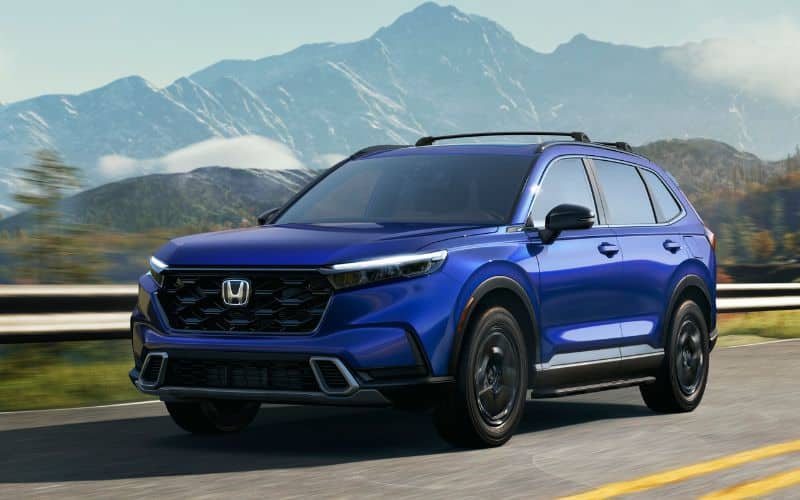 1. Phantom Braking
Many CR-V Hybrid owners have had issues with the car's CMBS (Colligation Mitigation Braking System), also sometimes referred to as the automatic emergency braking system.
There have been a couple of reports of phantom braking issues where the car suddenly engages the brakes even when the road is clear.
Even though it can be overridden by stepping on the gas, it happens so seldomly that most people are taken by surprise when it happens and can't react quickly enough.
Looking at the data from the NHTSA website, the 2021 model year of the Honda CR-V Hybrid has the most number of complaints that can be attributed to this problem. At the time of writing, 33 out of the 74 complaints logged for that model year were related to forward collision avoidance issues.
Here's how some owners described their experience:
"Automatic emergency brake activated and the vehicle came to a complete stop while approaching a railroad crossing. There was no traffic ahead."
"I was traveling about 17 MPH when my CRV braked suddenly to a stop on its own. There was nothing in front of me."
Solution
Honda has not released any fixes for the CR-V's phantom braking issue yet. Newer models don't seem to have as many incidences of phantom braking so the earlier cars probably have older parts or software that need to be updated.
Phantom braking and Honda Sensing issues are also common in other Honda vehicles, so it's not exclusive to the CR-V Hybrid.
Automatic braking problems are hard to diagnose since they don't occur very frequently.
Most owners who are bothered by the feature simply turn off the automatic braking every time they start the vehicle.
If you're constantly getting false alarms, it's best to have the dealer take a look at it because it might be caused by faulty hardware like the cameras.
2. Battery Drain Problems
Modern CR-Vs have battery drain problems where the battery goes flat if the car isn't used for a few weeks.
Modern CR-Vs are equipped with smaller and lighter batteries from the factory.
Combine this with all the electronics that the CR-V Hybrid uses and you can easily drain the 12-volt battery if you only drive very short distances or live in cold environments and don't give it enough time to charge back up.
But aside from problems caused by the small battery, excessive drain can also be caused by faulty electronics or alternator problems.
Once the 12-volt battery gets weak, you're more likely to see random errors and issues pop up — especially since hybrids rely on lots of electronics and computer systems.
Here is how two CR-V owners described their experience:
"The car died in a closed insulated garage. They told me the battery had frozen and that it had taken all day to thaw. It was 23 degrees F that night, but this is mild weather for Montana. I called other dealerships and I was told that this is a common issue for the 2020 CR-V Hybrid. "
"Less than a year old and at 3207 miles, the vehicle would not start and showed absolutely no life. The 12v battery was completely drained and required a jump start. The battery did not go bad, has no dead cells and the charging system shows no issues when tested."
Solution
Some fifth gen owners with battery drain issues report that their dealers eventually found that their BCM (Body Control Module) was faulty and caused random electronics to turn on.
A larger 12-volt battery can also be fitted after some minor modifications to the battery holder.
Other workarounds for battery drain issues that are hard to figure out include:
Use a battery tender when parked
Install a battery disconnect switch
Take longer trips to charge the battery
Keep a jump pack or jumper cables in the car
Related: 5 Best & Worst Honda CR-V Hybrid Years (With Pictures)
3. Lack of Spare Tire
A common issue that's often brought up by current and potential owners is the fact that the CR-V Hybrid doesn't come with a spare tire because the extra space is needed for the hybrid battery.
Although the CR-V Hybrid does come with a tire repair kit to seal up punctures and pump the tire back up, it can't fix problems like:
Large punctures
Sidewall damage
Bent wheels
Tire blowouts
The lack of a spare tire is an even bigger problem if you're in the middle of nowhere without easy access to roadside assistance.
Here's how owners described their problems with the lack of a spare tire:
"We bought a '22 Hybrid Touring, and failed to check for a spare until after we brought it home. It really bugs me that there is no room to put a spare tire."
"I travel for work a lot and would like to have a spare so that I can get back on the road faster."
"I love that I have a hybrid but I hate not having a spare tire. Really freaked me out when I was driving home from Texas and my low tire pressure light came on as I was exiting the highway for my hotel at like 11:30pm."
Solution
CR-V Hybrid owners who are worried about getting stranded when going on long trips or camping usually pack a spare donut or full size tire in the back in case of emergencies.
However, this takes up a lot of cargo space. To get around this, you can install a roof rack to make up for the lost space.
It's also important to get the correct sized spare tire because the ABS sensor will throw errors if it detects different wheel speeds across the four tires.
4. Mediocre Fuel Economy
A number of CR-V Hybrid owners have complained about getting poor fuel economy in their vehicles.
Officially, EPA estimates for the CR-V Hybrid are around 40 mpg city and 35 mpg highway which is only slightly better than the fuel economy of the non-hybrid CR-V's 1.5-liter turbo engine.
The CR-V Hybrid's fuel economy gets worse in certain conditions such as:
Traveling over 70 mph
Lots of uphill driving
Cold winter weather
Whenever the CR-V Hybrid's 2.0-liter engine works harder, you can expect the fuel economy to drop significantly.
In colder weather, the hybrid battery isn't as efficient because the lower temperatures slow down the chemical reactions needed to produce energy. Turning on the heater and other electrics also puts additional drain on the battery.
Here is how a few owners described their CR-V Hybrid's fuel economy issues:
"Owner of a brand new 22 CRV hybrid. This is my first 200 miles on the car and I'm averaging 29.1 to 28.8 mpg. I have a good mix of city and high and driving on my commute and I'm a little disappointed with the numbers I'm seeing."
"I have a 2021 hybrid cr-v. We get about 38 mpg in the warmer months but during the really cold weeks of winter we get about 25-28."
"We've had our 2022 CR-V Touring for a month and are only getting 30.5 mpg."
Solution
The best way to improve the CR-V Hybrid's fuel economy is to drive less aggressively and pay attention to the dash to make sure you're not using the internal combustion engine unnecessarily.
Using the deceleration paddles as often as you can also charges up the hybrid battery and ensures that there's always enough energy to power the electric motors. Whenever the hybrid battery is low, the engine works harder to charge it back up which inevitably consumes more fuel.
Using these techniques you can easily improve the CR-V Hybrid's mileage from high 20s to 40 mpg combined.
5. Noisy AVAS
Many CR-V Hybrid owners have complained about the car's AVAS (Acoustic Vehicle Alerting System) which constantly emits a sound whenever the car moves at speeds lower than 20 miles per hour.
Unfortunately, as of 2020, all electrified vehicles (including hybrids) sold in the US are required to have warning sounds to alert pedestrians because they move very quietly, especially at low speeds.
Key points about the CR-V Hybrid's AVAS:
There's no way to disable the warning sound.
AVAS comes on whenever the transmission is moved out of 'Park'.
It gets louder whenever the car is shifted to 'Reverse'.
Although the CR-V Hybrid's AVAS sounds similar to soft choir music and can barely be heard when the windows are up, it's very noticeable outside the vehicle, especially in quiet environments like most residential neighborhoods.
Here is how a few CR-V Hybrid owners described their experience:
"The Active Vehicle Alert System (AVAS) is very noisy and irritating. My neighborhood is affected with this Noise Pollution to the point where I am embarrassed to drive in early AM or late PM."
"Our Hybrid CRV is MUCH louder than a gas engine. So loud I can hear it inside the vehicle any time the speed is under 20 MPH."
"The sound is so loud it makes me go crazy especially when reversing."
"I have a 2020 Hybrid with its Acoustic Vehicle Alerting System, which makes a rather annoying (for safety. to be sure) noise when the car is is anything other than Park and driving less than 22 MPH. "
Solution
Since the AVAS is a legal requirement, there's no way to disable it using any of the vehicle settings.
Early models in other markets, such as in the UK, initially had a button to disable it, but this was eventually phased out in newer vehicles.
Owners who have tried to disconnect the speaker or cut wires to disable the AVAS permanently report that it usually results in an error message. Some have been able to reduce the volume of the sound by taping over the speaker grill, which is underneath the bumper just in front of the right front wheel.
6. Slow Infotainment
Many CR-V Hybrid owners have expressed their disappointment with the car's slow and buggy infotainment system.
Installing and using apps directly on the head unit is not ideal because its processor is not very powerful. It gets better when it's connected to Apple CarPlay or Android Auto, but it can be buggy sometimes.
Here is how some owners described their issue:
"Carplay and my iPhone hate each other in my '21 CRV. When it works, it's great. But it blacks
out about half the time I use it."
"Fifth gen here… Infotainment system… hands down… it's awful… Carplay works sporadically, have had it in the dealer several times to address it; they've replaced it, still happens."
"Multiple times our 2022 EX-L has either frozen or failed to recognize our iPhones using latest software and factory cable."
Solution
People who've had issues with modern Honda infotainment systems report that they were solved when they replaced their USB cables with good high quality ones.
Rebooting the head unit by pressing and holding down the power button/volume knob also usually solves a lot of strange infotainment problems.
Some problems also only come up when using certain apps, but software updates will usually fix these issues eventually.
If you're still having issues, it's best to take the dealer so they can further diagnose it. Some issues are caused by faulty head units and can only be fixed by completely replacing it.
Honda CR-V Hybrid Pros and Cons
Pros
Extremely reliable
Low maintenance
Good fuel economy
Roomy interior
Equipped with latest driving and safety tech
Cons
Not rated for towing (5th gen)
Lacks spare tire
Smaller hybrids have better gas mileage
Related: 17 Best & Worst Honda CR-V Years (With Facts & Stats)
Honda CR-V Hybrid Reliability Compared to Similar Cars
Consumer Reports ranks the Honda CR-V (including gas and hybrid models) in 8th place with a score of 80/100.
Make & Model
Consumer Reports
Reliability Score
Kia Sportage
91
Buick Envision
90
Audi Q5
89
Cadillac XT5
88
Hyundai Tucson
87
Mazda CX-5
83
Mercedes-Benz GLC
81
Honda CR-V
80
Lincoln MKC
80
Nissan Rogue
78
Lexus NX
77
Volvo XC60
73
Subaru Forester
70
Chevrolet Equinox
60
GMC Terrain
60
Infiniti QX50
49
Acura RDX
45
BMW X3
34
Ford Excape
29
Jeep Cherokee
28
Toyota RAV4
24
Volkswagen Tiguan
18
Source: Consumer Reports
Honda CR-V Hybrid Used Value
We've taken a look on Car Gurus to gauge the resale value of a Honda CR-V Hybrid, below are typical asking prices for each model year.
According to Car Edge, a Honda CR-V will depreciate 18% after 5 years and have a 5 year resale value of $32,907.
Note: Used model prices will vary depending on trim level.
| | | |
| --- | --- | --- |
| Model Year | Mileage (miles) | Resale Price |
| 2022 | 4,211 | $38,282 |
| 2021 | 17,769 | $36,203 |
| 2020 | 31,423 | $34,850 |
Source: Car Gurus
Related: 9 Most Common Honda CR-V Problems (Explained)
How Reliable Are Honda Cars?
According to a recent report from Consumer Reports, Honda are ranked the 6th most reliable car manufacturer out of 28 brands, with a score of 66/100.
| | | |
| --- | --- | --- |
| Rank | Brand | Score |
| 1 | Lexus | 76 |
| 2 | Mazda | 75 |
| 3 | Toyota | 71 |
| 4 | Infiniti | 69 |
| 5 | Buick | 66 |
| 6 | Honda | 66 |
| 7 | Subaru | 66 |
| 8 | Acura | 64 |
| 9 | Nissan | 63 |
| 10 | Mini | 60 |
| 11 | Hyundai | 56 |
| 12 | Chrysler | 54 |
| 13 | Porsche | 52 |
| 14 | Chevrolet | 48 |
| 15 | Audi | 47 |
| 16 | Cadillac | 47 |
| 17 | BMW | 45 |
| 18 | Ford | 44 |
| 19 | Kia | 43 |
| 20 | Volvo | 42 |
| 21 | Ram | 40 |
| 22 | GMC | 37 |
| 23 | Mercedes-Benz | 34 |
| 24 | Volkswagen | 31 |
| 25 | Genesis | 30 |
| 26 | Jeep | 26 |
| 27 | Tesla | 25 |
| 28 | Lincoln | 18 |
Source: Consumer Reports
Related: How Long Do Honda CR-V Hybrids Last? (12 Important Facts)
Sources
https://www.consumerreports.org/cars/honda/cr-v/
https://www.carcomplaints.com/Honda/CR-V_Hybrid/
https://www.carproblemzoo.com/honda/cr-v/
https://www.kbb.com/honda/cr-v/
https://www.edmunds.com/honda/cr-v/
https://caredge.com/honda/cr-v/depreciation