The Ram ProMaster is a full-size van designed to tackle a wide range of jobs.
It's on the market as a 1500, 2500, and 3500 model in window van, cargo van, chassis cab, and cutaway body styles, plus two available roof heights and three available wheelbase lengths.
If you're looking to buy one you might be wondering about its average lifespan.
We'll cover that in this article, read on to find out…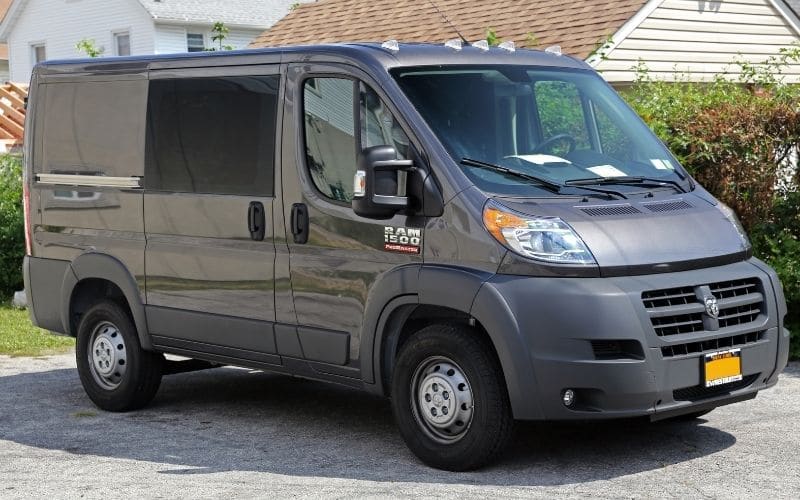 Here is the short answer to how long the Ram ProMaster lasts:
The Ram ProMaster is a highly durable van that can last between 200,000 – 250,000 miles on average when properly maintained, however some have lasted well over 300,000 miles. Based on driving 15,000 miles per year, you can expect a ProMaster to last 13 – 17 years before requiring major repairs.
How Many Miles Can You Expect from a Ram ProMaster?
Although the ProMaster hasn't scored the highest reliability ratings, if you keep on top of repairs and maintenance they can certainly last a very long time.
RepairPal gave the ProMaster 1500 and 2500 a reliability rating of 2.0 out of 5.0 which ranks it 17th and 20th respectively out of 21 for commercial vans. The 3500 has not been reviewed due to insufficient data.
On the ProMaster dedicated forum promasterforum.com we found a number of owners who had crossed the 200,000-mile mark and many others who had 150,000 miles on the odometer and still going strong.
These vans aren't perfect by any means but they are built to last.
As one owner said: "You might have some issues along the way, but with maintenance and the understanding that repairs are required on all vehicles, you can get it to 250k"
Its durability becomes more evident when looking on used car websites such as Car Gurus where you can find models with over 300,000 miles, although we suspect a number of these will have had transmission replacements.
Once the van has accumulated big numbers on the odometer there's a much higher risk of big-ticket items failing such as the transmission or engine, when this happens the cost of repairs can run into the thousands of dollars and may outweigh the value of the van.
Vehicle design and quality materials will play a significant role in how long a vehicle can last, but most automotive experts will tell you it boils down to a few key factors at the ownership level.
Regular maintenance can add thousands of available miles to the odometer.
How you drive your ProMaster will also play a part in how long it lasts – overworking the engine or being too aggressive with the brake and gas pedals can be hard on any vehicle.
The life expectancy of your Ram ProMaster will be cut short if you avoid:
Using quality parts
Service appointments
Routine oil changes
Regular car washes
Tire rotations
Driving smoothly
New Ram Promasters come with a 3 year/36,000 mile basic warranty and a 5 year/60,000 mile powertrain warranty.
Do Ram ProMaster Rust Easily?
The Ram ProMaster does not rust easily thanks to its galvanized steel panels, aluminum components and a good standard of corrosion protection that is applied during the manufacturing process.
That's not to say the Ram ProMaster is immune from rust, however they do have an excellent reputation, one driver posted "For the most part, these vans appear to be crazy resistant to any kind of important rust. All 3 of mine are 2014s, all have lived their lives on salt-covered roads, and none have any rust to speak of. It's kind of amazing"
If you poke around the engine you might find the odd part that's rusted, however these are often ignorable as some metals quickly develop a rusty coating that's best left alone. Cleaning it off only wears the surface coatings off.
Note: Be extra careful when cutting out roof vents or window openings, this produces metal sawdust which can form tiny rust blisters on the paint.
One owner advised: "It's always a good idea to have someone hold a strong vacuum close to the cut and even then you just won't get it all. Going over a fresh cut with a magnet also helps but most likely you will still find tiny rust spots in the future. Fortunately, if you compound them out as soon as they show up you will encounter no damage from them."
For those living in drier states, rust will be much less of a concern. However, paint fading will be more common.
Tips to protect your Ram ProMaster from rust:
Regularly wash and dry your car: This includes its underside (especially during the winter) to remove the salt, dirt and grime that causes rust. We recommend having a detail shop wash everything underneath at the end of each winter.
Repair paint damage and scratches: Exposed metal will oxidize. If it's beyond a DIY fix, speak to your local body repair shop – get it repaired before it gets worse.
Garage: Store your Ram ProMaster in a garage to protect it from harsh weather and bird droppings.
Waxing: Wax your car twice a year. Not only will this give your Ram ProMaster a nice shine, it also gives it a protective coating against rust.
Rustproofing: Some owners reccomend applying a coating of Fluid Film to the undercarriage although some recommend only spraying the rear axle, struts, springs and any of the 'black' steel under the van
Ceramic Coating: A popular choice for those who want to add an extra layer of protection to the paint job.
What is High Mileage for a Ram ProMaster?
A Ram ProMaster with over 120,000 miles is considered high mileage. This can equate to a riskier purchase because of a higher chance of problems arising; most parts will have some degree of wear and tear and there is a higher risk of transmission failure. However, you should not assess the van on mileage alone.
Purchasing a high mileage Ram ProMaster won't necessarily lead to a sour outcome.
A well-maintained Ram ProMaster with 120,000 miles might be a better option than one with 80,000 miles that's led a rough life or was previously a rental vehicle.
If you're buying a used Ram ProMaster, consider the following:
Maintenance history. Check that the car was properly serviced and the owner can provide proof of this.
Get a second opinion. Take it to an independent auto repair shop or have it inspected by a mechanic you trust.
Check for rust. Rust is a problem that will spread. Some dishonest salespeople cover up the rust with a bit of paint or some stickers. It's always a good idea to look under the car.
Check the CarFax. This can provide a good overview of the car and includes the vehicle's title, mileage, previous ownership, accident reports, and it might tell you what the vehicle was used for, such as whether it was a personal or commercial vehicle.
Number of previous owners. As a general rule, less is better. More owners usually equate to more wear-and-tear. If one family owned it and drove the full mileage and serviced the car, then you can almost guarantee they took good care of it throughout their ownership.
How long you are planning on keeping the car. If you're planning on keeping the car for a long time, evaluate whether the short-term savings outweigh spending extra on something more reliable.
Examine the interior. The condition of the interior tells the story of how well the car was maintained and cared for. Does the steering wheel, pedals, or shifter look suspiciously new? If so, there's a good chance that the car was heavily used, and those parts were just replaced before sale.
Inspect engine for obvious leaks and obvious damage. If the engine looks immaculately clean, it means it was washed. The question is why? Most likely to hide oil leaks and similar nasty problems.
Check the car's VIN and get a full history report. Was it a taxi or rental car? Recalls? How many owners? Real mileage? Stolen? Any accidents? If you're buying a used Ram, always check the VIN – you never know what the car has been through.
Take it for a test drive: Driving on a rough road is a great way to identify squeaks, rattles, and suspension issues. Check the dashboard for warning lights – especially the check engine light.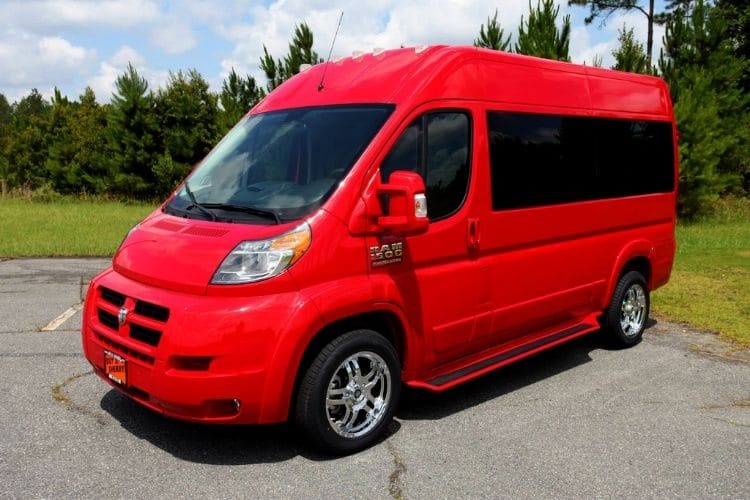 How Long Does the Ram ProMaster Last Compared to Similar Car Models?
In this section, we'll look at some of the Ram ProMaster's closest competitors and see how they stack up in terms of durability and repair costs.
Ram ProMaster vs. Ford Transit
The Ford Transit is another popular choice amongst van life enthusiasts and tradesmen alike; it can handle just about anything you throw at it.
The Ford Transit can last 200,000 – 250,000 miles before requiring expensive repairs or 13 – 17 years, equal to what is expected of the Ram ProMaster.
Ram ProMaster
Ford Transit
RepairPal Reliability Rating
2.0/5.0
3.0/5.0
RepairPal Reliability Ranking
17th / 21
Commercial Vans
12th / 36
Commercial Vans
Average Annual Repair Cost
$1,072
$947
Kelley Blue Book Reliability Score
3.8/5.0
4.3/5.0
Both vehicles are incredibly popular choices when it comes to full-size cargo vans.
Similarities:
Engines
Safety features
Customizable
Differences:
The Transit's turbocharged engine offers more torque and horsepower.
The Transit has additional safety and driver assistance features.
At their most spacious configurations, the ProMaster van upfit can haul more, but the Transit can tow heavier loads.
The Transit has more maximum cargo space but the ProMaster offers more minimum cargo space.
Both the ProMaster and Ford Transit cargo vans deliver on durability, value and versatility and we'd advise taking both for a test drive before making any big decisions.
You may also be interested in our article: How Long Does the Chrysler Town & Country Last?
Ram ProMaster vs. Mercedes Sprinter
The Mercedes-Benz Sprinter is praised for its diverse configurability, impressive capability, and state-of-the-art tech.
A Mercedes Sprinter can last 200,000 – 250,000 miles on average or 13 – 17 years, equal to what is expected of the Ram ProMaster. Like the ProMaster, there are many high mileage Sprinters on the roads today although a number of these will have had an engine rebuild or transmission replacements.
Ram ProMaster
Mercedes Sprinter
RepairPal Reliability Rating
2.0/5.0
NA
RepairPal Reliability Ranking
17th / 21
Commercial Vans
NA
Commercial Vans
Average Annual Repair Cost
$1,072
$1,778
Kelley Blue Book Reliability Score
3.8/5.0
4.1/5.0
The Sprinter is a more expensive alternative to the ProMaster although that comes with an added level of refinement and more upscale options.
For van life enthusiasts, the Promaster is slightly wider, making it easier to sleep in although the Sprinter has more power for mountain roads.
The Ram Promaster also offers more versatile seat configurations although it lacks the availability of four-wheel drive which makes it much easier to handle difficult terrain and slippery conditions.
You may also be interested in our article: How Long Do Ram 1500 Last?
Ram ProMaster vs. Nissan NV
The NV was discontinued in the Summer of 2021 as it failed to compete with the more popular choices in the segment.
The Nissan NV can last 150,000 – 200,000 miles or 10 – 13 years, which is less than the Ram ProMaster.
Ram ProMaster
Nissan NV
RepairPal Reliability Rating
2.0/5.0
2.0/5.0
RepairPal Reliability Ranking
17th / 21
Commercial Vans
21st / 21
Commercial Vans
Average Annual Repair Cost
$1,072
$906
Kelley Blue Book Reliability Score
3.8/5.0
4.6/5.0
The NV offers massive cargo capacity and easy road manners however comes up short on technology and driver assistance features.
It's the cheaper of the two vans although lacks the robust towing capacity of the ProMaster.
Comparison Chart
| | | | | |
| --- | --- | --- | --- | --- |
| | Ram ProMaster | Ford Transit | Mercedes Sprinter | Nissan NV |
| Annual Repair Cost | $1,072 | $947 | $1,778 | $906 |
| Reliability Rating | 2.0/5.0 | 3.0/5.0 | NA | 2.0/5.0 |
| KBB Consumer Rating | 3.8/5.0 | 4.3/5.0 | 4.1/5.0 | 4.6/5.0 |
| Lifespan (miles) | 200k – 250k | 200k – 250k | 250k – 300k | 150k – 200k |
Is the Ram ProMaster Reliable?
The Ram ProMaster isn't best known for its reliability having scored a below-average 2.0/5.0 reliability score from auto review site Repair Pal. Generally speaking, their reliability has improved in recent years and the older models are more problematic.
Despite a low Repair Pal score, customer feedback on the Kelley Blue Book website is more promising with a score of 3.8/5.
The general consensus is that overall the van is good value for money but if you get a problematic one you could be left pulling your hair out.
One upset driver posted, "I would like to start out by saying I love driving this van when it is running. Since I have purchased this van it has been to multiple dealers for service in 3 states. All issues are related to the diesel engine (Turbo Charger and DEF emissions system). This van has been into the shop 11 times in 2 years. I also know 2 other owners that have diesels one a 2014 and one 2016, both have had similar unreliability issues"
It's important to keep in mind that reliability is also dependant on keeping up to date with servicing, repairs and adopting good driving habits. The dependability of this van will also be determined by who owned it before you and how well they took care of it.
The Ram ProMaster received the following reliability reviews:
RepairPal gave the Ram ProMaster a below-average reliability rating of 2.0/5.0.
Kelley Blue Book's consumer rating index gave the Ram ProMaster an average reliability rating of 3.8/5.0.
RepairPal ranks the Ram ProMaster 17th / 21 commercial vans.
The reliability ratings are given depending on the 'cost, frequency, and severity of actual repairs.'
Despite its shaky reliability scores, it remains a very popular choice for work and camper van conversions.
The Best and Worst Years for the Ram ProMaster
We've done some digging to find the best and worst model years for the Ram ProMaster.
Worst Model Year
The worst model years for the Ram ProMaster are the 2014 and 2015 models. These models have received the highest number of technical service bulletins and the 2014 model received the highest number of complaints.
For this section of our article we usually head over to Car Complaints to get a better idea of vehicle history however their database only shows complaints lodged from 2014 – 2016.
That being said we can see clearly that the 2014 model had the highest number of complaints, and this is common for most vehicles as the debut year highlights many problems that aren't picked up during the initial design and manufacturing stage.
The worst problems on 2014 and 2015 ProMasters are noted as:
Squeaking Brakes
Parking break not working
Won't start
The squeaking brakes issue is the most reported problem and has left some owners feeling embarrassed stopping at lights as everyone turns to look where the loud noise is coming from.
More worryingly, owners have reported that dealers are not willing to fix this issue or have been reluctant to address the problem.
Engine problems were reported for 2015 models, whereby the 'check engine' light would come on and the van would go into limp mode.
If you're looking to buy a used ProMaster make sure the 'check engine' light doesn't come on as we've seen this problem reported on various model years.
Best Model Year
The 2022 Ram ProMaster is the best model year, it has received a number of updates including a nine-speed automatic transmission and it should benefit from increased reliability. The outward appearance is unchanged but the dashboard has been upgraded significantly.
Keep in mind vans are machines not fine wines, so the latest models will often be the best as they have ironed out previous issues and offer the latest features and tech.
Standard features on every full-size 2022 Ram ProMaster include:
Nine-speed automatic transmission
Upgraded infotainment features
Updated driver-assistance technology
Apple CarPlay, Android Auto and Amazon Alexa
Notable available features include:
A 10.0-inch Uconnect5 touchscreen
Adaptive cruise control
Lane-keeping assist
115-volt outlet
Wireless device charger
Ram has also announced that they will introduce a fully electric ProMaster in 2023.
Model Year and Number of Technical Service Bulletins
While a recall is issued by a vehicle manufacturer for issues that are safety-related, a TSB covers components that may be malfunctioning but don't compromise the safety of the vehicle.
| | |
| --- | --- |
| Model Year | No. of TSBs |
| 2022 | NA |
| 2021 | 1 |
| 2020 | 16 |
| 2019 | 12 |
| 2018 | 52 |
| 2017 | 56 |
| 2016 | 66 |
| 2015 | 79 |
| 2014 | 75 |
What About Recalls for These Models?
The Ram ProMaster has had a total of 27 recall campaigns.
You can check if your Ram ProMaster has been subjected to a recall campaign by entering your VIN (Vehicle Identification Number) on the Mopar website or the NHTSA recall database.
It is important to note that recalls are manufacturing faults repaired at no charge for the consumer.
Here is the total number of recall campaigns for every model year of the Ram ProMaster:
2022: NA
2021: 6
2020: 3
2019: 1
2018: 2
2017: 3
2016: 6
2015: 6
2014: NA
Ram ProMaster Model Year List:
2014 Ram ProMaster
2015 Ram ProMaster
2016 Ram ProMaster
2017 Ram ProMaster
2018 Ram ProMaster
2019 Ram ProMaster
2020 Ram ProMaster
2021 Ram ProMaster
2022 Ram ProMaster
Are Ram ProMaster Expensive to Maintain?
The Ram ProMaster has fairly average owneship costs compared to other vans in the segment, however compared to the average vehicle it is quite pricey.
According to RepairPal:
The Ram ProMaster will cost an average of $1,072 per year in repairs and maintenance. This is higher than the average of $963 for other commercial vans and higher than the $652 average for all vehicle models.
How Long Do the Brakes Last?
Ram ProMaster brake pads will last between 20,000 to 25,000 miles in very severe use (such as heavy-traffic urban areas) and 40,000 to 60,000 miles in average use.
Brake pad replacement, which includes parts and labor, can cost anywhere between $250 and $300.
Full and complete stops from a high speed are the #1 cause of premature brake pad wear.
An aggresive driving style will lead to faster deterioration of brakes. A slow and steady style will help them last longer.
How Long Do the Tires Last?
The Ram ProMaster's stock tires usually last around 40,000 to 50,000 miles or 3 to 5 years. However, they can wear out much sooner. This depends on various factors, such as driving habits, climate, and road conditions.
Rotate tires every 5,000 miles to ensure even wear.
Worn out suspension parts including front end parts along with shocks and struts can cause your tires to wear unevenly and too quickly.
Check your tire pressure every few weeks to make sure they're at the correct tire pressure. Improper air pressure will cause your tires to wear out prematurely.
Have a mechanic or tire shop check your wheel alignment every 6 months.
How Long Do Ram ProMaster Engines Last?
The Ram ProMaster engine is expected to last at least 200,000 miles. ProMasters are available with a 3.6-liter V-6 with 280 hp or a 3.0-liter turbodiesel I-4 rated at 174 hp.
Regular maintenance and smooth driving habits are required to reach high mileage.
How Long do the Alternators Last?
The alternator on a Ram Promastor should last between 80,000 to 150,000 miles or 5 – 10 years.
While the battery is used for starting your truck when the engines off, the alternator keeps your car alive when the engine is running.
The alternator powers most car's electronic components while you're driving around or idling and is also responsible for charging your car battery while driving.
A replacement alternator can cost in the region of $500 including parts and labor.
How Long Do Ram ProMaster Batteries Last?
The Ram ProMaster battery should last between 3 – 5 years. A vehicle's battery life varies depending on many factors such as climate, driving habits, and battery type, among many others.
Keep your battery tightly fastened: The vibrations of your car can loosen the connections, potentially resulting in short circuits and internal damage.
Limit short rides: Quick car rides prevent the battery from fully charging.
Storage: Keep your Ram ProMaster stored indoors to protect it from extreme temperature changes.
Control Corrosion: Clean the terminals (toothbrush dipped in baking soda and water mixture) and keep them free from build-up.
How Long Do the Spark Plugs Last?
Spark plugs on the Ram Promaster should last 100,000 miles although they may last much longer with some owners changing them at 130,000 miles.
Spark plugs are usually inspected every time you take your car in for routine maintenance.
Signs of a fouled spark plug include:
Reduced gas mileage
Lack of acceleration
Rough idling
Hard starts
Engine misfires
What About Insurance Costs?
The average cost of full comprehensive coverage for a Ram ProMaster is $1,420 per year or around $118 per month.
In comparison, its rivals in the compact car segment cost an average of $1,355 per year, which is roughly $65 cheaper.
Insurance costs can vary from person to person; be sure to shop around to find the best potential deal for your Ram ProMaster.
Tips to Prolong the Life of Your Ram ProMaster
Adopt smooth driving habits.
Keep up to date with factory-recommended maintenance.
Use quality parts and fluids.
Keep on top of repairs to prevent them from developing into larger problems.
Regularly wash your Ram ProMaster to remove dirt and grime to protect the paint and undercarriage from rust developing.
Check your Ram ProMaster's engine oil, coolant, brake, and transmission fluid levels and top them up when required.
Keep your Ram ProMaster stored in a garage to help protect it from the elements.
Read the owner's manual to learn the location of important components, what your Ram ProMaster needs and what quantity, and to understand the symbols and dashboard warning lights.
Resources
https://repairpal.com/reliability/ram/promaster-1500
https://www.kbb.com/ram/promaster/
https://www.jdpower.com/cars/2022/ram/promaster-cargo
https://www.cars.com/research/ram-promaster_1500-2014/recalls/
https://www.autoblog.com/buy/2015-RAM-ProMaster+City/recalls/
https://repairpal.com/estimator/ram/promaster-1500/brake-pad-replacement-cost
https://www.caranddriver.com/news/a37376954/2022-ram-promaster-commercial-van-updated/