Blind spot monitors automatically warn you whenever their radar sensors and/or cameras detect vehicles in the other lanes.
They're really helpful when visibility is low due to adverse weather conditions or if something is blocking your side view mirrors.
Although it's becoming more popular, not all modern vehicles necessarily have this feature.
If blind-spot monitoring is on your must-have list, this article takes a look at a few hybrid cars that have blind-spot monitoring as standard or as an option.

1. Toyota Prius Hybrid
After over 20 years since it was first released, very few have come close to the Toyota Prius in terms of reliability, practicality and real-world fuel economy.
Toyota also continues to develop the Prius Hybrid and just released its fifth generation for the 2023 model year.
Like its previous generations, the latest Prius can easily get over 50 mpg, but it now also comes standard with Blind Spot Monitor (BSM) and Rear Cross-Traffic Alert (RCTA) on all trim levels.
Blind spot monitoring was first offered as an option on the fourth generation Prius in 2016.
All models of the fifth gen Prius also feature Toyota's Safety Sense 3.0, which adds a collection of modern driver assists.
2. Toyota Camry Hybrid
The Toyota Camry has been America's most popular sedan for several decades primarily because of its reputation for reliability and durability.
It's also had a hybrid model since 2007, which helped improve gas mileage by a bit, but nothing like what current hybrids are capable of. Blind spot monitoring also first became an option in 2012.
The latest generation, which first came out in 2018, can get an estimated 52 mpg combined — a significant improvement over the older model's roughly 40 mpg.
The higher XLE and XSE trim levels of the Toyota Camry Hybrid come with blind spot monitoring as standard. It's also offered as an option on the LE and SE models for an extra $680.
Toyota's Safety Sense 2.5+ is standard in all models of the Camry which adds an assortment of modern driver assists.
3. Honda Accord Hybrid
The Honda Accord is a perennial favorite among those who want reliable and practical transportation, but also desire something that's more fun to drive than the average sedan.
Honda introduced the first hybrid Accord in 2005, but it was discontinued for the eighth gen model. It returned to the Accord lineup in 2014 sporting a smaller 2.0-liter inline-4 which allows it to get an estimated 48 mpg combined.
Honda's Blind Spot Information (BSI) system became an option in 2018 with the tenth generation Accord Hybrid. It's still only available as an extra $500 option on all trim levels of the eleventh generation models.
The new 2023 Accord Hybrid also comes with modern driver assists like rear cross-traffic alert, lane keep assist, and collision mitigation as standard on all trim levels.
Older Accord Hybrids from 2014 to 2017 had Honda LaneWatch which used a camera mounted on the passenger side mirror to capture real-time video of the right lane/side and then showing on the main screen. This system doesn't actively warn you if there are vehicles at your side, like other modern blind spot systems, and is really only designed to help with parking and maneuvering.
Related: 14 Hybrid Cars with Apple CarPlay (With Pictures)
4. Hyundai Sonata Hybrid
The Hyundai Sonata has always been good value for money with its array of standard features and industry-leading warranty.
Hyundai introduced the first hybrid version of the Sonata in 2011. The latest generation Sonata Hybrid was just released in 2020 and can get up to 52 mpg combined, which is significantly better than the 42 mpg of the model it replaced.
The Sonata Hybrid started getting blind spot monitoring and rear cross-traffic alert in its Limited trim level in 2016. By the 2018 model year, it became standard on all models.
The current generation Sonata Hybrid also comes equipped with a lot more standard advanced driver assists than the previous gen such as lane keep assist, front and rear collision mitigation, automatic high beams, and a driver attention monitor.
5. Hyundai Elantra Hybrid
When the seventh generation Hyundai Elantra was announced for the 2021 model year, it received a bold styling update and a hybrid powertrain for the very first time.
The Elantra Hybrid doesn't disappoint when it comes to fuel economy and is capable of an impressive 54 mpg combined.
Since it was just recently released, all models and trim levels of the Elantra Hybrid have been fitted with blind spot monitoring as standard.
Other advanced driver assists that come standard in the seventh gen Elantra include automatic emergency braking, lane keep assist, automatic high beams, and a driver attention monitor.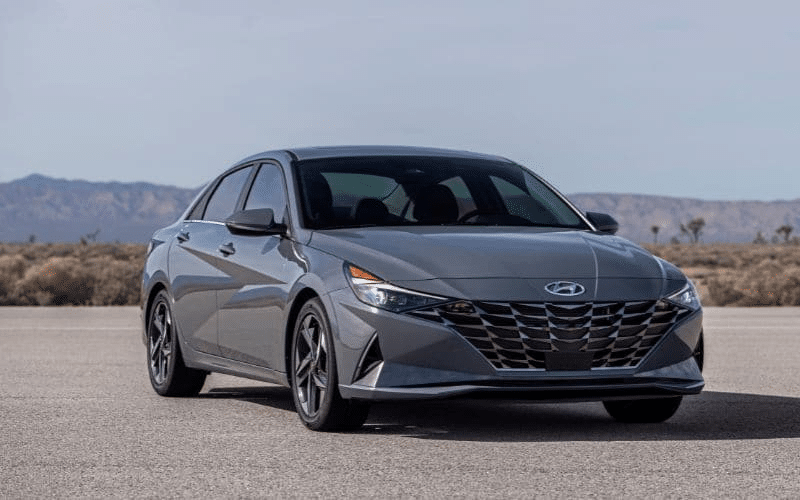 6. Toyota Corolla Hybrid
The once lowly Corolla is largely responsible for building up Toyota's reputation for reliability and longevity.
When the twelfth generation Corolla sedan was introduced in 2020, it also got a hybrid powertrain option for the first time in its 50-year history.
The Corolla Hybrid can do up to 47 mpg combined. Starting in 2023, all-wheel drive also became an option on all trim levels.
Blind spot monitoring with rear cross-traffic alert only comes standard in the top-of-the-line Hybrid XLE. But it's available as a $1,200 option in the LE and SE models.
All new Corolla Hybrids do also come standard with Toyota Safety Sense 3.0 which comes with lots of different driver assists and adaptive cruise control.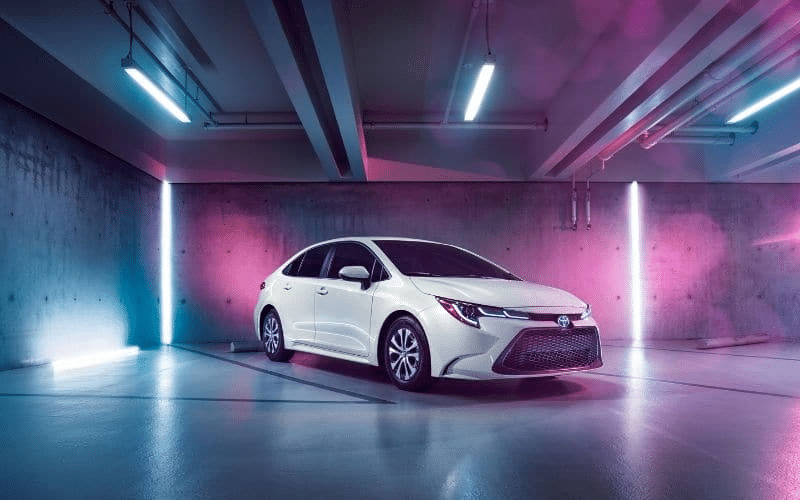 7. Lexus ES Hybrid
The midsize Lexus ES luxury sedan is known for its quiet and comfortable ride, upscale design, and overall reliability.
The Lexus ES 300h hybrid was first released for the 2013 model year and got an estimated 40 mpg combined. The current seventh gen ES hybrid improves this a bit at 44 mpg combined.
Older Lexus ES Hybrids have always had a blind spot monitoring option. It only became standard on all trim levels in 2022, but was already included in all but the base model by 2021.
The newer model years also come with Lexus Safety System Plus 2.5 as standard, and get camera and radar upgrades, improved adaptive cruise control, plus a couple of new driver assists.
8. BMW 3-Series Plug-in Hybrid
The iconic BMW 3-Series got its first hybrid model in 2016 in the form of the 330e plug-in hybrid. It was discontinued after 2018 but returned as a seventh gen G20 model in 2021.
The current generation 3-series PHEV is available as rear or all-wheel drive, and offers up to 20 miles of electric-only range and 28 mpg combined.
It can also go from 0 to 60 mph in 5.6 seconds which, coupled with its great handling, makes it very fun to drive.
Blind spot monitoring is only available as part of BMW's Driving Assistance package which costs an extra $700 on all trim levels.
9. BMW 5-Series Plug-in Hybrid
The BMW 5-Series packs a rare combination of luxury, refinement, technology and agile handling that's difficult to match.
The first hybrid variant of the midsize luxury sedan, known as the ActiveHybrid 5, was sold from 2012 to 2016. This was replaced in 2018 by the seventh generation BMW 530e plug-in hybrid.
The 5-series PHEV could only go up to 16 miles in all-electric mode when it was first released, but this was bumped up to 21 miles for the 2020 model year. The gas engine can get an estimated up to 26 mpg combined.
Starting in 2019, every BMW 530e comes standard with blind spot detection. It was previously only available as an option during its first model year.
10. Volvo S60 Plug-in Hybrid
The Volvo S60 compact luxury sedan got its first hybrid powertrain when the third generation model was released in 2019.
The S60 Hybrid uses the same T8 engine and plug-in hybrid setup found in the XC90 which is capable of producing between 400 to 455 hp.
When the S60 Recharge Plug-in Hybrid was first released, it could only go up to 22 miles in all-electric mode. It got a bigger battery in 2022 which almost doubled its range to 41 miles.
Volvo was actually one of the first to develop and introduce a blind spot monitoring system back in 2003 with the XC90.
With Volvo's dedication to safety, it's not surprising to find that the Blind Spot Information System comes standard in all model years of the S60 Hybrid. In 2020, Volvo added steering assist to the S60's blind spot monitoring system.
Volvo also offers a station wagon version of the S60 called the V60, which also has a hybrid option.
11. Volvo S90 Plug-in Hybrid
Volvo began offering a hybrid option for its S90 executive sedan in 2018.
It uses the same 2.0-liter T8 engine and plug-in hybrid powertrain found in the XC90 and the S60 which is capable of producing 400 to 455 hp.
The S90 PHEV originally only had 21 miles of electric range, but an update in 2022 increased it to 38 miles. The gas engine's fuel economy is estimated at 30 mpg.
As the flagship model, all trim levels of the S90 come with lots of standard features like blind spot monitoring and Volvo's impressive Pilot Assist system.
Related: 9 Hybrid Cars With the Most Ground Clearance (With Pics)
12. Toyota Crown Hybrid
The Toyota Crown returns to U.S. shores in 2023 after a 50-year hiatus.
The latest generation of the Crown now only comes as a hybrid and basically replaces the Avalon in Toyota's sedan lineup.
Although the Crown has traditionally been an executive sedan, the one coming to North America is the 'Crossover' version which is taller than other sedans and features all-wheel drive as standard.
The Crown's top-of-the-line Platinum model has a more powerful turbo engine which, along with the hybrid system's electric motors, produces a combined output of 340 hp.
The regular models use the same naturally aspirated hybrid powertrain found in the RAV4 and Camry which can get up to 41 mpg combined.
All trim levels of the Crown come with blind spot monitoring and Toyota Safety Sense 3.0 as standard, which adds a lot of driver assists while still keeping the price point relatively low.