In search of a hybrid SUV? One of the most overlooked criteria when buyers shop for a new vehicle, is how quiet the cabins are.
Automakers spend tremendous time and money making cars as comfortable and quiet as possible.
We've researched and investigated the hybrid SUVs available in North America to compile this list of the hybrid SUVs with the quietest cabins.
#1: Land Rover Range Rover SE P440e SWB
This must rank as one of North America's most luxurious hybrid SUVs: the all-new 2023 Land Rover Range Rover SE P440e SWB.
This plug-in hybrid is the quietest hybrid SUV on the market, thanks to its extremely well-engineered fit-and-finish.
The best materials and advanced construction means it has excellent NVH (Noise, Vibration and Harshness) levels, further enhancing whisper-quiet driving when it runs on its electric power.
It offers up to 48 miles of electric-only driving. In our research, it was consistently ranked as the hybrid SUV with the quietest cabin.
The Range Rover name is synonymous with luxury, comfort, and unrivaled off-road prowess – and the 2023 Range Rover SE P440s SWB crowns that with truly luxurious occupant quality.
It features an array of driver assistance systems and cutting-edge infotainment technology. For those prepared to take their $100,000 hybrid SUV off the beaten track, it has legendary off-road capabilities.
After all, Range Rover is the brand of choice for the United Kingdom's royal family.
The 2023 Land Rover Range Rover SE P440e SWB has a retail price starting at $109,875.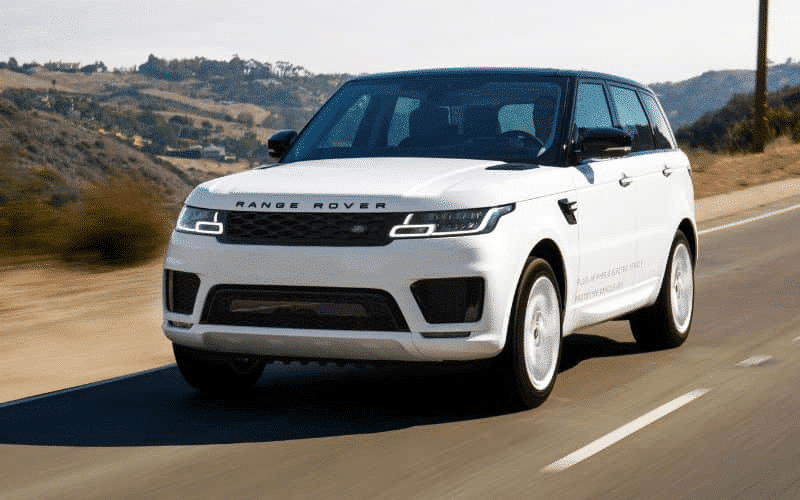 #2: BMW X5 xDrive45e Plug-In Hybrid
Do you like your hybrid SUVs with a pinch of sportiness?
The 2023 BMW X5 xDrive45e Plug-In Hybrid checks that box with its excellent driving dynamics, 389 horsepower at your right foot from its turbocharged inline-six gasoline engine and electric motor for a 0-60 mph sprint time of just 4.7 seconds.
However, being a plug-in hybrid SUV, the 2023 BMW X5 xDrive45e Plug-In Hybrid is equipped with a 24.0-kWh battery that can power this beautiful German SUV for up to 31 miles of electric-only driving.
According to BMW, it can use the battery pack to accelerate the X5 up to 31 mph before the gasoline engine kicks to life.
Impressively, this hybrid SUV has a 50 MPGe rating when running on its battery's power and 20 mpg overall.
Of course, the interior is appointed with luxury features.
As with other SUVs and models in this price category, you can check multiple boxes for a myriad of infotainment and technology extras to raise that price quickly.
However, the standard tech array is impressive, and when combined with the quiet cabin, it is a truly relaxing and comfortable place to travel.
The 2023 BMW X5 xDrive45e Plug-In Hybrid has a retail price starting at $66,695.
#3: Honda CR-V Hybrid
Honda's CR-V regularly tops auto journalists' lists for quality, reliability, and longevity.
The 2023 Honda CR-V Hybrid not only sports a fresh exterior and interior design but has significantly improved the interior comfort levels for occupants.
That means that this hybrid SUV is now one of the quietest in North America – and that's saying a lot about its quality and luxury as it beats out hybrid SUVs costing tens of thousands more.
With a starting price of $33,695, it boasts incredible value for your hard-earned bucks.
Comfortable interior, near-perfect ergonomics, and a quiet cabin even while at highway speeds: what more can you want from a hybrid SUV at this price point?
Let's not forget that the 2023 Honda CR-V Hybrid carries an EPA-rated 43 mpg in the city and 36 mpg on the highway.
What's more, it is equipped with a host of features, excellent driver-assistance technology, and one of the best safety ratings.
#4: Volvo XC90 Recharge T8 eAWD PHEV
Understated but not under-the-radar, the 2023 Volvo XC90 Recharge T8 eAWD PHEV is one of the very best models this Swedish brand has created.
The exterior styling oozes sophistication and is transferred to the rest of this hybrid SUV.
The XC90 Recharge has a sumptuous interior, room for seven adults, and a hushed cabin to make for comfortable driving, no matter if you're the driver or passenger seated anywhere in this hybrid SUV. The quality is impeccable.
It has an excellent 58 MPGe electric-only EPA-rating and an overall 27 mpg fuel consumption figure.
With electric-only power, it has a range of 33 miles, and the battery pack is able to propel the XC90 Recharge up to 32 mph before the 2.0-liter gasoline motor takes over.
The 2023 Volvo XC90 Recharge T8 eAWD PHEV has a retail price starting at $72,995.
#5: Jeep Grand Cherokee 4Xe
The 2023 Jeep Grand Cherokee 4Xe is marketed as the most fuel-efficient Jeep ever, and with 56 MPGe and 26 miles of electric-only range, this plug-in hybrid SUV is one of the most capable on this list.
And, with 375 horsepower and 470 pound-feet of torque, it delivers a delightfully zippy drive!
It is jam-packed with technology, a well-appointed interior, and a highly insulated cabin to keep the NVH levels minimal.
Its thoroughly modern styling and legendary on-and-off-road capabilities make this one of North America's most sought-after hybrid SUVs.
Inside, you'll be cossetted in plush leather upholstery, a modernized cabin no matter which trim level you select, and excellent comfort levels for five adult passengers.
For adventures off the beaten track or out-of-town journeys, Jeep Grand Cherokee can easily accommodate a weekend's gear.
The 2023 Jeep Grand Cherokee 4Xe retail pricing starts at $61,660.
#6: Porsche Cayenne E-Hybrid AWD
Isn't it svelte-looking? The 223 Porsche Cayenne E-Hybrid AWD is undeniably sleek and sexy and features this German auto makers' signature high levels of refinement paired with driver engagement.
Under the hood, you'll find a 4.0-liter twin-turbocharged gasoline engine and an electric motor for a total of 455 horsepower and 516 pound-feet of torque.
It can drive 15 miles with electric-only power and has a 42 MPGe EPA rating.
Step inside and you'll be able to understand just why motoring enthusiasts so revere the Porsche name.
Door-to-door luxury is all designed to create the perfect mile-munching interior for its occupants. And as you would expect, the cabin is extremely quiet.
You can also option it with just about any feature, material, and trim your imagination can muster – along with class-leading driver assistance and infotainment technology.
It truly is a beautiful vehicle to drive – and in the E-Hybrid configuration, you'll be able to drive that much further between stops at the pumps.
The 2023 Porsche Cayenne E-Hybrid has a retail price starting at $87,950.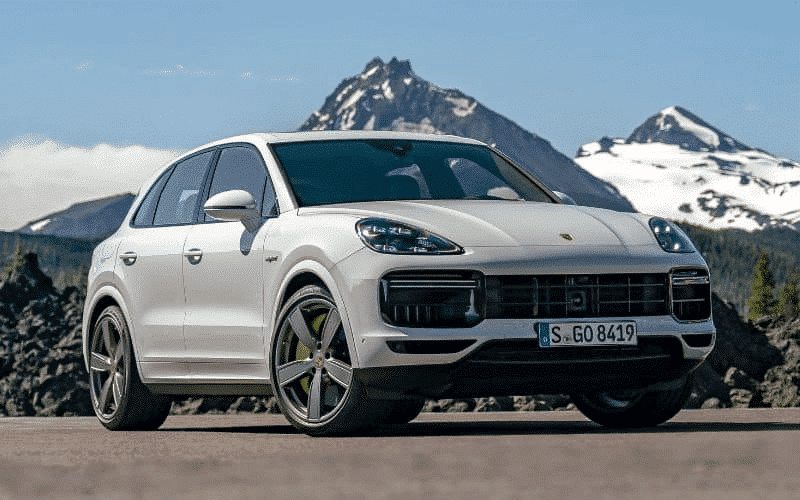 #7: Audi Q5
The Audi Q5 is a popular nameplate for SUV buyers in North America.
However, the 2023 Audi Q5 S-Line Premium 55 TFSI e quattro is quite possibly the gem of the Q5 line-up from the German manufacturer.
High-quality fit-and-finish, excellent performance, and luxury are hallmarks of the Audi badge, and this hybrid SUV delivers on that with bucketfuls of appeal, too.
This model has been praised by owners for its upscale and hushed cabin.
It is equipped with more technology than most smartphones today and impresses on the road, too.
The 2023 Audi Q5 S-Line Premium 55 TFSI e quattro punches out 362 horsepower from its 2.0-liter inline-four gasoline engine and battery pack while achieving a combined 27 mpg and an electric-only range of 23 miles.
Of course, in electric mode, it drives near silently.
Related: 7 Hybrid Cars With the Quietest Cabins (With Pictures)