Introduced in the US for 2008, the Forte is Kia's best-selling vehicle.
Overall it's a great compact car offering lots of value, handsome looks and plenty of features even at a base level.
If you're considering one as your next vehicle then this article will give a clear overview of their most common problems.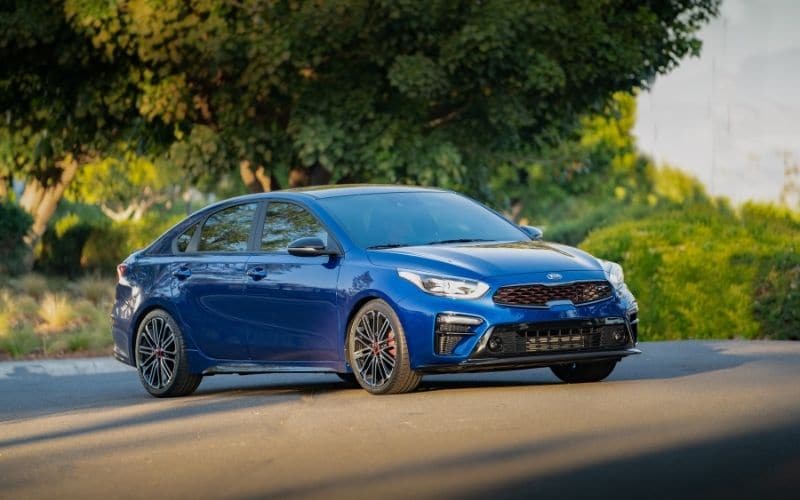 1. Engine Problems
According to data from Car Problem Zoo, a site dedicated to owner feedback, the most commonly reported problem with the Forte is engine-related, with a total of 659 complaints lodged.
Engine issues have plagued the Forte since its inception, fortunately though these problems have tapered off in recent years (from 2018 onwards).
Knocking
Knocking occurs when fuel burns unevenly in the engine's cylinders, this results in a sound similar to a 'knock'
On the Car Complaints website, they have highlighted engine knocking as the worst Kia Forte problem.
Repairs cost upwards of $3000 and the problem typically occurs around 80,000 miles.
This issue is easily identifiable by the knocking sound and the engine light should come on, on the dash.
Here's what one owner had to say:
"I was driving the vehicle at highway speed and it began to make a loud knocking noise, the engine increasingly became louder and I lost the ability to accelerate."
"…many owners are experiencing the same problems and being told at the dealership that cost would be the owner's responsibility. However, certain models that are having the same issue are covered under the government mandated safety recall."
Solution:
In many instances, owners have had to get the engine replaced, if the car was outside the warranty period they had to pay for this out of their own pocket.
Engine Cooling
Engine cooling issues have been reported across all model years of the Kia Forte even in the most recent models.
This problem is essentially the engine overheating and in some instances has resulted in the vehicle catching fire due to excessive burning of oil and fuel.
There have been less serious reports of this occurring whereby the engine light comes on and the vehicle stalls.
Solution:
In recent years the Kia Forte has been recalled numerous times – it's important to run the VIN of your Forte on the Kia recall web page to see if it's been subjected to a recall.
Those with engine problems often had to replace the engine.
2. Air Bag Related Problems
We found numerous complaints about the Kia Forte's airbags across various model years.
On CarProblemZoo.com, the Forte has racked up 226 complaints pertaining to airbag issues.
Airbags Not Deploying
Some Forte owners have reported that their airbags did not deploy during a crash, which put them at serious risk of injury.
Here's what one owner had to say:
"I was involved in an accident which resulted in moderate to heavy front end damage, approximate speed of impact was 20-25mph, the airbags did not deploy."
Some owners suffered from mild injuries whilst others were lucky to still be alive.
This problem was most prevalent on models from 2010 – 2014 although you can still find airbag complaints on more recent models too.
Airbag Warning Light On
A common issue owners had is that the airbag warning light came on.
While it's possible that all the airbags may deploy as intended even with an airbag warning light, the car should be taken to the dealership immediately.
Solution:
Due to the severity of airbag issues, you should always leave this problem to the experts to fix.
Check for recalls on your model and if you encounter any problems contact your dealership right away.
3. Security Problems
Some Forte owners are less than impressed with the security set up on their Forte.
They have reported that a security flaw allows criminals to break in via the rear window without triggering the alarm.
This problem is made worse by the fact that some models don't have an immobilizer and the car can be started with something as simple as a screwdriver.
An immobilizer is an electronic security device fitted that prevents the engine from being started unless the correct key is present.
According to Kia, If you have a key fob attached to your Forte or if you have a push-button start, the chances of you having an immobilizer is about 90%. If you just have a standard key with nothing attached to it then your chances of having an immobilizer are probably around 20%.
Kia is aware of this defect and has issued a statement that all future vehicles will come with improved safety systems and an engine immobilizer, but no recall on vehicles before the 2022 model year have been made for repairs or adjustment to solve the issue.
Solution
If you're worried about the security of your Forte it might be worth having an aftermarket alarm fitted or alternatively use a steering lock.
When buying a new or used Forte, make sure it comes fitted with an immobilizer.
4. Wiring Problems
A common complaint on Kia Fortes is related to the electrical wiring.
This often causes problems with the brake lights and headlights and owners have reported that the bulbs are continuously blowing out.
Here's a list of common wiring complaints:
Taillight not sealed properly
Brake lights not working
All lights continuously go out after a few weeks
Headlight seal leak
When using blinker, headlights go off
Solution
The Forte has been recalled for these issues on various model years and in some cases, this problem has been rectified by replacing the wiring harness and bulb holder at the expense of the owner.
5. Transmission Problems
On the Car Problem Zoo website, there have been a number of complaints pertaining to transmission issues, and these have even been reported on newer models.
A driver of a 2019 Forte posted this statement:
"Driving along the highway and transmission failure occurred, causing engine rpm to jump sky high and rapid deceleration without warning or brake lights."
Having a transmission fail whilst driving is a serious safety concern however the number of transmission-related complaints are nowhere near as high as the engine knocking complaints.
Solution
Transmission failure or severe problems will require a replacement transmission.
Related: Kia Forte Beeping? (14 Common Causes)
Kia Forte Model Years With the Most Problems
To get a better idea of which Forte has the most problems the fairest way is to compare models based on the number of vehicles sold in relation to the number of reported problems.
We're using Car Complaints PPMY index which means problems reported per thousand vehicles per Year.
For example, newer cars will have fewer complaints simply because they've been around for less time.
Based on this index, the most problematic years are:
2014
2013
2012
And the least problematic years are:
2020
2018
2010
Forte
Model Year
Problems
Sales
Vehicle
Age
PPMY Index
2021
31
123,229
1
0.25
2020
29
89,077
2
0.16
2019
107
101,168
3
0.35
2018
65
84,830
4
0.19
2017
207
130,478
5
0.32
2016
121
104,980
6
0.19
2015
204
90,098
7
0.32
2014
466
86,684
8
0.67
2013
206
53,083
9
0.43
2012
292
72,961
10
0.40
2011
172
52,250
11
0.30
2010
264
98,289
12
0.22
Source: Car Complaints
Kia Forte Pros and Cons
If you're considering a Forte as your next car you might be wondering what its strengths and weaknesses are…
Pros
Affordability: The Forte offers tremendous value and undercuts its rivals by thousands whilst still offering plenty of tech and desirable features.
Styling: There's no denying the Forte is a handsome car, its exterior bodywork is sleek and modern with curves just in the right places.
Warranty: Kia offers class-leading warranties and the Forte comes with a 10-year/100,000 mile limited powertrain warranty and a 5-year/60,000 mile limited basic warranty.
Features: The Forte has a generous list of features including Bluetooth, Android Auto, and Apple CarPlay as standard on all trim levels. Key safety features fitted as standard include forward-collision warning with automated emergency braking and lane-departure warning with lane-keeping assist.
Fuel economy: With the rising cost of gas this shouldn't be overlooked, the Forte delivers an impressive fuel economy of 33 mpg for the city and 41 mpg for the highway.
Cons
Engine power: One area the Forte falls short is the engine, its base four-cylinder engine lacks oompf and is a bit sluggish. If you need something a bit sportier, opt for the GT versions.
Handling: The Forte doesn't offer the same impressive handling as some of its rivals such as the Civic, Mazda3 and Corrolla.
Interior: Some owners have complained about the quality of materials used in the cabin.
Cramped rear seats: Taller passengers sat in the back will have to hunch down and would be better off sitting upfront.
Related: How Long Do Kia Forte Last?
Kia Forte Reliability Compared to Similar Cars
Consumer Reports rankings detailed below is based on the model's newest three years, the Kia Forte sits at the bottom.
Note: Consumer Reports may have given the Forte the lowest ranking although other auto review sites have given much more favorable scores.
Make & Model
Consumer Reports
Reliability Score
Subaru Impreza
77
Toyota Corolla
75
Honda Civic
55
Hyundai Elantra
55
Nissan Sentra
54
Volkswagen Jetta
47
Mazda 3
46
Nissan Kicks
45
Mini Cooper
37
Toyota Corolla Hatchback
27
Kia Soul
23
Kia Forte
7
Source: Consumer Reports
Kia Forte Used Value
We've taken a look on Car Gurus to gauge the resale value of a Kia Forte, below are typical asking prices for each model year.
According to Car Edge, a KIA Forte will depreciate 51% after 5 years and have a 5 year resale value of $10,786.
Note: Used model prices will vary depending on trim level.
| Model Year | Mileage (miles) | Resale Price ($) |
| --- | --- | --- |
| 2022 | 4,649 | $23,000 |
| 2021 | 7,451 | $20,980 |
| 2020 | 14,741 | $18,010 |
| 2019 | 22,054 | $16,194 |
| 2018 | 32,371 | $16,998 |
| 2017 | 64,220 | $14,250 |
| 2016 | 46,876 | $15,876 |
| 2015 | 42,821 | $14,825 |
| 2014 | 85,823 | $11,000 |
| 2013 | 53,059 | $11,895 |
| 2012 | 83,733 | $9,500 |
| 2011 | 100,897 | $9,222 |
| 2010 | 101,800 | $4,590 |
Source: Car Gurus
What Do Owners Like and Dislike About the Kia Forte?
Based on owner feedback from the Kelley Blue Book site here are what real-life owners love and hate about the Forte.
Likes
Great features, superb MPG, stylish design
Blast to drive, especially with E85, Infotainment
Great mileage and awesome technology features!
Good looking car.
Simple mechanical components
Fuel mileage, comfort, price
Economy, safety and performance with great space!
Comfort, cool tech, amazing design, trunk space
Dislikes
Mediocre seats, noisy cabin, reliability concerns
Low-quality interior materials
Noisy on rough roads
No Spare tire.
Chintzy seats…not too bad though
Cruise control, power, hard seats
Zero to 60 a slow 9 seconds. Handling so so
A little stiff on curves no zero to 60 killer
Overall engine power
Owners Reviews
"DO NOT GET THIS CAR if you want an affordable compact car that has enough muscle to make you feel sporty. Other than the lack of a lot of power this car is best in class all around. Most people who buy this car class is generally on a budget like me or just want something simple. This is definitely that."
Source: Kelley Blue Book
"Love the overall styling. Doesn't look like a car that cost under $20,000. Then you get in and they've added all kinds of good technology. They have Lane assist frontal Collision assist also excellent backup camera and Android Apple carplay with 9 1/2 inch screen. Also dual climate control and all of these safety features and more are on the basic models of the car."
Source: Kelley Blue Book
"First Kia I have ever owned and after almost 2 years, I still love it! Great gas mileage; good car for a small engine; love the large 8″ screen which is really nice for the backup camera and love the warranty. Would definitely buy again."
Source: Kelley Blue Book
Related: 12 Best & Worst Kia Forte Years (With Facts & Stats)
How Reliable Are Kia Cars?
According to a recent report from Consumer Reports, Kia are ranked the 19th most reliable car manufacturer out of 28 brands.
| | | |
| --- | --- | --- |
| Ranking | Brand | Score |
| 1 | Lexus | 76 |
| 2 | Mazda | 75 |
| 3 | Toyota | 71 |
| 4 | Infiniti | 69 |
| 5 | Buick | 66 |
| 6 | Honda | 66 |
| 7 | Subaru | 66 |
| 8 | Acura | 64 |
| 9 | Nissan | 63 |
| 10 | Mini | 60 |
| 11 | Hyundai | 56 |
| 12 | Chrysler | 54 |
| 13 | Porsche | 52 |
| 14 | Chevy | 48 |
| 15 | Audi | 47 |
| 16 | Cadillac | 47 |
| 17 | BMW | 45 |
| 18 | Ford | 44 |
| 19 | Kia | 43 |
| 20 | Volvo | 42 |
| 21 | Ram | 40 |
| 22 | GMC | 37 |
| 23 | Mercedes-Benz | 34 |
| 24 | Volkswagen | 31 |
| 25 | Genesis | 30 |
| 26 | Jeep | 26 |
| 27 | Tesla | 25 |
| 28 | Lincoln | 18 |
Source: Consumer Reports
Sources
https://www.consumerreports.org/cars/kia/forte/
https://www.carcomplaints.com/Kia/Forte/
https://repairpal.com/reliability/kia/forte