The Kia Niro EV is an all-electric crossover that was launched in 2019.
It's well-rounded, good-looking, loaded with features and has a decent driving range.
In this article, we'll be taking a look at all of the best and worst model years of the Niro EV.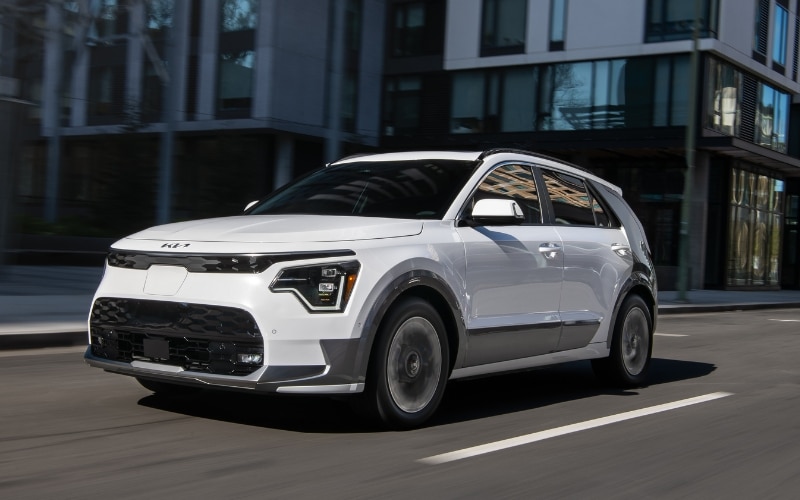 Here's The Short Answer To What The Best And Worst Years For The Kia Niro EV Are:
The best Kia Niro EV model years are 2024, 2023, 2022, 2021, and 2020. The worst model years of this model are 2017, 2018, and 2019. This is based on auto industry reviews, NHTSA statistics, reported problems, and consumer feedback.
What Are The Best Years For The Kia Niro EV?
2024 and 2023 Kia Niro EV
Fully redesigned, a roomier interior, improved tech and more comfort features and distinctive styling – the 2023 and 2024 Niros are our top picks.
They come with one of the best warranties on the market, a 10-year/100,000-mile powertrain and battery warranty.
The second-generation Niro debuted for the 2023 model year, and Kia hasn't made any major changes for 2024.
These models have an EPA-estimated 253 miles available although Edmunds reports reaching 280 miles on a full charge.
Noteworthy safety tech includes Lane Following Assist, Blind Spot Collision Warning, and Rear Cross Traffic Avoidance Assist.
There are 2 trims – Wind and Wave. Both have a 64.8-kWh battery pack.
The most popular trim is the base Wind trim, with a starting price of approximately $41,000.
Going for the Wave (which is approximately $5,000 more) will provide you with the following features:
Driver's seat memory settings
Power-adjustable front passenger seat
Heated steering wheel
Household-style power outlet
Seven-speaker Harman Kardon sound system
Automated parking system
Rear parking sensors
LED headlights
Power tailgate
Sunroof
Power-folding side mirrors
Sound-isolating front windows
Ventilated front seats
In terms of driving – these models will feel zippy enough around town with decent performance from the brakes and an average acceleration time from 0-60 in 7.1 seconds which is average for the segment.
2023 Niro EV:
Edmunds: 4.3 / 5.0
Kelley Blue Book: 4.5 / 5.0
2023 Niro EV, Edmunds review:
"I have had my Niro EV Wave for 4 months. After 5,000 miles, I can say I am thrilled with this car. I have had no issues whatsoever. I was originally considering an EV6, but the rear visibility was a deal breaker. The Niro has excellent visibility all around. The seats are comfortable and Niro takes bumps and potholes very well. The Harmon Kardon sound system is over the top. Tech is abundant, easy to learn and fun to use…"
2022 and 2021 Kia Niro EV
The 2022 and 2021 Niro EV model years are the final installments of the 1st generation and are great picks.
They have an impressive list of standard features, plenty of range, zippy acceleration, and stable handling.
Auto critics have praised the clever interior storage options, handsome exterior design and generous standard features.
New for 2021 are added driver assist features, a remote start feature that allows for cabin heating (or cooling), and an improved touchscreen infotainment system.
For 2022 a 10.25-inch touchscreen and Harman Kardon sound system and navigation were made standard.
These models are powered by a 64-kWh battery pack that according to EPA estimates can provide 239 miles of driving although owners have reported achieving more.
The motor is front-mounted and provides 201 horsepower.
2022 Niro EV:
Edmunds: 4.2 / 5.0
Kelley Blue Book: 4.4 / 5.0
2021 Niro EV:
Edmunds: 4.7 / 5.0
Kelley Blue Book: 4.4 / 5.0
2021 Niro EV, Edmunds review:
"Excellent range and loaded with safety features. I am getting 348 miles of range in the warm weather and just about 295 in the winter. Kia has really nailed it with the user interface and UVO system as it is very user friendly. There are only two things this car really needs and one is all wheel drive and the other is memory seat settings for the driver's seat…"
2021 Kia Niro EV
2020 Kia Niro EV
The 2020 Niro EV is a great choice for those on a budget who still want something fairly new with an impressive amount of tech and safety features.
It offers zippy acceleration, surefooted handling, and clever interior storage options.
The base model is well-equipped, DC fast charge capability is standard and the styling is handsome.
New for this model year are redesigned headlights, a standard 8-inch touchscreen infotainment system (for the EX trim), and a standard 10.25-inch touchscreen infotainment system (for the EX Premium trim).
Driven by a 201-hp electric motor, its 64-kWh battery offers 239 miles of range on a full charge (according to the EPA estimates).
Based on owners' reviews online, these are the best areas of this SUV: value, interior, wheels, tires, technology, appearance, comfort, safety, and climate control.
Edmunds: 4.7 / 5.0
Kelley Blue Book: 4.4 / 5.0
2020 Niro EV, Edmunds review:
"I really like driving this car with its excellent acceleration and features. My favorite feature is the adaptive cruise control. Set the maximum speed you want and it tracks the car ahead if it is traveling at a lower speed. Another great feature that isn't often mentioned is the Auto Hold. Bring the car to a stop at a light and it stays in place without holding the brake pedal. Just touch the accelerator to go when the traffic starts moving…"
Consumer Scores For Best Kia Niro EV Years
Model Year
Edmunds
Consumer Rating
Kelley Blue Book
Consumer Rating
2024 Kia Niro EV
NA
NA
2023 Kia Niro EV
4.3 / 5.0
4.5 / 5.0
2022 Kia Niro EV
4.2 / 5.0
4.4 / 5.0
2021 Kia Niro EV
4.7 / 5.0
4.4 / 5.0
2020 Kia Niro EV
4.7 / 5.0
4.4 / 5.0
Related: 8 Best & Worst Kia Niro Years & 8 Kia Niro PHEV Best & Worst Years
What Are The Worst Years For The Kia Niro EV?
2019 Kia Niro EV
The 2019 Niro isn't a clunker by any stretch of the imagination. Complaints are fairly low however we'd advise opting for a newer model.
The 2019 Niro was the first model produced and it's usually a good idea to swerve the debut year.
We came across a number of disgruntled owners who reported issues with ticking noises and other sounds coming from the motor.
On CarComplaints.com one owner shared the following insights:
"There are heaps of these Niros around the world with the same ticking sound.
Most people think it is just the virtual engine sound – however, it is in fact the motor and reduction box destroying themselves. It's probably due to faulty bearings or unbalanced electric motor. Kia wont say.
What they do is replace the mounts then the reduction box and then the motor one piece at a time, in the hope that the warranty runs out and then the owner will pay.
My car has been waiting in a Kia workshop for the last 4 months waiting for a reduction box because Kia say that there are no spares available in the world and I will have to wait until they build some more.
Thats not the worst because the other Niros around the world then need a new motor and once again the owner waits."
On reddit.com/r/KiaNiroEV here is what a few owners had to say:
"I've had the clicking noise sine 40,000km now I'm at 58k. Its noticeable but not super annoying. I have a warranty until 100,000 so maybe if it gets worse I'll try and deal with it."
"I had regen clicking since about 1000 miles, I thought it was normal, the driving clicking came about 14000 miles in, and it was loud, constant, and annoying. The lower step down replacement helped both, I am just worried they will come back."
"My Niro has decided to join the club. Making the "sound". 11K miles on it in MA."
Another owner on reddit.com/r/KiaNiroEV reported a mysterious mechanical grinding noise on the highway coming from their 2019 Niro EV.
They reported back with the following:
"Belatedly returning to report that: I got my car back in June. Kia replaced the traction motor and updated coolant for the BMS. All repairs were covered by the warranty. The dealer estimated it would have been ~$15,000 in repairs."
On insideevsforum.com one owner posted a thread titled: "Why I just sold my 2019 Niro EV".
They stated motor noise and slow parts delivery as the main reasons but added, "Had I driven more highway, less local road I might not have noticed.
Kia has issued a TSB for the "drive unit inspection & replacement for EV motor rumble noise".
Common problems:
Motor noise rumble
Ticking sound
Leather upholstery is a bit stiff
No all-wheel drive
What Problems Do Kia Niro EVs Have?
Motor rumble noise
Clicking and ticking noises
Narrow rear-window visibility makes reversing a slight challenge
Low-grip tires limit performance potential
AWD isn't available despite crossover SUV-like styling
What Are The Best Alternatives To The Kia Niro EV?
| | | | |
| --- | --- | --- | --- |
| Make & Model | Score | MSRP | Fuel Economy (MPGe) |
| Kia EV6 | 8.7 | $48,700 – $61,600 | City: 85 – 134 /Highway: 74 – 101 |
| Hyundai Ioniq 5 | 8.5 | $41,450 – $56,500 | City: 110 – 132 /Highway: 87 – 98 |
| Ford Mustang Mach-E | 8.4 | $46,895 – $69,895 | City: 90 – 110 /Highway: 77 – 96 |
| Chevrolet Bolt EUV | 8.0 | $27,200 – $31,700 | City: 125 /Highway: 104 |
| Hyundai Kona Electric | 8.0 | $33,550 – $41,550 | City: 134 /Highway: 106 |
| Nissan Ariya | 7.9 | $43,190 – $54,960 | City: 105 – 111 /Highway: 91 – 95 |
| Volkswagen ID.4 | 7.7 | $38,995 – $55,245 | City: 104 – 115 /Highway: 93 – 99 |
| Kia Niro EV | 7.5 | $39,450 – $44,450 | City: 126 /Highway: 101 |
| Subaru Solterra | 6.9 | $44,995 – $51,995 | City: NA /Highway: NA |
| Toyota bZ4X | 6.7 | $42,000 – $48,780 | City: NA /Highway: NA |
| Mazda MX-30 | 6.1 | $34,110 – $37,120 | City: 98 /Highway: 85 |
Source: cars.usnews.com, edmunds.com
Related: 15 Electric Cars With the Best Visibility (With Pictures)
References
https://static.nhtsa.gov/odi/tsbs/2021/MC-10191531-0001.pdf
https://static.nhtsa.gov/odi/tsbs/2021/MC-10191531-0001.pdf
https://www.caranddriver.com/kia/Niro EV
https://cars.usnews.com/cars-trucks/kia/Niro EV
https://www.edmunds.com/kia/Niro EV/
https://www.kbb.com/kia/Niro EV/
https://www.carcomplaints.com/Kia/Niro EV/
https://www.carproblemzoo.com/tsb/kia/Niro EV/
https://www.cars.com/research/kia-Niro EV/recalls/