When Kia announced the fourth generation Sorento in 2021, they also added hybrid and plug-in hybrid powertrains to the lineup for the very first time.
The new Sorento has been completely redesigned inside and out. It's arguably more handsome and aggressive on the outside, but also feels more upscale inside.
In this article, we'll take a look at some of the common problems and complaints Sorento Hybrid owners have had with their vehicles.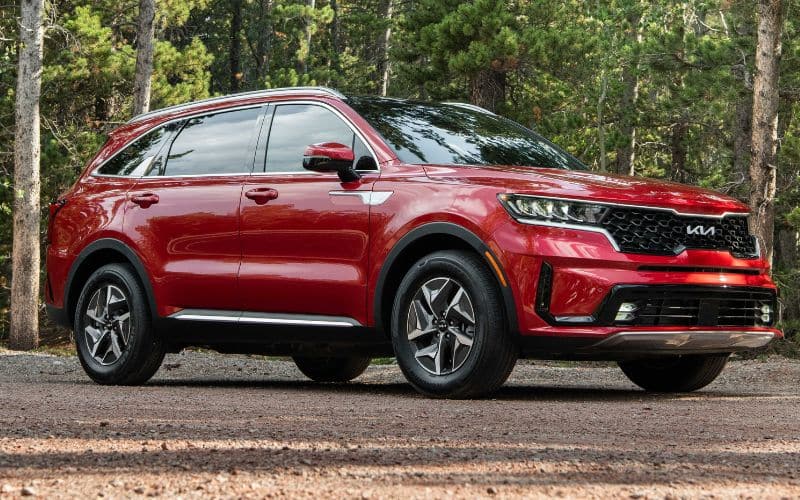 1. Throttle Lag
Some Sorento Hybrid owners have noticed that the throttle will sometimes lag or hesitate for a second or two before it actually starts sending any power to the wheels .
This issue usually only occurs when accelerating from a rolling stop or a slow 3 mph creep. It affects both the hybrid and PHEV variants of the Kia Sorento.
A lot of people end up stepping on the accelerator pedal even more than intended to get the car to move, which causes the car to lunge forward once it does respond.
Here's how a few owners described the issue:
"In traffic at a stop, the accelerator does not respond to pressure being applied and the vehicle barely moves even with a pedal nearly to the floor (like crawls 1 to 2 mph) to get across the intersection and then it suddenly performs as if nothing happened."
"For me, it is clear that the vehicle is in the wrong gear. From a stop, should be in 1st gear, but feels like it is stuck in 4th… No power, almost like it is stalling. It happens very intermittently (every 1,000 kms or so) and thus cant be replicated by the dealership."
Other Kia hybrids like the Niro and Sorento also suffer from this minor issue.
It's more widely documented in the Kia Niro since it's been out for several years at this point and hasn't improved much even after several software updates.
It's just a normal characteristic of Kia's hybrid system that you have to get used to and shouldn't cause any long-term reliability problems.
It's also worth mentioning that the hybrid variants of the Sorento use a traditional 6-speed transmission, so it's not affected by any DCT-related transmission issues that the non-hybrid fourth generation Sorento may have.
2. Lower MPG Than Expected
Many Kia Sorento Hybrid owners have reported that they don't get anywhere near the advertised fuel economy of 34 to 37 mpg combined.
Like all cars, the Sorento Hybrid might have slightly worse mileage during its break-in period. Fuel economy should improve after the first 1,000 miles and as you get more used to driving a hybrid/PHEV.
Here's how a few owners described their experience:
"The car is rated for 34 mpg on gas only. My first 2700 miles (combined gas and electric) was only 23.8 mpg. At 5400 miles, it has risen to 28 mpg total average (because the last 1000 miles have primarily been electric only)."
"Once the 32 miles of EV is gone, I get about 30 mpg on the highway, probably closer to 35 MPG on backroads. How you drive definitely plays a factor in all of it."
"I just got my 23 Sorento hybrid SX prestige about a month ago. Granted it has been cold here and I have done almost exclusively city driving for the 885 miles the car has on it, but I drive in mostly eco mode and in a pretty economical manner. I have yet to even crack 28 mpg. I think I should be getting at least 35!"
"We have had our 2023 Hybrid for about 3 weeks and have put ~800 miles on ours. Our average MPG since purchase is around 32 mpg with mixed city/highway driving. I drive in Eco mode, which is definitely sluggish compared to sport."
Fuel economy depends largely on your driving habits, but extreme temperatures can also make reaching the advertised fuel economy numbers more challenging.
The Sorento Hybrid's fuel economy will always be worse during the winter because it uses the gas engine to run heat and A/C.
In addition, the chemical reactions in the batteries slow down when it's cold so they're less efficient during the winter which means you'll be using the engine more often.
All-wheel drive and the extra weight of the PHEV's batteries will also negatively affect fuel economy.
3. Coolant Refill Error
Some Kia Sorento Hybrids will display an 'Refill Inverter Coolant" warning on the dash gauge cluster for no apparent reason.
In some cases, owners have found an empty hybrid system coolant tank under the hood after this message flashes — which is how it's supposed to work. But a lot of owners have also reported that the message still randomly comes on even if the coolant tank is full and everything else seems to be working fine.
Here is how a few owners described their experience:
"I have a 2021 Kia Sorento Hybrid. My fill inverter coolant warning came on a few days after my last oil change. Since then it has come on about once a day starting around 2 pm. Then the morning it isn't on. And it did start as the days got warmer."
"I have a 2021 hybrid. The warning has been going off for the last month anytime temp outside over 90."
"Our 21 Sorento has had this persistent inverter coolant warning that has been an annoyance. Inverter coolant level is fine and engine temp levels are within parameters. 20K check up showed no issues and dealership could not replicate issue."
"Recently joined the "Hybrid Coolant Refill Warning" club. Brought to the dealership last week. They flushed 2 times and replaced blue coolant with pink coolant and told me I was all set. Still getting the error message. Apparently the blue coolant crystalizes and messes with the sensors."
These false alarms usually occur whenever it's hot outside. Those who have taken their cars to the dealership say that replacing the original blue inverter coolant with a new formulation completely got rid of the annoying errors.
Similar problems have also been reported with the Hyundai Tucson and Santa Fe Hybrid which uses the same hybrid system as the Kia Sorento. Hyundai was first to come out with a TSB suggesting to replace the inverter coolant using the new formulation.
Some dealers have also suggested that a bad coolant pump or air in the coolant lines can cause the error to pop up.
Turning the car on with the door open, then only closing the door when the System Check message appears usually makes the annoying false alarms go away for the rest of the drive. Turning off the car for a few minutes then turning it back on can also help get rid of the error.
4. Laggy Infotainment (Google Maps/Waze)
A number of Kia Sorento Hybrid owners have complained that the infotainment becomes very laggy whenever they use Google Maps or Waze via CarPlay.
"The infotainment screen (the big 10″ one) is INCREDIBLY laggy. This is a huge problem when we're trying to use Google Maps or Waze. The screen is always a minute or so behind where we actually are, which pretty much defeats the purpose of a GPS."
"We have the exact same problem. Tried all the suggested fixes, they don't change the problem. (Reset infotainment system, reset two different iPhones, official Apple cable, etc)."
"It's only intermittent but it makes Waze and Google Maps unusable when it happens, and also makes navigating around any of the CarPlay apps incredibly slow."
"Not only does the navigation lag considerably, but the touch response time (for example to exit the route by touching the screen in the vehicle) lags quite a bit as well."
At the time of writing, owners have concluded that it has something to do with Apple CarPlay since it's a fairly new problem and old software revisions weren't laggy at all. All these issues might eventually be solved by a future software update (either for your phone or the car's infotainment software).
Switching to Apple Maps or using split screen mode are some of the more common workarounds.
A faulty USB cable or USB port can also cause weird infotainment issues, so try using a different cable. The Sorento Hybrid and PHEV don't have wireless CarPlay so high quality Apple or OEM cables are a must.
5. 12-volt Battery Issues
Since the Sorento Hybrid and PHEV depend on the 12-volt battery for most of its electronics, the car might start throwing errors or appear completely dead if the battery goes flat.
When the 12-volt battery dies, you might have trouble unlocking the doors or getting the car to turn on.
12-volt batteries can easily lose their charge if:
You only drive for short distances
Don't use the car for several days
Park it outside in the cold
If the keyless entry stops working and you need to manually unlock the doors, remove the rear plastic cap on the door handle and unlock the door using the emergency key hidden inside the key fob.
If you want to avoid getting stuck with a dead battery, it's a good idea to keep a jump pack, or at least some jumper cables, in the car at all times. There's a positive battery terminal on the fuse box under the hood, then clip the negative cable to any ground wire. The 12-volt battery is in the rear cargo area if you need to have it tested or replace it.
6. Air Conditioning Issues
Some Sorento Hybrid owners have complained about different AC issues. The most common one is that it doesn't get cold enough when running in EV mode.
"Blows cold while actively driving but in park or when idling it will start pumping out warmer air. Parking for more than 4 minutes with the car on and the cabin is actively hot."
"I have a 2022 Sorento PHEV and the AC only really works when the gas engine is running."
"The passenger side will blow ice cold, the drivers side will blow really hot and the rear will blow randomly ice cold or really hot at random it seems."
Others have issues with the air vent design and the climate control settings.
"The AC vents that point down at your legs are weak and dumb. They can't be repositioned vertically so they never point where I want them to."
"The passenger side of the vehicle will blow hot air, the drivers side will blow freezing cold air and the rear vents will blow one of the two at random."
If your Sorento Hybrid's AC starts acting strangely or isn't getting cold enough, have your dealer check for actual issues. All repairs should be covered by Kia's 5-year/60,000-mile basic warranty.
If you live in a hot environment, tinting your windows can help the AC cool the car down quicker and more efficiently.
7. Adaptive Cruise Control Issues
A few Sorento Hybrid owners have found that the adaptive or smart cruise control can slow down the car or slam on the brakes unexpectedly in certain situations.
"It's annoying as hell to know you have plenty of space to pass a vehicle and switch lanes with plenty of time to spare only to have the smart cruise prematurely engage the brakes causing your planned lane switch to be nullified."
"When someone is approaching the expressway in the on-ramp, and the Sorento slams the brakes on; presumably to let them in."
"My peeve with the auto HDA (Highway Driving Assist) is when it slows for curves."
The Sorento Hybrid's adaptive cruise control is radar based. You can use the shortest distance setting to make sure the brakes only trigger when there's an obstruction ahead of you.
You can also easily override the cruise control by stepping on the gas pedal if you're worried that it might interfere when overtaking.
Holding down the Mode button for a couple of seconds switches the cruise control to speed limit mode, which is more like regular cruise control, but you have to keep pressing on the gas pedal in this mode.
8. Piano Black Trim
Another common complaint among fourth gen Kia Sorento owners is that the piano black finish is hard to maintain and keep clean.
A lot of the controls like the touchscreen, digital infotainment/climate controls, and center console are covered in shiny plastic trim which easily get smudged and have a tendency to show off even the slightest amount of dirt or debris.
Even if you keep wiping it down, the most used areas will start developing scratches over time.
Some owners who want to keep their interior trim looking pristine protect it using vinyl stickers.
9. Slow Onboard Charger
The Sorento Plug-in Hybrid's onboard charger is quite slow compared to other PHEVs in the market.
Its max charge rate can only go up to 3.3 to 3.8 kw while other PHEVs like the Sportage Plug-in Hybrid have a max rate of 7.2 kw.
Charging the battery from near empty to full usually takes 10 to 12 hours using a level 1 charger. On a level 2 charger, it can take up to 4 hours.
Kia Sorento Hybrid Pros and Cons
Pros
Comfortable ride
Second-row captain's chairs
Good mpg for its size
Long basic warranty
Modern interior
Lots of tech and driver safety aids
Smaller than other three-row SUVs
Cons
Cramped third-row seats
No cargo space when back seats are used
No wireless CarPlay
Related: How Long Do Kia Sorento Hybrids Last? (12 Important Facts)
What Do The Reviews Say?
"The 2023 Kia Sorento Hybrid is quite the specialized SUV. Smaller than the popular three-row Telluride but slightly larger than the Sportage, the Sorento is one of only a few compact SUVs to have a third row of seats."
"Powered by a turbocharged 1.6-liter four-cylinder engine paired with an electric motor, The Sorento Hybrid makes a healthy 227 horsepower and 258 lb-ft of torque. . On top of that, it gets up to an EPA-estimated 37 mpg in combined city/highway driving, which is 11 mpg more than the non-hybrid Sorento with its base engine. That's on par with the hybrid versions of the Honda CR-V and Toyota Highlander."
"Kia is moving the Sorento Hybrid a bit more upmarket for 2023 by eliminating the base S trim level and adding a fully loaded SX Prestige model. That top trim level includes a digital instrument panel, standard all-wheel drive, heated and ventilated seats, and a host of other features you typically associate with much more expensive vehicles. But even the EX, the only other trim offered, is loaded with many standard features."
"The Sorento Hybrid also offers impressive passenger room and is equipped with a large touchscreen featuring an easy-to-use infotainment system. With the exception of a limited amount of cargo space behind the third row, negatives are few and far between for this highly rated SUV."
2023 Kia Sorento Hybrid | Edmunds
What's the Resale Value of a Kia Sorento Hybrid?
Here's a quick look at the Sorento Hybrid's used car pricing on CarGurus at the time of writing. Prices quoted are for the SX Hybrid trim level.
| | | |
| --- | --- | --- |
| Year | Mileage | Price |
| 2022 | 9,621 | $41,326 |
| 2021 | 16,245 | $37,305 |