Kia significantly upgraded the Sportage compact SUV for the 2023 model year.
It now sports a hybrid powertrain for the very first time, and also gets a plug-in hybrid variant. The exterior and interior are also thoroughly redesigned and modernized.
In this article, we'll take a look at some of the common complaints and issues Sportage Hybrid owners have reported in various Internet forums.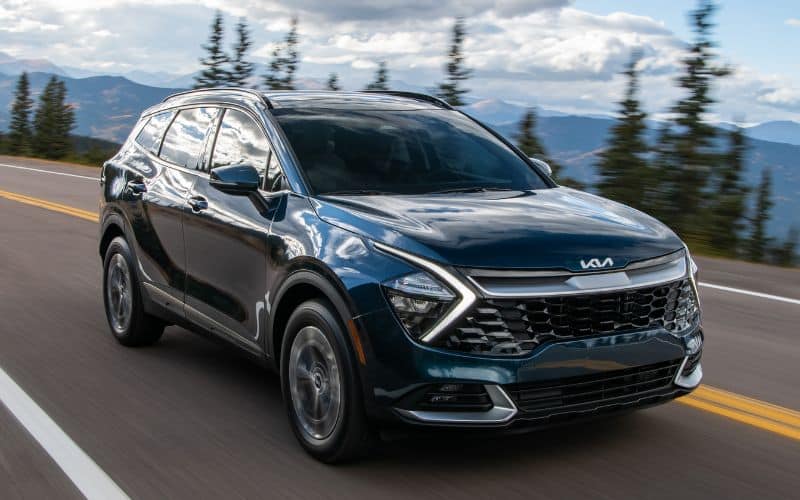 1. Throttle Lag 
Some owners have noticed that the throttle will sometimes lag or hesitate for a second or two before it actually starts sending any power to the wheels.
This issue only occurs when trying to accelerate from a rolling stop and affects both the hybrid and PHEV variants of the Kia Sportage.
A lot of people end up pressing down on the accelerator pedal even more to get the car to move, which causes the car to lunge forward once it does respond.
Here's how a few owners described the issue:
"It's like almost to a stop, push down the throttle, and it takes about 2 to 3 seconds before it decides it wants to respond to the input. I've been in that situation a few times, and it can be quite unnerving."
"It only happens when you actually need to yield to another vehicle and slow down to less than ~3 mph and then accelerate again without a complete stop."
"If we stop a little short of where the vehicle needs to be to clear the garage door and try to move forward a little bit more, the car will not move even when pushing the accelerator. It will eventually move, but at a rate that I am not comfortable with – more of a lurching forward."
Other Kia hybrids like the Niro and Sorento also suffer from this minor issue.
It's more widely documented in the Kia Niro since it's been out for several years at this point and hasn't improved much even after several software updates.
It's just a normal characteristic of Kia's hybrid system that you have to get used to and shouldn't cause any long-term reliability problems.
2. Air Conditioning Issues
A number of Sportage Hybrid owners have had consistent issues with the car's air conditioning system.
In the few months that owners have had with their car, they've encountered problems such as:
Not cooling fast enough
Manually changing the temperature makes it too hot or too cold
'Driver Only' mode only works for a few minutes
Air vents are difficult to use
Early A/C compressor/system failure
Although the Kia Sportage Hybrid has dedicated HVAC controls on the dash, it's all entirely digital. It's possible that some of the issues that owners have complained about so far, such as the inconsistent 'Driver Mode' and temperature controls, could be eventually fixed by software updates.
If you suspect that there's something wrong with the AC, you'll have to take it to the dealer to get it checked out. Fortunately, Kia offers an industry leading 5-year/60,000-mile warranty so any issues should be taken care off free of charge.
3. CarPlay Keeps Disconnecting
Some Kia Sportage Hybrids have issues with their Apple CarPlay or Android Auto connection going out randomly.
The Sportage EX and SX Prestige Hybrids, as well as the X-Line PHEV models don't have wireless CarPlay capabilities so the connection can only be done via USB. Only the base LX Hybrid with the smaller infotainment 8-inch screen has wireless CarPlay.
Here's how one owner described their experience:
"My 2023 Kia Sportage Hybrid is five months old now, and since the first week, Apple CarPlay has disconnected every day, multiple times a day and I can't figure out why. I've tried multiple Apple wires and nothing has solved it."
Not all Sportage Hybrids have this issue though, and it can happen so infrequently that it doesn't really bother most people.
If your infotainment system is constantly disconnecting, here are some things you can try:
Try a different USB cable
Use genuine Apple or OEM cables
Update phone and infotainment software
Try a different phone
Restart phone Bluetooth if connecting wirelessly
If the connection keeps dropping using different USB cables and phones, the USB port itself may be malfunctioning. You can try unplugging the cable several times or wiggling the USB plug around while it's inserted to check if it's being caused by loose connection somewhere.
If you feel that it's significantly affecting the infotainment system's reliability, let your dealer know or bring it in so they can take a look.
4. Lower MPG Than Expected
Many Kia Sportage Hybrid owners have reported that they don't get anywhere near the advertised fuel economy of 38 mpg combined.
Like all cars, the Sportage Hybrid might have slightly worse mileage during its break-in period. Fuel economy should improve after the first 1,000 miles and as you get more used to driving a hybrid/PHEV.
Here's how a few owners described their experience:
"Just got mine and was wondering why I got only 31 mpg on the way back home with eco mode and careful right foot."
"I'm at 303 miles and getting an average 29.6mpg on my EX hybrid. I also live in a mountainous area and drive 70-75 on freeways (also hilly). So I don't think it's too bad all considered."
"I have been getting the advertised 38 mpg. I live in Florida so not sure if not having the hills helps."
"I bought a 2023 Kia hybrid prestige. It gets approximately 23 miles per gallon in town. Most of my driving is done at 55 to 60 mile an hour on 4 lane road. I am 69 years old drive it at Eco mode continuously."
My mileage has been as high as 34 on one tank, and is now about 24 on most recent tank.
Fuel economy also depends largely on your driving habits, but extreme temperatures can also make reaching the advertised fuel economy numbers more challenging.
The Sportage Hybrid's fuel economy will always be worse during the winter because it uses the gas engine to run heat and A/C, so it will barely run on battery power alone.
In addition, the chemical reactions in the batteries slow down when it's cold so they're less efficient during the winter which means you'll be using the engine more often.
Aside from maximizing the time the car spends in electric mode, many also recommend using Smart mode instead of Eco mode to improve fuel economy on the highway.
It's also important to keep in mind that all-wheel drive has a negative effect on fuel economy. The PHEV variant of the fifth gen Sportage are heavier which means fuel economy will be slightly worse.
5. 12-Volt Battery Issues
Since the Sportage Hybrid and PHEV depend on the 12-volt battery for most of its electronics, it might start throwing errors or appear completely dead if it goes flat.
When the 12-volt battery dies, you might have trouble unlocking the doors or getting the car to turn on.
12-volt batteries can easily lose their charge if:
You only drive for short distances
Don't use the car for several days
Park it outside in the cold
If the keyless entry system stops working and you need to manually unlock the doors, remove the rear plastic cap on the door handle and unlock the door using the emergency key hidden inside the key fob.
Once inside, the Kia Sportage Hybrid should have a 12v battery reset button behind the steering wheel which should tell the hybrid battery to charge up the 12-volt battery. Pushing this button should be the same as jump starting the car. However, some Sportage PHEVs don't have this button.
If you want to avoid getting stuck with a dead battery, it's a good idea to keep a jump pack, or at least some jumper cables, in the car at all times. There's a positive battery terminal on the fuse box under the hood, then clip the negative cable to any ground wire
6. Jerky Cruise Control
A couple of fifth gen Kia Sportage owners have complained that the cruise control can be erratic and constantly change the speed 1 or 2 mph higher or lower.
"I recently picked up a 2023 Kia Sportage Hybrid LX AWD. When I set cruise control on the highway (typically at speeds near 65-70mph), the cruise control continuously surges/jerks the vehicle. Not only can you feel the frequent changes in acceleration, but it is visible on the speedometer (if setting cruise at 65mph, the speedo will flip back and forth between 65 and 66)."
"We just took a trip in ours and it did the same. Almost felt like it was making very quick micro adjustments and the car always stayed 1mph over the set speed."
"I've felt that as well! I was wondering if that was normal or not. I have the EX."
This issue seems to affect vehicles with the regular cruise control and not the upgraded smart/adaptive cruise control which is only available in the higher trim levels like the SX Prestige models.
There are no solutions for this problem so far, but it might be fixed by future software updates. If it becomes extremely bothersome, take it to the dealer so they can check if it's caused by a hardware problem.
7. Loud Reverse Alert
Some Sportage Hybrid owners have complained that the reverse alert or beeping is unnecessarily loud.
Here's how a couple of owners described their experience:
"I just got the new 2023 Kia Sportage hybrid. I live in New York City and trying to park a vehicle in a tight spot is a pretty much daily occurrence. When I'm backing up, that incredibly annoying beeping sound goes off."
"I have a 2022 sportage hybrid. I hate that back up sound."
"I wake up my neighbors 5 times in the week because I leave at 3 (am)."
All hybrids, PHEVs and EVs are required by law to have an external reverse alert that pedestrians can hear because electrified vehicles are very silent when parking and running on battery power.
You can disable the backup alert using the main screen, but it gets reenabled every time you turn the car back on.
Some owners of other Kia EVs and hybrids have found ways to disconnect the backup speaker/module, but this requires some tinkering and may not be exactly legal.
8. Piano Black Interior Finish
Another common complaint among fifth gen Sportage owners is that the piano black finish is hard to maintain and keep clean.
"It only looks good in press photos. It smudges quickly and the gloss finish shows scratches."
"Black interior sucks. You literally see every crumb, piece of dust, hair."
A lot of the controls like the touchscreen, digital infotainment/climate controls, and center console are covered in shiny plastic trim which easily get smudged and have a tendency to show off even the slightest amount of dirt or debris.
Even if you keep wiping it down, the most used areas will start developing scratches over time.
Some owners who want to keep their interior trim looking pristine protect it using vinyl stickers.
Kia Sportage Hybrid Pros and Cons
Pros
Affordable
Good ride quality
Lots of cargo space
Good mpg for its size
PHEV has good acceleration
Good build quality
Long basic warranty
Modern interior
Lots of tech and driver safety aids
Cons
Unexciting handling
Modern but polarizing design
Infotainment/climate controls can be confusing
What Do The Reviews Say?
"The Sportage Hybrid is one of the quickest hybrid crossovers in its class. While we wouldn't call it blistering, it doesn't feel like there's a performance penalty when you opt for the hybrid."
"The turbocharged engine provides smooth power, and you don't feel when the Sportage handoff from electric to gas power. Passing on the highway is easy thanks to the power and a quick-shifting if somewhat clunky transmission."
"It's not sporty, but the Sportage handles well enough for a crossover. The steering is quick and accurate. It's light in comfort, making parking easy."
"Switching to Sport increases the steering effort (and sharpens throttle response), but there's still not much in the way of feedback."
"Comfort is one of the Sportage Hybrid's strong suits. It offers a quiet, comfortable cabin and a refined ride. At low speeds when the engine is off, there's only a little outside noise in the cabin. Even at higher speeds, wind and road noise is mild."
2023 Kia Sportage Hybrid | Edmunds
What's the Resale Value of a Kia Sportage Hybrid?
Here's a quick look at the Sportage Hybrid's used car pricing on CarGurus at the time of writing. Since it's a 2023 model year, used car data is limited. Prices quoted are for the EX Hybrid trim level.
| | | |
| --- | --- | --- |
| Year | Mileage | Price |
| 2023 | 11,301 | $4,580 |
Related: 15 Best & Worst Kia Sportage Years (With Facts & Stats)