Having a luxury SUV is a privilege and having good ground clearance comes with many advantages too.
You'll get further when venturing offroad, have better visibility and will run into fewer problems when driving on snow.
If you've got a taste for luxury SUVs with a higher ride height, this article is for you…
Jeep Grand Wagoneer (10 inches)
The Grand Wagoneer is one of the most capable and exciting three-row luxury SUVs to date.
This model can confidently carry a full load of passengers, endless luggage items, and even a standard-sized trailer in tow at the same time.
It meets what a driver would expect from a Jeep vehicle in terms of off-road worthiness and tech features.
With its standard adaptive air suspension system, the Jeep Grand Wagoneer can provide up to 10 inches of ground clearance, making it one of the best off-road vehicles on this list.
The model comes in 2 available engine options: a 6.4-liter V8 engine that offers 471 horsepower and a turbocharged inline six-cylinder engine that offers 510 horsepower.
Notable safety features include blindspot monitoring, forward collision mitigation, and lane keeping assist.
There are essentially 3 trim levels: Series I, Series II, and Series III. The entry-level Series I is priced at approximately $90,000 while the top-spec Series III is sold at around $110,000.
Lincoln Navigator (9.7 inches)
The Lincoln Navigator is a gargantuan SUV in a boxy package.
The model boasts athletic speed, a powerful engine, and cabin accommodations that are first-class.
Lincoln began production for the Navigator in the late 1990s and is still going strong to this day.
While this well-respected model is primarily designed for highway use, the Lincoln Navigator still has one of the greatest ground clearance measurements – 9.7 inches.
It is powered by a powerful turbocharged 3.5-liter V6 engine that is paired with a 10-speed automatic transmission and a rear-wheel-drive.
EPA estimates combined driving at 19 mpg, city driving at 17 mpg, and highway driving at 23 mpg.
There are 6 trim levels to choose from: Base, L Fleet, Reserve, L Reserve, Black Label, and L Black Label.
It is an incredibly well-designed vehicle, both inside and out.
Mercedes-Benz G-Class (9.5 inches)
Mercedes is synonymous with class and style and the G-Class is one of the swankiest ways to crawl around in the muck.
This model offers power and authority behind the wheel, an iconic exterior design, and powerful engine options.
The Mercedes-Benz G-Class excels at off-road activities. It boasts up to 9.5 inches of ground clearance, ensuring that potholes, uneven roads, and off-road terrain will not deter owners from an awesome adventure.
The G-Class is a four-wheel-drive with a 9-speed shiftable automatic, powered by a 4-liter V8 engine that offers 416 horsepower and 450 pound-foot of torque.
Interesting safety features include a pre-safe sound system, active distance assist distronic, and active brake assist.
Infiniti QX80 (9.2 inches)
Infiniti is the luxury division of Nissan and the QX80 is a higher-end equivalent of the Armada.
With comprehensive tech features, a classic interior design, and a chunky exterior form, the QX80 should satisfy prospective owners looking for a reliable vehicle that is unique on the road.
It also has one of the highest tow ratings in its segment, boasting a capacity of up to 8,500 pounds. This is more than enough to tow a fully-loaded standard trailer.
The Infiniti QX80 is an adventure-worthy luxury SUV as it has a ground clearance of 9.2 inches.
This model is powered by a huge 5.6-liter V8 engine (400 horsepower) paired with a rear-wheel-drive and 7-speed shiftable automatic transmission.
Fuel economy estimates are average for the segment. EPA places figures at 14 mpg for city driving, 20 mpg for highway driving, and 16 mpg for
There are 3 trim levels to choose from: Luxe, Premium Select, and Sensory. Prices range from approximately $75,000 to $86,000.
Owner reviews have praised the QX80 for its ride quality, simplicity of interior, and safety features.
Lexus LX (8.9 inches)
The LX is an impeccably good-looking vehicle, with its aggressive exterior styling and its upscale interior design and quality.
Its performance, safety, and power rank among the best in its category.
The model boasts quick acceleration, snappy power delivery, and a high-quality audio system.
The ground clearance of the Lexus LX is 8.9 inches. However, this measure may vary depending on the model year, variant, and trim level selected.
Noteworthy safety features of the model include the automaker's patented Lexus Safety System+, intuitive parking assist with auto braking, and a digital rearview mirror.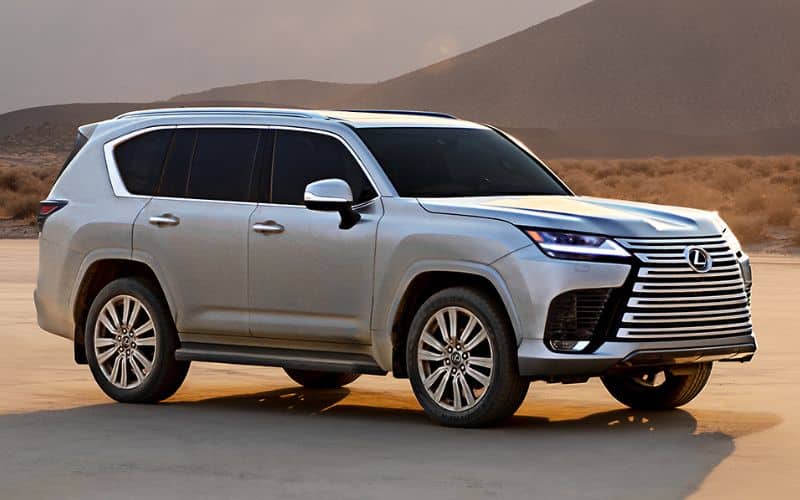 BMW X7 (8.7 inches)
The X7 is a great luxury SUV that lives up to the quality standards set by its German manufacturer.
The model provides strong engine performance, smooth handling dynamics, an impressively built interior, and cutting-edge tech features.
It is one of the newest models on this list, having first been introduced as a 2019 model.
The BMW X7 has a ground clearance of 8.7 inches, which should be good enough for the occasional off-road adventures, flooded roads, and snowy driveways.
This 3-row, 7-passenger SUV comes in 2 trim levels, the xDrive40i and the M60i.
The xDrive40i is powered by a turbocharged 3-liter inline six-cylinder engine that gives 375 horsepower and 383 pound-foot of torque.
The M60i, on the other hand, is powered by a more powerful turbocharged 4.4-liter V8 engine that provides a whopping 523 horsepower and 553 pound-foot of torque.
Despite the model's sizable engine options, fuel economy is quite good. According to EPA, owners can expect up to 22 mpg for combined driving, 21 mpg for city driving, and 25 mpg for highway driving.
Land Rover Range Rover (8.5 inches)
The Range Rover is bold, confident, and an iconic entry in the luxury SUV segment.
It is built with high-quality materials, powered by a strong engine, and provides refined driving dynamics that make for an excellent and comfortable ride for both the driver and the passengers.
The Range Rover has great on-road presence and can perform just as well off-road with its ground clearance of 8.5 inches. This measurement can go to as high as 11 inches, depending on the packages installed, driving mode selected, and trim level.
This model also offers a wide variety of variants and trims (12 in total), including a mild hybrid inline-six powertrain for those looking for a more environmentally friendly option.
Unique safety features include Land Rover's Terrain Response 2 system, rear traffic monitor, and driver condition monitor.
Cadillac Escalade (8 inches)
The Escalade looks and feels as powerful as it is technologically advanced.
The model offers a cool-looking digital cockpit interface, spacious cabin and luggage areas, and high-performance variants for those looking for a more luxurious ride.
It spans a total of five generations, with the 5th generation having been recently introduced beginning with the 2021 model year.
The ground clearance of the Cadillac Escalade is 8 inches. While this may not be as high as expected, this figure should be enough for the casual off-road trip every now and then.
Engine performance is spectacular, regardless of which engine option is selected.
There are a total of 4 powertrain configurations:
A rear-wheel-drive 6.2-liter engine with 420 horsepower, a four-wheel-drive 6.2-liter engine with 420 horsepower, a turbocharged 3-liter 6-cylinder diesel engine with 277 horsepower, and a supercharged 6.2-liter V8 engine with 682 horsepower.
There are 6 trim levels to choose from, beginning with the entry-level Luxury trim (approx. $81,000) and ending with the top-spec V trim (approx. $151,000).
Mercedes-Benz GLS Class (7.9 inches)
The GLS is an impressive large luxury three-row SUV that gives owners an excellent combination of technology, performance, and comfort.
It can comfortably seat up to 7 full-grown adults and up to 17.4 cubic liters worth of luggage space with all seats upright.
The Mercedes-Benz GLS Class has a ground clearance of 7.9 inches. While it is not as impressive as other models on this list, this should be adequate enough to wade through water, drive through snowy terrain, and navigate through uneven offroad terrain.
Safety features include an integrated emergency call service, pre-safe sound system, and active emergency stop assist.
Fuel economy is average, with up to 18 mpg for city driving, 24 mpg for highway driving, and 20 mpg for combined driving.