The Mazda5 is a minivan that was produced for the 2006 – 2015 model years in the US.
Simple and efficient, combined with space for all the family, the Mazda5 makes for a great alternative to an SUV.
In this article, we'll take a closer look at its best and worst model years…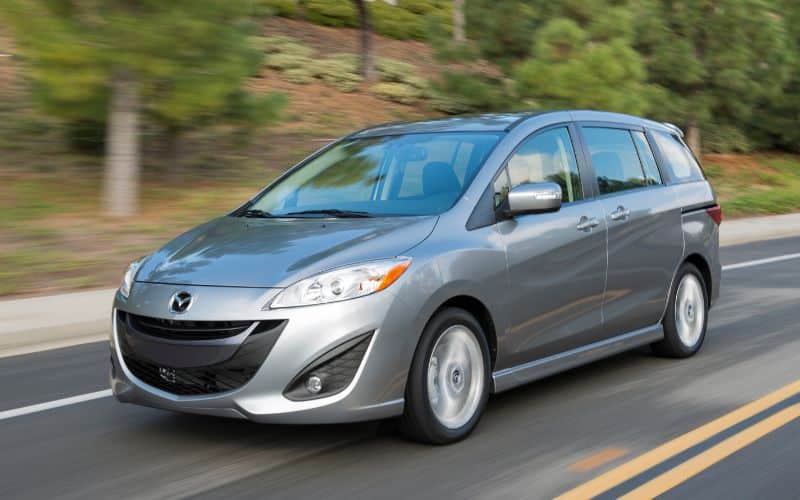 Here's The Short Answer To What The Best And Worst Years For The Mazda5 Are:
The best Mazda5 model years are 2015, 2014, 2013, and 2012. The worst model years of the Mazda5 are 2010, 2009, 2008, 2007, and 2006. This is based on auto industry reviews, NHTSA statistics, reported problems, and consumer feedback.
What Are The Best Years For The Mazda5?
2015 Mazda5
The 2015 Mazda5 was the last ever model produced, and it's a top pick simply because it is the most refined and the most reliable model.
It carried over unchanged from 2014 although the manual transmission was dropped.
The 2015 Mazda5 was praised for being easy to park and maneuver and for offering decent storage and cargo space for its size.
Edmunds: 4.4 / 5.0
Kelley Blue Book: 4.3 / 5.0
JD Power: 80 / 100
2015 Mazda5, Edmunds review:
"The specs tell the story of a very average vehicle. Average power, MPG, etc. But just drive it. Handles great, the seating position is ideal, the automatic drivetrain is near perfect, even for a guy that prefers a manual, and it can seat six adults in a pinch (front and middle rows move up a notch). The vehicle is tight as a drum, low noise level, and overall is tighter than the last Honda we had, a 2003 CR-V…"
2014 Mazda5
While the 2014 Mazda5 was essentially a carryover model year, it was one of the least problematic models to date, second only to its successor.
It features a functional interior and comes equipped with a 2.5-liter inline-4 engine.
Standard features included cruise control, automatic climate control, remote keyless entry, manual driver's seat with height adjustment, and a tilt/telescoping steering wheel.
Edmunds: 4.4 / 5.0
Kelley Blue Book: 4.3 / 5.0
JD Power: 82 / 100
2014 Mazda5, Edmunds review:
"Mazda hit a home run with this little gem. I love driving, and normally drive my vehicles like they are stolen. We have two kids that were having a hard time fitting in our 08 Jetta (yes, also with a manual). We now have taken day trips with two kids and 4 adults with no problems fitting everyone comfortably. We have also fit 6 adults fairly comfortably for short trips. This car is fun to drive, and yet very economical…"
2013 Mazda5
For those who need something a bit roomier than a station wagon but don't want an SUV, the 2013 Mazda5 is a compelling choice.
For 2013 the Mazda5 received a USB connection and iPod compatibility instead of a six-disc CD changer in order to keep up with the times.
It also added mirror-mounted LED turn signals and rear backup sensors for the Touring and Grand Touring models.
This model had relatively few complaints, possessed sharp handling, and was offered at a price point that was better than its competition. 
Edmunds: 4.5 / 5.0
Kelley Blue Book: 4.3 / 5.0
JD Power: 72 / 100
2013 Mazda5, Edmunds review:
"We've spent about 10 months with our Mazda5 already. We have two daughters under the age of two. The car seats, strollers, diaper bags and other bulky kid stuff all fits in the Mazda 5 without any issue. This car is simply a blast to drive. It is easy to forget that you are driving a vehicle with sliding doors. Loading the girls into the back seat is easy and once they start opening the doors themselves I don't have to worry about them putting a dent in another car in the parking lot. This car is perfect size…"
2012 Mazda5
For 2012 the Mazda5 was completely redesigned and its fresh new look outshone many of its minivan rivals.
It was equipped with more standard safety features, a sharper-looking exterior, and a revamped interior, all without sacrificing the practicality and performance aspects that the vehicle was beloved for. 
Standard safety features include stability control, traction control, four-wheel antilock disc brakes and a comprehensive airbag system.
Edmunds: 4.6 / 5.0
Kelley Blue Book: 4.3 / 5.0
JD Power: 78 / 100
2012 Mazda5, Edmunds review:
"I did so much research on the perfect family hauler without breaking the bank so happy to find the new 5! it has everything I was looking for to transport my family of 4, we chose the upgraded Touring model which adds fogs, spoiler side skirts 17′ rims, nicer grill & leather wheel, power is surprisingly good w/ smooth tranny & good mpg! Turning radius is great! The seats are really comfy, the dual slide doors are light and easy to use. Pass/cargo room is also more than adequate, this MPV is a hot seller in Europe and only car in its class that got rave reviews..much better and easier than suv with 3rd row, I highly recommend, we love our 2012 5!"
Consumer Scores For Best Mazda5 Years
Model Year
Edmunds
Consumer Rating
Kelley Blue Book
Consumer Rating
JD Power
Consumer Rating
2015 Mazda5
4.4 / 5.0
4.3 / 5.0
80 / 100
2014 Mazda5
4.4 / 5.0
4.3 / 5.0
82 / 100
2013 Mazda5
4.5 / 5.0
4.3 / 5.0
72 / 100
2012 Mazda5
4.6 / 5.0
4.3 / 5.0
78 / 100
What Are The Worst Years For The Mazda5?
2010 Mazda5
The airbag system was the biggest problem mentioned by owners of the 2010 Mazda5.
Reports indicated that the airbag light would intermittently flash and even stay on long after the vehicle was turned off.
This model year was also a victim of the infamous Takata recall; airbags were known to explode and fire metal shrapnel into the cabin.
There were also a few disgruntled owners who stated that the tires needed replacing after less than 12 months of normal use.
The 2010 Mazda5 had a total of 4 complaints at CarComplaints.com and 63 problems at CarProblemZoo.com.
Common problems:
Brake caliper seized
Vibration sound from air conditioning
Tire sensor monitor corrosion caused tire blowout
2009 Mazda5
Several owners of the 2009 Mazda5 reported issues with the steering.
According to one owner, while he was driving along the highway, the steering wheel started to grow stiffer and stiffer until it eventually completely locked in place. 
Another owner reported that the steering wheel started to wobble uncontrollably while driving on the freeway at 60mph causing them to crash.
Premature tire wear was also reported, below is an owner's testimony:
"Auto has had to have complete set of tires because of premature wearing on the outer edge of tires after only 32,000 miles. New tires are already showing signs of premature wearing even though they are being aligned and rotated regularly at only 52,000 miles."
The 2009 Mazda5 had a total of 7 complaints at CarComplaints.com and 76 problems at CarProblemZoo.com.
Common problems:
Premature clutch failure
Premature tire wear
Excessive oil consumption
2008 Mazda5
The 2008 Mazda5 was notorious for its constantly failing power steering system. 
This issue led to difficulty in steering, warning lights on the dash, and accidents on the road. 
Premature tire wear was another common complaint.
The 2008 Mazda5 had a total of 21 complaints at CarComplaints.com and 81 problems at CarProblemZoo.com.
Common problems:
Transmission failure
Premature tire wear
Bad shocks
2007 Mazda5
Much like the 2009 and 2008 model years discussed above, the 2007 Mazda5 suffered from steering issues.
Owners reported accidents, near accidents, and major inconveniences whilst driving.
Here's one owners NHTSA report:
"Intermittent loss of power while driving. Loss of steering capability as well. The loss is sudden and causes the driver to lose control of the vehicle as steering becomes extremely difficult. This is dangerous."
Premature tire wear was also widely reported.
The 2007 Mazda5 had a total of 8 complaints at CarComplaints.com and 79 problems at CarProblemZoo.com.
Common problems:
Premature tire wear
Failed transmission
Will not go into gear without the override button
2006 Mazda5
By all accounts, the 2006 Mazda5 is the most problematic and complained-about model year ever made. 
This should come as no great surprise as debut models are often the most problematic and come with their share of teething issues.
The most widespread issues revolved around premature wear of the minivan's tires. 
Here's one owners report:
"My 2006 Mazda5 suffers from unusual tire wear. The inside edge tires wears completely down to the steal belts while the rest of the tires appear brand new. Even are tire alignment the read wheels look out of alignment when look at from behind. My tires only last 5000 to 7000 miles before needing to be replaced."
Steering failure was also reported by a number of owners.
The 2006 Mazda5 had a total of 23 complaints at CarComplaints.com and 101 problems at CarProblemZoo.com.
Common problems:
Engine blew
Severe squeaks from underneath the vehicle
Premature tire wear
Steering failure
What Years Have The Most Complaints?
Model Year
Complaints
(CarComplaints.com)
Problems
(CarProblemZoo.com)
2015 Mazda5
1
8
2014 Mazda5
4
12
2013 Mazda5
3
34
2012 Mazda5
13
43
2010 Mazda5
4
63
2009 Mazda5
7
76
2008 Mazda5
21
81
2007 Mazda5
8
79
2006 Mazda5
23
101
What Problems Do Mazda5 Have?
Engine blew
Slipping clutch
Premature clutch failure
Severe squeaks from underneath the vehicle
Premature tire wear
Transmission failure
Bad shocks
Poor fuel economy
Too much noise inside car
What Are The Best Alternatives To The Mazda5?
| | | | |
| --- | --- | --- | --- |
| Make & Model | Score | MSRP | Fuel Economy (MPG) |
| Honda Odyssey | 9.3 | $17,316 – $22,584 | City: 19 /Highway: 28 |
| Mazda5 | 8.1 | $12,486 – $13,461 | City: 21 /Highway: 28 |
| Chrysler Town & Country | 7.9 | $13,536 – $16,111 | City: 17 /Highway: 25 |
| Toyota Sienna | 7.7 | $19,985 – $25,906 | City: 16 – 18 /Highway: 23 – 25 |
| Nissan Quest | 7.6 | $13,646 – $20,183 | City: 20 /Highway: 27 |
| Kia Sedona | 7.3 | $13,385 – $17,049 | City: 17 – 18 /Highway: 22 – 25 |
| Dodge Grand Caravan | 7.1 | $12,897 – $15,181 | City: 17 /Highway: 25 |
Source: cars.usnews.com, edmunds.com
References
https://www.caranddriver.com/mazda/mazda-5
https://cars.usnews.com/cars-trucks/mazda/mazda5
https://www.carcomplaints.com/Mazda/MAZDA5/
https://www.carproblemzoo.com/mazda/mazda5/
https://www.edmunds.com/mazda/5/2015/review/
https://www.kbb.com/mazda/mazda5/