The Mazda6 is a high-class sedan produced by Mazda since 2002.
It offers great handling, a sleek design and an upscale cabin.
If you're in the market for a new car, researching the Mazda6 makes sense.
This article will provide all the information you'll need when shopping for a new Mazda6…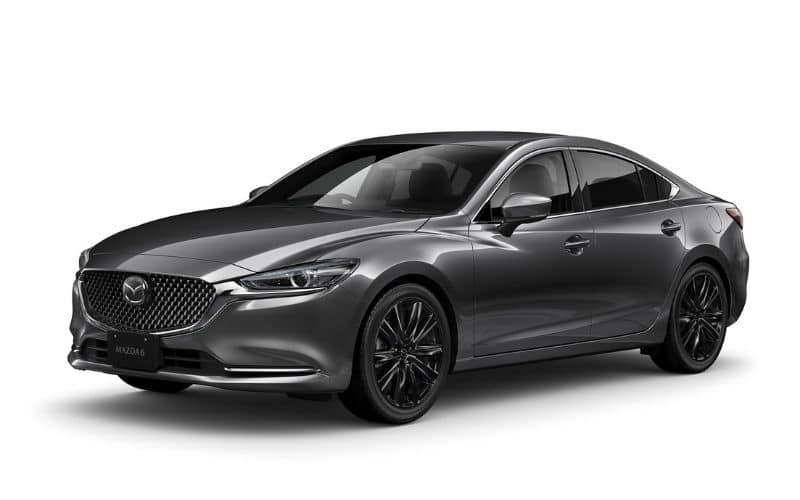 How Many Mazda6 Have Been Sold in the US Per Year?
For a midsize sedan, the Mazda 6 has maintained relatively good sales since its US debut in 2002.
The initial year (2002) had limited sales as it was a late offering, with only 2,042 units sold.
The following year (2003) proved that the Mazda6 had a strong following, with 66,118 units sold in a single year.
The Mazda6 peaked early on at 72,148 units sold in a single year in 2004, with the next best year being 71,447 units sold in 2005.
These past few years, however, have seen a remarkable decrease in annual sales, with the latest recorded total annual sales being 16,204 units only in 2020 and 21,524 units in 2019.
Despite having relatively good sales for a midsize sedan, the Mazda6 is unable to compete with more established competitors such as the Toyota Camry, Nissan Altima, and Honda Accord, with annual sales typically surpassing the 100,000-unit mark.
Mazda has announced they will no longer offer the Mazda6 in the U.S. after the 2021 model year.
Below is a table listing the annual sales of the Mazda6 in the US since its introduction in 2002, however there is speculation it could potentially return in the future with rear-wheel drive and an inline-six.
| | |
| --- | --- |
| Year | Total Sales |
| 2002 Mazda6 | 2,042 |
| 2003 Mazda6 | 66,118 |
| 2004 Mazda6 | 72,148 |
| 2005 Mazda6 | 71,447 |
| 2006 Mazda6 | 66,203 |
| 2007 Mazda6 | 57,575 |
| 2008 Mazda6 | 52,590 |
| 2009 Mazda6 | 34,866 |
| 2010 Mazda6 | 35,662 |
| 2011 Mazda6 | 35,711 |
| 2012 Mazda6 | 33,756 |
| 2013 Mazda6 | 43,638 |
| 2014 Mazda6 | 53,224 |
| 2015 Mazda6 | 57,898 |
| 2016 Mazda6 | 45,520 |
| 2017 Mazda6 | 33,402 |
| 2018 Mazda6 | 30,938 |
| 2019 Mazda6 | 21,524 |
| 2020 Mazda6 | 16,204 |
What Year Did Mazda Start the Mazda6 Model?
The Mazda6 was introduced by Mazda, a Japan-based car manufacturer.
Production of this model began in 2002 and was immediately offered to the US market in the same year.
The Mazda6 definitely caught the eyes of the US market early on, largely due to its country of origin, unique design, advanced technology, and variety of models (sport sedan, 5-door, and sport wagon).
Known as the Mazda Atenza in Japan and China, the Mazda6 established its global presence fairly early by distributing units to North America, Canada, Australia, New Zealand, and certain countries in Europe.
Unfortunately, Mazda has decided to discontinue the Mazda6 model beginning in 2022, and is planning to release a new line of vehicles with more powerful engines and rear-wheel-drive mechanisms in the near future.
Mazda6 Model Year List
Below is a list of Mazda6 models per year based on the US market:
First Generation (2003 – 2006)
2003 Mazda6
2004 Mazda6
2005 Mazda6
2006 Mazda6
Second Generation (2007 – 2011)
2007 Mazda6
2008 Mazda6
2009 Mazda6
2010 Mazda6
2011 Mazda6
Third Generation (2012 – 2021)
2012 Mazda6
2013 Mazda6
2014 Mazda6
2015 Mazda6
2016 Mazda6
2017 Mazda6
2018 Mazda6
2019 Mazda6
2020 Mazda6
2021 Mazda6
How is the Fuel Economy on Mazda6?
For midsize sedans, expect good fuel economy as this is a major selling point for the target market.
The Mazda6 has average fuel economy for a midsize sedan, and has significant variations between city, highway, and mixed (or combined) driving.
Below are the MPG figures for the 2020 Mazda6 and how it compares to some of its competitors:
| | | | |
| --- | --- | --- | --- |
| Model | City | Highway | Combined |
| Mazda6 | 23 | 31 | 26 |
| Honda Accord | 30 | 38 | 33 |
| Toyota Camry | 28 | 39 | 32 |
Is the Mazda6 All-Wheel Drive?
Since making its debut in the U.S. as a 2003 model, the Mazda6 has always been a transverse-engine, front-wheel-drive sedan, as is most common for its segment.
It features a 2.5L 4-cylinder engine, the standard engine produces 187 horsepower, while the available turbocharged engine generates up to 250 horsepower.
Related: 8 Most Common Problems With Mazda 6 (Explained)
How Quickly Does Mazda6 Depreciate?
Our findings have led us to conclude that a Mazda6 will typically depreciate by 46% after a 5-year period.
This means that Mazda6 models will lose almost half of their value five years from the date of purchase.
Although a 46% depreciation is well within the average for sedans, competitors such as the Toyota Camry and Honda Accord have slightly lower depreciation rates.
If you are very particular with a vehicle's resale value after several years, then it would be better to go with models that are the most in-demand.
Otherwise, to secure the best possible resale value for your Mazda6, we advise observing the proper maintenance schedules, driving conservatively, minimizing rust, and keeping the vehicle clean both inside and out.
Did Mazda Recall Any of the Mazda6 Models?
Mazda has been consistent in producing top-quality cars, but all automakers can still fall victim to production faults and mechanical failures.
The Mazda6 has received a few recalls throughout its lifetime since 2002, but for a vehicle that has been in the US market for decades, this model has only had 83 recalls, which is significantly better than most of its competition.
The Mazda6 model year with the most number of recalls is the 2009 Mazda6, with 11 recalls.
Below is a table showing the annual recall campaigns per year for the Mazda6:
| | |
| --- | --- |
| Model Year | Recall Campaigns |
| 2003 Mazda6* | 9 |
| 2004 Mazda6 | 0 |
| 2005 Mazda6 | 6 |
| 2006 Mazda6 | 6 |
| 2007 Mazda6 | 8 |
| 2008 Mazda6 | 7 |
| 2009 Mazda6 | 11 (highest) |
| 2010 Mazda6 | 9 |
| 2011 Mazda6 | 6 |
| 2012 Mazda6 | 6 |
| 2013 Mazda6 | 3 |
| 2014 Mazda6 | 4 |
| 2015 Mazda6 | 4 |
| 2016 Mazda6 | 1 |
| 2017 Mazda6 | 1 |
| 2018 Mazda6 | 1 |
| 2019 Mazda6 | 1 |
| 2020 Mazda6 | 0 |
*Includes models released in 2002
How Much Does the Mazda6 Pollute?
The Mazda6 is a very eco-friendly vehicle, with good mileage and better-than-average CO₂ emissions.
The manual transmission variant of the Mazda6 reportedly has a CO₂ emission of 152 grams per kilometer (or 94.45 grams per mile) while the automatic transmission variant of the Mazda 6 has a CO₂ emission of 159 grams per kilometer (or 98.8 grams per mile).
Next Green Car gave the Mazda6 a rating of 42 out of 100 for the most eco-friendly variant and a rating of 52 out of 100 for the least eco-friendly variant (the lower the rating, the more environmentally friendly the vehicle is).
If reducing your carbon footprint is a key factor in your vehicle purchase, then the Mazda6 is a good option for your needs.
How Much Can a Mazda6 Tow?
The Mazda6 is a midsize sedan that was not designed for heavy towing loads.
Despite this, autotrader.com has reported an unbraked towing capacity of 550 kilograms (or roughly 1,200 pounds) and a braked towing capacity of 1,500 kilograms (or roughly 3,300 pounds) for this particular model.
To better understand these figures, it is important to first understand the difference between unbraked towing and braked towing.
Unbraked towing means that the trailer does not have a brake mechanism of its own, solely relying on the vehicle for motion and braking.
A braked trailer, on the other hand, means that the trailer has its own break mechanism that absorbs most of the force or impact received when slowing down or completely stopping.
Based on the figures above, the Mazda 6, with an unbraked towing capacity of approximately 1,200 pounds, can accommodate a small trailer.
The Mazda 6, with a braked towing capacity of approximately 3,300 pounds, can handle small to medium-sized trailers.
How Reliable is the Mazda6?
According to critics and owners, the Mazda6 is one of the most reliable midsize sedans currently in the market.
Kelley Blue Book gave the Mazda6 a reliability rating of 4.6 out of 5.0
J.D. Power gave this model a quality and reliability rating of 80 out of 100
RepairPal gave it a 4.0 out of 5.0 reliability rating, ranking it in 6th place out of 24 midsize sedans.
Despite the high-reliability ratings of the vehicle, you would still be able to find more reliable options in the market today.
However, if you would like a vehicle that is unique, powerful, and is designed and manufactured by a Japan-based automotive manufacturer, then the Mazda6 is a very good candidate.
To add to this, the total annual cost of repairs and maintenance for the Mazda6 is $481, which is significantly lower than the segment's average of $526 and the overall average (for all vehicles) of $652.
You may also be interested in our article: how long do BMW 3 Series last?
How Safe is a Mazda 6?
Beyond the unique design and advanced technology of the Mazda6, the safety features and ratings of this model is perhaps one of the best highlights and selling points to consider.
NTHSA awarded an overall rating of 5.0 out of 5.0 to the Mazda6. IIHS also gave this model overwhelmingly great reviews, with most ratings falling under "good" (which is the highest possible rating) and only a couple falling under "acceptable" (the second-best rating). In addition, the 2020 Mazda6 was a recipient of the Top Safety Pick+ award, which is the institute's greatest safety award.
Here is a list of safety features worth noting for the Mazda6:
Automatic high-beams with sensors
Adaptive headlights
Driver, passenger, front head, rear head, and front side air bags
4-wheel ABS
4-wheel disc brakes
Brake assist
ESC
DRL
Child safety locks
Integrated turn signal mirrors
Traction control
Blind spot monitor
Auto-leveling headlights
Lane departure warning
Lane-keeping assist
Cross-traffic alert
What is the Typical Buyer Demographic for the Mazda 6?
Mazda vehicles have the style and allure to attract several potential car buyers, but with regard to demographics, we were unable to find conclusive figures, although we do know the Mazda6 is a great choice for families.
According to Russel Wager, the Vice President of Marketing for Mazda North America in 2017, the car manufacturer targets people who target premium cars that reflect their love for driving and passion for life.
In earlier marketing campaigns, Mazda targeted males in their 30s. However, most of the recent commercials for the Mazda6 have not shown any demographic or age group, which is in line with their goal to accept as many consumers as possible that share the same passion and love for driving.
To a certain extent, it can be said that those who buy Mazda6 vehicles are individuals who are more or less upper-middle-class and have a preference for style and performance.
You may also be interested in our article: Where Are Mazda6 Made?
Mazda 6 Theft Numbers
Several Mazda6 owners have been victims of vehicular theft throughout the years according to NHTSA.
Listed below are the available figures concerning vehicle theft for the Mazda6:
| | |
| --- | --- |
| Model | Thefts |
| 2003 Mazda6 | 72 |
| 2004 Mazda6 | 176 |
| 2005 Mazda6 | 191 |
| 2006 Mazda6 | 190 |
| 2007 Mazda6 | 201 |
| 2008 Mazda6 | 182 |
| 2009 Mazda6 | 76 |
| 2010 Mazda6 | 53 |
| 2011 Mazda6 | 52 |
| 2012 Mazda6 | 202 |
How Long Do Mazda6 Last?
The Mazda 6 on average can last between 200,000 – 250,000 miles. With sensible driving habits and careful attention to maintenance, Mazda 6 owners can expect 13 – 17 years of service based on driving 15,000 miles per year.
How you drive your Mazda6 will play a major role in how long it continues to drive.
Being too aggressive with the gas and brake pedals and overworking the engine can be hard on any vehicle.
The regular maintenance of a car also can add thousands of available miles to the odometer.
The life expectancy of the Mazda6 or any other model will be cut short if you avoid:
Routine oil changes
Tire rotations
Service appointments
Checking fluid levels
We go into more detail about the longevity of the Mazda6 in this article here.
Mazda6 Dimensions
| | |
| --- | --- |
| Height | 1.45m |
| Width | 1.84m |
| Length | 4.865m |
| Ground clearance | 165mm / 6.5″ |
| Wheelbase | 2.83m |
Resources