The world's first Mini was launched in 1959, originally founded by a British company although now owned by German luxury brand, BMW.
The modern-day Mini stays true to its roots with its iconic styling and nimble handling.
Like any other vehicle, the Mini Cooper isn't perfect – in this article we will highlight its most common problems.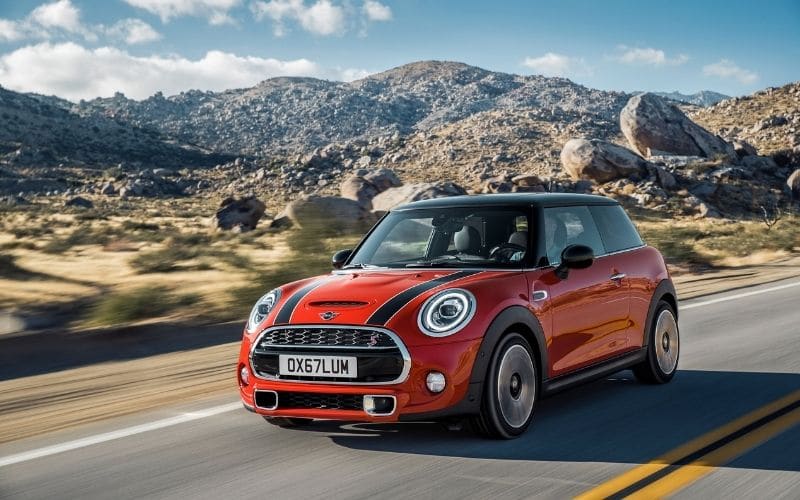 1. Power Steering Failure
According to Car Problem Zoo, a site that collects owner feedback, the most commonly reported issues with the Mini relate to its steering, specifically the premature failure of the power steering pump.
Although this problem was far more prevalent on models made in the 2000s, you can still find owners complaining about steering issues on more modern Mini's, albeit to a much lesser extent.
Owners have reported that the power steering can sporadically stop working, making it incredibly difficult to steer the vehicle – which is extremely dangerous.
Here's one owner's harrowing experience:
"Exiting the highway, the power steering on my 2006 Mini Cooper stopped working. I was unable to keep the car on the pavement. The car left the roadway, narrowly missing a highway sign (wooden post), and stopped in a grassy area off the shoulder of the road. My wife and I were shaken but unhurt."
After a 4 year battle with the NHTSA, BMW issued a recall which affected 86,000 Mini Coopers, specifically:
2002 – 2005 Mini Coopers
Mini Cooper S models
2005 Mini Cooper and Mini Cooper S Convertible
Solution
To see if you have been affected by this recall it's best to run the car's VIN using the recall lookup tool on the NHTSA website.
The faulty parts in the electro-hydraulic power steering system will need to be replaced, most commonly this will be the power steering pump.
Recalls are safety faulty with a vehicle that are repaired free of charge by the manufacturer.
2. Air Bag Problems
A commonly reported problem with Mini Cooper is due to its air bag system. This has been widely reported on Mini Cooper models from 2005 up until 2016.
In many instances, owners report that their air bag warning light comes on.
For any driver this can be particularly worrying as it means there is a problem with the life-saving equipment that makes up the Supplemental Restraint System (SRS), that is the seatbelt and airbags.
This means it's probably not safe to drive when the airbag light is on.
The air bag warning light can come on for a wide range of reasons, but in most cases it was due to a failing passenger detection mat, which caused the air bag light to go on and off intermittently.
If this is the cause you should see the air bag light above the rear view mirror illuminate when a passenger is seated.
The Mini's air bags problems don't end there though…
In 2015 Mini issued a recall that affected 6,063 Mini Cooper models, from 2014 – 2016, this was linked to the notorious Takata air bags. In the event of a crash the frontal air bags may not deploy properly, posing a serious injury risk.
Solution
For Mini Coopers from around the 2005 era, the air bag issue was commonly linked to a failed front passenger seat occupant detection mat sensor – which will need to be replaced.
There have been recalls for this issue so the best thing to do is run your VIN on the NHTSA website, and check to see if you have been affected.
To be on the safe side, always run a VIN check you can do this on the NHTSA website.
As this problem is related to the air bags it is imperative that you leave this to the dealer to fix. Messing with the car's SRS is dangerous and will also void the warranty.
3. Timing Chain Problems
According to owner feedback site Car Complaints, the worst problem category for the Mini Cooper is engine problems based on several factors such as cost of repair and average mileage when the issue occurs.
Engine issues have mostly been reported for models 2007, 2009 and 2010, however you'll find a handful of engine-related complaints for models from 2005 all the way up to 2016.
The engine issues faced by owners are varied, although the most notorious issue is known as the 'death rattle'. The death rattle is indicative of a failing timing chain.
The rattling noise usually comes from the passenger side and is most noticeable at idle, in cold weather, and at lower speeds.
If you catch this problem early enough it can save the engine from incurring serious damage or failure.
A timing chain is responsible for coordinating the opening and closing of valves within the engine.
Solution
The problem was caused by a defective design, in reality a timing chain should last the useful life of the vehicle and affected vehicles required a new timing chain.
Mini issued a timing chain recall for Mini Cooper models made between 2007 and 2010, however here is one owner's word of caution:
"We know that Mini has had issues with the timing chain and they claim that our model and year is not part of this issue. Well we also have a 2010 Mini Cooper and the same timing chain issue with similar symptoms that has just been repaired for over $1800"
If your Mini Cooper had a timing chain failure and you already paid out of pocket to have it repaired, contact your local dealership with a copy of the service order as well as a receipt, and you should be refunded.
Related: Mini Cooper Best & Worst Years? (With Facts & Stats)
4. Windshield Cracks
A number of Mini Cooper owners have reported that the windshield cracked without incurring any impact or damage.
This problem isn't as widespread as other problems we've touched upon however there are enough complaints on the Car Problem Zoo database about this that we thought it was worth mentioning.
Owners have reported that the crack starts out small and gradually gets bigger moving across the windshield.
Solution
If the windshield cracks, it will need to be replaced – the sooner the better.
Sadly, some owners have reported that the replacement was not covered under the vehicles 36,000 mile bumper to bumper warranty.
In which case you will need to claim on insurance.
5. Clutch Failure
According to Repair Pal, the most common issue faced by Mini Cooper owners is that the clutch wears prematurely – this issue has affected 15 model years in total from 2002 to 2016 and occurs at an average mileage of 66,000 miles.
This problem is specific to manual transmission Mini's only, the repair of this problem can be quite expensive.
Mini owners worst hit by this problem are those that typically drive in stop-and-go traffic.
The most commonly reported symptoms of a bad clutch on a Mini Cooper are:
Weak acceleration
Grinding gears
Loose clutch pedal
Sticky clutch pedal
Metal on metal noises
Gearshift lever is hard to move
Won't stay in gear
Burning smell of brake fluid
Solution
If the clutch wears out then it will need to be replaced, this can cost over $1000.
The owner of a 2012 Mini Cooper reported his experience:
"The clutch burnt out at 25K miles and again at 58K miles! Dealer denied any knowledge of the problem."
6. Electric Door Locks Not Working
According to Repair Pal, the second most commonly reported problem with the Mini Cooper is due to electric door locks that are malfunctioning.
This has been reported on Mini Cooper model years from 2002 up until 2017.
Here's what owners have had experienced:
All door locks will lock. But driver side lock will not unlock remotely with the key fob.
Both passenger window and lock stopped working
Driver side door will not lock with FOB or manually
Passenger side will not open from the inside even when unlocked
Solution
Door lock problems on a Mini Cooper are often attributed to faulty door lock actuators, although it can also be caused by a faulty GM (general module) which controls the door locks.
7. Transmission Failure
For Mini Cooper models made pre-2010, transmission issues were a known problem. In modern cars a transmission should last over 200,000 miles however there were reports from Mini owners that their transmission failed after merely 100,000 miles.
This problem has been blamed on Mini who advertised the car's automatic transmission as 'sealed for life', which basically means it doesn't need to be opened up – if it's not opened up it then it's impossible to carry out transmission fluid flushes.
Mechanics strongly recommend replacing the transmission fluid – usually at 30,000-mile intervals, with Mini-approved fluids.
Solution
If the transmission fails then it will require serious work although in most cases it will need to be replaced, on a Mini this is not cheap and cost upwards of $5000.
To avoid this problem, make sure the transmission fluid is flushed at 30,000-mile intervals to keep things running smoothly.
8. Footwell Relay Module Failure
On Mini Cooper Models made from 2008 – 2014, there are a number of reports online from owners who have experienced Footwell Relay Module (FRM) failure.
The footwell module (FRM) is an electrical hub in the footwell on the driver's side, it's primary functions are:
Communicating signals from the door switches
Controlling the lighting and adaptive headlights.
The most commonly reported symptom of a failed FRM is the complete loss of headlights, turn signals and taillights.
Solution
If the FRM fails on a Mini Cooper then in most cases it will need to be replaced as the issue has been linked to a design fault.
This is a known issue with Mini Coopers which Mini is aware of however we are not aware of a recall for this problem.
9. Beeping Noises
Owners have described their Mini Cooper beeping at them for no apparent reason.
Although not as serious as the previously mentioned problems, it is certainly very annoying.
Due to the wide range of electronics featured on a Mini, you'll find this issue reported on most model years but there's usually a simple explanation.
Solution
There could be a wide range of reasons why a Mini randomly beeps although common reasons include:
Temperature / ice warning
Tire pressure warning
Low 12V battery
Mini Cooper Model Years With the Most Problems
To get a better idea of which Mini Cooper has the most problems the fairest way is to compare models based on the number of vehicles sold in relation to the number of reported problems.
We're using Car Complaints PPMY index which means problems reported per thousand vehicles per Year.
For example, newer cars will have fewer complaints simply because they've been around for less time.
Based on this index, the most problematic years are:
2013 – 26.19 PPMY
2014 – 3.26 PPMY
2019 – 2.82 PPMY
And the least problematic years are:
2020 – 0.15 PPMY
2021 – 0.21 PPMY
2016 – 1.65 PPMY
| | | | | |
| --- | --- | --- | --- | --- |
| Mini CooperModel Year | Problems | Sales | VehicleAge | PPMY Index |
| 2022 | 4 | – | – | – |
| 2021 | 1 | 4,840 | 1 | 0.21 |
| 2020 | 2 | 6,553 | 2 | 0.15 |
| 2019 | 9 | 1,065 | 3 | 2.82 |
| 2018 | 6 | 774 | 4 | 1.94 |
| 2017 | 19 | 1,553 | 5 | 2.45 |
| 2016 | 24 | 2,422 | 6 | 1.65 |
| 2015 | 49 | 3,426 | 7 | 2.04 |
| 2014 | 38 | 1,455 | 8 | 3.26 |
| 2013 | 33 | 140 | 9 | 26.19 |
| 2012 | 66 | – | 10 | – |
| 2011 | 55 | – | 11 | – |
| 2010 | 85 | – | 12 | – |
| 2009 | 150 | – | 13 | – |
| 2008 | 131 | – | 14 | – |
| 2007 | 129 | – | 15 | – |
| 2006 | 237 | – | 16 | – |
| 2005 | 435 | – | 17 | – |
| 2004 | 326 | – | 18 | – |
| 2003 | 370 | – | 19 | – |
| 2002 | 212 | – | 20 | – |
| 2001 | 7 | – | 21 | – |
Source: Car Problem Zoo
Mini Cooper Pros and Cons
If you're considering a Mini Cooper as your next car you might be wondering what its strengths and weaknesses are…
Pros
Unmistakable iconic styling
Fun-to-drive, nimble handling
Wide range of choices for individual personalization
Responsive, peppy engines
Cons
Expensive maintenance costs
Pricier than competitors
Low on interior space
Not the most practical option
Related: How Long Do Mini Coopers Last? (Solved & Explained)
Mini Cooper Reliability Compared to Similar Cars
Consumer Reports rankings detailed below is based on the model's newest three years, the Mini Cooper sits near the bottom, with a relatively poor score of 37/100.
Note: Consumer Reports may have given the Mini Cooper the lowest ranking although other auto review sites have given much more favorable scores.
Make & Model
Consumer Reports
Reliability Score
Subaru Impreza
77
Toyota Corolla
75
Honda Civic
55
Hyundai Elantra
55
Nissan Sentra
54
Volkswagen Jetta
47
Mazda3
46
Nissan Kicks
45
Mini Cooper
37
Toyota Corolla Hatchback
27
Kia Soul
23
Kia Forte
7
Source: Consumer Reports
Mini Cooper Used Value
We've taken a look on Car Gurus to gauge the resale value of a Mini Cooper, below are typical asking prices for each model year.
According to Auto Padre, a Mini Cooper will depreciate 46% after 5 years and have a 5 year resale value of $12,911.
Note: Used model prices will vary depending on trim level.
| | | |
| --- | --- | --- |
| Model Year | Mileage (miles) | Resale Price |
| 2022 | 10,392 | $29,988 |
| 2021 | 4,162 | $26,696 |
| 2020 | 6,493 | $30,700 |
| 2019 | 26,882 | $24,998 |
| 2018 | 20,136 | $21,395 |
| 2017 | 58,842 | $14,500 |
| 2016 | 73,817 | $13,997 |
| 2015 | 43,362 | $14,499 |
| 2014 | 50,736 | $13,900 |
| 2013 | 50,736 | $13,900 |
| 2012 | 86,089 | $8,900 |
| 2011 | 94,858 | $7,998 |
| 2010 | 74,381 | $9,999 |
Source: Car Gurus
Related: Mini Cooper Tune-Up & Maintenance Costs? (Complete Guide)
What Do Owners Like and Dislike About the Mini Cooper?
Based on owner feedback from the Kelley Blue Book site here are what real-life owners love and hate about the Mini Cooper.
Likes
Fun to drive
Fun to look at
Fun to sit in
Rides like a sports car
Head-turner
Reliable
Snappy
Great design
Strong engine
Dislikes
Rough vibrations
Poor MPG
Small back seat
Uncomfortable for long trips
Lack of rear view vision
Not a family car
Owners Reviews
"If BMW made a go kart, this is it (in fact, BMW DOES make this car–says so on the door plate). Nimble handling, better than my 135i. The Cooper S is the same 4-cylinder engine that BMW puts in the 2 and 3 series, but it has to move a lot less sheet metal. Put the car in "sport mode" and it flies. Gas mileage isn't mini; I get about 38 MPG overall!"
Source: Kelley Blue Book
"Vehicle has been absolutely flawless. Performance, fuel economy, fit and finish, and design is excellent. Surprisingly spacious for tall people (front seats only). You can tell it was built by BMW. We tried many sporty vehicles when we looked for our fun fair weather driver and we are very happy with our decision to purchase the MINI Hardtop Dr."
Source: Edmunds
"I love my MINI. Living in a climate that allows riding with the top down 365 is a must as there really is no other way to drive. The only cons are you can not use your rear view mirror with the top down and I can not see traffic lights when waiting at them due to the low and away windshield blocking it."
Source: Kelley Blue Book
How Reliable Are Mini Cars?
According to a recent report from Consumer Reports, Mini are ranked the 10th most reliable car manufacturer out of 28 brands, with a score of 60/100.
| | | |
| --- | --- | --- |
| Ranking | Brand | Score |
| 1 | Lexus | 76 |
| 2 | Mazda | 75 |
| 3 | Toyota | 71 |
| 4 | Infiniti | 69 |
| 5 | Buick | 66 |
| 6 | Honda | 66 |
| 7 | Subaru | 66 |
| 8 | Acura | 64 |
| 9 | Nissan | 63 |
| 10 | Mini | 60 |
| 11 | Hyundai | 56 |
| 12 | Chrysler | 54 |
| 13 | Porsche | 52 |
| 14 | Chevy | 48 |
| 15 | Audi | 47 |
| 16 | Cadillac | 47 |
| 17 | BMW | 45 |
| 18 | Ford | 44 |
| 19 | Kia | 43 |
| 20 | Volvo | 42 |
| 21 | Ram | 40 |
| 22 | GMC | 37 |
| 23 | Mercedes-Benz | 34 |
| 24 | Volkswagen | 31 |
| 25 | Genesis | 30 |
| 26 | Jeep | 26 |
| 27 | Tesla | 25 |
| 28 | Lincoln | 18 |
Source: Consumer Reports
Sources
https://www.consumerreports.org/cars/mini/cooper/
https://www.carcomplaints.com/Mini/Cooper/
https://www.carproblemzoo.com/mini/cooper/
https://www.kbb.com/mini/hardtop-2-door/2022/cooper-s/
https://www.edmunds.com/mini/cooper/2016/review/
https://caredge.com/mini/depreciation
https://www.autopadre.com/depreciation-curves/mini-cooper