The Nissan Pathfinder is a midsize three-row SUV that's been around since the 1980s.
It was originally based on Nissan's pickup chassis, then switched to the same car-based platform used by the Infiniti QX60 in 2013.
In this article, we'll examine some of the common problems and issues Pathfinder owners have encountered and provide possible solutions.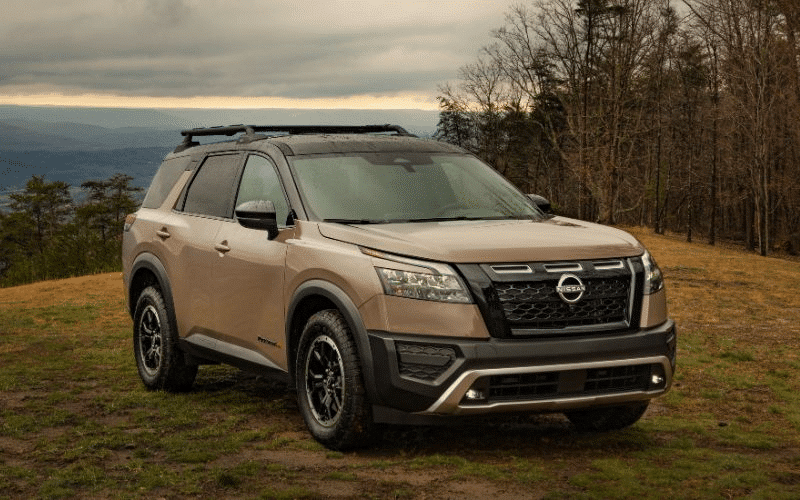 1. Radiator and Transmission Problems
The third generation Nissan Pathfinder's radiator is prone to developing cracks and leaks.
Since the transmission cooler is integrated into the radiator, the coolant can mix with the transmission fluid and subsequently destroy the transmission due to improper lubrication.
This issue is more common on the 2005 to 2007 models, but can also affect newer trucks up to the early 2011 model years.
Here is how a few Pathfinder owners described their experience on NissanForums.com:
"I have a 2006 Pathfinder. The transmission just started slipping, at the first stop sign, letting off the gas ect.. I just had my oil changed and they said that I had transmission fluid in the radiator."
"I started to get a rumbling sound when cruising with a steady throttle around 62 kmh, a slight increase in gas and the rumble went. Dropped into the dealership for a regular oil change and tire rotation, mentioned the noise, only to get a call an hour later with a potential fix of just under C$7,200 for a new tranny and radiator!!! My 07 Pathfinder has 204,000km on it so it's passed the extended warranty (160,000km) they gave because of this issue, that I didn't even know about!"
"I just repurchased a used 2005 PF, the same as what I used to have. The new PF I got has got tranny fluid in the rad, having the stall issues and rough running tranny."
The best way to avoid coolant mixing with the transmission fluid, as well as prevent overheating problems, is to replace the OEM radiator, which has lots of plastic pieces that can crack, with an aftermarket all-aluminum unit for around $200 to $300.
If you see that the coolant in the reservoir looks creamy pink, also known as the "strawberry milkshake of death", then the transmission fluid is already contaminated.
This problem is common in a lot of Nissans from the same era.
Lots of owners modify the transmission fluid lines so it will bypass the radiator and just use an external transmission cooler to avoid the possibility of coolant mixing with the transmission fluid.
2. CVT Failure
The fourth generation Nissan Pathfinder used a CVT (Continuously Variable Transmission) which doesn't exactly have the best reputation for reliability.
Though there are lots of cases of CVT failures in many Nissan vehicles, the one used in the Pathfinder is a little different because it uses a steel chain instead of a steel belt which makes it more suitable for towing and a little more reliable.
However, there are still lots of fourth gen Pathfinders that have had CVT failures way before they reached 100,000 miles.
CVT problems are more common in the 2013 to 2017 model years. The 2018 and newer models have an updated CVT and reports of failures are very rare.
The fifth generation Nissan Pathfinder, which debuted as a 2022 model, uses a traditional 9-speed automatic made by ZF which is a very reliable unit.
Common symptoms of a failing CVT in a Pathfinder include:
Shuddering or jerking
Vibration or shaking
Slipping or hesitates to accelerate
Whining or droning sound
Won't move in Drive or Reverse
P17F0 trouble code
Check engine light
Here is how a few owners on the PathfinderTalk.com forum described their experience:
"I have a 2014 PF SV with 61,000 miles. Just had to have the Continuously Variable Transmission (CVT) replaced. Between 15-20 mph like going thru school pick up line, it would shudder, like it was gonna cut off, give it gas and go at higher speed no problem."
"We purchased a 2017 S 4wd with about 70k on it. Tranny gave up at about 85k. It jerked a few times and then just wouldn't move."
"Well, the dreaded CVT failure finally happened to me. I was doing 50 mph with a car traveling closely behind me when my 2014 Pathfinder (with 94,500 miles on it) suddenly lost power and decelerated to less than 20 mph. Once it arrived at the dealership, it threw the stored code of P17F0, which denotes a full transmission replacement is needed."
Replacing the CVT costs around $4,000 to $6,000. But some issues can be fixed by replacing the valve body, which controls the hydraulics, for much less.
Many owners change the CVT fluid every 30,000 miles instead of the 60,000 mile interval recommended by Nissan to prolong the life of their transmission.
Those who use their fourth gen Pathfinder for towing change it even earlier at 20,000 miles, because the fluid wears out quicker because towing makes the transmission heat up more.
It's also important to use Nissan's NS-3 CVT fluid which is bluish green in color and not some generic fluid.
3. Engine Sludge
Later model years of the fourth gen Nissan Pathfinder from 2017 and up started using the updated VQ35DD engine which used direct injection instead of port injection.
This new engine, however, is susceptible to excessive oil sludge buildup which can end up causing severe engine damage.
The oil sludge problem affects the 2017 to 2020 models of the Nissan Pathfinder. The fifth gen Pathfinder from 2022 and onwards also use the same engine but
Common symptoms include:
Smoke from exhaust on startup
Low oil pressure light
Check engine light
Sludge on dipstick/in oil pan
Here is how a few owners on PathfinderTalk.com described their experience:
"I own a 2018 Platinum edition that I bought new directly from the dealer. Last march, around 58K miles, and less than 1 month after I had my car in for my 60K maintenance and oil change, my car started to blow whitish/blue smoke upon start up. Fast forward to July 2022,and just a couple thousand miles later, while driving the check engine turns on along with the low oil pressure light. Long story short, they said due to lack of maintenance I needed an engine replacement due to sludge build up."
"I have a 2018 Nissan pathfinder that has sludging that Nissan regional is not willing to cover. My car is at 54,000 miles and is still under warranty for a month. Cost of replacing the engine is around $6,000 and with labor cost $10,000."
"I had the same problem sludges up bad was told possibly needed new engine or piston and rings at about 55,000 miles. We are the second owners of a well maintained 2017 path platinum."
"I have been informed by the Nissan dealer that the 6 cylinder engine in my 2019 Pathfinder requires an engine replacement due to sludge build up resulting in oil leaking past valve seals/guides."
Most direct injected engines are prone to excessive oil sludge buildup so it's not just the Pathfinder that's problematic.
To keep the engine sludge free, you have to stay on top of the 5,000 mile oil change interval. This ensures that old dirty oil gets flushed out regularly. It's also important to use the recommended synthetic oil and not just the cheapest oil you can get.
Only using the truck for short drives also exacerbates the problem because the engine doesn't get to reach proper operating temperatures and the contaminants that cause oil sludge don't get burned off.
A faulty PCV (Positive Crankcase Ventilation) system will also cause excessive oil sludge buildup.
Many Pathfinder owners who have had oil sludge issues have found that either their PCV valve got stuck or one of the PCV hoses has collapsed.
The PCV system helps reduce emissions by recirculating blowby gasses back into the engine so it can get burned off more cleanly. When it gets blocked, the dirty vapors and other contaminants produced by the combustion process builds up inside the engine.
Getting a new engine installed out of warranty can easily cost around $10,000. However, some Pathfinder owners were able to get rid of the buildup and the symptoms associated with it by having the engine flushed, which can cost around $1,000.
4. Noisy Cooling Fan
The radiator fans in the fourth generation Nissan Pathfinder have a tendency to make a loud rattling noise after a couple of years.
Many owners have also noticed that the fan always runs at high speed even when it's working properly and not rattling.
This problem can affect the 2013 to 2020 model years of the Nissan Pathfinder.
Here's how a few owners described their experience on PathfinderTalk.com:
"I have a 2015 Pathfinder SV with 52,000 miles 2wd. One of my radiator fans started making a grinding noise."
"I just had to replace mine 2015 SV, at 70000 miles, but now my fan is constantly running on high even with air off."
"I have a 2013 Pathfinder SV, we bought the vehicle used, but since our ownership i have changed the cooling fan 3 times now, the last one having lasted only 3 months. I have purchased Dorman aftermarket fans."
"2017 Pathfinder 4WD SL: Car just starting a loud clacking from the engine bay, either sounds like a fan issue or the valves chattering."
"It's my turn to deal with the radiator fan in my 2017 SL. It's intermittent right now, but the dealer I purchased it from confirmed that it is indeed that fan causing the noise I'm hearing."
The OEM radiator fan costs around $300 to $400 but you can get cheaper units from brands like Dorman or TYC, which seem to last just as long as the Nissan ones.
Dealers may charge up to $1,000 for the entire repair, but if you're the DIY type, it's not too difficult to do at home and only requires basic tools.
Many replacement fans also come with a new fan module which is the part that's responsible for controlling the fan speed.
If the fans continue to run at high speed even after trying different fan modules, there might be some other electrical issue. Some owners found that it was caused by a faulty IPDM (Intelligent Power Distribution Module), which is basically an intelligent fuse box that controls all the electronics.
5. Engine Knocking Sound
Early model years of the fourth generation Nissan Pathfinder have a tendency to develop a knocking or low rumbling sound while the engine is idling.
This problem only affects the 2013 to 2016 model years which have the older VQ35DE engine.
The later model years with the newer VQ35DD engine tend to be noisier due to the high pressure fuel pump and injectors — but this is completely normal.
Here's how a few owners described the knocking sound in the early fourth gen Pathfinder:
"First time I heard it was on Dec 2015 on a trip we did to Florida, stopped at a gas station after driving for 18+ hours and there it was. A knocking sound coming from the front of the vehicle, it does not increase with RPMs and cannot hear it once you are driving (maybe masked by other noises)."
"I have a 2014 PF 75,000 miles and it's been making this same noise idling at the light or while I'm D or R with my foot on the break. So annoying!! Noticed it about 3 months ago."
"The knocking sound wasn't there before and now it's there any time I am in idle position."
Fortunately, this particular knocking sound doesn't mean there's any major engine problems.
Some owners were able to figure out that the noise was caused by the fuel dampers on the fuel rail.
Getting the fuel dampers replaced at the dealership might cost around $1,000 but any reputable mechanic should be able to do it at a much lower cost.
The first generation Nissan Murano, which uses the same engine, also has the same knocking sound. Nissan actually released a TSB for the Murano which recommends the same fix, but didn't do one for the Pathfinder.
Related: 24 Best & Worst Nissan Pathfinder Years (With Pictures)
6. Leaking Transfer Case
Fourth gen Pathfinders with four-wheel drive have a tendency to suffer from a leaky transfer case which eventually leads to complete failures.
This problem is more common in the 2013 to 2017 model years of the fourth gen Pathfinder.
Common symptoms of a faulty transfer case include:
Fluid on the underside
Humming or howling noise
Vibrations
Shuddering or jerking
Four-wheel drive stops working/4WD error
Worn out wheel bearings can also cause humming noises and vibrations.
Here's how a few owners described their experience on PathfinderTalk.com:
"2015 PF transfer case leak. Went to change the oil last weekend and noticed that the underside of the car and the back hatch were all covered in oil. So, I went to the dealer yesterday and was diagnosed with a transfer case leak. The car only has 15,500 miles on it."
"Had the same issue on a 2017 with 46,000 miles (it was down 2 Qts) and after replacement of fluid the transmission completely went 3 weeks later."
"The transfer case in my 2017 PF has failed. The dealer disconnected the transfer case so it would stop making noise (loud screeching/scraping), interfere with the shifting and other side effects from its failure."
"I noticed oil leaking under the CVT recently, and the dealer diagnosed the source as the transfer case, which he said needs a reseal. Total cost will be about $2k. This was a real surprise because that TC was installed brand new 18 months ago and only has 4,500 miles on it. Our 2013 Pathfinder has only 49K miles on it now, and with two TC failures."
"My 2015 Pathfinder (130,000 km) started making a howling noise and when I went to have it checked the transfer case was dry. I never had any signs of a leak on my driveway so not sure when it happened."
Nissan released a TSB (Technical Service Bulletin) for the 2013 to 2017 model year of the Pathfinder, Murano and Rogue to address the leaks in the transfer case.
To reseal the transfer case, dealers were instructed to replace the drive shaft oil seal.
However, since the Pathfinder's transfer case is quite small and doesn't hold a lot of fluid, it can easily get completely drained once it starts leaking. When the fluid gets too low or runs out, the gears in the transfer case will get ruined and you'll need to replace the entire unit.
Getting a new transfer case installed can cost around $3,000 at the dealership. If you want to save on repairs, you can look for a used transfer case and have an experienced mechanic install it for you.
You can also just disconnect the transfer case from the drivetrain to get rid of the noise, but you'll only have front-wheel drive.
7. No Sound from Radio
The fifth generation Nissan Pathfinder is still relatively new and hasn't had many common issues yet.
However, several fifth gen Nissan Pathfinder owners have complained about the radio having no sound.
When this occurs, everything on the infotainment looks like it works properly but there's just no sound coming out of the speakers.
Here's how a few owners on PathfinderTalk.com described their experience:
"I'm about a month and 900 miles into a new 2022 Pathfinder SL 4WD with Premium Package. I had a very peculiar incident occur this morning. After I fully started it, there was no sound coming from the speakers. The display was fully operational and I switched between various audio sources, but there was no sound at any volume level. I reset the audio system (by pressing the power button for ~20 seconds) and tried turning off and on the car (but only after a few minutes), and nothing worked."
"Had three freeze-ups so far. Just happened last night. Got in car the normal way and the radio had no sound.. Couldn't change sources.. Turned it on and off without effect. Turned entire vehicle off and restarted, still nothing. Got in this morning and everything was back to normal."
"I just bought my 2023 Pathfinder platinum and just had this happen out of nowhere. I tried different sources as well and no sound. My Apple CarPlay works otherwise and I'm able to change stations and such but ZERO SOUND!"
"As I was driving with sound then all the sudden no sound. No phone, no radio, no map nothing.
This is the 2nd time this has happened. Each time I turn the car off. Waited for everything to reset, when I turned it on everything worked again."
So far, no permanent solutions are available from dealerships or Nissan itself. But this may eventually be fixed by a software update.
Even resetting the infotainment by holding down the volume and tuning knobs until the system reboots doesn't help get the sound back.
The sound only comes back after the car has been turned off for an hour or two.
8. Infotainment Display Issues
Many fourth generation Nissan Pathfinder owners have had issues with the infotainment display just showing a black screen.
This problem can affect the 2013 to 2020 model years of the Pathfinder, all of which come with an 8-inch touchscreen.
In some cases, the Nissan logo will still appear when the radio turns on, but goes completely blank afterwards.
Infiniti QX60s and Qj50s from the same era also suffer from similar problems.
With the screen not working, you won't be able to use or have limited access to a lot of the car's features such as:
Radio
Navigation
Backup camera
Climate controls
Vehicle settings
Here's how a few owners on PathfinderTalk.com described their issue:
"The Display/radio etc. on my 2017 Pathfinder SL (38000 Miles) has stopped working. Something seems to have faded because at first the Nissan Logo would appear but never boot up; the cameras would work only in reverse but today the screen is totally dark and without power and no cameras at all."
"I have the same issue. Our display screen doesn't work any more and Nissan want 4k to replace it."
"Just bought 2018 pathfinder (used as is) radio no work screen no work. Backup screen turns on but no lines and sonar off."
"Finally I got my Pathfinder 2018 fixed (was black screen, no navigation, a/c or heating, radio, nothing). They have to replace monitor and reconfigure,and after that everything back to normal."
When the display goes out in the fourth gen Nissan Pathfinder, it's usually caused by a faulty Display Control Unit or DCU. This is basically the entire screen and the electronics associated with it.
A new DCU costs around $3,500, but you can get used ones online for a little over $100. Once you get the new screen installed, it still has to be reprogrammed by the dealership to work with your car.
However, if the Nissan logo is still showing up, it's also possible that it's just the software loaded onto the SD card inside the DCU that's gone bad.
You'll still have to find a DCU that has a working SD card. You can either copy the data over to your SD card, insert the new SD card into your DCU, or swap out the DCU altogether.
9. Inaccurate Fuel Gauge
Many third generation Nissan Pathfinders have issues with the fuel gauge not showing the correct amount of fuel.
This problem is more common on the 2005 to 2008 models of the third gen Pathfinder, but can also affect other model years.
It's also common on lots of other Nissan vehicles from the same era.
When the Pathfinder's fuel gauge acts up, you'll encounter issues such as:
Fuel gauge shows empty but tank has lots of gas
Tank is empty but gauge shows there's more gas
Fuel level doesn't change after filling up with gas
Check engine light
Here's how a few owners described their experience on NissanForums.com:
"I've got an '06 Pathfinder with 52k on it. Recently, when I go to fill the tank, the check engine light comes on, but more importantly, the fuel gauge sticks on wherever it was last prior to fill up. It takes about 2-3 days to get back to where it should be and for the light to go away."
"07 Pathfinder-Check Engine/Fuel Gauge problems. My check engine light came on 4 days ago and 3 days later my fuel gauge keeps going to empty and will reset and go back to normal."
The incorrect fuel gauge reading is usually caused by a faulty fuel sending unit, which is what measures the amount of fuel in the tank.
Nissan released a TSB for this problem and extended the warranty for the fuel sending unit for the 2005 to 2008 models to 5 years/72,000 miles.
A new fuel sending unit costs less than $100. With labor, the repair will cost around $300 in total. You can also replace the fuel pump while you're at it since it's in the same location as part of the vehicle's preventative maintenance, especially since it's almost two decades old.
If the fuel sending unit has been replaced and is confirmed to be working, you might have an issue with the instrument cluster.
10. Wobbling at High Speeds
A common problem with the second generation Nissan Pathfinder is what's commonly known as the "death wobble" where the rear of the vehicle sways quite aggressively at highway speeds.
This makes the truck hard to control and very dangerous to drive whenever you reach 50 mph or more.
It's a common issue on all model years of the second generation Nissan Pathfinders from 1996 to 2004.
Here's how a few owners on NissanForums.com described their experience:
"I've got a 2004 Pathfinder 4WD I just bought that's just starting to develop the body wobble issue at acceleration and deceleration around 55 miles an hour."
"I just bought a 1997 Pathfinder 4wd and had the death wobble where the rear end shimmies back and forth. Didn't do it when I test drove it but noticed next day."
The death wobble is caused by worn out bushings in the rear upper and lower control arms.
It's usually easier and more cost effective to just replace the left and right upper and lower trailing arms with the new bushings already installed. A new set of trailing arms will cost a little over $100 at your local parts store.
Due to the age of the vehicle, it might take more elbow grease to undo the bolts and remove the old trailing arms especially if they're already rusted out.
11. Starting Issues
The third generation Nissan Pathfinder has a tendency to have starting problems due to issues with its electronics.
All model years of the third gen Pathfinder from 2004 to 2012 can eventually have starting issues, especially as they get older.
Common symptoms include:
No crank, no start
Cranks, but won't start
Intermittent starting problems
Check engine light
Stalling
Other electrical issues
Here's how a few owners on TheNissanPath.com forum described their experience:
"From time to time, my 2008 LE, won't start. It turns over fine, lots of cranking power, but won't start. After 4 or 5 attempts, it fires up fine. The problem may not occur for several weeks, then out of the blue, it occurs again. No fault codes have shown up. After it first occurred, I installed a new, battery (although turnover cranking was not an issue). The problem remains."
"My 2006 pathfinder runs perfect and will all of the sudden stall at low speed within the first few minutes of running. When it does stall it sometimes is hard to start and sometimes starts right away. Once running, it runs perfect. It has 75k miles on it. Also, the speedometer started going wacky on me now. It lurches from time to time at very slow speed too."
Older third gen Pathfinders 2005 to 2006 had a recall for a faulty ECM relay which caused stalling and starting issues.
The ECM relay sends power to the ECM (Engine Control Module), or what's known as the ECU in a lot of other vehicles.
If you have the older style white colored IPDM (Intelligent Power Distribution Module), which is basically a more advanced fuse box, you can try a new ECM relay which only costs a few dollars to see if the problem persists.
2010 and newer Pathfinders have an updated black colored IPDM which doesn't have a replaceable ECM relay, so you'll have to replace the entire IPDM which should only cost around $100 to $200.
In some cases, the starting issues are caused by a faulty ECM, but you can also find these used for around $200.
Other faulty parts that could cause starting problems include:
Weak battery
Fuel pump
Camshaft and crankshaft position sensor
Starter
Mechanical issues
Nissan Pathfinder Pros & Cons
Pros
Spacious and quiet cabin
Roomy third-row seats
Good towing capacity
Decent fuel economy
Available all-wheel drive
Lots of standard tech and features
Good value for money
Cons
Fourth gen CVT problems
Lacks driving dynamics
Poor resale value
Lacks off-road capability of older models
Related: 15 Midsize SUVs with the Best Ground Clearance (With Pics)
What Do The Reviews Say?
"The Pathfinder feels right on par for the class. Performance from the V6 is about even with the class leaders. The transmission can be reluctant to downshift uphill, but most of the time it shifts smoothly and unobtrusively. Braking performance is average as well."
"The ride is comfortable without feeling overly soft or bouncy. You feel bumps, but they don't send shocks through the seats. The front seats are a bit flat and firm, so comfort can wane after a long day behind the wheel."
"Outward visibility is good. The big mirrors and upright windows help reduce blind spots and aid with parking. The driving position helps too. There's plenty of adjustment, and all the controls are easy to reach. The controls themselves are also straightforward. Nissan's infotainment system is fine, but it lacks the polish of some rival systems."
"The Pathfinder is loaded with tech, but none of it stands out in this class. Our test vehicle was fitted with Nissan's ProPilot Assist driver aid suite. It includes adaptive cruise control and a lane-centering system."
"SUVs need to be able to haul cargo as well as people, and the Pathfinder does a pretty good job at both."
"The Pathfinder has one of the best tow ratings in its class. Standard models can tow 3,500 pounds, but if you opt for the towing package, that goes up to 6,000 pounds, more than just about every other midsize SUV."
2023 Nissan Pathfinder | Edmunds
What's the Resale Value of a Nissan Pathfinder?
Here's a quick look at the Nissan Pathfinder SV's used pricing on Edmunds at the time of writing.
| | | |
| --- | --- | --- |
| Year | Mileage | Price |
| 2022 | 13,290 | $35,675 |
| 2020 | 20,771 | $25,999 |
| 2019 | 30,223 | $24,598 |
| 2018 | 36,609 | $23,995 |
| 2017 | 48,329 | $19,998 |
| 2016 | 63,599 | $18,650 |
| 2015 | 78,597 | $15,351 |
| 2014 | 90,245 | $12,985 |
| 2013 | 102,514 | $11,048 |
| 2012 | 115,497 | $10,497 |