The Subaru Ascent is a midsize, three-row SUV that was launched as a 2019 model year.
It's the biggest vehicle in Subarus lineup and is a great choice for adventurous families.
In this article, we'll take a deep dive into the best and worst years of the Ascent.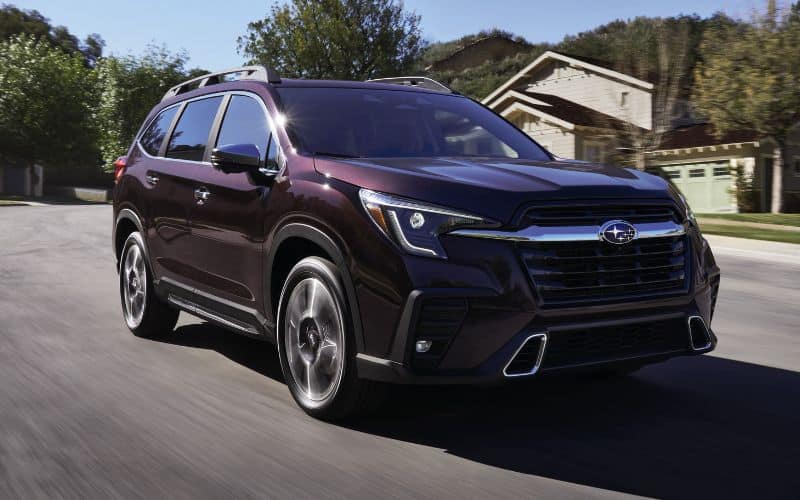 Here's The Short Answer To What The Best And Worst Years For The Subaru Ascent Are:
The best Subaru Ascent model years are 2023, 2022, and 2021. The worst model years of the Ascent are 2019 and 2020. This is based on auto industry reviews, NHTSA statistics, reported problems, and consumer feedback.
What Are The Best Years For The Subaru Ascent?
2023 Subaru Ascent
The 2023 Ascent is part of the first generation that was introduced for 2019, this model has the latest tech and has significantly fewer teething issues than its earlier predecessors. This model also received the IIHS Top Safety Pick+ award.
Upgrades for 2023 include refreshed front and rear styling, a bigger touchscreen display and Apple CarPlay and Android Auto.
It boasts an impressive 8.7-inch ground clearance and comes with all-wheel-drive as standard.
Buyers can choose from 6 trim levels: Base, Premium, Onyx Edition, Limited, Onyx Edition Limited, and Touring.
Pricing ranges from approximately $35,000 to $49,500.
The most popular trim is the Limited which is priced at around $43,000.
All variants come equipped with a 2.4-liter turbocharged engine paired to a CVT transmission.
EPA fuel economy estimates are 20 MPG for city driving, 26 MPG for highway driving, and 22 MPG for combined driving.
Noteworthy safety features are Reverse Automatic Braking, EyeSight Assist Monitor, and Blind Spot Monitoring.
Edmunds: 4.5 / 5.0
Kelley Blue Book: 4.0 / 5.0
JD Power: 82 / 100
2023 Ascent, Edmunds review:
"I have driven mostly SUVs throughout my life, and this vehicle is far superior to all the rest. The safety and convenience features available on the touring model are worth the extra cost… I am handicapped and need a walker. It fits well in the back with the third row folded down. The car has many safety features which make driving a lot easier, for example, lane departure warning and automatic dimming of high beams. The only negative is a donut instead of a full size spare tire."
2022 Subaru Ascent
The 2022 Ascent is another safe choice when shopping for an Ascent, this model has so far received minimal complaints on the NHTSA website and has received excellent consumer reviews.
It comes with an impressive list of driving aids, an easy-to-use infotainment system, and generous ground clearance.
New to this particular model year is the Onyx Edition trim (which features a blacked-out exterior design).
There are 5 trim levels: Base, Premium, Onyx Edition, Limited, and Touring.
If you want a few more bells and whistles, the Limited trim provides the best value for money as it comes with numerous features, including folding mirrors with integrated turn signals and heated second-row seats.
All trims are fitted with a 2.4-liter 4-cylinder turbo engine (260 horsepower) and have similar fuel economy ratings.
Going by EPA figures, you can expect up to 21 MPG for city driving, 27 MPG for highway driving, and 23 MPG for combined driving.
Based on owner feedback, the best qualities of this model are its appearance, comfort, interior, safety, and driving experience.
Edmunds: 4.5 / 5.0
Kelley Blue Book: 4.0 / 5.0
JD Power: 82 / 100
"We have had our Ascent for 13 months and have driven over 15k miles of mountain, city and highway miles on it. It has been flawless with everything we have asked it to do. Living at 8,500 feet in the Colorado Rockies, it has handled winter snow storms without issue. We have also vacationed through Yellowstone, Seattle and Portland (3,700 miles total). No issues passing on high speed 2 lanes, sometimes pushing significantly over the 70 mph speed limit. Very comfortable on a long trip. Only issue has been a bad battery, which Subaru paid for…"
2021 Subaru Ascent
The 2021 Ascent is a good choice for those who want to strike a balance between affordability and reliability (models prior to 2021 were known to be a lot more problematic).
Noteworthy additions to this model year include Adaptive Cruise Control and Lane Keeping Assist, steering-responsive LED headlights, and a second-row and third-row seat belt notifier.
The 2021 Ascent has an intuitive infotainment system, a plethora of driving aids, and is made from good quality materials.
It comes with AWD as standard and can tow up to 5,000 pounds which makes it ideal for camping holidays.
Fuel economy stands at 20 MPG for city driving, 26 MPG for highway driving, and 22 MPG for combined driving.
There are 4 trims to choose from: Base, Premium, Limited, and Touring.
On the used car market, prices of this particular model year range from approximately $37,000 to $39,000.
A small number of owners have complained about the lane keep assist over-correcting and windshields that are susceptible to cracking.
Edmunds: 3.8 / 5.0
Kelley Blue Book: 4.0 / 5.0
JD Power: 82 / 100
2021 Ascent, Edmunds review:
"Pros: 2.4L Turbo engine. A far less spartan interior than Subarus are known for. Great head and legroom. Mostly quiet ride. Limited and up trims provide a manual mode with paddle shifters. Definitely a must for slow speeds and stop and go traffic. Cons: 20″ wheels with 245/50 tires are harsh riding. A hesitant and indecisive CVT squanders the power band of the engine. Touchscreen is primitive, circa 2015. Annoying, too bright indicators for the compass and passenger airbags."
Consumer Scores For Best Subaru Ascent Years
Model Year
Edmunds
Consumer Rating
Kelley Blue Book
Consumer Rating
JD Power
Consumer Rating
2023 Subaru Ascent
4.5 / 5.0
4.0 / 5.0
82 / 100
2022 Subaru Ascent
4.5 / 5.0
4.0 / 5.0
82 / 100
2021 Subaru Ascent
3.8 / 5.0
4.0 / 5.0
82 / 100
Related: How Long Do Subaru Ascent Last? (Solved & Explained)
What Are The Worst Years For The Subaru Ascent?
2019 Subaru Ascent
The 2019 Ascent, according to stats from CarComplaints.com and CarProblemZoo.com, has been the most problematic model year ever. This was the debut model year, so the fact it's the most problematic isn't surprising.
The most widespread problem for the 2019 Ascent was battery draining, which has been linked to a faulty tailgate sensor.
Here are a few owner complaints from the NHTSA database that sum up the issue:
"My vehicle won't stay charged. We replaced the battery and still every single time I go out to start it it's completely dead and I have to get it jumped."
"My battery continues to drain prematurely. It's been replaced twice within the year, and I just took it in for a 3rd time and the Subaru service department cannot diagnose the problem claiming my batteries were bad. There has to be an electrical problem. I've never owned a car with this issue and it's less than 3 years old. It's left me stranded with my children."
"3 times in past 6 weeks car battery was found dead. Recharged 3 times with wall charger. Replaced battery today after 3rd time of being dead."
Another widely reported issue was that the windshield cracks easily and often for no apparent reason.
Owners reported the cracks would then get bigger and bigger and ultimately require a replacement windshield.
Transmission problems were another common complaint.
Symptoms included hesitation when stepping on the gas, gear slipping, loss of power, failure to accelerate, unintentional acceleration and jerkiness.
A number of owners also reported complete transmission failure.
The 2019 Ascent had a total of 67 problems at CarComplaints.com and 461 problems at CarProblemZoo.com.
Common problems:
Open tailgate drains battery
Does not start
Windshield cracks easily
Powertrain issues
2020 Subaru Ascent
The 2020 Ascent had a lot of the same problems the 2019 Ascent had, but with fewer total complaints logged.
Battery draining was the most significant issue, with a lot of owners reporting a faulty tailgate as the culprit.
Another prominent concern is windshield cracking.
One owner best explains the problem below:
"We've had this car for a little over 2 years and have had 3 cracked windshields, seems like anything that hits it causes a crack. I've been driving for over 45 years and multiple cars and have had cracked windshields 2 or 3 times. This doesn't make any sense. Thank you."
One possible explanation is the fact that Subaru decided to use thinner windshield glass panels, making it more susceptible to small impacts or temperature changes.
While the manufacturer and several authorized dealers of the brand acknowledged this manufacturing defect, a lot of owners were left with a sour taste in their mouth due to the inconvenience and safety risk posed by this error.
Transmission problems were also reported, but not on the same scale as the previous 2019 model.
Owners complained that the vehicle would lurch forward but not accelerate, that the transmission would slip whilst accelerating and strange noises would come from the transmission.
Here is one owner's complaint from the NHTSA database:
"My mother pulled off of interstate 85 in north carolina and while preparing to turn of the exit ramp the car lurched forward and then back. The transmission chain had snapped, and it seems similar to what was going on with the 2019 Subaru Ascent. This one is 2020, and had 16000 miles approximately. The vehicle had to be towed."
The 2020 Ascent had a total of 14 problems at CarComplaints.com and 293 problems at CarProblemZoo.com.
Common problems:
Windshield easily cracks
Battery dies overnight
Brake rotors wear issue
Related: 15 Midsize SUVs with the Best Ground Clearance (With Pics)
What Years Have The Most Complaints?
Model Year
Complaints(
CarComplaints.com)
Problems
(CarProblemZoo.com)
2023 Subaru Ascent
1
4
2022 Subaru Ascent
4
18
2021 Subaru Ascent
1
63
2020 Subaru Ascent
14
293
2019 Subaru Ascent
67
461
What Problems Do Subaru Ascents Have?
Windshield easily cracks
Open tailgate drains battery
Does not start
Battery dies overnight
Brake rotors premature wear
Crank sensor wiring chewed by rodents
Tow package wiring harness failure
What Are The Best Alternatives To The Subaru Ascent?
| | | | |
| --- | --- | --- | --- |
| Make & Model | Score | MSRP | Fuel Economy (MPG) |
| Kia Sorento | 8.1 | $29,990 – $43,590 | City: 22 – 24 /Highway: 25 – 29 |
| Volkswagen Atlas | 8.0 | $34,460 – $52,340 | City: 18 – 21 /Highway: 23 – 25 |
| Ford Edge | 7.9 | $37,945 – $46,485 | City: 19 – 21 /Highway: 25 – 28 |
| Nissan Pathfinder | 7.9 | $35,000 – $49,870 | City: 20 – 21 /Highway: 23 – 27 |
| Subaru Ascent | 7.9 | $33,895 – $48,195 | City: 19 – 20 /Highway: 25 – 26 |
| Toyota Highlander | 7.9 | $36,420 – $51,225 | City: 21 – 22 /Highway: 28 – 29 |
| Dodge Durango | 7.7 | $38,495 – $91,185 | City: 13 – 19 /Highway: 19 – 26 |
| Ford Explorer | 7.7 | $36,760 – $56,075 | City: 16 – 27 /Highway: 22 – 28 |
| Chevrolet Blazer | 7.6 | $35,100 – $45,700 | City: 19 – 22 /Highway: 26 – 29 |
| GMC Acadia | 7.6 | $36,800 – $50,600 | City: 19 – 22 /Highway: 26 – 29 |
| Nissan Murano | 7.6 | $33,660 – $46,910 | City: 20 /Highway: 28 |
| Toyota 4Runner | 7.0 | $39,555 – $54,020 | City: 16 /Highway: 19 |
Source: cars.usnews.com, edmunds.com
References
https://www.caranddriver.com/subaru/ascent
https://cars.usnews.com/cars-trucks/subaru/ascent
https://www.edmunds.com/subaru/ascent/
https://www.kbb.com/subaru/ascent/
https://www.jdpower.com/cars/2023/subaru/ascent
https://www.carcomplaints.com/Subaru/Ascent/