Launched in 1995, the Outback features a station wagon body although it blends in well amongst other SUVs.
It's a popular choice thanks to its ruggedness and is equipped to handle everything from offroad adventures to daily errands.
If you're considering one as your next vehicle or you're just doing some research, this article will cover the Outback's most common problems.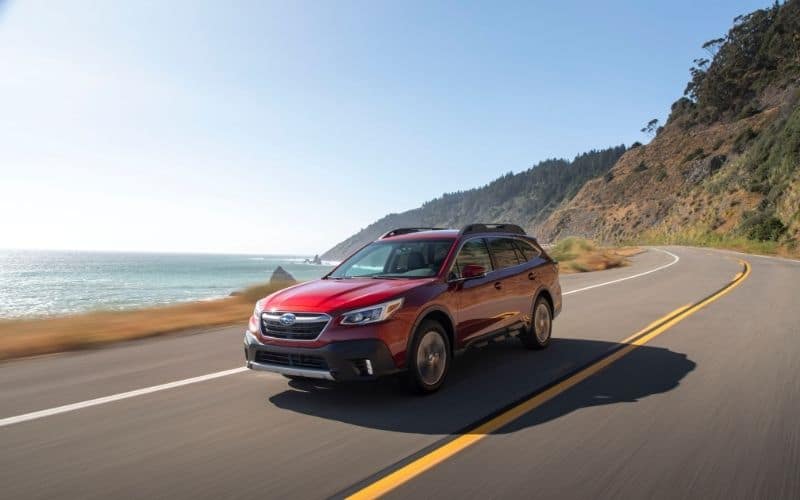 1. Battery Drains Quickly
According to Car Problem Zoo, a site focused on consumer feedback, the most common problem for Outback owners is a battery that dies prematurely.
This problem dates back as far as 2015 and has plagued the Outback for several years now, and is still reported on the latest models.
Owners have reported having to change the battery numerous times in a fairly short period of time – bear in mind the average car battery is expected to last about 3 to 4 years.
There have been many instances where owners have been left stranded due to a flat battery, and in most cases the battery seems just die without any prior warning.
A battery that drains regularly is incredibly frustrating, here is one owner's experience:
"Battery died 7-8 times within the last 1-year. On one occasion, the car stopped in the middle of the road while waiting at a crossing. The cars coming behind bumped into each other. The emergency lights also died."
Solution
Sadly there doesn't seem to be a solution to this problem, although Subaru are aware of it.
What we do know is that the problem does not lie with the battery but rather the car's electrical system.
If the battery dies, it will need to be replaced – most of the time at the expense of the owner.
If you're worried about being left stranded you could always take a spare battery with you in case of an emergency, although this is far from ideal.
When carried out correctly, a battery swap is relatively quick, safe, and easy.
2. Windshield Cracking
According to Car Problem Zoo, the second most commonly reported problem on the Outback is windshield cracking – the windshields are prone to cracks and failures.
This is a well-known Subaru problem and is not exclusive to the Outback.
Owners have reported spontaneous cracks and chips in their windshields appearing seemingly out of nowhere.
Others report the tiniest stone chip or falling acorn causes the glass to crack.
The crack usually starts out small and then keeps getting bigger and bigger.
Another issue with this is Subaru has been reluctant to fix this under warranty.
This problem is most common on model years from 2017 and onward and there have been numerous complaints about this even for 2022 models.
Here's one owner's account that is similar to what many Subaru owners have experienced:
"I drove to work, parked my car and 10 hours later came out and there was a crack in the windshield. Nothing hit my window on the drive to work. I park my car in a gated lot with cameras. It is a smooth cut from the edge of the window and goes across just past the halfway mark."
Solution
If your windshield cracks the only solution is to have it replaced asap.
You should really push to have this covered under warranty, always ask to speak to senior management if you feel like you're not getting anywhere with the person your dealing with.
3. Excessive Oil Consumption
According to Car Complaints, another site dedicated to customer feedback, the worst problem of the Subaru Outback is excessive oil consumption.
This problem was mostly linked to 2013 Outbacks although the problem was reported on 2014 and 2015 models.
According to Car Complaints, this problem typically occurs around the 50K miles mark and has a repair cost of around $1600.
Excessive oil consumption has left owners having to top off their oil reserves multiple times between every 5,000 miles oil change.
Some owners have even reported having to add a quart of oil every 500 or so miles.
Solution
High oil consumption on an Outback will require an engine replacement or at the very least major engine work.
Outside of the warranty period this can be very expensive.
There doesn't seem to be a recall for this issue, although it's best to run your vehicle's VIN on the NHTSA website to see if you have been affected by a recall.
4. Transmission Failure
There have been a number of complaints from Subaru Outback owners who have experienced premature failure of the transmission.
This problem was most prevalent on 2013 models although it has also been reported on 2010, 2011 and 2012 Subaru Outbacks.
Transmissions should usually last upwards of 200,000 miles however owners were reporting failure in the 100k mile region with a typical repair cost of around $8,000.
After doing some digging it seems Subaru actually extended the warranty period on some Outback models due to known transmission problems.
Solution
If the transmission fails this will need to be replaced, which can be very expensive.
If you have experienced transmission failure and the vehicle is within the warranty period you should speak to your Subaru dealer as it should be covered.
5. Vibration or Shudder on Acceleration
According to Repair Pal, the most common problem for Outback owners is due to shuddering and vibrations that are most noticeable when accelerating.
This problem has been reported on 18 model years in total, from 2000 to 2018,
This problem has been linked to a faulty torque converter, which often occurs due to excessive friction.
As well as shuddering and vibrating you may also notice a whining sound, even when the car is in park.
You could hear a variety of noises if your torque converter has gone bad, including whining and even when the car is in park.
Here's what one unhappy owner had to say:
"Shuddering when coming to a stop, backing up, or accelerating above 2000rpm from slower speeds. Replaced torque convertor for $1200. Mileage is now at 125k and the problem is happening again. If this costs more than $500 to fix this time we're scrapping the Subaru and going back to CR-V!!"
Solution
If the transmission torque converter is the culprit, then this part will need to be replaced.
6. Airbag Problems
Throughout its history the Outback has has some problems with its airbags.
The most notable issue was the infamous Takata airbag recall which affected just under half a million Subaru vehicles in total.
The problem was with the airbag inflators which were at risk of exploding causing severe injury or death.
This recall affected Subaru Outback model years from 2003 – 2014.
Solution
Subaru dealers will fix this free of charge.
To see if your Subaru has been recalled, you can run a VIN check on the NHTSA website or use Subaru's VIN lookup tool.
7. Head Gasket Failure
There have been numerous reports from Outback owners who have experienced engine cooling issues which were due to a failed head gasket.
This problem has been reported on model year from 2018 to 2000 and typically occurs at a milage of about 100,000 miles.
The head gasket serves as a seal between the engine block and cylinder head thereby stopping engine fluid leaks and pressure losses.
Here are the most common symptoms of a blown head gasket:
Car overheats
Loss of power
Oily smell
White smoke
Solution
If the head gasket is blown it will need to be replaced – the head gasket itself is not overly expensive, but replacing it is very labor-intensive, which significantly bumps up the cost of repair.
8. Frozen Infotainment System
Although not as widespread as some of the previously mentioned problems, enough Outback owners have complained about a blanked touchscreen that we thought it was worth mentioning.
Owners have reported that the screen goes dark whilst driving.
Here's what one owner had to say:
"The Infotainment System display in my 2020 Outback Limited XT periodically just goes dark (blank). This happens mostly when I'm driving using my GPS and plugged into my iPhone. When you're driving in an area that you are not familiar with and the screen goes blank, you are pretty much driving blind. Also, the audio goes off on the radio too."
Solution
Subaru dealers have been offering affected customers a software update to resolve this issue.
Subaru Outback Model Years With the Most Problems
To get a better idea of which Subaru Outback has the most problems the fairest way is to compare models based on the number of vehicles sold in relation to the number of reported problems.
We're using Car Complaints PPMY index which means problems reported per thousand vehicles per Year.
For example, newer cars will have fewer complaints simply because they've been around for less time.
Based on this index, the most problematic years are:
2020 – 2.38 PPMY
2021 – 1.32 PPMY
2019 – 1.31 PPMY
And the least problematic years are:
2005 – 0.24 PPMY
2007, 2014 – 0.25 PPMY
2009 – 0.26 PPMY
Subaru Outback
Model Year
Problems
Sales
Vehicle Age
PPMY Index
2022
106
–
–
–
2021
169
127,900
1
1.32
2020
758
159,306
2
2.38
2019
737
187,800
3
1.31
2018
719
185,654
4
0.97
2017
827
228,446
5
0.72
2016
611
151,558
6
0.67
2015
529
152,711
7
0.39
2014
243
123,074
8
0.25
2013
332
118,393
9
0.31
2012
316
97,362
10
0.32
2011
741
138,297
11
0.49
2010
435
76,584
12
0.47
2009
130
38,917
13
0.26
2008
268
67,431
14
0.28
2007
170
44,559
15
0.25
2006
397
58,801
16
0.42
2005
340
82,141
17
0.24
2004
109
–
18
–
2003
115
–
19
–
2002
170
–
20
–
2001
204
–
21
–
2000
243
–
22
–
1999
150
–
23
–
1998
165
–
24
–
1997
94
–
25
–
1996
57
–
26
–
Source: Car Problem Zoo
Related: 17 Best & Worst Subaru Outback Years (With Facts & Stats)
Subaru Outback Pros and Cons
If you're considering a Subaru Outback as your next car you might be wondering what its strengths and weaknesses are…
Pros
Better ground clearance than the average wagon
Lots of cargo space
Good range of tech features
Great for the outdoor types
Comfortable ride
Cons
Not the most fun to drive
Base engine a bit sluggish
Uninspiring driving dynamics
Related: Subaru Outback in Snow & Winter Driving? (Explained)
Subaru Outback Reliability Compared to Similar Cars
Consumer Reports rankings detailed below is based on the model's newest three years, the Subaru Outback sits at the top of the list, with a perfect score of 100/100.
Make & Model
Consumer Reports
Reliability Score
Lexus GX
100
Subaru Outback
100
Toyota Venza
92
Toyota Highlander
86
Mazda CX-9
85
Kia Telluride
84
Nissan Murano
77
Lexus RX
76
Lexus RX L
76
Chevrolet Blazer
75
Toyota 4Runner
71
Hyundai Palisade
68
Acura MDX
61
BMW X5
58
Honda Passport
58
Ford Edge
56
Honda Pilot
53
Chevrolet Traverse
49
Audi Q7
45
GMC Acadia
43
Porsche Cayenne
43
Volkswagen Atlas
41
Volkswagen Atlas Cross Sport
41
Cadillac XT6
37
Jeep Grand Cherokee L
35
Lincoln Nautilus
31
Dodge Durango
30
Ford Bronco
30
Infiniti QX60
30
Nissan Pathfinder
30
Hyundai Santa Fe
26
Jeep Wrangler
25
Land Rover Defender
25
Land Rover Discovery
25
Land Rover Range Rover Sport
25
Jaguar I-Pace
24
Subaru Ascent
18
Volvo XC90
17
Ford Explorer
8
Audi Q8
5
Audi e-tron
5
Genesis GV80
5
Kia Sorento
5
Mecedes-Benz GLE
5
Tesla Model X
5
Lincoln Aviator
3
Source: Consumer Reports
Subaru Outback Used Value
We've taken a look on Car Gurus to gauge the resale value of a Subaru Outback, below are typical asking prices for each model year.
According to Car Edge, a Subaru Outback will depreciate 24% after 5 years and have a 5 year resale value of $29,212.
Note: Used model prices will vary depending on trim level.
| | | |
| --- | --- | --- |
| Model Year | Mileage (miles) | Resale Price |
| 2022 | 14,676 | $36,923 |
| 2021 | 17,008 | $37,977 |
| 2020 | 52,531 | $30,900 |
| 2019 | 44,194 | $23,499 |
| 2018 | 32,865 | $25,497 |
| 2017 | 71,134 | $19,999 |
| 2016 | 126,959 | $14,250 |
| 2015 | 75,604 | $21,250 |
| 2014 | 146,120 | $8,950 |
| 2013 | 87,891 | $12,995 |
| 2012 | 182,305 | $6,995 |
| 2011 | 114,750 | $8,800 |
| 2010 | 153,383 | $4,900 |
Source: Car Gurus
Related: How Long Do Subaru Outbacks Last? (Solved & Explained)
What Do Owners Like and Dislike About the Subaru Outback?
Based on owner feedback from the Kelley Blue Book site here are what real-life owners love and hate about the Subaru Outback.
Likes
Fun to drive on the road
Fun to drive off-road
Design and style
Handling
Seat comfort
Decent gas mileage
Overall value
AWD option
Dislikes
Speaker system
Engine start/stop
Underperforming dashboard electronics
Awful GPS
Some annoying features
Owners Reviews
"Did a lot of research when we needed to trade our civic for a better car. Needed good rear legroom, heated rear seats, and adaptive headlights. With the touring trim, you also get a hands-free liftgate, napa leather, and air-conditioned front seats. With the turbo, it is just as quick as any other car, and never have to worry about power."
Source: Kelley Blue Book
"Comfortable and economical to drive. I would recommend this vehicle to my family and friends for their use."
Source: Kelley Blue Book
"We looked at a number of smaller SUVs before settling on the Outback. The main thing pushing to the Outback versus others (CR-V was the other finalist) was the superior all-wheel-drive system and the ability to tow…"
Source: Edmunds
"There are many things I love about the car including the look, comfort, quality of the materials, 4WD with great gas mileage, integrated crossbars and how safe you feel when driving in bad weather. I really do love my car, however there are some significant enough problems with the safety systems that would keep me from recommending it. The most serious issue is the emergency braking system can deploy when it should not. The main problem is that if the car detects another car directly in front of you, the system will sometimes deploy even if the vehicle is not in the same lane as you. I've had my car for about 18,000 miles and the braking system has deployed at least a dozen times incorrectly"
Source: Kelley Blue Book
How Reliable Are Subaru Cars?
According to a recent report from Consumer Reports, Subaru are ranked the 7th most reliable car manufacturer out of 28 brands, with a score of 66/100.
| | | |
| --- | --- | --- |
| Ranking | Brand | Score |
| 1 | Lexus | 76 |
| 2 | Mazda | 75 |
| 3 | Toyota | 71 |
| 4 | Infiniti | 69 |
| 5 | Buick | 66 |
| 6 | Honda | 66 |
| 7 | Subaru | 66 |
| 8 | Acura | 64 |
| 9 | Nissan | 63 |
| 10 | Mini | 60 |
| 11 | Hyundai | 56 |
| 12 | Chrysler | 54 |
| 13 | Porsche | 52 |
| 14 | Chevy | 48 |
| 15 | Audi | 47 |
| 16 | Cadillac | 47 |
| 17 | BMW | 45 |
| 18 | Ford | 44 |
| 19 | Kia | 43 |
| 20 | Volvo | 42 |
| 21 | Ram | 40 |
| 22 | GMC | 37 |
| 23 | Mercedes-Benz | 34 |
| 24 | Volkswagen | 31 |
| 25 | Genesis | 30 |
| 26 | Jeep | 26 |
| 27 | Tesla | 25 |
| 28 | Lincoln | 18 |
Source: Consumer Reports
Sources
https://www.cargurus.com/Cars/l-Used-Subaru-Outback-d380
https://caredge.com/subaru/outback/depreciation
https://www.edmunds.com/subaru/outback/
https://www.kbb.com/subaru/outback/
https://www.carproblemzoo.com/subaru/outback/
https://www.carcomplaints.com/Subaru/Outback/