The Subaru WRX is a compact sports sedan that was introduced in the US as a 2015 model year.
It is known for its rally-inspired handling, turbocharged engine, and bold design.
In this article, we'll take a deep dive into the best and worst model years of the WRX.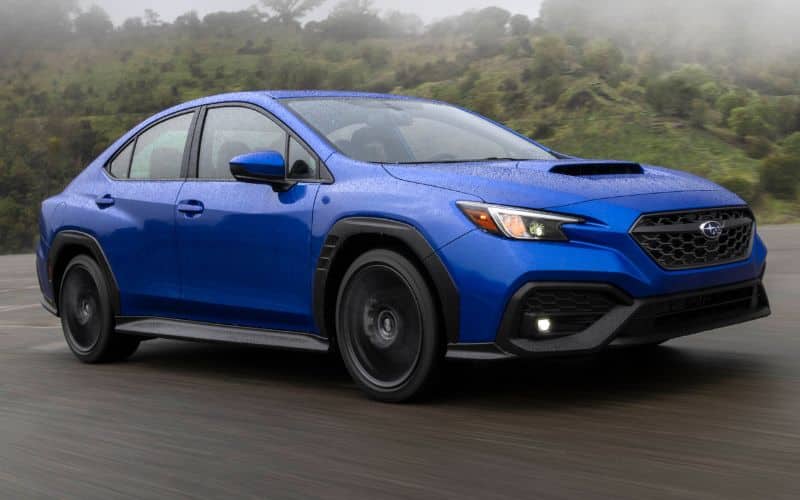 Here's The Short Answer To What The Best And Worst Years For The Subaru WRX Are:
The best Subaru WRX model years are 2024, 2023, 2022, 2021, 2020, and 2019. The worst model years of the WRX are 2015, 2017, 2018, and 2016. This is based on auto industry reviews, NHTSA statistics, reported problems, and consumer feedback.
What Are The Best Years For The Subaru WRX?
2023 & 2024 Subaru WRX
The 2023 and 2024 WRX models are track-worthy daily drivers that boast a sport-tuned suspension and standard all-wheel drive. They have rugged looks on the outside, a modern interior, and are made with quality materials that are built to last.
New to the 2023 model year are revised seat headrests. Other than that, it is largely a carryover from the 2022 model year which is the debut model of the 5th generation.
Similarly, there are no major changes for 2024.
Prospective buyers can choose between 4 trim levels: Base, Premium, Limited, and GT with prices ranging from approximately $31,600 to $44,400.
The higher-end Limited trim is the most popular variant, which is priced at $38,515.
Fuel economy is subpar with EPA estimates of 22 MPG for combined driving.
These WRX models come with the latest safety innovations including EyeSight Assist Monitor which projects warnings onto the windshield, Automatic Emergency Steering to help mitigate collisions, and Lane Centering to help keep you on track. 
Edmunds: 4.9 / 5.0
Kelley Blue Book: 4.3 / 5.0
JD Power: NA
2023 WRX, Edmunds review:
"This car drives great. BMW is not the only ultimate driving machine and this car proves that. The turbo sounds like a quiet vacuum when activated but the car goes and the turbo activates as low as 2500 RPM. The cladding looks good [with] darker colors (got mine in black) and not only that but it gives the car a rugged look…"
2022 Subaru WRX
The 2022 WRX is fully redesigned as it marks the start the fifth generation, it's more refined and quieter than ever before and is still an excellent choice for driving enthusiasts.
Its built on a new platform, has revamped bodywork and has been praised by auto critics for its fun-to-drive manners.
It comes with all-wheel-drive, available adaptive suspension and a more powerful engine.
All variants are equipped with a turbocharged 2.4-liter 4-cylinder engine (271 horsepower) paired to either a 6-speed manual transmission or CVT automatic transmission.
There are 4 trims to choose from: Base, Premium, Limited, and GT.
Fuel economy figures are mediocre, with EPA estimates at 19 MPG for city driving, 26 MPG for highway driving, and 22 MPG for combined driving.
Edmunds: 4.9 / 5.0
Kelley Blue Book: 4.3 / 5.0
JD Power: NA
2022 WRX, Edmunds review:
"A jack of all trades is a master of none, but oftentimes better than a master of one.This is true for the 2022 WRX. The engine produces pretty good horsepower, excellent handling, comfortable seats, actual usable back seats for adults and good space in the trunk, enough technology, good price and with good resale value. I dig the looks and functionality of the plastic cladding around the car (not exaggerating). My premium manual trim cost $33k which I feel is a very good deal for what the car comes with…"
2021 Subaru WRX
The 2021 WRX is the final installment of the fourth generation, it boasts solid consumer scores and complaints have been minimal.
New for this model year was the introduction of keyless entry and push-button start as standard features for the midrange Premium trim.
There are five trims to choose from, Base, Premium, Limited, STI, and STI Limited.
This was the final year STI models were offered, which are known for being extremely fun to drive.
There are two engine options available, both of which are turbocharged.
The entry-level and mid-level trims are equipped with a 2-liter 4-cylinder engine (268 horsepower).
Whilst the STI variants are fitted with a larger 2.5-liter 4-cylinder engine (310 horsepower).
This model received a perfect 5-star overall safety rating from NHTSA based on crashworthiness tests.
Notable safety features include EyeSight Assist Monitor, Reverse Automatic Braking System, and EyeSight Lane Keep Assist.
Edmunds: 4.7 / 5.0
Kelley Blue Book: 4.5 / 5.0
JD Power: NA
2021 WRX, Edmunds review:
"I've read numerous reviews before buying my WRX. It receives great ratings for acceleration and handling. Most reviews have scored it low for ride and amenities. This is a sports car! The ride is firm like it should be, yes the road noise does come through, but in my opinion it's not distracting. As far as amenities go, I have the Limited with the Harmon Kardon stereo and Nav. It has just the right amount of things I need. Some higher-end cars have more things that are in my opinion too much and I would never use them. The WRX to me has the right balance for a performance sports sedan."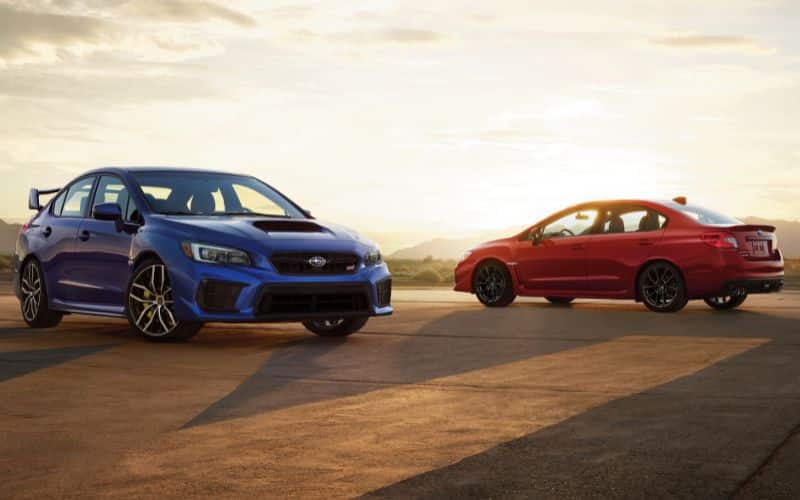 2020 Subaru WRX
The 2020 WRX is another great choice when shopping for a practical sports car – it boasts a spacious cabin, excellent outward visibility, fun handling and solid performance.
Owner feedback has been excellent too which is reflected in the high consumer scores.
Auto journalists have described the cabin as spacious albeit not especially aesthetically pleasing as the WRX is designed for hard driving.
It also comes with large door openings to make it extremely easy to get in and out of the vehicle.
Much like the previously discussed models, the 2020 WRX doesn't have the best fuel economy.
EPA figures are 23 MPG for combined driving for the manual transmission and even lower for the automatic transmission (21 MPG).
Edmunds: 4.8 / 5.0
Kelley Blue Book: 4.5 / 5.0
JD Power: 83 / 100
2020 WRX, Edmunds review:
"I've owned [between] 8 – 10 cars in my life so far and I'm approaching retirement age, so that's a reference point for this review. I keep my cars for as long as possible, and keep them well-maintained. Also, I'm not a racer, but I love cars that perform well. This is my favorite car so far. I use it as a daily driver to and from work, approximately 50 miles each way, often in heavy traffic. I also live in the country so when I'm not commuting, I can enjoy the country roads. The WRX is very quick, handles like a dream (as good as my 2 seater mid engine roadster) and with winter tires this season climbs steep hills and driveways in significant, unplowed snow…"
2019 Subaru WRX
The 2019 WRX is a safe choice for those looking for an affordable, sporty and reliable five-passenger sedan.
It provides swift acceleration, responsive handling and steering, and a host of standard safety features.
New to this model year is the introduction of the limited edition Series Gray trim, minor tweaks to the drivetrain, and an updated touchscreen infotainment system.
Auto critics have made it clear that this model is not the best in its class, and that there is a trade-off for a quiet ride and upmarket cabin for performance and excitement.
Owners can choose from the following trims: Base, Premium, Limited, STI, STI Limited and the previously mentioned Series Gray.
On the used market prices are typically in the region of $25,000 to $29,000 for models with under 100,000 miles on the clock.
Edmunds: 4.7 / 5.0
Kelley Blue Book: 4.5 / 5.0
JD Power: 78 / 100
2019 WRX, Edmunds review:
"Great fun at a reasonable price. Not a sports car, but handles well. Very capable in ALL weather. I put 290,000 miles on my '02 with no engine work. This is my third WRX, it has 26,000 miles on it after just over a year of ownership. I've driven it in two ice and snow storms this winter and it has been very stable."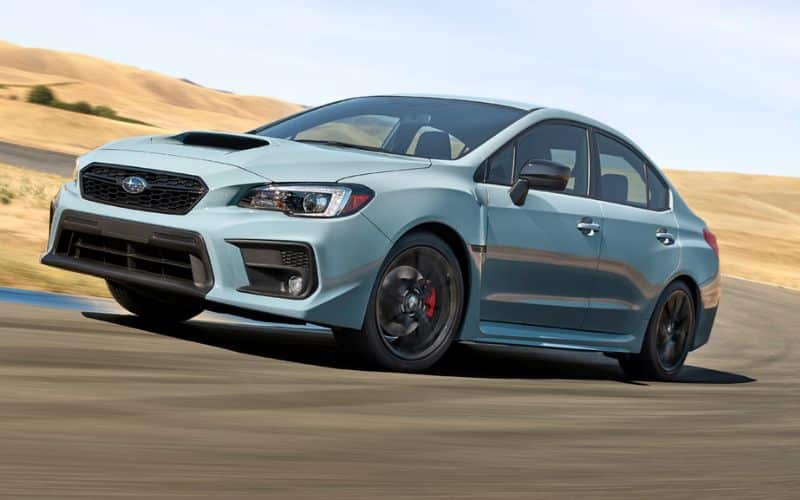 Consumer Scores For Best Subaru WRX Years
Model Year
Edmunds
Consumer Rating
Kelley Blue Book
Consumer Rating
JD Power
Consumer Rating
2024 Subaru WRX
N/A
N/A
N/A
2023 Subaru WRX
4.9 / 5.0
4.3 / 5.0
NA
2022 Subaru WRX
4.9 / 5.0
4.3 / 5.0
NA
2021 Subaru WRX
4.7 / 5.0
4.5 / 5.0
NA
2020 Subaru WRX
4.8 / 5.0
4.5 / 5.0
83 / 100
2019 Subaru WRX
4.7 / 5.0
4.5 / 5.0
78 / 100
Related: Subaru WRX In Snow & Winter Driving? (Explained)
What Are The Worst Years For The Subaru WRX?
2015 and 2016 Subaru WRX
According to stats from CarComplaints.com and CarProblemZoo.com, the 2015 WRX is the most problematic model year. Although the 2016 WRX had fewer complaints it shared many of the same problems.
The most common issue with this model was clutch failure.
Owners reported having to replace the clutch on more than one occasion and also having to replace the flywheel assembly.
Here is one owner's complaint from CarComplaints.com:
"Clutch goes out after 5 months of driving. I take it it the dealer and they say its abuse. It's insulting as well as completely false. I have been driving manual transmission cars for years and take very good care of my vehicles. Long story short, they replaced the clutch as a "one time goodwill" deal. I am starting to think that this problem is inherent to WRX's. Hopefully something get done."
Various Engine and powertrain complaints were reported too, these included engine knocking, blown head gasket, burning oil and complete engine failure.
The 2015 WRX had a total of 41 problems at CarComplaints.com and 69 problems at CarProblemZoo.com.
Common problems:
Bad clutch plate and flywheel
Clutch stopped working
Throwout bearing noise
Headlights disabled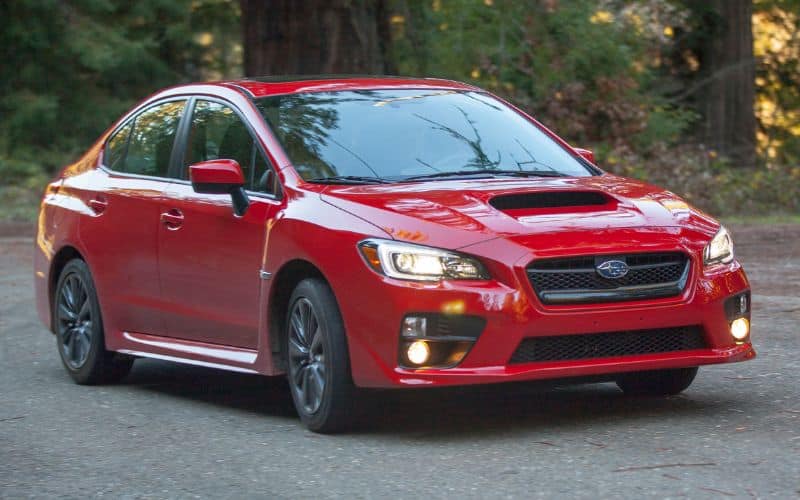 2017 Subaru WRX
The 2017 WRX is the second most problematic model to date. The most commonly reported issue was battery draining which meant owners were unable to use their vehicles, sometimes stranded, and had to continually replace the battery.
12V car batteries typically last 3-5 years however this wasn't the case for many 2017 WRX owners:
"I have a 2017 model year Subaru and I've gone through 2 batteries and about to get a third one which seems like a lot…"
"I own a 2017 Subaru wrx. On 8/10/2019 I had the battery replaced at the dealership because it dies for no reason. The battery died overnight and I had to jump the car to get it to the dealership. This happened again and had the battery replaced at the dealership on 9/29/2022. This time the battery got weaker each time I started the car over a period of 3 days then one day it didn't start. I had to jump to get to the dealership. They replaced the battery and I said I didn't want to pay because this is the 2nd time it's been replaced in 4 years. He told me to join a class action settlement for defective batteries."
Like the 2015 WRX there were a number of complaints for clutch failure, although they were not as widely reported.
The 2017 WRX had a total of 10 problems at CarComplaints.com and 60 problems at CarProblemZoo.com.
Common problems:
Premature clutch failure
Battery failure
Squealing noise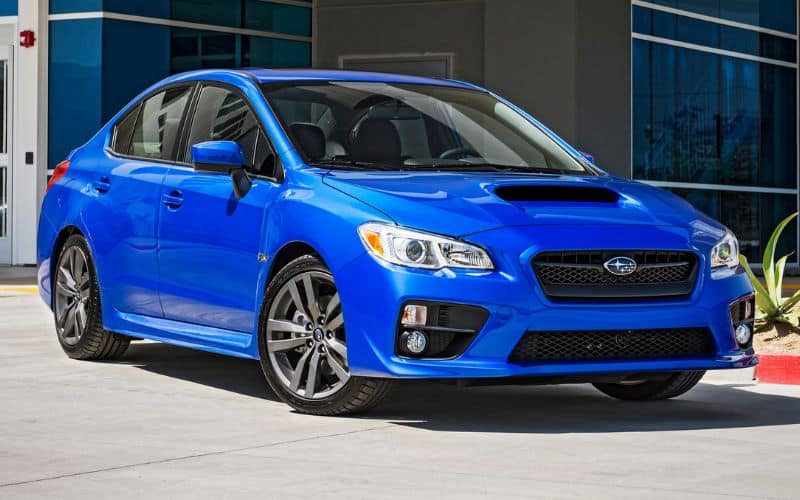 2018 Subaru WRX
The 2018 WRX had a significant amount of battery-draining issues, just like the previously discussed 2017 WRX.
Owners reported being left stranded in unsafe locations, having to replace the battery multiple times and being forced to jump start the car.
Another complaint from owners was problems with the steering, specifically that the steering wheel would occasionally lock up whilst driving.
According to reports filed on the NHTSA website, this resulted in some owners crashing their vehicle:
"The contact's son owns a 2018 Subaru WRX. While making a left turn at 25 mph, the front driver side wheel remained in a turned position after the driver attempted to straighten the vehicle. The driver lost control of the vehicle and collided with a tree."
The 2018 WRX had a total of 10 problems at CarComplaints.com and 44 problems at CarProblemZoo.com.
Common problems:
Power steering leakage
Radio not working
Engine knocking
Related: 16 Best & Worst Subaru Impreza Years (With Facts & Stats)
What Years Have The Most Complaints?
Model Year
Complaints
(CarComplaints.com)
Problems
(CarProblemZoo.com)
2024 Subaru WRX
–
–
2023 Subaru WRX
–
–
2022 Subaru WRX
0
18
2021 Subaru WRX
0
5
2020 Subaru WRX
0
14
2019 Subaru WRX
7
26
2018 Subaru WRX
10
44
2017 Subaru WRX
10
60
2016 Subaru WRX
23
33
2015 Subaru WRX
41
69
What Problems Do Subaru WRXs Have?
Bad clutch plate and flywheel
Premature clutch failure
Throwout bearing noises
Clutch noise
Failed radiator
Squealing noise
Power steering leakage
Radio not working
Engine knocking
Radio problems
Misfiring
Sudden clicking noises
What Are The Best Alternatives To The Subaru WRX?
| | | | |
| --- | --- | --- | --- |
| Make & Model | Score | MSRP | Fuel Economy (MPG) |
| Honda Civic | 8.7 | $25,050 – $43,295 | City: 22 – 33 /Highway: 28 – 42 |
| Mazda3 | 8.6 | $22,550 – $35,300 | City: 23 – 28 /Highway: 31 – 37 |
| Volkswagen GTI | 8.3 | $30,530 – $39,870 | City: 23 – 24 /Highway: 32 – 34 |
| Hyundai Veloster N | 8.2 | $32,500 – $34,000 | City: 20 – 22 /Highway: 27 – 28 |
| Toyota Corolla | 8.0 | $21,550 – $26,700 | City: 30 – 32 /Highway: 38 – 41 |
| Hyundai Elantra | 7.9 | $20,500 – $34,150 | City: 20 – 33 /Highway: 30 – 42 |
| Kia Forte | 7.8 | $19,490 – $24,890 | City: 22 – 28 /Highway: 31 – 39 |
| Volkswagen Jetta | 7.7 | $20,655 – $32,385 | City: 26 – 31 /Highway: 36 – 42 |
| Nissan Sentra | 7.6 | $19,950 – $22,840 | City: 28 – 29 /Highway: 37 – 39 |
| Subaru Impreza | 7.5 | $19,795 – $27,395 | City: 22 – 28 /Highway: 30 – 36 |
| Subaru WRX | 7.4 | $30,605 – $43,395 | City: 19 /Highway: 25 – 26 |
Source: cars.usnews.com, edmunds.com
Related: Are Subarus Easy to Work On, Repair & Maintain? (Explained)
References
https://www.caranddriver.com/subaru/wrx
https://cars.usnews.com/cars-trucks/subaru/wrx
https://www.edmunds.com/subaru/wrx/
https://www.kbb.com/subaru/wrx/
https://www.jdpower.com/cars/2022/subaru/wrx
https://www.carcomplaints.com/Subaru/WRX/