A subcompact SUV is a great choice for those who want the convenience and look of an SUV in a smaller package.
As with any other vehicle, visibility is a crucial factor that should be assessed before making a decision. But with the wide range of subcompact SUVs currently available, choosing the best one could be a daunting task.
Listed below are 8 subcompact SUVs with excellent visibility.
#1: Kia Seltos
Kia added to the list of some of the best subcompact SUVs with the release of their Seltos in 2020.
Featuring a range of tech-related features that enhance the safety and comfort of their vehicle, the Seltos has above-average front and rear visibility, making it easy to keep an eye on the road.
The Seltos has a ground clearance of 7.4 inches offering a higher seating position for even the shortest drivers.
It has a roomy interior and boasts impeccable leg and headroom for the driver and passengers.
Sleek and trendy, the Kia Seltos is comfortable to drive and has a sporty look that is sure to turn some heads.
Tech-related safety features of the Seltos include standard forward collision and driver inattention warning systems that alert the driver of possible hazards on the road, while lane keep assist and lane departure warning systems keep the vehicle safely on the road in any conditions.
For those looking for extra peace of mind, the EX and SX models of the Kia Seltos provide an additional blind spot monitoring and rear traffic collision warning system made possible by a 360 camera.
#2: Hyundai Venue
The pint-sized Hyundai Venue offers great outward visibility in all directions, making it a great option for comfort and safety while on the busy highways or narrow city streets.
Roomy and comfortable, the Venue has incredible tech and safety features that make it worthy of a spot on the list of subcompact SUVs with the best visibility.
Hyundai released the Venue for the 2020 model year, and since then the vehicle has seen some significant changes and re-designs to improve overall safety and comfort.
These changes include the addition of standard tech features like blind spot collision warnings, rear collision traffic warning, forward collision avoidance systems, and automatic steering.
These features are made possible with a number of cameras located on the exterior of the vehicle, and which provide a number of incredible safety features like lane keep assist and departure warning, road sign marking sensing capabilities, and automatic emergency braking.
The Hyundai Venue combines comfort and safety like never before and is one the of the best subcompact SUVs that offer great visibility.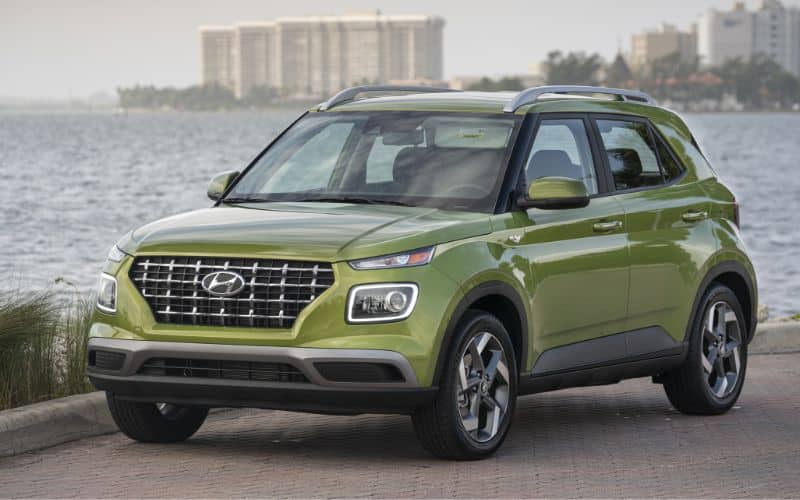 #3: Mini Cooper Countryman
The distinct design of the Mini Cooper Countryman not only gives the vehicle an aerodynamic shape, but makes it one of the best subcompact SUVs in terms of visibility and safety on the road.
With an expansive windscreen and narrow door pillars, the Countryman will give many other subcompact SUVs a run for their money, and has an array of great tech features to boot.
While not unique to Mini, the Countryman has adaptive cruise control made possible by an onboard camera to monitor vehicles in front and around the car, ensuring a safe following distance.
Front and rear sensors and cameras allow for increased visibility, while the 360-degree HD camera system can help detect any hazards that pose a possible safety risk to the driver and passengers.
The Mini Cooper Countryman is a sleek, sporty little SUV that offers impeccable handling and maneuverability around even the trickiest corners, and rivals many other similar vehicles in terms of design, safety, and technological features.
#4: Nissan Kicks
The 2018 release of the Nissan Kicks quite possibly made Nissan one of the leading subcompact SUV manufacturers in terms of safety and visibility.
Featuring a quiet, smooth ride, the Nissan Kicks offers excellent outward visibility, making it safe for both driver and passengers.
Additional features like the Nissan Safety Shield 360 have only increased the safety of this small but powerful vehicle, and includes safety measures like rear automatic braking, blind spot warnings, high beam assist, and pedestrian detection.
Keeping the vehicle safely on the road is made easy with lane depart assist systems and rear cross-traffic warning alerts that notify the driver of any potential hazards that may cause a collision.
The Nissan Kicks has a comfortable interior and provides the driver with a higher seating position for increased visibility.
Nissan has made it their life-goal to provide safe, affordable subcompact SUVs to the public, and the addition of great tech-related safety features only serves to increase the safety of their vehicles.
Related: 6 Best & Worst Nissan Kicks Years (With Facts & Stats)
#5: Honda HR-V
It's no secret that one of the best features of the Honda HR-V is the roomy interior and incredible outward visibility that the subcompact SUV offers.
With framed inlets, a clean roofline, and smooth finish, the design of the Honda HR-V is both luxurious and stylish, making it a popular option for those who want more from their vehicle.
Honda vehicles are fitted with only the best in safety and technology features, made possible by the Honda Sensing Suite that comes standard on all their subcompact SUVs.
This suite of tech-related features includes a 360-degree advanced HD camera that works with a number of sensors and radars to alert the driver to any potential hazards.
Safety and tech features include a collision-mitigating braking system, road departure mitigation system, forward collision warning and traffic jam assist to help keep both the driver and passengers safely on the road in any conditions.
Lane keep assist, lane departure warning, and adaptive cruise control are other great features that make the Honda HR-V a great choice, and the 360-degree camera also operates as a park assist system to help navigate the vehicle in or out of even the trickiest of parking spots safely.
#6: Buick Encore GX
Buick is a rather surprising entry on our list of subcompact SUVs as it one of the more luxurious SUVs on the road. But, with great forward visibility and several additional tech and safety features, it deserves a mention.
While the rear visibility is slightly hampered by larger roof pillars and an angled rear windscreen, Buick have adapted their design to include some nifty tech features to combat this issue.
Using a 360-degree HD camera, the vehicle offers forward collision alert, front pedestrian braking, a following distance indicator, and Intellibeam – an automatic high-beam system that self-adjusts according to traffic.
Lane keep assist and lane departure warning systems only serve to increase the safety of the Buick, helping to keep the driver and passengers safe in any eventuality.
With Buick, comfort, safety, and technology go hand in hand to provide a safe comfortable drive.
#7: Volkswagen Taos
Named after a rugged little town in New Mexico, the Volkswagen Taos is the last entry on our list of subcompact SUVs with offers excellent front and rear visibility.
Only one size down from the Tiguan, the Taos has a spacious yet sporty design with a few handy tech-focused features to improve safety and visibility in the road.
Its 360-degree camera system includes features like park assist, lane keep assist, active blind spot monitoring, and automatic forward-collision monitoring.
Volkswagen is big on safety, and the Taos is no different with its stop-and-go adaptive cruise control to help maintain a safe speed whether driving on busy city streets or open highways.
Automatic emergency braking and semi-automated assistance features make the Taos a safe, comfortable option for those who put as much weight on safety as they do design.
The interior is roomy, with great leg and headroom for even the tallest of drivers and passengers.
Related: 10 Subcompact SUVs With the Most Ground Clearance (With Pics)
#8: Mazda CX-30
Comfort, safety, and technology – the Mazda CX-30 has it all.
Released in January 2020, Mazda's subcompact SUV offers great forward visibility owing to its expansive windscreen and sleek design.
But what makes the CX-30 stand out from the rest of the vehicles in its class? And what are some of the tech-related features that improve the safety of the driver and passengers?
The Mazda XC-30 features some of the latest and greatest in safety-geared tech, including some nifty driver assistance features like adaptive cruise control, lane keep assist and lane departure warning, automatic emergency braking, pedestrian detection, and a 360-degree view monitor.
While forward visibility is clear and unobstructed, critics have commented on the poorer visibility in the rear of the vehicle, blaming the door pillars, slope, and size of the rear windscreen for this.
Mazda has, however, tried to compensate for this by including cameras on the front, sides and rear of the vehicle to help make backing up easy.
The Mazda CX-30 combines style, quality, and only the best safety features that make it one of the safer subcompact SUVs on the road.