The Model Y quickly became Tesla's best-selling vehicle soon after it was first released in early 2020.
The EV crossover uses the same platform as the Model 3, but has more space and is able to carry 7 passengers with its optional third-row seats.
In this article we'll take a detailed look at the most common problems and issues of the Tesla Model Y.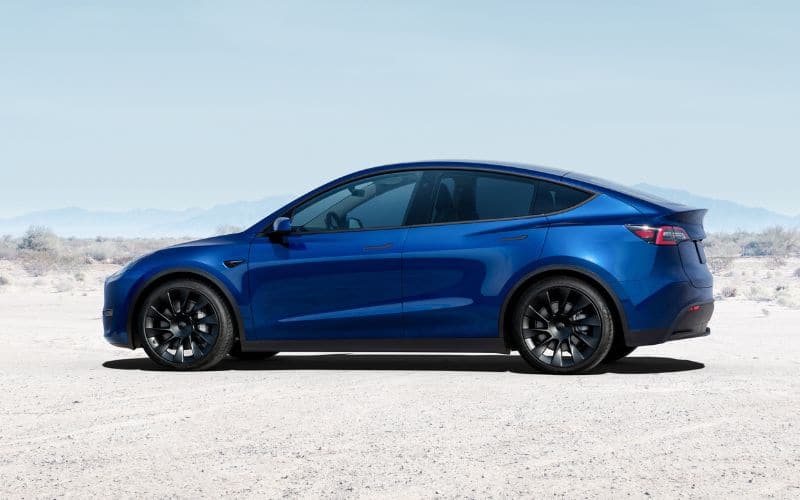 1. Phantom Braking
Looking at Car Problem Zoo, a website that aggregates owner complaints, unpredictable phantom braking is the most common reported issue for the Model Y.
When the Model Y's Autopilot, Traffic-Aware Cruise Control (TACC) or Full Self-Driving features are engaged, the vehicle unexpectedly slows down and sometimes slams on the brakes even when there are no obstacles around.
Phantom braking is caused by the Forward Collision Warning (FCW) and the Automatic Emergency Braking (AEB) systems. These rely on the car's cameras and AI to figure out what's on the road and false positives are a common issue.
Early versions of the Model Y also had radar which worked in conjunction with the cameras. When Tesla completely removed the radar system in May of 2021, complaints of phantom braking went up significantly.
Here is what a couple of owners had to say about their experience:
"The adaptive cruise control (or emergency braking system) repeatedly braked for no reason. There were no other vehicles in the immediate area. I was driving on interstate 90 at 70 mph and the vehicle emergency braked down to about 50 mph before recovering. This is a recurring problem and has happened at least a dozen times since I've owned the vehicle."
"We just completed a 6,500 mile round trip road trip from Socal to Toronto, Canada and back. 5/24/22 to 6/12/22. During the trip we used the "auto pilot" with and without "auto steering" not full self driving. I lost count of how many times we encountered "phantom braking" with the car at highway speeds. My guess would be at least 50 times."
Solution
Phantom braking is also a common problem in the Model 3, but less so with the Model S and X because a lot more of these older vehicles were equipped with radar. But Tesla is also removing radar in newer versions of the Model X and Model S.
Even after some recent recalls and software updates, Tesla has not yet fully fixed the phantom braking issue on their vehicles.
Due to how unpredictable the Autopilot and adaptive cruise control systems currently are, many owners just don't use them at all anymore.
Tesla recommends stepping on the accelerator to override the automatic braking, but sometimes it's not as easy as it sounds, even if you're paying attention to what's happening on the road and driving the vehicle properly.
2. Touchscreen Goes Blank
Touchscreen issues are a fairly common problem with the Model Y.
Owners have complained about the main screen restarting on its own or just turning off completely while driving.
This is more than just a minor annoyance since most of the car's settings and features can only be controlled via the touchscreen.
The Model Y also doesn't have a dash display or instrument cluster so you'll lose basic functions like the speedometer when the screen goes off.
Here is how one owner described their experience:
"The main instrument cluster / screen turns off without notice while the car is in motion. This results in the loss of all displays and controls, such as 1. Speedometer 2. Defrost control 3. Turn signal noise 4. Windshield wiper setting 5. Battery capacity gauge and many more."
Solution
Issues with the touchscreen such as restarts and crashes are usually caused by software errors.
When the touchscreen turns off completely, you can force it to restart by holding down the two steering wheel buttons until the screen boots up.
Closing all the apps and unplugging all connected USB devices can also help you isolate the cause of the problem.
Sometimes, a software update can fix the problem, but there are also instances when OTA (Over the Air) updates make it worse.
The Model Y originally shipped with the second generation MCU (Media Control Unit), also known as MCU2, which is the computer that runs the touchscreen. It's not as problematic as the MCU1 computers found in early versions of the Model S and Model X.
In December 2021, the Model Y also started shipping with the newer and faster MCU3 which should be less prone to crashing.
3. Suspension Issues
Squeaks and creaks from the suspension is a fairly common complaint with the Model Y which affects all model years.
Tesla has already issued a recall for 2020 and 2021 Model Ys to tighten up loose suspension bolts in the front that could cause the annoying noises.
Another common cause of the noises is a failing control arm, ball joint or bushing.
A lot of owners also complain that the Model Y's ride quality is a little too firm.
Tesla also recalled over 800 2020 to 2022 Model Ys to fix an issue where the front and rear suspension knuckles may fracture and cause the suspension to fail completely.
Here is what one Model Y owner had to report:
"I had taken my 2020 Tesla Model Y to have the rear tires replaced. The mechanic at the tire shop noticed a nut missing and a bolt about ready to fall out of one of the suspension rods on the driver side rear of the vehicle."
Solution
Any mechanic can put your car on a lift to check if there are any loose bolts that need to be tightened.
If you take it to a Tesla service center, they might also reseal the ball joints or replace parts like the control arms or sway bars to take care of any noises and rattles.
4. Windshield and Glass Issues
Another common complaint with the Model Y is the quality of the glass used for the front and rear windshield, panoramic roof and windows.
Lots of owners have complained of wavy distortions in the Model Y's windshield and rear glass that can cause visibility problems and even dizziness in some cases.
Here is how one owner described the issue:
"Upon driving the vehicle, there is a wavy distortion when viewing out of the windshield from the driver's side that can cause dizziness (amongst other symptoms) to a motion sensitive driver. The distortion itself is at eye level when the seat is adjusted to our drivers, 5'3″ and 5'5″."
We've also seen several people on different Internet forums reporting that the windshield and glass roof are prone to developing hairline cracks on their own.
Of course, these could also be caused by rock chips and road debris, but it seems to happen a lot more with the Model 3 and Model Y.
Some people have even had to replace their windshield more than once in a relatively short period of time.
One Model Y owner had this to say:
"My windshield cracked when it was just parking at the shopping mall, but it wasn't even from a rock chip. Took it to Tesla Service center, they closely examined and found no chipping, just a clean hair-cracked line starting from the driver side wiper motor location. Tesla decided to replace my windshield as "warranty."
Another Model Y owner whose glass roof developed a large crack said this:
"The Y went in for service this morning. The advisor and his technical counterpart examined the crack and determined that it was "stress-related' with no visible evidence of external impact. The crack could be felt from inside but not obvious from outside. A new work order was generated showing that it was covered by warranty."
Solution
If you notice a crack developing on your Model Y, take it to a service center so they can check if it was caused by a manufacturing defect and can be replaced under warranty.
Sometimes, Tesla will deny a warranty claim if the glass has been tinted.
If the glass was damaged by external impacts, you'll have to pay out of pocket.
The windshield, glass roof and rear glass should only cost roughly $1,000 which isn't really that expensive.
You can also use a windshield repair kit or have a professional do the repair which should prevent the chip or crack from getting larger.
5. Condensation Inside the Tail Light
Condensation and moisture building up inside the Model Y's tail lights, as well as the headlights and fog lights, is a fairly common issue.
The Model Y basically uses the same lights as the Model 3 which are also prone to condensation issues.
Most of the time, it just looks like a fine mist covering the glass, but there are lots of instances where the condensation build-up is so severe that it looks more like water droplets.
In some cases, the moisture can start pooling inside the light assembly and can damage the electronics.
Based on the complaints we've seen, the issue seems to affect 2020 and 2021 Model Ys more often.
Here is one owner's account:
"Tail lights on both sides constantly fill with condensation blocking the visibility to drivers behind me. I have reported the problem to Tesla but they keep saying it's within specs. The manufacturer is only looking at pictures to make the judgment and not actually allowing me to come in to correct the problem. I have two Model Y's and they are having the same problem."
Solution
The condensation build up will usually go away after a while due to evaporation.
For more stubborn cases, you can take it to a service center or request for a mobile tech to take a look at it.
If the car is still under warranty, you may be able to get your lights replaced free of charge if the issue is caused by a manufacturing defect.
6. Build Quality and Panel Gap Issues
Early builds of the Model Y had lots of complaints concerning its overall build quality.
Newer vehicles are much better in this regard, but Tesla hasn't completely worked out all of the kinks yet.
It's really hit or miss when it comes to the Model Y, as well as any other Tesla. Some examples are near perfect, while others are still riddled with lots of random problems upon delivery.
Some common quality issues you have to watch out for in the Model Y include:
Rear hatch alignment
Poor body panel fitment resulting in inconsistent panel gaps
Off-center steering wheel
Alignment issues
Mismatched or uneven paint jobs
Thin paint and overspray
Random creaks and rattles
Leaky seals and weather stripping
Solution
The best way to deal with these build quality issues is during the delivery process which is when you should inspect the vehicle inside and out before to make sure it meets your expectations.
You can always take it back to the service center if you find new issues along the way, but some repairs could mean you won't be able to use the car for some time.
Minor issues can usually be handled by a mobile tech as long as they have replacement parts on hand.
All this should be done while the vehicle is still under warranty so it shouldn't cost you anything aside from your time.
To protect the paint job for a long time, you can apply PPF (Paint Protection Film) or ceramic coating to give it an extra layer of protection.
Tesla Model Y Pros and Cons
If you're considering a Tesla Model Y as your next car you might be wondering what its strengths and weaknesses are…
Pros
Quick acceleration
Excellent range
Lots of space and practicality
Optional third-row seating
Cutting edge EV tech and software
Access to Tesla Supercharger network
Cons
Build quality could be better
Too dependent on touchscreen
More expensive than current rivals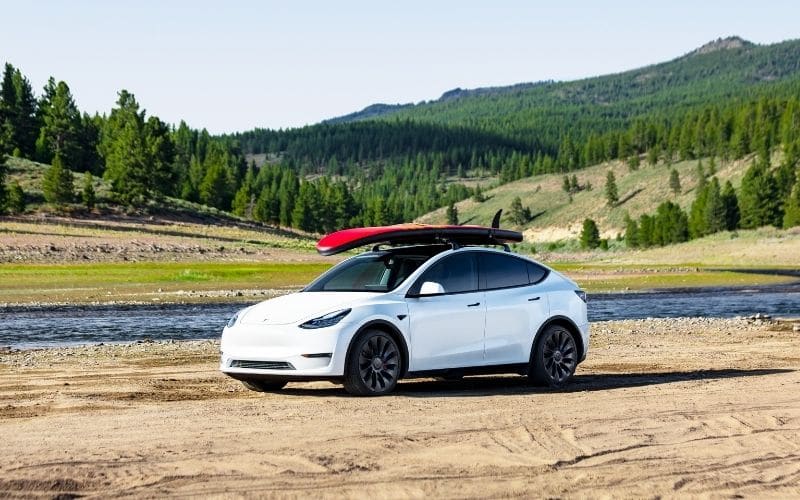 Related: Tesla Model Y: 9 Common Problems (Solution Guide)
Tesla Model Y Reliability Compared to Similar Cars
Consumer Reports rankings detailed below is based on the model's newest three years, the Tesla Model Y sits right at the bottom, with a low score of 18/100.
| | |
| --- | --- |
| Make & Model | Consumer ReportsReliability Score |
| Buick Envision | 90 |
| Cadillac XT5 | 89 |
| Lexus NX | 78 |
| Audi Q5 | 64 |
| Mercedez-Benz GLC | 63 |
| Porsche Macan | 61 |
| Volvo XC60 | 61 |
| Infiniti QX50 | 49 |
| BMW X3 | 47 |
| Acura RDX | 43 |
| Mercedes-Benz | GLB |
| Genesis GV70 | 30 |
| Jaguar F-Pace | 25 |
| Land Rover Discovery Sport | 25 |
| Land Rover Range Rover Evoque | 25 |
| Land Rover Range Rover Velar | 25 |
| Volkswagen ID4 | 21 |
| Lincoln Corsair | 20 |
| Alfa Romeo Stelvio | 18 |
| Tesla Model Y | 18 |
Source: Consumer Reports
Tesla Model Y Used Value
We've taken a look on Car Gurus to gauge the resale value of a Tesla Model Y, below are typical asking prices for each model year.
According to Car Edge, a Tesla Model Y will depreciate 39% after 5 years and have a 5 year resale value of $36,363.
Note: Used model prices will vary depending on trim level.
| | | |
| --- | --- | --- |
| Model Year | Mileage (miles) | Resale Price |
| 2022 | 1,375 | $71,985 |
| 2021 | 30,450 | $63,950 |
| 2020 | 17,950 | $61,700 |
Source: Car Gurus
Related: How Long Do Tesla Model Y Last? (11 Important Facts)
What Do Owners Like and Dislike About the Tesla Model Y?
Based on owner feedback from the Kelley Blue Book site here are what real-life owners love and hate about the Tesla Model Y.
Likes
Quiet
Fast
Responsive
Family-friendly
Great acceleration
Fun to drive
Spacious
Storage
Dislikes
Stiff suspension
High demand
Road noise
Tires do not hold up
Owners Reviews
"Very fun and practical, no worries about range with Supercharger network. Can sleep 2 in back with a foam mattress and climate control without idling engine. Charges at campsites, start each day with full charge. Saves on gas and hotel costs."
Source: Kelley Blue Book
"No question about it! Its the best car in the world. It handles great, good acceleration, lots of space."
Source: Kelley Blue Book
"My model Y is simply perfect: it's super-fast, almost zero maintenance, is very comfortable and fantastic to drive. We love NEVER having to go to gas stations, as we charge at home, and relying on the Supercharger network, which is ubiquitous and ultra fast. WE LOVE IT"
Source: Edmunds
How Reliable Are Tesla Cars?
According to a recent study by Consumer Reports, Tesla are the 2nd least reliable car manufacturer out of 28 brands.
| | | |
| --- | --- | --- |
| Ranking | Brand | Score |
| 1 | Lexus | 76 |
| 2 | Mazda | 75 |
| 3 | Toyota | 71 |
| 4 | Infiniti | 69 |
| 5 | Buick | 66 |
| 6 | Honda | 66 |
| 7 | Subaru | 66 |
| 8 | Acura | 64 |
| 9 | Nissan | 63 |
| 10 | Mini | 60 |
| 11 | Hyundai | 56 |
| 12 | Chrysler | 54 |
| 13 | Porsche | 52 |
| 14 | Chevy | 48 |
| 15 | Audi | 47 |
| 16 | Cadillac | 47 |
| 17 | BMW | 45 |
| 18 | Ford | 44 |
| 19 | Kia | 43 |
| 20 | Volvo | 42 |
| 21 | Ram | 40 |
| 22 | GMC | 37 |
| 23 | Mercedes-Benz | 34 |
| 24 | Volkswagen | 31 |
| 25 | Genesis | 30 |
| 26 | Jeep | 26 |
| 27 | Tesla | 25 |
| 28 | Lincoln | 18 |
Source: Consumer Reports
Sources
https://www.consumerreports.org/cars/tesla/model-y/
https://www.carcomplaints.com/Tesla/Model_Y/2020/
https://www.carproblemzoo.com/tesla/modely/software-problems.php
https://www.kbb.com/tesla/model-y/
https://www.edmunds.com/tesla/model-y/
https://caredge.com/tesla/model-y/depreciation