The Avalon was once Toyota's flagship sedan – it was discontinued for the 2022 model year to make way for the Toyota Crown.
It's known for being near-luxury and is highly rated by auto critics, however, it's not without its problems.
In this article, we'll take a closer look at the most common Toyota Avalon problems.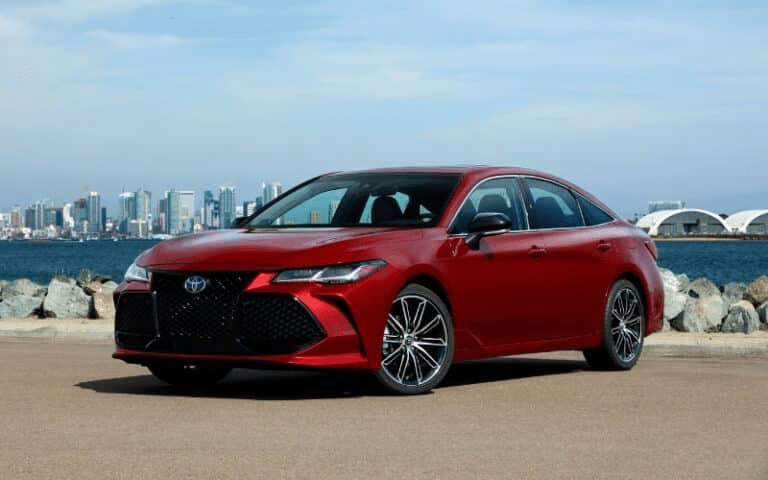 1. Fuel Pump Issues
A large number of 2018-2020 Totoya Avalon owners reported fuel pump problems which would lead to engine stalling.
The fuel pump transfers fuel from the cars fuel tank to the engine, ensuring a consistent and pressurized flow for combustion.
Here is what owners had to say on the NHTSA.gov website
"Changing intersection in the city streets engine stalls like its not getting enough fuel."
"Noticing engine running rough, stall at speed about 20 mph and humming from under rear of the car hours after it's shut off."
Solution
Toyota issued a recall for this issue and will replace the fuel pump for an upgraded version free of charge.
To see if you have been affected you can run a VIN check on you vehicle on the NHTSA website.
2. Headlight Problems
A widespread problem for 2008 and 2009 Avalons and to a lesser extent 2010 and 2011 Avalons, is headlight problems.
Common symptoms include both low and high-beam headlights, as well as daytime running lamps, failing to operate.
Some owners have noted sudden shutdowns of headlights while driving, with shattered light bulbs inside the headlamp housing.
The diagnosed causes include defective headlamp housing, faulty headlight assembly, and high-intensity discharge (HID) lamp bulb failures.
"While driving during the night, all of the headlights except for low beams quit working. This caused a dangerous condition while driving in the country" – NHTSA.gov
"The headlights go out when operating the car without warning. This happens when driving on residential, highways and interstate roads." – NHTSA.gov
Solution
Solutions have involved replacing bulbs, headlamp assemblies, and addressing design flaws, with some repairs costing over $2,000.
Despite the recurrence of these issues, there seems to be limited manufacturer support or acknowledgment of a widespread problem, leading to frustration and financial burden for affected owners.
3. Unintended Acceleration
One of the most common and widely reported problems of the Toyota Avalon is the sudden unintentional acceleration of the vehicle occurring at various speeds and driving conditions.
This problem has been reported on models from 1996 – 2014. The worst affected models were the 2006, 2007 and 2008 model years.
In one case, the vehicle accelerated on its own while reversing, resulting in a collision with a stone wall.
Another incident involved acceleration hesitation and jumping while driving, posing a safety risk.
Some cases reported acceleration issues even after the recall, with one driver mentioning a near collision due to sudden acceleration after pressing the pedal lightly.
The incidents led to crashes, injuries, and, in some instances, the total loss of the vehicle.
"Suddenly car took off like a jet, brakes didn't depress, hit an island then slammed into tree. I am injured and the car totaled." – NHTSA.gov
"I was driving on a highway when the car accelerated by itself, brakes did not work. The car put itself in the middle of two lanes, then accelerated." – NHTSA.gov
Solution
The proposed solutions include recalls, adjustments to the transmission, and replacements for affected components.
Despite various attempts to address the problems through recalls and repairs, the issues persisted, raising concerns about the effectiveness of the solutions provided by Toyota.
4. Headliner Issues
The headliner emerges as a recurrent and prominent issue among 2014-2013 Avalon models. Owners consistently highlight concerns about the headliner falling down or sagging.
Common symptoms include the headliner obstructing the driver's view, causing potential safety hazards.
"Had to take the 2014 Avalon back in again (second time) for the Headliner problem. It started to come down around the rear center in the back of the moon roof." – TotoyaNation.com
"Rear headliner of vehicle is becoming detached from interior roof. This is appearing at rear windshield area which is compromising inhibiting the view, safety issue." – NHTSA.gov
Solution
In some cases, headliner replacement has been attempted, but it does not always resolve the issue. Some owners reported new velcro strips and also magnets to resolve the issue.
"Took it in Oct 8th and just got it out today 10/22. The fix this time was not new "Velcro" strips and adhesive, but rather they said they installed Magnets." – TotoyaNation.com
Some owners noted that dealerships have struggled to provide effective solutions.
5. Steering Column Issues
Toyota Avalon owners have reported recurring issues with their vehicles' steering columns, leading to safety concerns and potential accidents. This was a widespread problem for 2000-2004 model years.
The problems were related to the improper casting of the steering lock bar, which could develop a crack over time.
"My steering wheel will lock when I turn left or right while driving . . This morning I was just starting my car and was turning left and my steering wheel locked and I went up the sidewalk and almost hit the fence" – NHTSA.gov
"Steering-when trying to go straight car will tilt to the left, have to keep wheel at weird angle to maintain a straight line." – NHTSA.gov
Common symptoms include:
Hard-to-Turn Steering
Sticking Steering After Recall
Power Steering Rack Leaks
Steering Wheel Seizure
Hard-to-Control Steering and Noises
In specific driving conditions, a broken and loose lock bar could move towards the steering shaft, possibly causing the steering wheel to lock and increasing the risk of a crash.
Solution
Toyota issued a recall to replace the Steering Column Upper Bracket with a newly designed one.
6. Forward Collision Avoidance Problems
Toyota Avalon owners have reported recurring problems with the Forward Collision Avoidance system, leading to concerns about safety and frustration due to delays in recall repairs. This mostly affected 2013, 2014 and 2015 models.
Common symptoms include:
Illuminated Warning Lights
Inadvertent Activation
Deactivation of Pre-Collision System
Solution
Toyota issued a recall to replace Pre-Collision System components, including sensors and radar to address issues where the system unexpectedly activates and applies brakes.
Related: 27 Best & Worst Toyota Avalon Years (Pictures & Stats)
7. Faulty Airbag Sensor
Toyota recalled around 2.9 million vehicles, including 2012 – 2018 Avalons, and 2013 – 2018 Avalon Hybrid sedans due to potential airbag deployment failures in specific crash scenarios.
The issue involves airbag control units that may fail to interpret crash signals.
"Avalon was impacted on front passenger side by a vehicle traveling about 40 mph. The other vehicle was a 2006 Chrysler town and country van. The Chrysler airbags deployed. Toyota Avalon airbags did not deploy." – NHTSA.gov
"While driving 50 mph, the contact rear ended the preceding vehicle. The air bags failed to deploy. The contact and front passenger sustained whiplashes and required medical attention." – NHTSA.gov
Solution
The remedy involves inspecting and installing a "noise filter" to prevent electronic interference affecting the airbag control unit in affected Avalon models.
8. Dashboard Issues
Owners of 2005-2014 Avalons have complained about dashboard issues. The problems range from sticky and reflective dashboards to melting surfaces, presenting safety hazards for drivers and the public.
Problems include dashboards becoming sticky, melting, and developing a glossy, reflective surface, posing safety risks such as impaired visibility and blinding glare.
"Vehicle dashboard chrome accents reflect the sun at mid-day like a mirror, blinding the driver. This happened to me today while driving." – NHTSA.gov
"Dashboard is sticky and shiny. The sheen on the dash also creates a glare on sunny days, which creates a safety hazard. Toyota is avoiding a recall for the use of inferior parts." – NHTSA.gov
Solution
Despite being aware of the issue, Toyota has not issued a comprehensive recall, leaving affected owners to bear replacement costs.
You can buy a dash cover and they are fairly easy to fit.
9. Oil Leaks
Toyota Avalon owners have encountered significant issues related to engine oil leakage, particularly associated with Variable Valve Timing (VVT) components.
The problems primarily affect the 2005 to 2007 Toyota Avalon models.
Common Symptoms:
Engine Oil Leakage: Numerous owners reported oil leakage issues (particualrly from the VVT-I oil hose, with oil puddles observed in driveways or garages.
Oil Light Activation: Some owners experienced the oil light illuminating on the dashboard, indicating low oil levels.
Burning Smell and Smoke: In severe cases, owners noticed a burning smell and smoke, signaling potential hazards.
"Check engine light came on followed by oil light as I exited the expressway. The small rubber line connected on the metal oil line had ruptured and sprayed oil over the engine." – CarComplaints.com
"As the other complaints regarding the sudden oil line rupturing, it occurred to us last night. We have 69,000+ on our Avalon and this was a surprise to find out it is a rather common problem." – CarComplaints.com
Solution
While Toyota initiated limited service campaigns, not all VINs were covered, leading to challenges for affected owners. In many cases owners simply needed a replacement hose.
Other owners reported having repairs done such as the replacement of the oil tube, hose, filter housing, studs and drain plug casket – however problems still continued.
10. Paint Peeling
Owners have observed paint bubbling, peeling, and chipping, primarily concentrated on the roof area between the windshield and the sunroof. In some cases, the issue is so severe that large sheets of paint are detaching from the vehicle.
This problem has mostly been reported on 2010, 2011 and 2012 model years however it only affects the "Blizzard Pearl (white)" models.
"Just like everyone else, Our 2011, Avalon, with the "Optional", "Blizzard Pearl" (White) paint is chipping off the roof, near the rear window, on both the driver's side and passenger side." – CarComplaints.com
Solution
Several complaints suggest that there might be an issue with the application of primer during the painting process.
The fix is simply to repaint the affected areas. However, the responsibility for the repair may depend on the vehicle's warranty status and whether the issue is recognized by the manufacturer as a defect.
Toyota Avalon's Biggest Recalls
Toyota has initiated recalls affecting various Toyota Avalon models for different safety concerns:
Over 50,000 2011 and 2012 Toyota Avalon vehicles have been recalled due to the risk of fire associated with overheating of the subwoofer.
More than 20,000 2014 Toyota Avalon vehicles are subject to recall due to fuel leak, posing an increased risk of fire.
A recall has been issued for over 10,000 2013 Toyota Avalon and 2014 Toyota Avalon models, addressing a faulty wiper switch.
Over 800,000 vehicles, including 2012 Toyota Avalon, 2012 Toyota Avalon Hybrid, 2013 Toyota Avalon, and 2013 Toyota Avalon Hybrid, are part of a recall related to air-conditioning condenser issues.
Toyota has recalled 2018 and 2019 Toyota Avalon vehicles due to a defective fuel pump that has the potential to cause engine stalling.
Related: Toyota Avalon: 12 Common Problems (Solution Guide)
Toyota Avalon Model Years With the Most Problems
| | | |
| --- | --- | --- |
| Model Year | Problems | Sales  |
| 2022 | 5 | 9,925 |
| 2021 | 12 | 10,795 |
| 2020 | 8 | 11,458 |
| 2019 | 70 | 30,396 |
| 2018 | 29 | 21,935 |
| 2017 | 20 | 18,678 |
| 2016 | 27 | 41,931 |
| 2015 | 55 | 46,737 |
| 2014 | 117 | 48,467 |
| 2013 | 162 | 59,733 |
| 2012 | 36 | 20,840 |
| 2011 | 124 | 56,692 |
| 2010 | 50 | 14,551 |
| 2009 | 110 | 22,030 |
| 2008 | 411 | 61,851 |
| 2007 | 295 | 79,137 |
| 2006 | 441 | 97,437 |
| 2005 | 295 | 57,577 |
| 2004 | 248 | 50,663 |
| 2003 | 352 | 68,880 |
| 2002 | 145 | 67,772 |
| 2001 | 169 | 77,925 |
| 2000 | 215 | 108,025 |
Source: Car Problem Zoo
Toyota Avalon Pros and Cons
If you're considering a Toyota Avalon as your next car you might be wondering what its strengths and weaknesses are…
Pros
Plenty of standard advanced safety features
Comfortable ride quality
Quiet and spacious cabin
Has above-average fuel economy
Trunk is one of the largest among full-size sedans
Cons
Not a huge amount of headroom for a big sedan
Newer models do not offer all-wheel drive
The infotainment system lacks operational smoothness
Hard plastic interior trim
Toyota Avalon Reliability Compared to Similar Cars
| | |
| --- | --- |
| Model | Reliability |
| Hyundai Azera | 4.0 / 5.0 |
| Chevrolet Impala Limited | 4.0 / 5.0 |
| Toyota Avalon | 4.0 / 5.0 |
| Kia Cadenza | 4.0 / 5.0 |
| Chevrolet Impala | 4.0 / 5.0 |
| Ford Taurus | 4.0 / 5.0 |
| Chrysler 300 | 3.5 / 5.0 |
| Buick Lucerne | 3.5 / 5.0 |
| Nissan Maxima | 3.5 / 5.0 |
| Dodge Charger | 3.5 / 5.0 |
| Ford Crown Victoria | 3.0 / 5.0 |
| Ford Police Interceptor Sedan | 1.5 / 5.0 |
| Avg. Fullsize Car | 4.0 |
Source: Repair Pal
Toyota Avalon Used Value
We've taken a look at Car Gurus to gauge the resale value of a Toyota Avalon, below are typical asking prices for each model year.
According to Car Edge, a Toyota Avalon will depreciate 27% after 5 years and have a 5 year resale value of $31,969.
Note: Used model prices will vary depending on trim level.
| | | |
| --- | --- | --- |
| Model Year | Mileage (Miles) | Resale Price |
| 2022 | 25,033 | $26,100 |
| 2021 | 61,029 | $24,495 |
| 2020 | 35,443 | $35,597 |
| 2019 | 23,367 | $28,487 |
| 2018 | 22,411 | $27,999 |
| 2017 | – | – |
| 2016 | – | – |
| 2015 | 131,385 | $12,447 |
| 2014 | 82,821 | $17,877 |
| 2013 | 93,145 | $16,084 |
| 2012 | – | – |
| 2011 | 84,188 | $15,500 |
| 2010 | – | – |
Source: Car Gurus
What Do Owners Like and Dislike About the Toyota Avalon?
Based on owner feedback from the Kelley Blue Book site, here are what real-life owners love and hate about the Toyota Avalon.
Likes
Versatile
Fun to drive
Big
Spacious
Leather seats
Dislikes
Transmission
Price
Power
Low to the ground
Electronics
Owners Reviews
"Love my new AWD Limited. Thought stepping down to 4 cylinder to get the AWD might be a concern, but not at all. Besides, I didn't get this car for racing, I got it for luxury and legroom, and this car delivers…"
Source: Edmunds
"This is a very good vehicle. It has all the latest features and safety controls of the modern cars today. Seats are comfortable and adjust well, jury is still out on the suede in place of leather for the seats…"
Source: Edmunds
"Decades long standard for a modern full size vehicle. Essentially a Lexus 350 for $5000 less…"
Source: Kelley Blue Book
How Reliable Are Toyota Cars?
According to a recent report from Consumer Reports, Toyota are ranked the 3rd most reliable car manufacturer out of 28 brands, with a score of 71/100.
| | | |
| --- | --- | --- |
| Rank | Brand | Score |
| 1 | Lexus | 76 |
| 2 | Mazda | 75 |
| 3 | Toyota | 71 |
| 4 | Infiniti | 69 |
| 5 | Buick | 66 |
| 6 | Honda | 66 |
| 7 | Subaru | 66 |
| 8 | Acura | 64 |
| 9 | Nissan | 63 |
| 10 | Mini | 60 |
| 11 | Hyundai | 56 |
| 12 | Chrysler | 54 |
| 13 | Porsche | 52 |
| 14 | Chevrolet | 48 |
| 15 | Audi | 47 |
| 16 | Cadillac | 47 |
| 17 | BMW | 45 |
| 18 | Ford | 44 |
| 19 | Kia | 43 |
| 20 | Volvo | 42 |
| 21 | Ram | 40 |
| 22 | GMC | 37 |
| 23 | Mercedes-Benz | 34 |
| 24 | Volkswagen | 31 |
| 25 | Genesis | 30 |
| 26 | Jeep | 26 |
| 27 | Tesla | 25 |
| 28 | Lincoln | 18 |
Source: Consumer Reports
Sources
https://www.consumerreports.org/cars/toyota/avalon/
https://www.carcomplaints.com/Toyota/Avalon/
https://www.carproblemzoo.com/toyota/avalon/
https://www.kbb.com/toyota/avalon/
https://www.edmunds.com/toyota/avalon/
https://caredge.com/toyota/avalon/depreciation