The Toyota Highlander is a mid-size SUV that's been sold since 2001.
Now in its fourth generation, it remains a popular family vehicle that offers third-row seats, lots of cargo space, a comfortable ride, and excellent reliability.
However, no vehicle is perfect…
In this article, we'll take a closer look at the most common Toyota Highlander problems.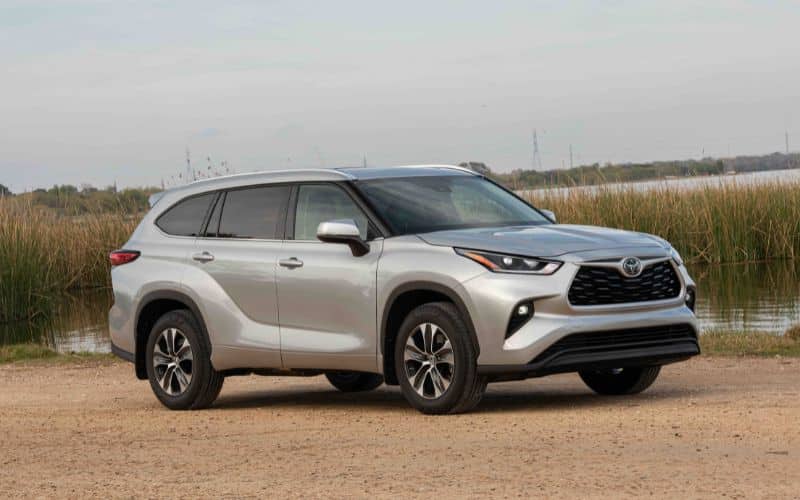 1. Fuel Pump Failure
The 2019 Highlander was recalled twice in 2020 for potential fuel pump failure, a problem that affected over 1.5 million Toyota and Lexus vehicles.
As the name implies, the fuel pump sends fuel from the gas tank to the engine.
The most common symptoms of fuel pump failure include:
Hesitancy while accelerating
Stalling
Engine shutting down
A number of owners have reported being left stranded at the side of the road due to this problem.
Solution
Affected vehicles will need their fuel pump assembly replaced – as this is part of a recall it will be done free of charge by Toyota.
If you think you may have been affected, run a VIN check on the NHTSA website.
Note: Some owners of 2019 Highlanders who were not included in the recall have also reported fuel pump issues.
2. Stripped Head Bolts
The first generation Toyota Highlander with the 4-cylinder engine had lots of issues with the head bolts coming loose once the engine overheated.
On Car Complaints, a website that's dedicated to car owner feedback, stripped head bolts is the most reported engine problem for the Highlander.
This issue affects the 2002 to 2006 model years of the Highlander, with the 2003 model receiving the most complaints. It's much less common in the 2005 to 2006 models.
The head bolts hold the cylinder head, head gasket, and the engine block together.
When the engine overheats, the extra stress on the head bolts causes the threads in the engine block to get stripped.
Since the head bolts are now loose, the car will constantly leak coolant and the engine won't run correctly because the head and block are no longer properly held together.
Here's what a few unhappy owners had to say:
"Engine was overheated, coolant leaked slowly and burnt off, not visible on floor. A Toyota mechanic told me that threads on engine block were stripped, Needed a new engine. Toyota should recall this problem."
"Noticed coolant odor in the garage, reservoir level looked fine. When I opened the radiator cap, no coolant was visible. Took in to a local mechanic hoping it was a simple leak, turned out to be the stripped head bolt issue."
Solution
Fixing the head bolt issue requires tearing down the engine and using a threaded insert to rebuild the threads in the engine block.
Time-Sert inserts are the most recommended solution since these can handle the large torque forces that the head bolts exert on the threads.
To prevent this issue from happening, you need to make sure the car never overheats.
Regularly check the coolant levels
Preventative maintenance of the cooling system, i.e., water pump, thermostat, radiator, hoses, etc.
Pull over immediately when the engine temp rises and let it cool down
3. Oil Sludge Issues
Early models of the first generation Toyota Highlander with the V6 engine had issues with excessive oil sludge build-up. Oil sludge is a common issue with the 3.0-liter 1MZ-FE engine that was used in the 2001 to 2003 model years of the Toyota Highlander.
Other Toyota vehicles like the Camry, Avalon and Sienna also used this engine and had the same issues.
It usually occurs after several years of use and a combination of factors such as:
Infrequent oil changes
Low quality oil
Only using the vehicle for very short trips
When the car is only driven for short distances, the oil isn't able to reach the proper operating temperature.
This prevents the moisture and exhaust gasses coming from the crankcase from burning off, which mixes with the oil and turns into sludge.
Eventually, the sludge also starts blocking the PCV (Positive Crankcase Ventilation) valve, which is responsible for allowing waste gas to go back into the intake system, leading to even more sludge buildup.
Signs of excessive oil sludge buildup include:
White smoke from exhaust
Dirty oil or sludge from the dipstick and oil cap
Poor engine performance
Excessive oil consumption
Oil pressure light always turning on
Taking off the valve cover will let you confirm if there is indeed too much oil sludge in the engine.
Solution
To reduce the amount of oil sludge and prevent further damaging the engine, try these solutions first:
Drop the oil pan and clean out the sludge
Clean the oil filter screen
Change the oil more frequently between 1,000 to 3,000 miles until you see signs of improvement
Replace the PCV valve with an updated unit
If the car has been using conventional motor oil, don't switch to synthetic oil until the oil sludge problem is resolved because more problems like leaks might start to appear.
You should also try to drive the vehicle for longer distances and at higher RPMs so the detergents in the new oil can clean out the sludge slowly.
It's also not advisable to use any additives this may cause the sludge to move somewhere else in the engine and block the oil passages, which will cause oil starvation and wreck the engine.
4. Oil Hose Failure
The second generation Toyota Highlander's non-hybrid V6 engines had a fairly common issue where the rubber oil lines would suddenly rupture and cause the car to completely lose all its oil.
One of the rubber oil lines that's been known to fail is the VVTi line on the right side of the engine which connects two metal lines.
The other oil line that tends to break is connected to the oil cooler which is equipped on vehicles with the optional tow package.
On the Car Complaints website, there are more oil line failures reported for the 2008 Toyota Highlander, which is the first year of the 2nd gen, than any other model year.
Despite reports that Toyota started replacing the rubber lines with metal ones in 2010, several people on different Internet forums have found that rubber lines were still fitted up until the 2011 models.
Here's how a couple of owners described their experience:
"The oil cooler line sprang a major leak in which all the oil leaked out with no warning. This was the original rubber hose which had never been replaced and which I, as the second owner of the car, was never warned about. This occurred long after the extended warranty."
"Stopped and check oil level, it was almost empty. Walked to store bought oil and topped it off and drove home (1.5 miles), noticed a loud tapping noise, sounded like lifters. Checked it again and it was almost empty and I could see a trail of oil behind my car on the driveway. Looked under car and could see the leak coming from the oil cooler rubber line."
Solution
Toyota never issued a recall to fix this issue but it did release a TSB (Technical Service Bulletin) in 2011 and 2014 which required replacing the lines with updated metal ones.
Many owners won't have this done if they didn't have any issues beforehand. If you're not sure whether the TSB has been done on your vehicle, it's best to have the engine inspected by a competent mechanic in order to avoid a catastrophic engine failure in the future.
5. Steering Clunk
The second generation Toyota Highlander had many owners complaining about a clunking noise from the steering shaft after a couple of years.
It usually occurs when turning the wheel either left or right while driving at slow speeds, e.g., while parking or getting out of the driveway.
This issue is quite common for all years of the 2nd gen Toyota Highlander from 2008 to 2013, but not every vehicle suffers from the steering clunk.
Here's how some owners described their experience.
"Wife's 2010 was diagnosed with the intermediate shaft problem a year ago. Dealer gave us a quote over $500 to replace it. It has gotten significant enough to stop ignoring it."
"My 2012 HL with 24,600 miles on it had the knocking sound that was felt in the steering wheel when making turns was getting worse."
As the clunking happens more and more, it can be quite concerning. But no one has reported encountering any steering failures stemming from this strange noise, so it seems to be more of an annoyance than anything else.
The clunking noise also occurs in other Toyotas from the same period such as the Camry and RAV4.
Solution
Toyota released a TSB in 2013 to fix the issue which required replacing the intermediate steering shaft with an updated part.
People who have gotten their steering shaft replaced have reported that the noise hasn't come back since.
Replacing the steering shaft can cost several hundred dollars.
If you want to save some money, you can try fixing it yourself by injecting some grease or lube on the steering shaft spline.
Some Highlander owners were also able to fix the issue by simply tightening a few bolts.
6. Squeaky Rear Suspension
The third generation Toyota Highlander had issues with its rear suspension making squeaking or rubbing noises when going over bumps. This issue affects all model years of the third-gen Toyota Highlander from 2014 to 2019.
Some report that their cars have had the noise since new while others say that it only started occurring after owning it for some time.
The noise often stems from the rear control arms and is more apparent in colder weather.
Here is how one owner described their experience:
"Our 2018 was silent at first and then developed the crunching sound (like a rubber crunching sound, not a squeak) which was VERY noticeable over speed bumps; the more passengers in the back the worse it got."
Solution
Toyota issued a TSB in 2017 which acknowledged the problem and recommended replacing the rear trailing arm assembly.
The repair would be done for free if the vehicle was still within the 3-year/36,000-mile basic warranty. Otherwise, customers would have to pay out of pocket to get it fixed. Although some report that the noise came back after some time.
Many owners on the Toyota Nation forum were able to get rid of the noise by applying some lubricant such as silicone spray or WD40 on the rear control arm bushings.
7. Exhaust Drone
One of the most commonly reported issues for the third-generation Toyota Highlander on the Toyota Nation forum is a constant droning or buzzing noise when driving at around 2,000 RPM.
According to several owners, the drone is caused by a problem with the exhaust system.
This issue seems to affect many third gen Toyota Highlanders from all the model years ranging from 2014 to 2019.
Here is how one owner described the issue:
"Droning sound at around 2000 rpm was one of my initial complaint. Now at 5000 miles, it seemed to have gotten worse. The engine or transmission makes a buzzing sound (like a vibrating cellphone left on a glass top) exactly between 1800 – 2000 rpm. Nothing below or above it. The most problematic part is that it only does it from a cold start. After a minute of driving it goes away when the engine is warmed up."
Fortunately, the problem isn't related to any powertrain issues or the vehicle's drivability. It's just a constant noise that's annoying to live with especially when cruising at highway speeds.
Solution
Despite the number of complaints for the exhaust drone, Toyota has not yet released a TSB for the issue.
In the meantime, different fixes have been recommended by owners who have experienced the issue.
Some were able to minimize or completely get rid of the droning sound by removing some of the factory exhaust hangers and replacing them with aftermarket ones.
Another Highlander owner reported that they were able to get rid of the noise when their dealer replaced the exhaust manifold.
If these fixes don't work for you, it needs to be further inspected by a mechanic and may take some time to properly troubleshoot.
8. Limited Third Row Space
One of the most common complaints from Highlander owners and auto critics alike is that the third row is just a bit too snug.
In terms of passenger space, its more spacious than the CX-9 but not as spacious as the Chevy Traverse.
However, the Highlander is only one of a few three-row SUVs that comes available as a hybrid.
Solution
Not much you can do about this one sadly.
Related: 19 Best & Worst Toyota Highlander Years (With Facts & Stats)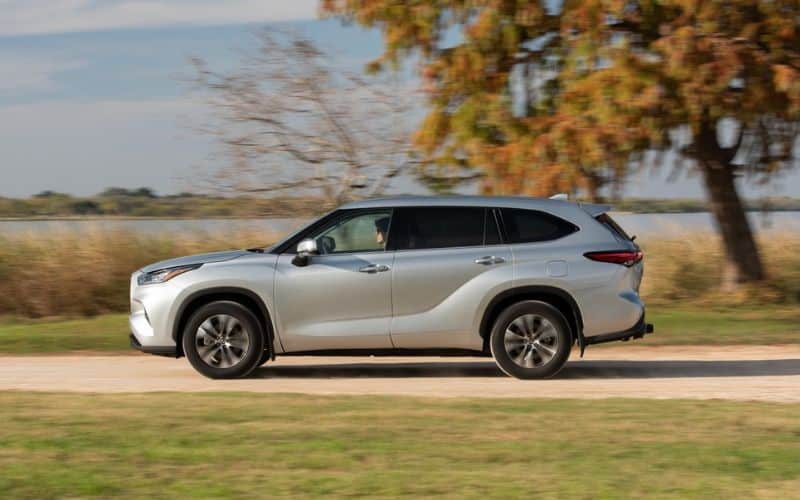 Toyota Highlander Model Years With the Most Problems
To get a better idea of which Toyota Highlander has the most problems the fairest way is to compare models based on the number of vehicles sold in relation to the number of reported problems.
We're using Car Complaints PPMY index which means problems reported per thousand vehicles per Year.
For example, newer cars will have fewer complaints simply because they've been around for less time.
Based on this index, the most problematic years are:
2021 – 0.46 PPMY
2020 – 0.33 PPMY
2019 – 0.28 PPMY
And the least problematic years are:
2016 – 0.09 PPMY
2001 – 0.11 PPMY
2005, 2007 – 0.12 PPMY
Toyota Highlander
Model Year
Problems
Sales
Vehicle Age
PPMY Index
2022
22
–
–
–
2021
93
200,263
1
0.46
2020
73
111,798
2
0.33
2019
236
281,982
3
0.28
2018
186
223,544
4
0.21
2017
214
183,951
5
0.23
2016
106
188,679
6
0.09
2015
191
193,978
7
0.14
2014
130
78,129
8
0.21
2013
249
161,499
9
0.17
2012
203
124,045
10
0.16
2011
210
84,305
11
0.23
2010
247
84,216
12
0.24
2009
159
57,162
13
0.21
2008
455
137,668
14
0.24
2007
143
78,668
15
0.12
2006
317
100,757
16
0.20
2005
275
130,149
17
0.12
2004
330
123,726
18
0.15
2003
309
128,158
19
0.13
2002
336
110,530
20
0.15
2001
160
69,770
21
0.11
Source: Car Problem Zoo
Toyota Highlander Pros and Cons
If you're considering a Toyota Highlander as your next car you might be wondering what its strengths and weaknesses are…
Pros
Lots of seating capacity
Quiet and comfy ride quality
Ample cargo space
Excellent overall reliability
Low maintenance costs
Lots of standard tech and driver assists
Cons
Average handling characteristics
Cramped third-row seats
Lackluster infotainment system
Related: How Long Do Toyota Highlander Hybrids Last? (Solved)
Toyota Highlander Reliability Compared to Similar Cars
Consumer Reports rankings detailed below is based on the model's newest three years, the Toyota Highlander sits at the top, with a great score of 86/100.
| | |
| --- | --- |
| Make & Model | Consumer ReportsReliability Score |
| Toyota Highlander | 86 |
| Mazda CX-9 | 85 |
| Kia Telluride | 84 |
| Hyundai Palisade | 68 |
| Honda Pilot | 53 |
| Chevrolet Traverse | 49 |
| Volkswagen Atlas | 41 |
| Jeep Grand Cherokee L | 35 |
| Dodge Durango | 30 |
| Nissan Pathfinder | 30 |
| Subaru Ascent | 18 |
| Ford Explorer | 8 |
| Kia Sorento | 5 |
Source: Consumer Reports
Toyota Highlander Used Value
We've taken a look on Car Gurus to gauge the resale value of a Toyota Highlander, below are typical asking prices for each model year.
According to Car Edge, a Toyota Highlander will depreciate 21% after 5 years and have a 5 year resale value of $36,496.
Note: Used model prices will vary depending on trim level.
| | | |
| --- | --- | --- |
| Model Year | Mileage (miles) | Resale Price |
| 2022 | 8,544 | $47,199 |
| 2021 | 38,640 | $35,900 |
| 2020 | 24,702 | $36,736 |
| 2019 | 44,939 | $34,529 |
| 2018 | 87,115 | $29,694 |
| 2017 | 55,637 | $30,500 |
| 2016 | 84,329 | $26,495 |
| 2015 | 123,604 | $19,800 |
| 2014 | 186,204 | $15,886 |
| 2013 | 50,810 | $18,077 |
| 2012 | 166,105 | $12,999 |
| 2011 | 150,000 | $11,000 |
| 2010 | 171,507 | $10,990 |
Source: Car Gurus
Related: Toyota Highlander: 12 Common Problems (Useful Guide)
What Do Owners Like and Dislike About the Toyota Highlander?
Based on owner feedback from the Kelley Blue Book site here are what real-life owners love and hate about the Toyota Highlander.
Likes
Spacious
Versatile
Comfortable
Fuel economy
Quiet ride
Design
Dislikes
Slightly pricey
Infotainment system
Brakes
Cruise control
Owners Reviews
"Premium Lexus features are standard in a large Toyota. Get the higher trim level. You won't be disappointed. Maybe my favorite vehicle after many over the years."
Source: Kelley Blue Book
"I've owned many vehicles over the past 45 years; mainly GM products. This Highlander is by far the best and most versatile vehicle yet…"
Source: Kelley Blue Book
"We fell in love with this vehicle because of how comfortable it is. It rides very smoothly but yet it's very powerful. It is extremely roomy inside, it came with the weather tech mats. The technology on this SUV it's amazing…"
Source: Edmunds
How Reliable Are Toyota Cars?
According to a recent report from Consumer Reports, Toyota are ranked the 3rd most reliable car manufacturer out of 28 brands, with a score of 71/100.
| | | |
| --- | --- | --- |
| Ranking | Brand | Score |
| 1 | Lexus | 76 |
| 2 | Mazda | 75 |
| 3 | Toyota | 71 |
| 4 | Infiniti | 69 |
| 5 | Buick | 66 |
| 6 | Honda | 66 |
| 7 | Subaru | 66 |
| 8 | Acura | 64 |
| 9 | Nissan | 63 |
| 10 | Mini | 60 |
| 11 | Hyundai | 56 |
| 12 | Chrysler | 54 |
| 13 | Porsche | 52 |
| 14 | Chevy | 48 |
| 15 | Audi | 47 |
| 16 | Cadillac | 47 |
| 17 | BMW | 45 |
| 18 | Ford | 44 |
| 19 | Kia | 43 |
| 20 | Volvo | 42 |
| 21 | Ram | 40 |
| 22 | GMC | 37 |
| 23 | Mercedes-Benz | 34 |
| 24 | Volkswagen | 31 |
| 25 | Genesis | 30 |
| 26 | Jeep | 26 |
| 27 | Tesla | 25 |
| 28 | Lincoln | 18 |
Source: Consumer Reports
Sources
https://www.consumerreports.org/cars/toyota/highlander/
https://www.carcomplaints.com/Toyota/Highlander/
https://www.carproblemzoo.com/toyota/highlander/
https://www.kbb.com/toyota/highlander/
https://www.edmunds.com/toyota/highlander/
https://caredge.com/toyota/highlander/depreciation