Launched in 2016, the Toyota Mirai is a hydrogen-powered mid-size sedan.
It stores hydrogen gas inside high-pressure tanks and uses it to generate power for an onboard electric motor.
In this article, we'll be analyzing all of the best and worst model years of the Mirai.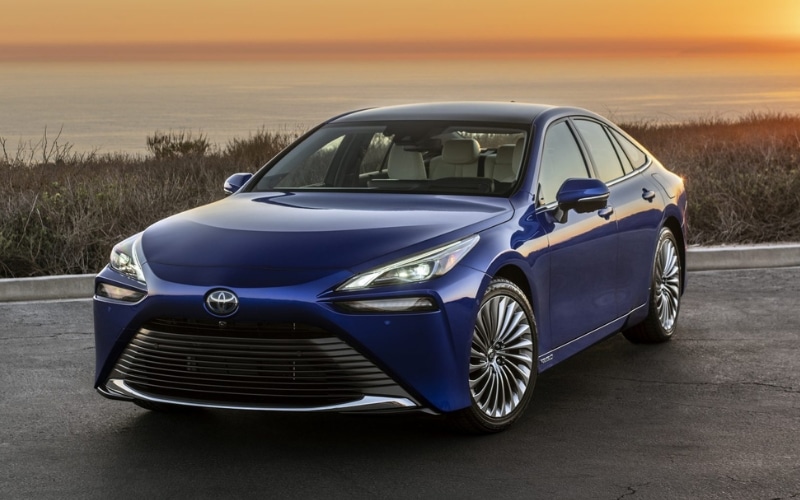 Here's The Short Answer To What The Best And Worst Years For The Toyota Mirai Are:
The best Toyota Mirai model years are 2023, 2022, 2021, 2020, 2019, and 2018. The worst model years of this model are 2017, 2022, and 2016. This is based on auto industry reviews, NHTSA statistics, reported problems, and consumer feedback.
What Are The Best Years For The Toyota Mirai?
2023 Toyota Mirai
The 2023 Mirai sports a smooth ride, a pleasantly trimmed interior, and respectable build quality.
Its electric motor produces 182 hp, and a direct-drive transmission sends those ponies to the rear wheels.
In comparison to its main rival – Hyundai Nexo, the Mirai has a better range (400 miles versus 360 miles).
The 2023 Mirai carried over unchanged from 2022.
It has lots of standard safety features, including the following:
Lane Tracing Assist
Advanced Park
Bird's Eye View Camera
2023 Mirai, Edmunds Review:
"Bought this car over a month ago and have no regrets. I've been looking for an electric car after having a plugin for three years, but I didn't want to wait 4 – 10 weeks for the ones I wanted (Tesla/MachE) to be built. I wanted to take advantage of all the savings and rebates that are offered on EV cars and CA offers better rebates on fuel cell vehicles…"
2021 Toyota Mirai
The 2021 Mirai is a great pick-up thanks to its spacious interior, long driving range, and several standard safety features and driver assistance aids.
New for this model is a complete redesign, a 30% increase in EPA-estimated range, and is built on an identical rear-wheel-drive platform as the Lexus LS.
Owners have praised this model year for the following aspects: interior, handling, steering, comfort, seating, climate control, spaciousness, and minimal road noise.
There are 2 available trims this year: XLE and Limited.
Both trims use the same electric motor making 182 horsepower and 221 lb-ft of torque. The EPA estimates the XLE can go 402 miles before needing a refuel, while the Limited can travel up to 357 miles.
2021 Mirai, Edmunds Review:
"A colleague leased a 2021 Mirai Limited and sang its praises. I started researching and test drove one. Nice! I determined that purchasing the XLE would make sense for me if Toyota upped the incentive to $20K. Right after Labor Day, the incentive bumped from $15K to $20K, so I made a few phone calls. Glided home that evening in a gleaming Oxygen White XLE…"
2020 Toyota Mirai
The 2020 Mirai is a great option thanks to its long-driving range and lots of standard safety features and driver aids.
It is equipped with futuristic technology, modern-day styling, and a great interior and exterior design.
It's a comfortable and quiet vehicle although handling is not its strong suit and is expensive to refuel.
The 2020 Mirai carried over from the previous model year with no notable changes and is part of the first generation introduced for 2016.
2020 Mirai, Edmunds Review:
" … Rides super smooth, great safety features, and the cruise control will drive the car for you on the freeway (even in heavy traffic!) Love the interface, and birds eye camera as well as a camera in both the front and rear! JBL speakers are amazing, seats are too! I love it…"
2019 Toyota Mirai
Despite the limited hydrogen fueling stations available in North America at the time, the 2019 Mirai did a good job of staying relevant for its abundance of features and respectable build quality.
It sports a long driving range, a comfortable ride, a relatively quiet highway driving experience, and a certain level of exclusivity (due to scarcity of units available).
Based on owners' reviews online, these are the noteworthy aspects: reliability, manufacturing quality, seating, safety, comfort, spaciousness, warranty, and fuel efficiency.
2019 Mirai, Edmunds Review:
"We leased our 2019 Toyota Mirai in the first week of May, 2019. We had a Nissan Leaf from 2014 to 2017. What we like about the car: Car feels heavy and safe; The "Warm White" interior is nice and cozy for 4 people; The seats have high quality leather; No sunroof; The longer driving range comparing to most EVs on the market; Our full size cello in the case can fit in the trunk.."
2018 Toyota Mirai
The 2018 Mirai is the third model ever produced, and it takes the final spot on our best list based on its lower customer review score on Edmunds.
If you're on a tight budget and have your heart set on a fuel-cell car, the 2018 Mirai is a good choice.
This model when released was only available in California.
It has been praised for its long driving range that bests most other battery EVs and has a smooth and quiet drive.
Its weaknesses on the other hand are its limited storage space and the availability of hydrogen fuel stations.
2018 Mirai, Edmunds Review:
" … The $15,000 card that Toyota includes with the lease to cover hydrogen refueling should be about twice as much as I'll ultimately spend (note that insurance costs more for the Mirai than my VW so some of the monthly fuel savings is eaten up by that). I don't want to pay the cost for electricity/charging an EV at work and being able to get ~300 miles range by fueling in 5-10 minutes was a lot more appealing to me than going the BEV route, even if hydrogen fueling stations are fairly spare…"
Consumer Scores For Best Toyota Mirai Years
Model Year
Edmunds
Consumer Rating
2023 Toyota Mirai
3.5 / 5.0
2021 Toyota Mirai
3.4 / 5.0
2020 Toyota Mirai
3.0 / 5.0
2019 Toyota Mirai
3.0 / 5.0
2018 Toyota Mirai
2.7 / 5.0
Related: Toyota Mirai Alarm Going Off? (11 Main Causes)
What Are The Worst Years For The Toyota Mirai?
Disclaimer: Problems and complaints logged are low for this model due to the low number of units sold. Take note that this is a niche vehicle that was only sold in limited locations in North America.
2017 Toyota Mirai
The 2017 Mirai, according to available online statistics, has received the most complaints.
While problems were varied, the most concerning complaint for this model is the locking up of the automatic braking system, significantly increasing the likelihood of injuries or vehicular accidents.
"The automatic braking system will lock up when there is nothing in front of the car. It will not give a warning like it is supposed to. I have gotten whiplash and I've hurt my back several times due to this incident. It has also caused major anxiety when driving the car. It almost caused an accident several times. The dealership keeps telling me that nothings wrong, however the issue keeps happening. Nobody's fixing it. A specialist has been checking it out and they also were not able to find anything however the issue is still happening. There have been no warning signs or messages when the brakes lock up for no reason." – NHTSA.gov
A common complaint for this model is related to the difficulty in fitting child car seats. However, this issue can be expected on other model years too.
"I currently have 2 Lexus's and a Mirai. Neither Lexus is an issue installing car seats. However the Mirai is nearly impossible to install car seats. The main reason is because they buried behind the seat so you need to use a lot of strength to lift up the seat cushion and jam the latches in there."
"The child seat latches for car seats are not visible and practically impossible to use. because of the design and material of the seat, it takes a lot of strength and effort to properly find the latches and connect them to car seats." – CarComplaints.com
The 2017 Mirai had a total of 2 complaints on CarComplaints.com and 4 problems based on NHTSA.gov data.
Reported problems:
Child seat installation difficulty
Braking issues
Premature failure of climate control system
2022 Toyota Mirai
The 2022 Mirai received a few complaints for issues with the safety technology, specifically the forward collision avoidance and autonomous braking features.
Forward collision warning (FCW) warns the driver if it detects there's a risk of a crash whilst autonomous emergency braking (AEB) goes one step further by also braking if the driver doesn't respond to the FCW.
" … The faulty performance of the system resulted in an accident and subsequent damage to my vehicle. On November 5, 2022, while operating the vehicle with the Teammate Advanced Drive package engaged, the car failed to stop as intended and collided with a parked car, causing significant damage…"
"Car supposed to stop itself as it has all sensors. Still car rear ended other car."
The 2019 Mirai had a total of 1 complaint on CarComplaints.com and 3 problems based on NHTSA.gov data.
Reported problems:
Poor driving range
FCW didn't work
2016 Toyota Mirai
The 2016 Mirai, the first-ever Mirai model ever produced, had a faulty fuel system according to one owner.
Reportedly, this Mirai did not live up to the driving range that was estimated by the EPA. This was further complicated by the lack of fuel-recharging stations in the region.
" … The vehicle mileage is extremely poor, having to fill up about every 2-3 days. less than 150 miles per tank easily. The vehicle consistently has to be towed when stations are down. Hydrogen stations were down most of april, toyota brand engagement offered a loaner vehicle and there were no vehicles available. Vehicles sold without reliable stations, infrastructure still in progress…" – NHTSA.gov
Another owner complained about vehicle speed control issues.
"Car lost acceleration twice whilst driving." -NHTSA.gov
The 2016 Mirai had a total of 2 problems based on NHTSA.gov data.
Related: 15 Electric Cars With the Best Visibility (With Pictures)
What Years Have The Most Complaints?
Model Year
Complaints
(CarComplaints.com)
Problems
(NHTSA.gov)
Recalls
(NHTSA.gov)
2023 Toyota Mirai
0
0
0
2022 Toyota Mirai
1
3
1
2021 Toyota Mirai
0
0
1
2020 Toyota Mirai
0
1
0
2019 Toyota Mirai
0
2
0
2018 Toyota Mirai
0
0
0
2017 Toyota Mirai
2
4
0
2016 Toyota Mirai
0
2
0
What Problems Do Toyota Mirais Have?
Child seat installation difficulty
Premature failure of climate control system
Poor driving range
What Are The Best Alternatives To The Toyota Mirai?
| | | |
| --- | --- | --- |
| Make & Model | MSRP | Electric Range (Miles) |
| Hyundai Nexo | $61,470 – $64,920 | 380 |
| Toyota Mirai | $50,595 – $67,095 | 402 |
| Honda Clarity | $59,505 | 360 |
Source: cars.usnews.com, edmunds.com
References
https://cars.usnews.com/cars-trucks/used-cars/for-sale/toyota_mirai
https://www.edmunds.com/toyota/mirai/
https://www.kbb.com/toyota/mirai/
https://www.jdpower.com/cars/2023/toyota/mirai
https://www.carcomplaints.com/Toyota/Mirai/
https://www.carproblemzoo.com/recalls/toyota-mirai.php
https://www.cars.com/research/toyota-mirai/recalls/