The RAV4 Hybrid was first sold as a 2016 model alongside the fourth generation model refresh.
The following generation introduced a plug-in hybrid (PHEV) RAV4 Prime model, in addition to the regular hybrid and non-hybrid variants.
RAV4 hybrids are highly sought after because they're only slightly more expensive than the non-hybrid model, but offer better fuel economy and are much quicker.
In this article, we'll take a closer look at some of the most common problems of the RAV4 Hybrid.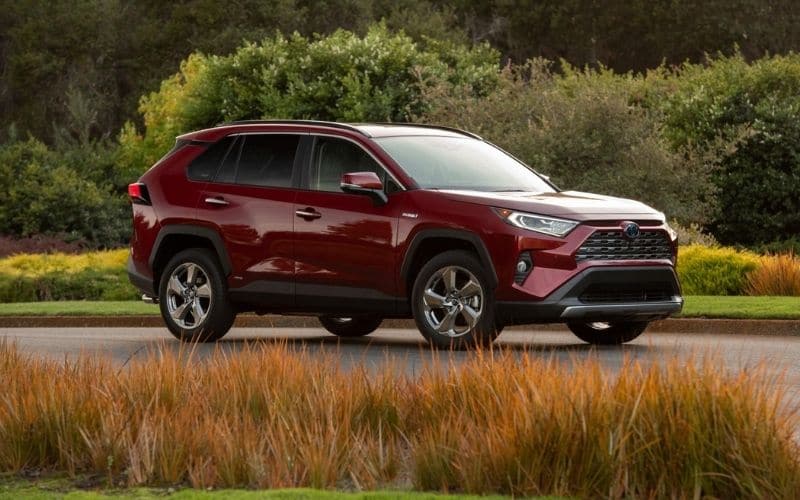 1. Cable Corrosion
A major issue that many RAV4 Hybrid owners have found in the fifth-gen models is excessive corrosion forming on the rear electric motor's electrical connections.
Once the corrosion eats through the wiring harness, the hybrid system starts encountering different errors and will stop working intermittently.
In some cases, the cable corrosion can prevent the car from starting altogether, in which case, you'll need to get it towed to the dealer.
Vehicles that spend a lot of time driving through salt-covered roads are more prone to this issue because salt speeds up the oxidation process.
It's also more likely to happen in the 2019 to 2021 models after 2 to 4 years.
Here's how some unhappy owners described their experience:
"My husband also has a 2020 RAV4 Hybrid. 47k. Same corrosion problem. There's no way this is an issue of wear and tear. He washes the undercarriage enough that this should not happen — especially with such a new car."
"My 2019 Rav4 is at the dealership in Belleville, Ontario with the same problem. They are saying it will be $5,800 to fix it but they have reached out to Toyota Canada – it seems like this is a big problem."
It seems that Toyota dealerships have also been refusing to cover this corrosion issue under the extended hybrid powertrain warranty.
So if the car is already past the standard 3-year/36,000-mile warranty, owners are on the hook for a $5,000 repair to change the wiring harness.
Solution
Toyota slightly modified the rear motor's electrical connector in the 2022 models to alleviate the issue, but it's still largely the same design, so problems could still occur in the future.
It's possible to minimize the chances of excessive corrosion by regularly washing the undercarriage of the car.
However, the manual specifically states to not use a high pressure washer to clean the bottom of the vehicle since it will unnecessarily force water into the electrical system.
A lot of people have also been recommending spraying the connector with dielectric grease to keep rust issues at bay.
2. 12 Volt Battery Drain
Lots of 2019 to 2021 RAV4 Hybrid owners have reported encountering battery drain issues that have prevented them from starting up the vehicle.
In some cases, the 12-volt battery suddenly goes flat if the car isn't used for one or two days.
Car batteries usually have a lifespan of 3 to 5 years, but many RAV4 owners have had battery issues in just a couple of months.
Here are a couple of owner experiences:
"My 2021 RAV4 XLE Hybrid battery died for the second time yesterday and I called in to get it looked at. The dealer service guy said that there MAY be an update that my vehicle did not get (purchased it in October 2020) and scheduled an appointment for today."
"My 2020 RAV4 purchased in August 2020 built in Canada in June 2020 had sat unused for 7 days last week, started up fine on Tuesday. Didn't drive it on Wednesday, and then yesterday battery completely dead."
Of course, there are chances that the car came with a faulty battery from the factory. But with so many reports of this particular issue, there's likely something that's drawing power from the battery even while the car is parked and turned off.
Battery drain issues were also reported in both the hybrid and non-hybrid versions of the Camry and Corolla from the same model years.
Solution
Toyota eventually released a TSB (Technical Service Bulletin) that recommended updating the DCM (Data Communication Module) software and completely resetting it.
The DCM handles all of the car's connectivity features such as cellular data and Wi-Fi.
The battery drain issue is likely caused by the DCM not shutting down completely when the vehicle is turned off, which should be easily resolved by a software update.
There have also been cases where people have needed to get their DCM units replaced, so defective hardware could also be the cause of the battery drain issues.
If you're parking your vehicle for several weeks at a time, it's best to hook it up to a battery tender to make sure the 12-volt battery is always topped up.
Keeping a portable jump pack inside the vehicle is also a good idea so you won't always have to wait for someone to give you a jump start.
3. Fuel Tank Issue
Lots of 2019 to 2021 RAV4 Hybrids have had widespread issues with the fuel tank not accepting the right amount of fuel.
It's currently the most reported issue for the RAV4 Hybrid on Car Complaints, which is a website that's dedicated to collecting car owner feedback.
The RAV4 Hybrid's fuel tank can take up to 14.5 gallons of fuel and provide up to 580 miles per tank. But lots of owners have reported that they've only been able to put in around 10 gallons and around 400 to 450 miles per tank.
Here's how some owners reported their experience:
"The RAV4 Hybrid is supposed to have a 14 gallon tank. After 3 fill ups, I'm only able to add 10.2 gallons before it says it's full. I've tried topping it off but can only get a 1/4 gallon of gas extra. I wait until the low fuel light comes on and it says I have 25-35 miles left."
"Cannot get this car to accept a full tank of fuel no matter what I try. Only will accept about 10 gallons even though the fuel gauge shows almost empty and the DTE meter is on 10 miles to empty."
"The 2019 Rav4 Hybrid with a 14.5 gallon gas tank should have a range of almost 600 miles. HOWEVER, it is impossible to fill the tank to full. If you go with a nearly empty tank, you have to put the pump on SLOW, and if you are lucky you get 8 to 9 gallons without holding onto the pump. After that you have to hold it just so, so that it is going very slowly, or it will back up and cut off."
Solution
To get the fifth gen RAV Hybrid's advertised tank capacity and range, the car has to be taken to the dealer for a fuel tank and fuel sender replacement.
Toyota released a TSB in October 2020 and updated the RAV4 Hybrid's fuel tank and fuel sender gauge to correct the issue.
So far, people who have had their fuel tank replaced have not reported any further issues.
4. Excessive Noise
One of the most common complaints we've come across from RAV4 Hybrid owners is the amount of noise the vehicle makes.
Here's what one owner had to say:
"The car itself is comfortable and looks nice. The only downside is that the vehicle makes sounds at all times like multiple pieces are loose on the interior… there are rattles in the cabin from every direction that cannot seem to be found or fixed. If noises bother you, this one will definitely be a deal breaker"
One owner even described the engine as agricultural sounding due to the loud noise it makes.
Solution
Sadly, there is no fix for this, it's just the way the vehicle has been made.
Related: 8 Most Common Toyota RAV4 Prime Problems (Explained)
5. Roof Leak
Many 2019 to 2021 RAV4 Hybrids have also had issues with water leaks coming from the roof.
Owners typically only start noticing the leak once it starts seeping through the headliner which causes unsightly water stains.
It's also a common issue on non-hybrid fifth gen RAV4s and is caused by the roof rail gaskets prematurely wearing out in just a couple of years.
Here is how some owners described their experience:
"Roof leaks in heavy rain or car wash. Water stains noted on the A-Pillars (straddle the windshield) requiring replacement of the headliner. Concern of water damaging the air bags in the pillars. Now leaking through the front ceiling light with heavy rain."
"The roof rails in my 2019 RAV4 Hybrid are leaking into my car. Toyota dealership is aware of this issue in my hometown as I'm not the only person to come forward with this however stated that being there isn't a recall there is nothing they can do."
Solution
The only way to get rid of the roof leaks is to take the car to the dealership to get the roof rails and gaskets replaced.
Toyota redesigned these parts in the middle of 2021 amidst the number of customer complaints coming in.
Unfortunately, several owners have reported that replacing the stained headliner is not part of the repair.
RAV4s from 2022 onwards should not have this issue because they will already be fitted with the updated parts from the factory.
6. Poor Fuel Economy in Cold Weather
Several RAV4 Hybrid owners have been disappointed with the car's fuel economy in cold weather.
Instead of getting 40+ miles per gallon as advertised, winter conditions seem to make the fuel economy drop to 30 to 35 mpg.
This is quite normal because when the weather gets colder, the car's hybrid battery has less battery capacity since the chemical reactions that allow it to produce energy are significantly slowed down.
Turning on the heater and other creature comforts also puts additional drain on the battery which causes the car to switch to gas power more frequently.
Solution
Unfortunately, fuel economy and electric range in any hybrid or EV will always go down the drain in frigid conditions.
If the weather isn't too bad, you can turn off the heater and open the vents to let warm air in and significantly improve your fuel economy.
This is where heated seats can really come in handy. Even if the heater is turned off, you can still feel cozy inside the car with just the heated seats and some help from the open vents.
7. Electrical Wiring Damage
A lot of the RAV4 Hybrid's electrical wiring uses soy-based insulation which attracts rodents like rats and squirrels.
These small animals can easily chew through the car's wiring and cause all kinds of havoc on the electrical system.
This issue occurs in cars from lots of other brands as well. It's not really a new problem since older cars also suffered from wiring damage caused by rodents even if they used rubber or plastic insulation.
But since soy-based insulation is biodegradable and edible, they're much more prone to damage than before.
In addition, the RAV4 Hybrid depends on a lot more electronics than the non-hybrid model, so even minor wiring damage can keep the car from starting up properly.
Solution
Parking the vehicle inside a garage reduces the chances of rodents and pests getting into your car's engine bay and its other nooks and crannies.
It's also a good idea to keep food, such as pet food and bird seed, away from the car so that rodents aren't tempted to take up residence inside the engine bay.
You can also use traps and other deterrents to keep the rodent and pest population around your parking area to a minimum.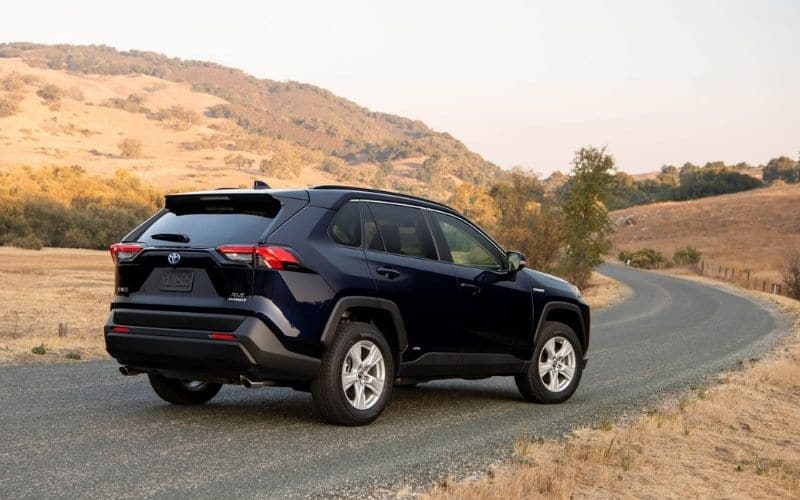 Toyota RAV4 Hybrid Pros and Cons
If you're considering a Toyota RAV4 Hybrid as your next car you might be wondering what its strengths and weaknesses are…
Pros
Faster than non-hybrid models
Lots of standard driver assists and safety tech
Spacious for passengers and cargo
Available as Plug-In Hybrid
Versatile and practical
Comfortable and easy to drive
Outstanding reliability
Cons
Lacks exciting driving dynamics
Slightly outdated infotainment system
Cabin can be noisy
One of the more expensive options in the segment
Related: How Long Do Toyota RAV4 Hybrid Hybrids Last? (12 Important Facts)
Toyota RAV4 Hybrid Reliability Compared to Similar Cars
Consumer Reports rankings detailed below is based on the model's newest three years, the Toyota RAV4 sits near the bottom, with a relatively poor score of 44/100.
| | |
| --- | --- |
| Make & Model | Consumer ReportsReliability Score |
| Hyundai Tucson | 87 |
| Honda CR-V | 80 |
| Mazda CX-5 | 80 |
| Subaru Forester | 80 |
| Toyota RAV4 | 44 |
| Ford Escape | 25 |
Source: Consumer Reports
Related: 25 Best & Worst Toyota RAV4 Years (With Facts & Stats)
Toyota RAV4 Hybrid Used Value
We've taken a look on Car Gurus to gauge the resale value of a Toyota RAV4 Hybrid, below are typical asking prices for each model year.
According to Car Edge, a Toyota RAV4 Hybrid will depreciate 21% after 5 years and have a 5 year resale value of $27,757.
Note: Used model prices will vary depending on trim level.
| | | |
| --- | --- | --- |
| Model Year | Mileage (miles) | Resale Price |
| 2022 | 446 | $39,591 |
| 2021 | 36,000 | $33,500 |
| 2020 | 47,301 | $37,971 |
| 2019 | 50,933 | $30,777 |
| 2018 | 91,155 | $22,995 |
| 2017 | 158,979 | $17,880 |
| 2016 | 141,200 | $19,835 |
Source: Car Gurus
What Do Owners Like and Dislike About the Toyota RAV4 Hybrid?
Based on owner feedback from the Kelley Blue Book site here are what real-life owners love and hate about the Toyota RAV4 Hybrid.
Likes
Fuel economy
Easy to drive
Spacious
Safe
Comfortable
Dislikes
Engine noise
Transmission
Old technology
Takes too long to charge
Owners Reviews
"It's a Toyota so it will last a long time with minimal problems. The car itself is comfortable and looks nice. The only downside is that the vehicle makes sounds at all times like multiple pieces are loose on the interior… there are rattles in the cabin from every direction that cannot seem to be found or fixed. If noises bother you, this one will definitely be a deal breaker." 4/5 Stars
Source: Kelley Blue Book
"Its a great car overall. I bought it in large part for the gas mileage. I have had the car almost a year (I have the 2019 model) and I get closer to 33 MPG combined, not the 40 MPG advertised. This combined with the fact that the tank is 10 gallons, not 15 gallons (as advertised) means I am filling up much more often than I wanted to. Other than that, I am fairly happy with the purchase." 3/5 stars
Source: Edmunds
"Recently traded in our Highlander for a 2022 RAV4 Limited Hybrid to take advantage of the high value the HL retained, plus to secure better MPG.
Pros:
The higher MPG, seeing 40 on secondary roads
High build quality
A lot of features
LED headlights – excellent at night
A power passenger seat
Great sight lines
Limited blind spots
Sprightly acceleration
Firm, but comfortable seats
Cons:
Noise, noise and more noise. Engine sounds almost agricultural – this could be a deal breaker for many
Toyota safety technology annoying as …. Quickly turned all but BSM off.
No convenient coin holder. Was used to the one in the HL."
4/5 stars
Source: Edmunds
How Reliable Are Toyota Cars?
According to a recent report from Consumer Reports, Toyota are ranked the 3rd most reliable car manufacturer out of 28 brands, with a score of 71/100.
| | | |
| --- | --- | --- |
| Ranking | Brand | Score |
| 1 | Lexus | 76 |
| 2 | Mazda | 75 |
| 3 | Toyota | 71 |
| 4 | Infiniti | 69 |
| 5 | Buick | 66 |
| 6 | Honda | 66 |
| 7 | Subaru | 66 |
| 8 | Acura | 64 |
| 9 | Nissan | 63 |
| 10 | Mini | 60 |
| 11 | Hyundai | 56 |
| 12 | Chrysler | 54 |
| 13 | Porsche | 52 |
| 14 | Chevy | 48 |
| 15 | Audi | 47 |
| 16 | Cadillac | 47 |
| 17 | BMW | 45 |
| 18 | Ford | 44 |
| 19 | Kia | 43 |
| 20 | Volvo | 42 |
| 21 | Ram | 40 |
| 22 | GMC | 37 |
| 23 | Mercedes-Benz | 34 |
| 24 | Volkswagen | 31 |
| 25 | Genesis | 30 |
| 26 | Jeep | 26 |
| 27 | Tesla | 25 |
| 28 | Lincoln | 18 |
Source: Consumer Reports
Related: 6 Most Common Toyota RAV4 Problems (Explained)
Sources
https://www.consumerreports.org/cars/toyota/rav4/
https://www.carcomplaints.com/Toyota/RAV4_Hybrid/
https://www.carproblemzoo.com/toyota/rav4/
https://www.kbb.com/toyota/rav4-hybrid/
https://www.edmunds.com/toyota/rav4-hybrid/
https://caredge.com/toyota/rav4/depreciation
https://www.cargurus.com/Cars/l-Used-Toyota-RAV4-Hybrid-d2318