The Volvo XC40, introduced as a 2019 model year, is a well-rounded subcompact luxury SUV.
Boasting a refined Swedish design it is one of the highest rated models in the segment.
In this article, we'll be taking a look at all of the best and worst model years of the XC40.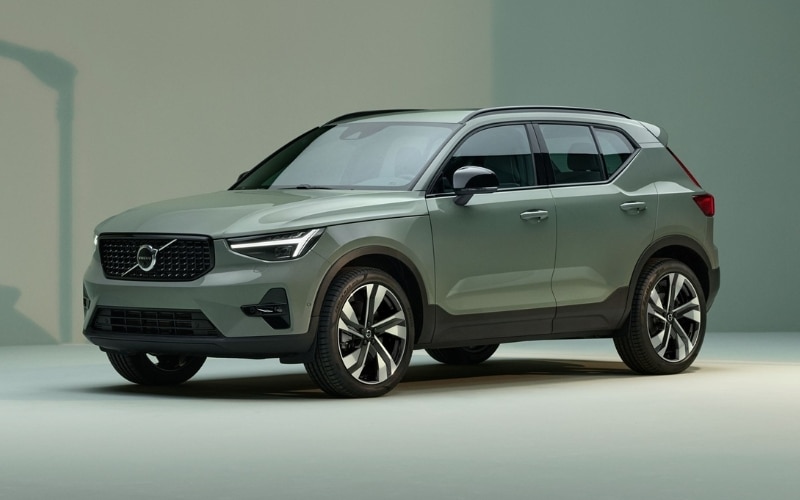 Here's The Short Answer To What The Best And Worst Years For The Volvo XC40 Are:
The best Volvo XC40 model years are 2024, 2023, 2022, and 2020. The worst model years of this model are 2021 and 2019. This is based on auto industry reviews, NHTSA statistics, reported problems, and consumer feedback.
What Are The Best Years For The Volvo XC40?
2024 and 2023 Volvo XC40
The 2024 and 2023 XC40 models are the most technologically advanced to date. Known primarily for their sleek appearance and excellent safety scores, these models offer a plethora of driver assist features, state-of-the-art tech, and great visibility.
New for 2023 is a built-in Google infotainment system, enhanced fuel economy from a new mild hybrid system, and revamped trim levels.
There are a total of 10 trim levels, with base pricing ranging from around $37,000 to $48,000.
These variations can be condensed into 3 main trims: Core, Plus, and Ultimate.
Within the trim levels are a choice of two engines.
The base B4 is a 2.0-liter turbo four-cylinder making 194 horsepower driving the front wheels with an EPA-estimated 27 mpg.
The B5 engine produces 247 hp, comes with all-wheel drive and a fuel economy of 26 mpg.
These XC40 models are equipped with a mild hybrid system allowing quicker acceleration, smoother shifting, and a more seamless engine start-stop.
2023 Volvo XC40:
Edmunds: 3.4 / 5.0
Kelley Blue Book: 4.5 / 5.0
J.D. Power: 75 / 100
2023 XC40, Edmunds Review:
"A really good little crossover, pretty good luxury features for the price, very minimal and quite reliable so far. The infotainment is a bit annoying because it doesn't make android auto full-screen and the seats could be a bit more premium. It's definitely nicer to live and drive than the CX-5 or CX-30, especially when it comes to comfort and features…"
2022 Volvo XC40
The 2022 XC40 is packed with tech and safety features whilst delivering on performance and good looks too.
It has a classy interior made from high-quality materials, clever storage solutions and a surprisingly comfortable ride.
There are 3 main trims: Momentum, R-Design, and Inscription.
Each trim comes fitted with a turbocharged 2-liter 4-cylinder engine but with 2 configurations: T4 and T5.
The T4 engine offers 187 horsepower while the T5 engine can provide 28 horsepower. The former is a front-wheel-drive while the latter is an all-wheel-drive.
Both engine setups are equipped with an 8-speed automatic transmission system.
The NHTSA has awarded this model a 5-star safety rating based on a variety of crash tests.
Edmunds: 3.4 / 5.0
Kelley Blue Book: 4.5 / 5.0
J.D. Power: 75 / 100
2022 XC40, Edmunds Review:
" … Interior wise, very Scandinavian. Clean lines, solid, utilitarian design. Heating gets a little noisy and transmission could be a little hesitant. Safety features saved me from close calls with pedestrians and cyclists on busy city streets. Not perfect, but close enough."
2020 Volvo XC40
The 2020 XC40 is the second-ever XC40 produced. It is notably more reliable than the previous model year which experienced some teething issues.
It has a fun-to-drive nature and a long list of high-tech features such as integrated voice controls and an optional Harman Kardon audio system.
Changes for 2020 include cloth and faux-leather upholstery for the base trim (replacing the previously used leather) and more standard features for the R-Design and Inscription trims.
Fuel economy estimates from the EPA place combined city and highway driving at 27 MPG.
According to owners' reviews, these are the highlights of the vehicle: handling, steering, appearance, comfort, safety, ride quality, climate control, and transmission.
Auto critics, on the other hand, have praised its spaciousness and pleasing interior.
Edmunds: 4.1 / 5.0
Kelley Blue Book: 4.5 / 5.0
J.D. Power: 76 / 100
2020 XC40, Edmunds Review:
"3 years and I still love this little car. In fact, I love it so much that I am upgrading to the new XC40 Recharge in March and can't wait. I can't say enough how fun this little SUV is…"
Consumer Scores For Best Volvo XC40 Years
Model Year
Edmunds
Consumer Rating
Kelley Blue Book
Consumer Rating
J.D. Power
Consumer Rating
2024 Volvo XC40
–
–
–
2023 Volvo XC40
3.4 / 5.0
4.5 / 5.0
75 / 100
2022 Volvo XC40
3.4 / 5.0
4.5 / 5.0
75 / 100
2020 Volvo XC40
4.1 / 5.0
4.5 / 5.0
76 / 100
Related: How Long Do Volvo XC40 Last? (Solved & Explained)
What Are The Worst Years For The Volvo XC40?
2021 Volvo XC40
The 2021 XC40 is the most complained about model year produced based on NHTSA statistics. The majority of the complaints are filed under the electrical system category.
It is worth noting that many of the complaints are for the XC40 Recharge models which were prone to battery failure due to software issues with the Battery Energy Control Module (BECM).
"Catastrophic failure of the power system. All functions ceased and the car was dead towed on a flatbed truck… The repair indicated the cause was the Battery Energy Control Module (BECM)." – nhtsa.gov
"Complete power failure. The main battery failed due to a software failure from The Battery Energy Control Module (BECM). The entire car stopped working." – nhtsa.gov
"Complete power failure of all electrics, Volvo XC 40 Recharge Vehicle has had recall update of software and additional software update. This is the second complete power failure" – nhtsa.gov
For the non-hybrid models, there were a number of complaints due to the windshield cracking far too easily.
"Had a cracked windshield, Volvo replaced with OEM. Another pin head size rock chip resulted in another cracked windshield." – nhtsa.gov
"Front windshields crack from left or right pillar about 1/2 way up. I'm on my 3rd windshield. The forums for the XC40 are ALL having the same issue." – nhtsa.gov
Issues with Forward Collision Avoidance were also reported due to instances of phantom braking and collision detection errors.
The 2015 XC40 had a total of 28 problems reported on the NHTSA website.
Common problems:
Electrical system failure
Windshield cracked
Forward Collision Avoidance problems
Complete power failure
2021 Volvo XC40
2019 Volvo XC40
The 2019 XC40 was the first model produced, it's not a clunker by any means although a safer choice would be one of the newer models. It has the most recall campaigns and the second highest number of complaints on the NHTSA website.
Recalls were filed due to the following:
Automatic Emergency Braking may not engage
No GPS location in the event of a crash
Brake pedal may be loose
Missing rear seat back lock strikers
Airbag-related issues have been reported by a number of owners.
"After less than 2 months air bag system failed at only 2400 mile mark. Suggest entire brand be recalled since it is a new model it was not tested properly. I am in danger and afraid to drive the car." – nhtsa.gov
"The contact stated while driving at various speeds, while his wife was seated in the passenger's side front seat using an orthopedic back support, the air bag warning light illuminated."
Owners also reported various problems with the driver assist tech, most of which are related to the forward collision avoidance feature and automatic emergency braking.
"The Volvo Intellisafe system automatically applied the brakes when there was nothing in front of the vehicle to brake for. it has done this 8 times, 3 times after i had the car in to repair this problem."
"I was involved in an accident with my 2019 Volvo xc40. I believe the cause of the accident was due to the emergency braking system that activated when I hit water that accumulated on the road I was traveling."
"The contact stated that the forward collision avoidance feature failed to operate properly. while slowing the vehicle down to 20 mph, the vehicle would begin accelerating independently."
The 2019 XC40 had a total of 19 problems reported on the NHTSA website.
Common problems:
Seat seams coming apart
Forward collision errors
Airbag warning light on
Blocked park assist sensors
Related: Where are Volvo XC40 Made (Solved & Explained)
What Years Have The Most Complaints?
Model Year
Complaints
(CarComplaints.com)
Problems
(NHTSA.gov)
Recalls
(NHTSA.gov)
2024 Volvo XC40
–
–
–
2023 Volvo XC40
1
4
2
2022 Volvo XC40
0
13
1
2021 Volvo XC40
0
28
3
2020 Volvo XC40
1
7
1
2019 Volvo XC40
9
19
4
What Problems Do Volvo XC40s Have?
Seat seams coming apart
Forward collision errors
Airbag warning light on
No rear seat lighting
Excessive coolant consumption
Windshield cracked
What Are The Best Alternatives To The Volvo XC40?
| | | | |
| --- | --- | --- | --- |
| Make & Model | Score | MSRP | Fuel Economy (MPG) |
| BMW X1 | 8.9 | $38,600 | City: 25 /Highway: 34 |
| Volvo XC40 | 8.1 | $36,350 – $46,500 | City: 23 – 24 /Highway: 30 – 32 |
| BMW X2 | 8.0 | $36,600 – $38,600 | City: 24 / Highway: 31 – 32 |
| Audi Q3 | 7.9 | $36,800 – $39,200 | City: 21 – 23 /Highway: 28 – 30 |
| Mercedes-Benz GLA-Class | 7.6 | $37,500 – $56,650 | City: 20 – 24 /Highway: 25 – 34 |
| Cadillac XT4 | 7.4 | $36,295 – $43,295 | City: 22 – 23 /Highway: 29 – 30 |
| Jaguar E-Pace | 7.2 | $48,000 | City: 20 /Highway: 26 |
| Land Rover Range Rover Evoque | 7.2 | $45,000 – $55,300 | City: 20 – 21 /Highway: 26 – 27 |
Source: cars.usnews.com, edmunds.com
Related: 15 Electric Cars With the Best Visibility (With Pictures)
References
https://www.caranddriver.com/volvo/xc40
https://cars.usnews.com/cars-trucks/volvo/xc40
https://www.edmunds.com/volvo/xc40/
https://www.kbb.com/volvo/xc40/
https://www.jdpower.com/cars/2023/volvo/xc40
https://www.carcomplaints.com/Volvo/XC40/
https://www.carproblemzoo.com/tsb/volvo/xc40/
https://www.cars.com/research/volvo-xc40/recalls/