The Volvo XC70 is a premium wagon that was sold in the US for the 2003 to 2016 model years.
For driving on dirt and gravel roads in luxury, it's a great choice – but it's not without its issues.
This article cover the most commonly reported XC70 problems based on real-life owner reports.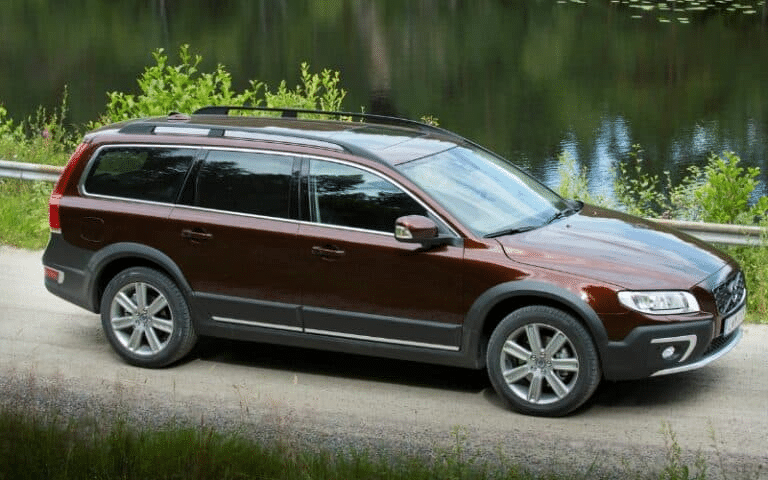 1. Leaking Fuel Pump
One of the most widely reported problems with earlier models of the XC70 is a leaking fuel pump due to a cracked flange. This affected 2001-2002 models when it was known as the V70 XC and 2003-2004 XC70s.
Owners reported smelling gasoline and upon further inspection noticed that the fuel pump was leaking and in most instances, the fuel pump was cracked.
Here is what owners had to say:
"Overwhelming smell of gasoline, poor starting, brought automobile to Volvo mechanic (since 1976) determined factory Volvo fuel pump was leaking through the housing, gasoline all over back seats, top of gas tank, engine. Same occurred July, 2009 on a 2002 Xc70, belonging to my mother, mine is a 2003." – NHTSA.gov
"Started smelling gasoline when driving, and noted dripping under gas tank when parked. I removed the fuel pump cover in the floorboard, and there is a leak in the top of the fuel pump, that drips constantly while the ignition is on." – NHTSA.gov
Solution
The fuel pump assembly will have to be replaced, and a recall titled "220" was issued.
There have been reports of dealers offering this for free, even if the vehicle is not covered by the recall, as it's such a common issue.
"Yup. I had this. There was a recall on this pump. Although my 2004 xc70 was out of range of the recall, I called Volvo anyway and explained the situation to them. Since it was a safety issue, they agreed to "try to pay for it." So they set up an appt at my local dealer, I went and paid the $70 diagnosis fee, had the problem confirmed, and Volvo actually paid for the whole thing. I was super surprised!" – VolvoXC.com/forums
2. Front Coil Spring Failure
A commonly reported problem on XC70 models is failure of the front suspension coil spring, this has been reported on models from 2003 – 2007.
The coil spring is an integral part of the car's suspension that helps support the weight of the vehicle and maintains the proper ride height.
Owners have reported that the springs have fractured or cracked. In many reports, the spring has then punctured the tire – at high speeds this could be lethal.
"Loud rattle noise front driver's side. I was on my way for service for the 110,000 checkup. My mechanic said it was the front coil spring that let go. He said he has had 9 other cars in the shop in the past 2 weeks with the identical problem." – NHTSA.gov
"While my car was parked inside my garage there was a sudden "bang". The following morning I discovered while backing out of garage that the driver side coil spring had broken. Had I been driving while this happened it would have resulted in the shredding of the front driver side tire possibly resulting in a severe accident." – NHTSA.gov
"Broken front coil springs on both the driver and passenger sides. Occurred in two separate incidents and both incidents occurred while pulling straight out of the garage." – NHTSA.gov
Solution
The fix for this issue is to replace the broken coil spring.
If you have a broken spring it would be safer to have the car towed to a garage to avoid risking any tire or shock damage which could cost a lot more than a tow.
Related: 14 Best & Worst Volvo XC70 Years (With Facts & Stats)
3. Windshield Leaks
A commonly reported problem for 2009 – 2013 XC70 models is that the windshield seal leaks causing water to run down the inside of the windshield and damaging the interior. This also leads to excess condensation causing visibility issues.
Here is what a handful of owners had to say:
"The windscreen seal has failed. Water leaking into the overhead lighting fixture and main cabin. This will ruin the car, and shouldn't happen to any car. The windscreen, when properly attached to the body, contributes to the structural integrity and crashworthiness of the vehicle. If the screen is only partly bonded, any stress could detach it and the upper part of the body would suffer reduced strength integrity. I can push the windscreen out with my hand." – NHTSA.org
"Windshield sealant is deteriorating and glass is no longer fully attached to frame. Water is coming directly in from openings along driver's side roof and pooling under pedals." – NHTSA.org
"The windshield seal has failed causing rain water and melting snow and ice to come in the car and flow down the windshield and impair vision through the windshield. This has become a safety concern when driving in snow and rain. The water dripping down on the controls is also a safety concern and distraction while driving." – NHTSA.org
Solution
The fix for this is to have the windshield seal replaced.
It's best to leave this job to the professionals however if you are going to do it yourself sealant can be bought for around $10 online or at an auto parts store.
In some cases the entire windshield may need to be removed and set with a new seal.
4. TPMS Valve Failure
Owners of 2007 – 2011 XC70s have reported failure of the Tire Pressure Monitoring System (TPMS) valves and that the valves would break off due to corrosion. The failure of this valve causes the loss of tire pressure and can be very dangerous should the valve break whilst the car is being driven.
Reportedly, this issue was caused by dissimilar metals being used and coming in contact with each other – brass threads of the TPMS sensor and the aluminum wheels.
"Tire pressure monitoring system catastrophic failure. While checking the tire air pressure routinely, two separate tire valves broke off and the tires went flat immediately. Volvo refused to cover the repair ($100 per valve and pressure monitoring sensor). I replaced all 4 at the local tire shop. This is a dangerous and possibly life-threatening problem. What if the valves broke off while I was on the highway? to add insult to injury, the replacement parts (Volvo # 31302096 made in france) are exactly the same and have no corrosion resistance or rubber covering to protect them. Volvo should be made to recall all of these wheels and tire pressure monitoring valve stems and sensors and replace them with corrosion-resistant units." – NHTSA.org
"Tire pressure monitoring system failed. On two separate occasions (4/14/14 and 8/25/14) low pressure light came on. When checking tire pressure, the stems disintegrated. Tires went flat. Replaced flat tire with spare and drove to local tire shop. The tire service mechanic told us the replacement part is the exact same part that corroded initially. Called Volvo with no satisfactory response. Said it was not on any recall list. Informed them of my concerns for a potentially catastrophic situation. After researching the problem, found there are other complaints about this tpms sensor. Why no recall?" – NHTSA.org
Solution
The solution for this is to replace the valve stems.
However, the optimal solution is to use parts that are not susceptible to corrosion.
5. Defective Fuel Sensor
A number of 2008 – 2009 XC70 owners have reported stalling issues. The issue is that the fuel sensor is not reporting the correct amount of fuel in the tank, causing the fuel gauge to show the wrong amount of fuel, and thus owners run out of gas whilst driving.
Here are some examples taken from CarProblemZoo.com
"A 2008 Volvo Xc70 with approximately 30,000 miles stalled while driving about 30 mph. The fuel gauge indicated 1/4 tank and the low fuel indicator on the dash was not on. The vehicle had run out of gas."
"2008 Volvo Xc70 had a defective fuel tank. Consumer states that the fuel tank was defective because it registered a half tank of fuel on the gauge, but the vehicle ran out of gas."
"While driving along with fuel indicator reading 1/4 – 1/2 tank remaining, my 2008 Xc70 engine completely stalls out. This has happened twice and both times could have been potentially very dangerous."
Solution
Owners have reported that despite taking their XC70s to the dealer to have repairs carried out, the problem has persisted.
"Volvo dealership states it will cost approx. $800 to diagnose the problem with fuel sensor and they are unable to quote a potential cost for the repair without the diagnosis. The loss of control when car runs out of gas is dangerous and terrifying. Even if we could afford the diagnosis and repair, there is no guarantee that this will not happen again." – CarComplaints.com
6. Coolant Leak
Across the various Volvo owner's forums, you will find many threads on coolants leaks and leaking radiators. Its a commonly reported issue with the XC70, mainly on 2003-2007 models.
"I have owned this car since new [2004 XC70]. Have replaced the crummy radiator twice now…in recent weeks have noticed a small leak again." – SweedeSpeed.com
"Then the radiator started to leak, drivers side, another common problem. Did not have time to do this myself, $700." – VolvoXC.com/forum
"Springs are a known issue in rust (SALT) areas, as are the POS radiators (with ALL Volvos of that era)." – VolvoXC.com/forum
Solution
Some owners have reported replacing the radiator to solve the issue although others have reported replacing the expansion tank cap with a new one.
What Years Have The Most Problems?
Model Year
Problems
(CarProblemZoo.com)
Sales
Recalls
(NHTSA.gov)
2016 Volvo XC70
6
7,380
2
2015 Volvo XC70
5
7,585
1
2014 Volvo XC70
1
2,361
2
2013 Volvo XC70
6
5,444
2
2012 Volvo XC70
17
5,829
2
2011 Volvo XC70
18
5,322
3
2010 Volvo XC70
15
6,396
5
2009 Volvo XC70
17
4,720
5
2008 Volvo XC70
50
12,977
8
2007 Volvo XC70
35
13,360
2
2006 Volvo XC70
21
13,048
3
2005 Volvo XC70
30
13,368
3
2004 Volvo XC70
111
24,497
4
2003 Volvo XC70
29
9,290
5
Pros & Cons
Pros
Excellent safety scores and features
When equipped with AWD is excellent for driving in inclement weather
Newer models have a fuel-efficient 4-cylinder engine
Ample cargo capacity
Subtle styling
Modern interior
Excellent seat comfort
Potent turbocharged engine
Cons
Sub-par fuel economy on older models
Poor braking distances
Uninspiring handling
Mediocre rear seat room
Unintuitive navigation system on older models
Reliability Compared to Other Models
| | |
| --- | --- |
| Model | Reliability |
| Lexus RX450h | 4.0 / 5.0 |
| Acura MDX | 4.0 / 5.0 |
| Lexus RX350 | 4.0 / 5.0 |
| Infiniti FX35 | 3.5 / 5.0 |
| Lexus GX460 | 3.5 / 5.0 |
| Volvo XC70 | 3.5 / 5.0 |
| Cadillac SRX | 3.5 / 5.0 |
| Volvo XC90 | 3.5 / 5.0 |
| Lincoln MKX | 3.0 / 5.0 |
| Mercedes-Benz ML350 | 3.0 / 5.0 |
| Audi Q5 | 3.0 / 5.0 |
| Mercedes-Benz ML550 | 2.5 / 5.0 |
| Land Rover LR4 | 2.0 / 5.0 |
| Porsche Cayenne | 1.5 / 5.0 |
| Avg. Luxury Midsize SUV | 4.0 |
Source: RepairPal.com
What Do Owners Like and Dislike About The XC70
Likes
Safe, great acceleration, roomy
T5 engine has decent gas mileage
Many features
Solid build, quiet and comfortable, fast.
Smooth, quiet and supremely comfortable.
Comfort, acceleration, cargo capacity, handling
Stylish, versatile, reliable workhorse.
Dislikes
Repairs can be pricey. Poor gas mileage.
Lacks ventilated seats
Gas mileage
Ho-hum performance and terrible gas mileage
It'd be nice if the rear seats reclined.
Maybe not the quietest car ride but so what?
Source: KBB.com
Owners Reviews
"I have had this car for a little bit now, and love every thing about it! i have heard that they have some problems but mine has held up fine. This car is amazing off road and in the snow." – 4/5 stars, 2010 Volvo XC70
"Volvo has read my mind- all my "issues" with my 2008 standard XC70 have been completely corrected in the 2011 T6 model. It is absolutely worth the extra $ for the turbo version. I traded in my 2008 and a 2008 BMW M3 on this Volvo and I don't miss the BMW at all because the new Volvo is so much fun to drive. The best of both worlds. Way to go, Volvo!" – 5/5 stars, 2011 Volvo XC70
"I purchased my 2006 Volvo XC70 at a local auto auction with 137,000 miles on it. The Volvo was a workhorse! I drive my cars fast and hard and the Volvo took a beating. It was fast and smooth. The Volvo was also extremely comfortable. The car was versatile and fun to drive." – 4/5 stars, 2006 Volvo XC70
"A lot of road noise, window seals had to be replaced 2x's, still inadequate. When they replaced window seals, primer damaged paint. Radio and interior music enjoyment is terrible. Bearings (3) went at 51,000 miles, 1000 miles over warranty." – 2.5 stars, 2004 XC70
Source: Edmunds.com
How Reliable Are Volvo Cars?
According to a recent report from Consumer Reports, Volvo are ranked the 20th most reliable car manufacturer out of 28 brands, with a score of 42/100.
| | | |
| --- | --- | --- |
| Ranking | Brand | Score |
| 1 | Lexus | 76 |
| 2 | Mazda | 75 |
| 3 | Toyota | 71 |
| 4 | Infiniti | 69 |
| 5 | Buick | 66 |
| 6 | Honda | 66 |
| 7 | Subaru | 66 |
| 8 | Acura | 64 |
| 9 | Nissan | 63 |
| 10 | Mini | 60 |
| 11 | Hyundai | 56 |
| 12 | Chrysler | 54 |
| 13 | Porsche | 52 |
| 14 | Chevy | 48 |
| 15 | Audi | 47 |
| 16 | Cadillac | 47 |
| 17 | BMW | 45 |
| 18 | Ford | 44 |
| 19 | Kia | 43 |
| 20 | Volvo | 42 |
| 21 | Ram | 40 |
| 22 | GMC | 37 |
| 23 | Mercedes-Benz | 34 |
| 24 | Volkswagen | 31 |
| 25 | Genesis | 30 |
| 26 | Jeep | 26 |
| 27 | Tesla | 25 |
| 28 | Lincoln | 18 |
Source: Consumer Reports
Sources:
https://www.consumerreports.org/cars/volvo/xc70/
https://www.carcomplaints.com/Volvo/XC70/
https://www.carproblemzoo.com/volvo/xc70/
https://www.kbb.com/volvo/xc70/