The Volvo XC90 is a powerful and premium midsize SUV that's been in production since 2002.
Known for its high levels of comfort and richly appointed interior, the XC90 is a legitimately luxurious option.
It's not without its quirks and issues though, we'll cover these in this article.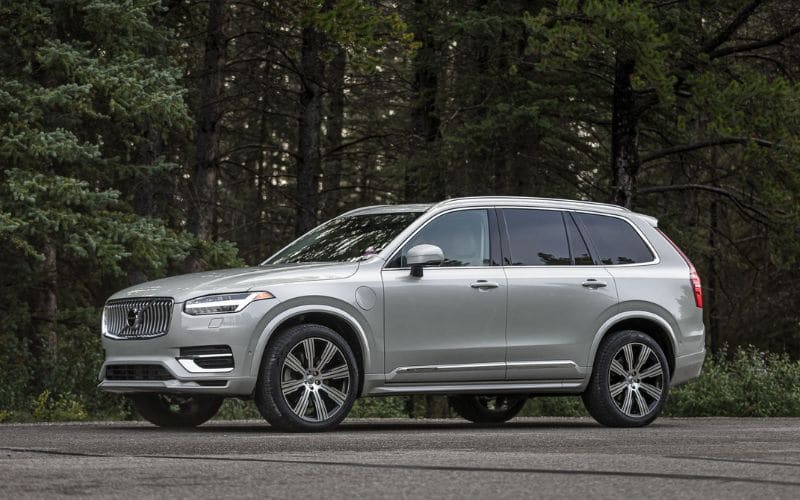 1. Water Leaks
Second generation XC90s sold from 2015 to 2016 were prone to water leaks. A few of people have also reported it happening on 2017 and 2018 models.
Water intrusion didn't affect all cars, but more than a few owners have complained about it over the years.
Water leaks can appear in a few different areas such as:
Top of the windshield near the rearview mirror
On the C-pillar in the rear cargo area
The leaks in the rear usually occur when the car is parked at an incline during a rainstorm. The angle causes water from the sunroof to miss the drainage system and end up soaking the headliner and pooling up in the cargo area.
Water leaking near the rearview mirror usually drops down onto the infotainment screen and center console which risks damaging a lot of electronics.
XC90 owners shared the following experiences:
"I took delivery of an MY16 XC90 in Dec 2015 and have put 25k miles on it (50 mile/ day commute). After heavy rains last week, water came in through the intellisafe module behind rear-view, pooled in rear driver side door jamb (not in cabin), and standing puddle in rear, passenger side plastic well tray in cargo area."
"My 16 T6 inscription had water coming down from the rearview mirror yesterday and will see dealer tomorrow."
"It seems that MY17 is not safe from leaks either. I had my baby stroller in the back cargo area and it got soaked as well as the left side cubby where the battery is. I have 1500 miles on my T6 R design."
Solution
To fix the water leaks you'll need to have new sunroof seals fitted. These parts were eventually updated by Volvo a few years after the vehicle was released.
Replacing the seals can be a pretty big job since it requires taking out the headliner and sunroof assembly.
If you're looking at a used XC90, make sure to check the headliner and carpets for water spots which indicates that it's suffered from leaks in the past.
2. Oil Consumption Issues
Early versions of the second generation XC90's turbocharged 4-cylinder engine had lots of reports of excessive oil consumption at relatively low mileages.
These oil consumption issues typically affected the 2015 to 2016 models. Volvo updated some engine components to address the issue in subsequent model years.
Here is how some owners described the issue:
"I noticed oil consumption at around 65k. Now it is about 1qt per 4000 miles. Dealer doesn't want to do anything except 1.5qt/1000 miles."
"I have noticed over the past 6 months our car needs a quart of oil every 2500 miles or so. Most recently, had the oil changed in Oct, again put 2500 miles on the car since then, got the low oil warning message, and added a quarter."
Oil consumption is normal for any car with over 100,000 miles as seals and gaskets start to leak and the engine's internal components wear out. But some XC90s started having oil issues at around 50,000 miles which got progressively worse as they put on more miles.
Early oil consumption issues have also been reported with the first generation XC90's 3.2-liter 6-cylinder engines.
Solution
You should first check the engine for possible leaks since the problem could be caused by a failing seal or gasket.
If you're sure that the engine has no leaks, you can take it to a Volvo dealership for an oil consumption test.
Volvo dealers already have procedures in place to address these oil consumption issues. They'll first try to replace smaller parts like the oil trap and PCV, but if these don't work, you might need an engine rebuild which can cost several thousand dollars.
Volvo had issues with the design of the pistons and piston rings which were eventually updated. Unfortunately, getting it fixed requires tearing down the engine and replacing these internal components.
Many owners who are already out of warranty just make sure to constantly check the oil levels and add a quart of oil every 1,000 miles to make sure the engine never runs out of oil.
Related: 21 Best & Worst Volvo XC90 Years (With Pictures & Stats)
3. Fuel Filler Pipe Leaks
A fairly common problem with the second generation XC90 is a cracked or leaking fuel filler pipe which causes the Check Engine Light to come on.
This issue doesn't affect the drivability of the vehicle or any engine components but it will cause you to fail an emissions inspection.
In some cases, it might also lead to a fuel leak if it's not addressed for a long time.
Here is one owner's experience with a 2018 XC90:
"Check engine light came on. Fuel Filler pipe had to be replaced. This has happened three times and has been replaced three times. The car only had 13k miles for the third replacement."
Solution
To get rid of the Check Engine Light, you'll need to take your car to a Volvo dealer to get the fuel filler pipe replaced.
They can also hook the car up to a scanner and check for other issues that could be causing the Check Engine Light.
Some people have also been able to get rid of the Check Engine Light by wiping off the fuel filler door and making sure it closes properly to get a good seal.
4. Brake Issues
Many new XC90 owners have reported different problems with their brakes such as:
Squeaking or groaning brake noises
Pulsing or shuddering pedal while braking
Brake rotors getting warped or needing replacement at low miles
Automatic braking system triggering by itself for no reason
Here's how some owners described their brake issues:
"At least three times now the automatic braking system has applied without any object or vehicle in front."
"On 7 different occasions, the vehicle automatically and aggressively braked on its own. The collision avoidance system sensed that I was about to get into an accident even though there was absolutely nothing in front of me."
"My wife's car is an 18 XC90 T6 Momentum. Car has 11.5K miles. She was driving down some long and steep hills on trip through Colorado mountains and described this sensation as a shuddering of the brake pedal while braking."
"12,000 miles on car, rear brakes are at 2mm, front brakes 4mm. Volvo dealer does not feel there is a problem with the car and insists this is normal wear."
It's important to note that these brake issues don't necessarily occur in every vehicle and rarely does one vehicle have all different brake problems all at once.
Solution
Premature or excessive brake wear is considered normal for the XC90 as it's a fairly heavy vehicle and it requires a lot of braking power to slow down.
Some people have had better experiences with aftermarket brake pads and rotors.
If your vehicle is still under warranty, it's best to let your dealer know about your concerns so they can properly diagnose the issue and check if it's caused by a manufacturing defect or an incorrectly installed part.
5. Suspension Failures
Second generation XC90s with the air suspension option often encounter failures when the weather gets really cold.
When the air suspension fails, the car can get stuck in either its lowest or highest ride height.
Sometimes, the error message for the air suspension goes away on its own after it gets warmer. But there are lots of occasions when the failure becomes permanent.
Here's how owners described the issue:
"I have a 2018 XC90 with 3000 miles and noticed a loud grinding noise in the rear. The suspension warning then came on. The dealer replaced the compressor and fuse."
"Got my first suspension service required message this weekend where the temps got to -20°C. Had it on AWD setting and when got home, suspension wouldn't lower itself so I guess it literally froze."
The good news is that Volvo has recognized the problem and voluntarily extended the warranty for the compressor on the 2016 to 2020 XC90s for an additional 7 years with unlimited miles.
Solution
If your XC90's air suspension completely stops working, you can take it to the dealer to get a proper diagnosis.
If the problem is caused by the compressor, you can take advantage of Volvo's extended warranty coverage.
6. Transmission Issues
The first generation XC90 T6 model had lots of complaints of severe transmission failures.
The T6 model is unique because it mated a turbocharged 6-cylinder engine to a 4-speed GM transmission.
Several owners have since reported that they've needed to replace or rebuild the transmission every 50,000 – 60,000 miles. Although there are also people who have never had to replace their transmission even after 150,000 miles.
Here's what a couple of owners had to say about the issue:
"I bought my 2004 brand new. First tranny went at 56K. The second went at 112k. I flushed them at 30k intervals."
"We have an early 04. Original tranny was replaced at around 75k miles, current mileage on second tranny is 180k miles. Hoping it will last until we replace with the new model XC90."
Solution
If you plan on keeping the vehicle for a long time, you can have your transmission rebuilt by someone who can also fix all the unit's known weaknesses.
A cheaper option would be to pick up a used unit, but there's no guarantee how long it will last or how reliable it will be once it's installed.
If you're looking to buy a used first gen XC90s, you should just stay away from the T6 model altogether if you don't want any additional headaches.
Volvo XC90 Number of Reported Problems Per Year
Volvo XC90
Model Year
Problems
Sales
2021
7
–
2020
8
31,623
2019
6
35,015
2018
23
34,497
2017
50
24,053
2016
169
33,225
2015
–
–
2014
4
6,390
2013
13
14,103
2012
6
5,333
2011
29
11,698
2010
14
11,552
2009
10
7,228
2008
41
30,646
2007
51
31,980
2006
64
34,013
2005
282
40,300
2004
654
53,187
2003
149
13,145
Source: Car Problem Zoo
Volvo XC90 Pros and Cons
If you're considering a Volvo XC90 as your next car you might be wondering what its strengths and weaknesses are…
Pros
Upscale looks inside and out
Luxurious and comfortable interior
Roomy and has lots of legroom
Third-row seats
Class-leading safety ratings
Comes with lots of safety tech
Cons
Infotainment system lags behind some rivals
Above-average maintenance costs
Doesn't have the best fuel economy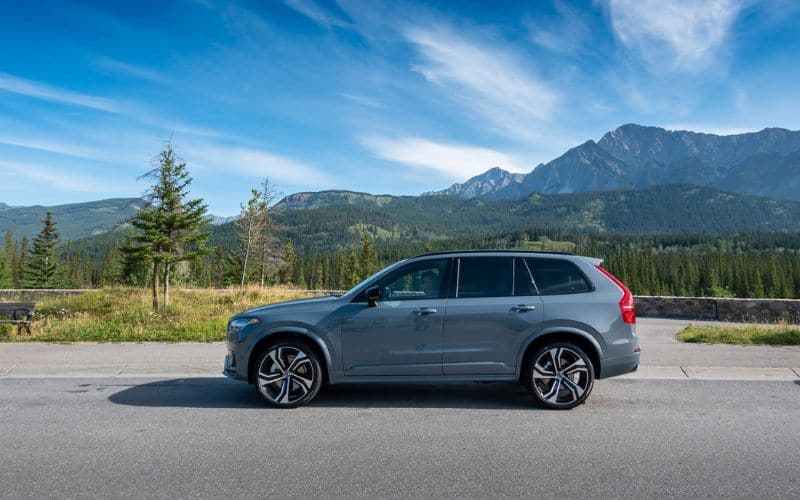 Related: Where are Volvo XC90 Made (Solved & Explained)
Volvo XC90 Reliability Compared to Similar Cars
Consumer Reports rankings detailed below is based on the model's newest three years, the Volvo XC90 sits near the bottom, with a relatively good score of 17/100.
Make & Model
Consumer Reports
Reliability Score
Lexus GX
100
Lexus RX
76
Lexus RX L
76
Acura MDX
61
BMW X5
58
Audi Q7
45
GMC Acadia
43
Porsche Cayenne
43
Cadillac XT6
37
Lincoln Nautilus
31
Infiniti QX60
30
Land Rover Defender
25
Land Rover Discovery
25
Land Rover Range Rover Sport
25
Jaguar I-Pace
24
Volvo XC90
17
Audi Q8
5
Audi e-Tron
5
Genesis GV80
5
Mercedes-Benz GLE
5
Tesla Model X
5
Lincoln Aviator
3
Source: Consumer Reports
Volvo XC90 Used Value
We've taken a look on Car Gurus to gauge the resale value of a Volvo XC90, below are typical asking prices for each model year.
According to Car Edge, a Volvo XC90 will depreciate 43% after 5 years and have a 5 year resale value of $38,096.
Note: Used model prices will vary depending on trim level.
| | | |
| --- | --- | --- |
| Model Year | Mileage (miles) | Resale Price |
| 2022 | 3,742 | $53,167 |
| 2021 | 24,993 | $51,000 |
| 2020 | 17,054 | $56,500 |
| 2019 | 41,707 | $46,139 |
| 2018 | 61,541 | $36,996 |
| 2017 | 82,007 | $29,995 |
| 2016 | 70,928 | $24,995 |
| 2015 | – | – |
| 2014 | 132,293 | $10,588 |
| 2013 | 132,742 | $9,901 |
| 2012 | 129,043 | $7,399 |
| 2011 | 128,450 | $7,900 |
| 2010 | 107,156 | $8,995 |
Source: Car Gurus
Related: How Long Do Volvo XC90 Last? (12 Important Facts)
What Do Owners Like and Dislike About the Volvo XC90?
Based on owner feedback from the Kelley Blue Book site here are what real-life owners love and hate about the Volvo XC90.
Likes
Nice driving
Design
Safety technology
Handling
Comfort
Luxury
Dislikes
Gas mileage
Noisy cabin
Complicated technology
Depreciation
Pricey
Unreliable electronics
Owners Reviews
"A little difficult to navigate the intelligent features, not bad once they are set up. Great performance from a 4 cylinder, 316 hp… great fuel mileage and handling. Gave up my SRT Grand Cherokee and do not regret it. Very nimble for a large vehicle also."
Source: Kelley Blue Book
"The XC90 is perfect for road trips. Once you learn all the buttons, you will be able to optimize for safe yet relaxing long-distance driving. It also pretty stylish…"
Source: Kelley Blue Book
"I test all the luxury SUV's and my favorite is the XC90 T6 Inscription. Being a former BMW and Audi owner, who experienced many service issues and mechanical issues, I am appreciating the higher quality, safety and technology in my Volvo.
Source: Edmunds
How Reliable Are Volvo Cars?
According to a recent report from Consumer Reports, Volvo are ranked the 20th most reliable car manufacturer out of 28 brands, with a score of 42/100.
| | | |
| --- | --- | --- |
| Ranking | Brand | Score |
| 1 | Lexus | 76 |
| 2 | Mazda | 75 |
| 3 | Toyota | 71 |
| 4 | Infiniti | 69 |
| 5 | Buick | 66 |
| 6 | Honda | 66 |
| 7 | Subaru | 66 |
| 8 | Acura | 64 |
| 9 | Nissan | 63 |
| 10 | Mini | 60 |
| 11 | Hyundai | 56 |
| 12 | Chrysler | 54 |
| 13 | Porsche | 52 |
| 14 | Chevy | 48 |
| 15 | Audi | 47 |
| 16 | Cadillac | 47 |
| 17 | BMW | 45 |
| 18 | Ford | 44 |
| 19 | Kia | 43 |
| 20 | Volvo | 42 |
| 21 | Ram | 40 |
| 22 | GMC | 37 |
| 23 | Mercedes-Benz | 34 |
| 24 | Volkswagen | 31 |
| 25 | Genesis | 30 |
| 26 | Jeep | 26 |
| 27 | Tesla | 25 |
| 28 | Lincoln | 18 |
Source: Consumer Reports
Sources
https://www.consumerreports.org/cars/volvo/xc90/
https://www.carcomplaints.com/Volvo/XC90/
https://www.carproblemzoo.com/volvo/xc90/
https://www.kbb.com/volvo/xc90/
https://www.edmunds.com/volvo/xc90/
https://caredge.com/volvo/xc90/depreciation