The Integra is a small, sporty, fun-to-drive car from the luxury division of Honda – Acura.
The model's first stint in North America lasted from 1990 to 2001 and was recently brought back in 2023.
In this article, we'll be taking a look at all of its best and worst model years.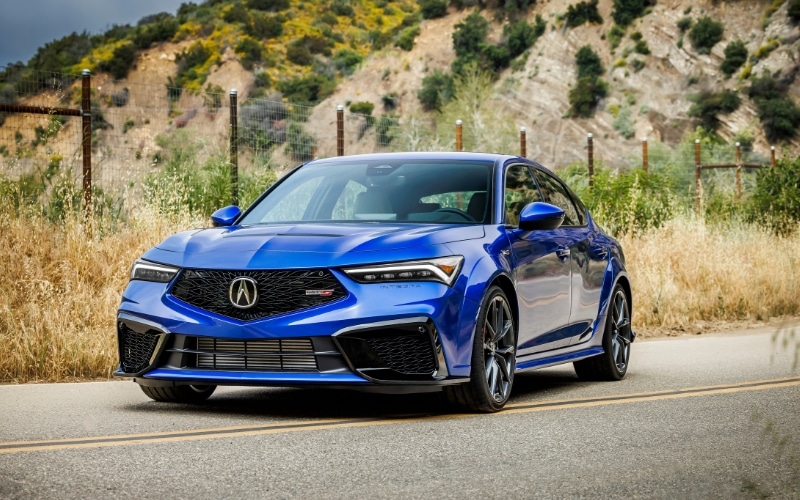 Here's The Short Answer To What The Best And Worst Years For The Acura Integra Are:
The best Acura Integra model years are 2024, 2001, and 1999. The worst model years of this model are 1996, 1997, 1998, 2023, and 2000. This is based on auto industry reviews, NHTSA statistics, reported problems, and consumer feedback.
What Are The Best Years For The Acura Integra?
2024 Acura Integra
The recently reborn Integra line was received with mixed reactions, but the 2024 model year is definitely a great luxury car to consider.
It has a roomy hatchback-style luggage area, practical fuel economy numbers, and several standard advanced driver aids and safety tech.
There are 2 available trims: Base and Type S. Base pricing ranges from approximately $33,000 to $52,000.
The Base trim comes with a turbocharged 1.5-liter 4-cylinder engine (200 horsepower) while the Type S has a turbocharged 2-liter 4-cylinder engine (320 horsepower).
Due to the steep price difference between the two, the most popular trim is the cheaper Base model, priced at $32,695.
Edmunds: 4.6 / 5.0
Kelley Blue Book: 4.0 / 5.0
2024 Integra, Edmunds Review:
"Many of you will dislike this vehicle because of the price point. Is it an upscale civic? Well yes, which is not necessarily a bad thing for me. I had 2 Civic si in the past (8th gen/10th gen) and loved both cars. I don't really do much upgrades enthusiast wise other than intakes and minor bolt ons. Integra I'm quite happy with it stock. I'm at the age where I'm not speeding 75 mph down a city road anymore and this car has plenty of ponies for my needs…"
2001 Acura Integra
Whether in Hatchback, Sedan, or Type R format, the 2001 Integra offers a sporty, practical, reliable and enjoyable ride.
The base 1.8-liter four-cylinder engine produces an adequate 140 horsepower.
For speed demons, the GS-R has a VTEC-enhanced 1.8-liter inline four that produces 170 horsepower.
The Type R makes a mighty 195 horsepower at 8,000 rpm
New for this model year are carpeted floor mats, an emergency trunk release (from inside the cargo area), and four new body colors.
According to the EPA, owners can achieve 24 MPG for combined city and highway driving which is quite respectable for a luxury sedan.
Edmunds: 4.9 / 5.0
Kelley Blue Book: 4.7 / 5.0
2001 Integra, Edmunds Review:
"This vehicle is one of my favorite cars. I drive this vehicle like a race car. It performs when requested, accelerates with hesitation, and screams like a motorcycle! The car is very fun to drive, especially when it reaches VTEC! The sound of the cross-over from normal cam lobes to higher lobes provides an exciting moment to enthusiasts. Sit back in a nice and comfortable bucket seat, enjoy the gripping power assisted by LSD and watch your tach as it reaches 8500 RPM. It is no V-8 but it performs like one!"
1999 Acura Integra
The 1999 Integra is available in hatchback or sedan formats and offers race car thrills at an affordable price.
Despite an outdated design, this model is comfortable, quick and has excellent build quality.
For '99 Acura dropped the entry-level RS trim. The LS received leather accents and 15-inch wheels, and the sporty GS-R was freshly equipped with leather seats.
According to owners, its best aspects are the following: driving experience, reliability, manufacturing quality, engine performance, appearance, fuel economy, value, handling, and steering.
Edmunds: 4.9 / 5.0
Kelley Blue Book: 4.7 / 5.0
1999 Integra, Edmunds Review:
"I absolutely love this car, it is right on so many levels! It is sporty, good-looking, reliable, versatile, fuel-efficient, and safe. Even though mine has the basic 1.8L b18b1 engine without Vtec, it roars when you force down the pedal and those revs soar up. For a high-revving engine the low-end torque is great, I had to haul over 150 pounds of plywood in the trunk and it never quit. I bought it at 94k miles and I'm at 122k miles now and it's still tight as a drum…"
Consumer Scores For Best Acura Integra Years
Model Year
Edmunds
Consumer Rating
Kelley Blue Book
Consumer Rating
2024 Acura Integra
4.6 / 5.0
4.0 / 5.0
2001 Acura Integra
4.9 / 5.0
4.7 / 5.0
1999 Acura Integra
4.9 / 5.0
4.7 / 5.0
Related: Acura Integra Beeping Problems? (15 Common Causes)
What Are The Worst Years For The Acura Integra?
1996, 1997, and 1998 Acura Integra
The 1996, 1997, and 1998 Integra model years are the most problematic versions ever produced.
The most frequent complaints and reports online revolved around the unreliable airbag system of these models.
According to reports, the airbags would either fail to deploy during accidents and collisions or would not deploy when needed.
"While driving the vehicle, the consumer stated another vehicle rear ended the driver forcing the vehicle down a hill into a metal pole. Consumer states none of the airbags deployed…"
"While driving 40 mph on a smooth surface both driver's and passenger's airbags deployed. Consumer was startled by the deployment and hit a curb, causing $ 9000 damage to the vehicle…"
There were also a variety of electrical issues, including:
Speedometer failure
Battery damage
Vehicle stalling
Car horn failure
Smoke coming from shorted wires
The 1996 Integra had a total of 3 complaints according to CarComplaints.com and 38 problems based on CarProblemZoo.com data.
The 1997 Integra had a total of 2 complaints according to CarComplaints.com and 24 problems based on CarProblemZoo.com data.
The 1998 Integra had a total of 1 complaints according to CarComplaints.com and 21 problems based on CarProblemZoo.com data.
Common problems:
Rough shifting
Engine cuts out when braking
Radiator hose blew out
Paint issues
2023 Acura Integra
A surprising entry on this list is the 2023 Integra (since it is a relatively new model).
Unfortunately, it accumulated the second-most amount of problems across the board on CarProblemZoo.com.
The biggest issue experienced by owners is sticky steering.
Owners would randomly encounter moments of difficulty in steering, which would require drivers to exert more force/effort to maintain course, switch lanes, or make turns.
This inconsistency is quite dangerous as this may lead to oversteering or understeering (which can increase the likelihood of vehicular accidents).
"Steering is very jerky and sticks into a turning position while driving at highway speeds. It takes a heavy correction to get the car out of the 'lock.' Nearly had a couple of accidents due to the car trying to swerve in the opposite lane in turns."
"Sticky steering observed at highway speed. Steering wheel would lose power assist or feel sticky or jerkiness briefly by giving steering wheel a very slight turn to either the left or right at highway speed when going straight."
"The steering wheel sticks at times. Driving straight and in turns. It's a slight stick, but increasingly more noticeable. While driving straight it happens if I don't touch the wheel for a few seconds. Then I'll need to make a minor correction and it's stuck. I have to put some decent pressure on the wheel to make it unstuck, which causes an over-correction."
The 2023 Integra had a total of 29 problems based on CarProblemZoo.com data.
Common problems:
Sticky steering
Sunroof exploded
2000 Acura Integra
The 2000 Integra presented owners with a serious safety hazard – defective seat belts.
According to reports, the front passenger seat belt would come undone at random or fail to release.
"I purchased my Integra in 2012 with 75,000 miles and to this day the passenger seat belt has come undone multiple times. This is very dangerous. I thought at first it was being caused by a seat cover but after removing the seat cover it continues to happen."
"The passenger side front seat belt buckle comes undone on its own. This has occurred with multiple passengers (~5) over the last several years (2003-2010)."
"The front passenger side seat belt makes a clicking sound and feels latched in appropriately. However, on multiple occasions (approximately 20 to 30), it has come undone."
The 2000 Integra had a total of 18 problems based on CarProblemZoo.com data.
Common problems:
Seat belt defects
Wheels had bubbles
What Years Have The Most Complaints?
Model Year
Complaints
(CarComplaints.com)
Problems
(CarProblemZoo.com)
Recalls
(NHTSA.gov)
2024 Acura Integra
0
2
0
2023 Acura Integra
0
29
0
2001 Acura Integra
3
6
5
2000 Acura Integra
0
18
4
1999 Acura Integra
2
8
4
1998 Acura Integra
1
21
4
1997 Acura Integra
2
24
5
1996 Acura Integra
3
38
5
What Problems Do Acura Integras Have?
Decreased braking power
Car will not shift into gear
Peeling, flaking paint
Will not start
Power window not working
Lost coolant
Overheating
Grinding noise
ABS light on
Gears slipping
Rough shifting
What Are The Best Alternatives To The Acura Integra?
| | | | |
| --- | --- | --- | --- |
| Make & Model | Score | MSRP | Fuel Economy (MPG) |
| Acura Integra | 8.8 | $31,500 – $36,500 | City: 26 – 30 /Highway: 36 – 37 |
| Audi A4 | 8.7 | $40,300 – $42,400 | City: 24 /Highway: 32 – 33 |
| Mercedes-Benz C-Class | 8.7 | $44,850 – $90,000 | City: 16 – 25 /Highway: 24 – 36 |
| Audi A5 | 8.6 | $44,600 – $53,900 | City: 24 /Highway: 31 – 33 |
| Genesis G70 | 8.5 | $39,400 – $47,000 | City: 17 – 21 /Highway: 26 – 31 |
| BMW 2-Series | 8.4 | $37,800 – $50,900 | City: 22 – 26 /Highway: 32 – 35 |
| BMW 3-Series | 8.4 | $43,800 – $58,400 | City: 23 – 25 /Highway: 31 – 34 |
| Kia Stinger | 8.4 | $36,690 – $54,090 | City: 17 – 22 /Highway: 24 – 32 |
| Volkswagen Arteon | 8.3 | $43,010 – $50,175 | City: 22 – 25 /Highway: 31 – 33 |
| Audi A3 | 8.1 | $34,900 – $36,900 | City: 27 – 28 /Highway: 35 – 38 |
| Volvo S60 | 8.1 | $41,300 – $50,300 | City: 25 – 26 /Highway: 33 – 35 |
| Alfa Romeo Giulia | 8.0 | $44,280 – $48,320 | City: 23 – 24 /Highway: 31 – 33 |
Source: cars.usnews.com, edmunds.com
Related: 12 Top Sports Cars For Beginner Drivers (With Pictures)
References
https://www.caranddriver.com/acura/integra
https://cars.usnews.com/cars-trucks/acura/integra
https://www.edmunds.com/acura/integra/
https://www.kbb.com/acura/integra/
https://www.jdpower.com/cars/2023/acura/integra
https://www.carcomplaints.com/Acura/Integra/
https://www.carproblemzoo.com/acura/integra/
https://www.cars.com/research/acura-integra/recalls/