It's normal for car lovers to lust after a fast and sexy sports car, even though they're not the most practical option.
However, a high-powered super car isn't ideal for a novice driver, even if you've been driving for several decades, because it will easily exceed your limits and get you into trouble real quick if you're not careful.
In this article, we'll take a look at the best affordable starter sports cars and performance-oriented vehicles that will help you become a better driver in the long run.
1. Mazda Miata
When the Miata was first developed, Mazda took a lot of inspiration from classic European roadsters made by the likes of Lotus, MG and Fiat.
Although the Miata has as much power as your average hatchback, its lightweight chassis, suspension tuning, and rear-wheel drive layout make it very fun to drive — especially with the top down. You'll be hard pressed to find other cars that can match it when it comes to driving enjoyment for the money.
With its lower power, you won't have to worry much about speeding tickets or spinning out and crashing. But with the right driver behind the wheel, the Miata can easily keep up with more powerful sports cars on track and on twisty roads, which is where it really shines.
Many enthusiasts will agree that there's nothing more fun than driving a slow car fast, and the Mazda Miata is the perfect example of that philosophy.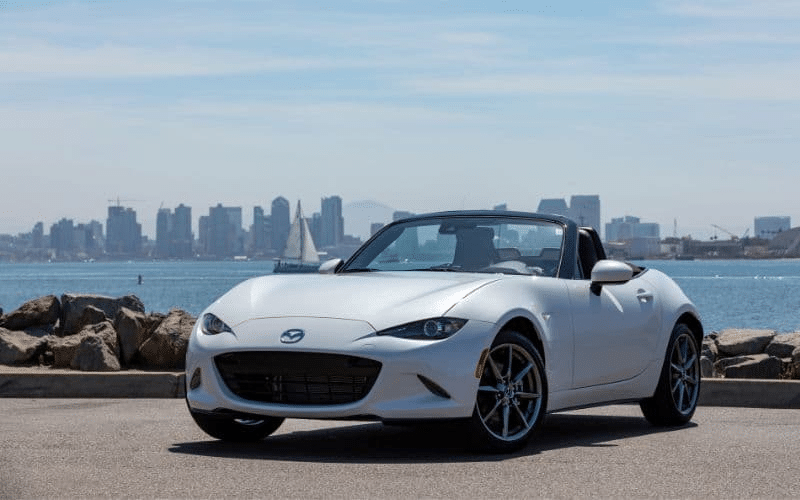 2. Subaru BRZ and Toyota 86
The Subaru BRZ and its Toyota counterparts, the GT86 and GR86, are no-nonsense lightweight rear-wheel drive coupes that tick all the right boxes for many enthusiasts.
The BRZ has slightly more power than the Miata, but it's still nor much faster than many modern sedans and SUVs. It does have more space than the Miata and the rear seats make it a little more practical.
Although a lot of people say that the BRZ is slow, it's still more than enough power for a beginner.
If you want to understand the basics of car control and slide the rear from time to time, the BRZ is a great platform to learn on. Its wheelbase is longer compared to the Miata so it's easier to drift. They're also relatively affordable and quite reliable as weekend track cars.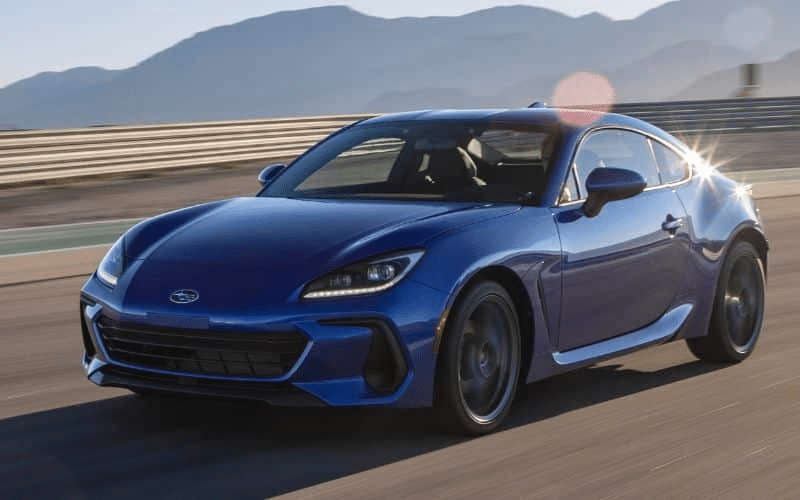 3. Ford Mustang EcoBoost
The Ford Mustang EcoBoost is an excellent sports car for beginners because it's quick, widely available, and quite affordable.
It's also more of a sports car than a muscle car nowadays thanks to its independent rear suspension, which was introduced in the sixth generation S550 Mustang. This gave it much better handling and road manners compared to previous generations, and made it easier to drive at the limit.
The base model EcoBoost engine produces a little over 300 hp, making it more powerful than a lot of older V8 Mustangs, so it's more than enough for a new driver. The V6 in the earlier models makes slightly less power, but is also a good choice.
Although there are tons of videos showing Mustangs spinning out of control, it won't be much of an issue with the EcoBoost Mustang with its lower power levels, especially compared to the V8 models. As long as you keep traction control on and drive responsibly, the Mustang is as safe as any other car on the road.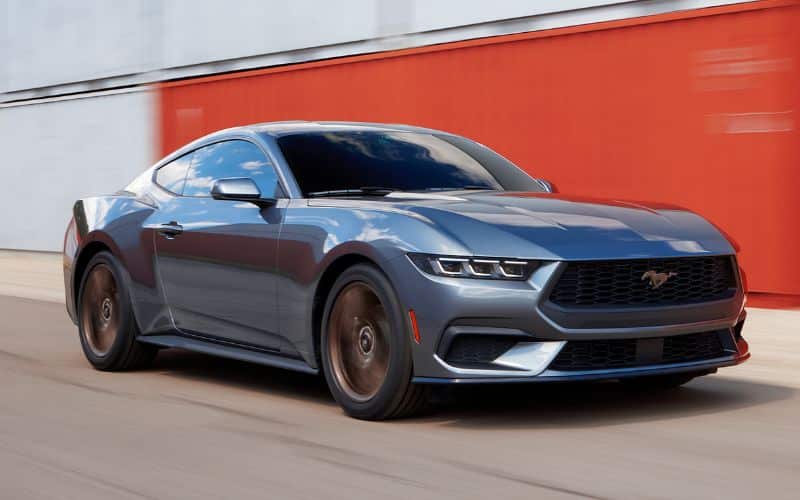 4. Chevrolet Camaro LS and LT
The modern Chevrolet Camaro has the best handling out of the current generation of muscle cars.
It's had an independent rear suspension since the 2010 model year and GM has been continuously developing the platform ever since.
The sixth gen Camaro's 4-cylinder turbo engine produces 275 hp which is just the right amount of power to make it feel quick but not scarily dangerous.
The V6 model is also a good choice for a beginner and makes more power than the 4-cylinder at 335 hp with about the same amount of torque.
However, new drivers should keep in mind that the Camaro's poor visibility from its tall doors, small windows, and rear blind spots can make everyday driving more challenging.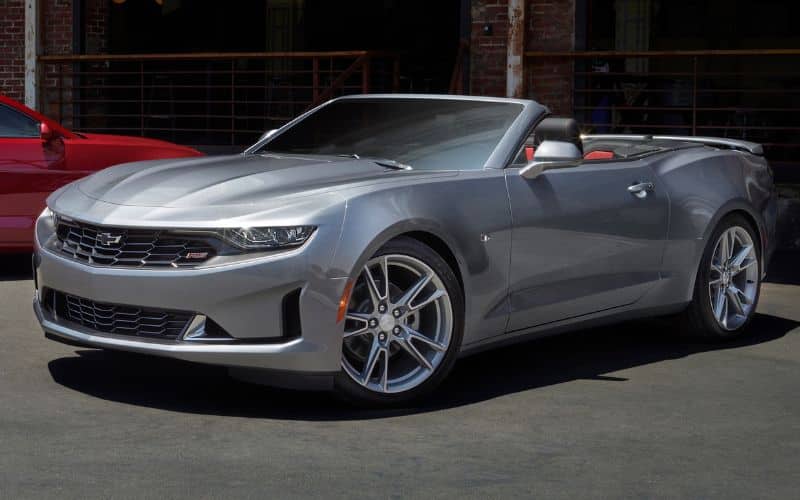 Related: 9 Top Sports Cars With Air Suspension (With Pictures)
5. Mini Cooper S
The Mini Cooper may not look like a typical sports car but its retro styling, light weight, and go-kart like handling make it a favorite among car enthusiasts both young and old.
It's a great choice for a new driver because its small size and great visibility makes it very easy to maneuver.
The base model Mini Cooper Hardtop is a great starting point even if it only makes around 130 hp. But if you want to have some real fun, the Cooper S with its 189 hp can go from 0 to 60 mph in a little over 6 seconds, which is just as fast as sports cars from 1 or 2 decades ago.
Since it's a relatively low powered front-wheel drive car, you won't have to worry about losing the rear end when you're flooring it through corners and curves.
In terms of 'sportiness', they're great for zipping around in the city and are very rewarding to drive on twisty roads. You'll also see lots of Minis at autocross events driven by more experienced drivers so they're definitely not a boring commuter car.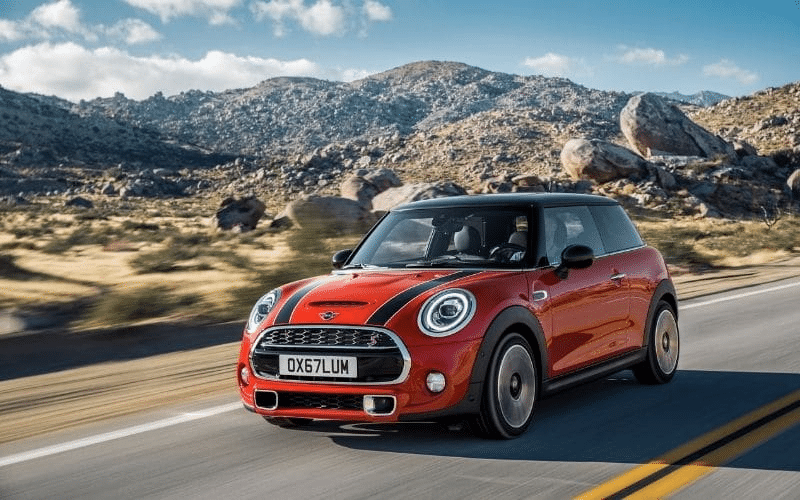 6. Volkswagen Golf GTI
The Volkswagen Golf GTI is one of the original hot hatches and has had a huge following dating back to the 1970s.
The GTI has more room for passengers and cargo than the Mini Cooper so it's a lot more practical as an all-around vehicle.
It's also quite small compared to a lot of modern compact hatchbacks, making it more nimble and easier to handle for newer drivers.
Modern Golf GTIs make over 200 hp and can be equipped with a manual or a fast shifting dual clutch transmission. It also has sport suspension that provides lots of mechanical grip and excellent handling.
If you want even more power, there's the more expensive Golf R which has around 300 hp. Compared to the front-wheel drive GTI, the R comes with all-wheel drive which not only gives it significantly better acceleration but also more stability in slippery conditions.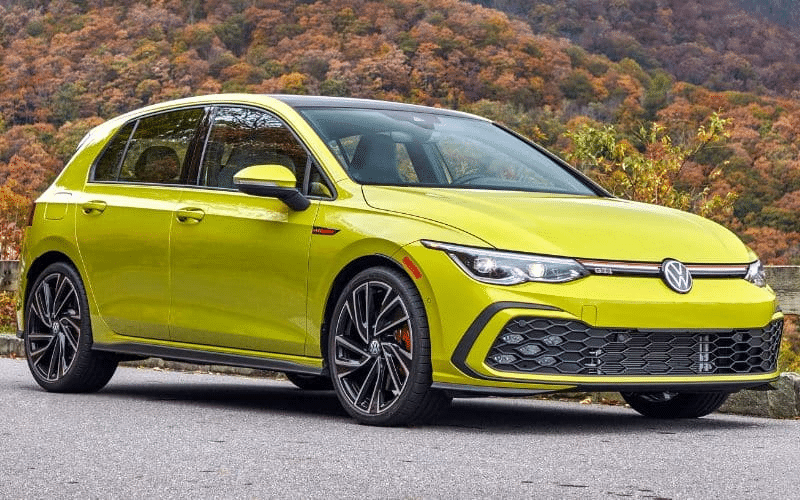 7. Subaru WRX
The Subaru WRX is an extremely popular sport sedan for young drivers because they're affordable and have a lot of power out of the box. It's also a very popular platform for modding and tuning.
With around 270 hp under the hood, the WRX can go from 0 to 60 mph in 5.5 seconds. It can also be equipped with a 6-speed manual or a more user-friendly CVT automatic gearbox.
Unlike other sporty vehicles in its price range, the WRX comes standard with all-wheel drive which gives it lots of grip even in slippery conditions. Aside from being quick, the WRX is a great all-season car that can easily manage the worst snowstorms.
Its capabilities have also been tested and proven on some of the most unforgiving rally racing stages.
Although the road car has very little in common with a real rally car, Subaru learned a lot from its motorsports experience and successfully applied it to the WRX to make it a great performance vehicle that's appropriate for all skill levels.
If you want a more exhilarating ride, the discontinued STI model, which has more power and better handling, is also worth looking at.
8. Honda Civic Si
The Civic Si was the sportiest version of the Civic before the Type R became more widely available.
Although it's not as hardcore as the Type R, it still has lots of performance upgrades like a limited slip differential, bigger brakes and adaptive dampers. It's also only available with a 6-speed manual, just like the Type R.
It is also significantly cheaper than the Type R, especially considering the markups that dealers are asking for it.
The Si has a little over 200 hp which is a significant power bump over the standard Honda Civic, but is more than enough to satisfy a young driver's need for speed.
In our opinion, the Civic Si is possibly one of the best entry-level performance cars for a new driver due to its affordability, practicality, and long-term reliability. Its lower power level is also more appropriate for someone who is new to performance vehicles.
The previous generation Civic Si is also worth looking at especially since it came in a sportier looking 2-door coupe version.
All modern Civics also have a host of safety features like collision mitigation, lane assist, adaptive cruise control, driver attention monitor and adaptive cruise control.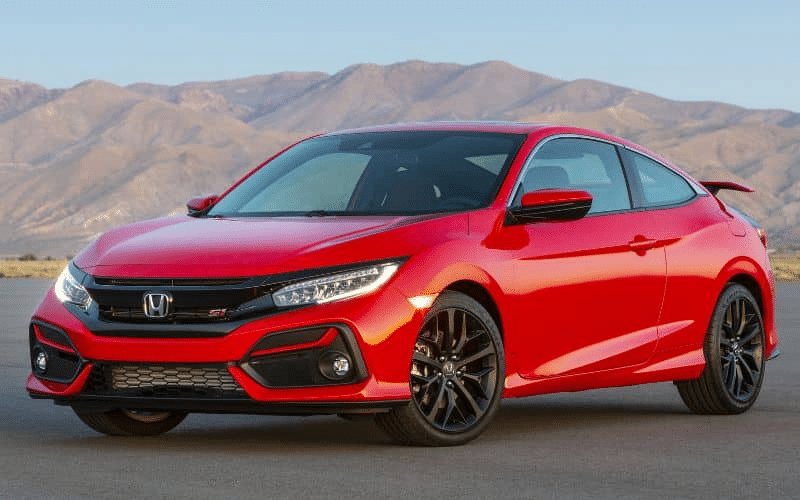 Related: 12 Popular Sports Cars For Girls (With Pictures)
9. Mazda 3 
The Mazda 3 has always been a favorite among car enthusiasts and professional reviewers for its nice balance of practicality and sportiness.
The latest generation Mazda 3 is more luxurious and not as dynamic as the older models. Despite this, it's still a great choice for a new driver who wants something they can enjoy for a long time, but isn't ready to deal with the consequences and additional expenses associated with a sportier car.
The Mazda 3 also won't disappoint in the styling department, but the hatchback models don't have the best rear visibility which can be an issue for someone who doesn't have much experience on the road.
The base model Mazda 3 has pretty decent power at 190 hp, but if performance is your priority, the more expensive Turbo model goes up to 250 hp and does 0 to 60 mph in 6 seconds.
It's also available in either front-wheel drive or all-wheel drive, which makes it more versatile for all types of driving conditions. However, you do lose the manual gearbox option with the all-wheel drive models.
10. Ford Fiesta ST
The Ford Fiesta ST is an extremely affordable hot hatch that was sold in the USA from 2014 to 2019.
Unlike the regular Fiesta which only has 120 hp, the ST makes around 200 hp and can accelerate from 0 to 60 mph in around 7 seconds.
The amount of power it has is just right for most beginner drivers looking for some excitement and its small lightweight body makes it extremely fun to drive.
What really sets it apart from the standard Fiesta and other subcompact hatchbacks are its suspension upgrades, bigger brakes, six-speed manual, and super responsive steering. All these combined create a really unique and compelling package for drivers of all ages.
11. Hyundai Veloster
The Veloster is a small two door hatchback that packs a lot of performance under the hood.
The high performance Veloster N 2.0-liter turbocharged engine produces 275 hp, giving it a brisk 0 to 60 time of around 5 seconds.
Although the N is very tempting, the lower spec models of the Veloster, which make between 150 to 200 hp, are more appropriate for new drivers.
The Turbo models also have upgraded suspension and steering, and can be equipped with either a six-speed manual or a dual-clutch transmission, all of which add more sportiness to the Veloster's driving dynamics.
All second generation Velosters come with lots of standard features such as automatic emergency braking and lane keep assist which are extremely helpful for new and experienced drivers alike. Higher trim levels also have blind-spot monitoring with rear-cross traffic alert, as well as adaptive cruise control.
12. Acura Integra
The latest Integra uses the same platform and engines as the Civic, but the nameplate was originally used for Acura's two-door sports coupe. It was also briefly known as the RSX before it was discontinued in the early 2000s.
The new Integra is basically a more upscale and comfortable version of the Civic Si. It has the same 200 hp on tap and is similarly fun to drive. There's also the Type S model which is basically a rebranded Civic Type R, and is just as expensive.
If you're a new driver and don't want to drive a manual, the Integra can be equipped with a CVT automatic which isn't available in the Civic Si.
It's also only available in the hatchback body style while the Si is limited to the sedan version.
Although the Integra has a slightly higher retail price than the Si, it will sometimes end up being cheaper in the real world due to the markups that dealers add to the Si.