The Acura MDX is a midsize luxury SUV that's been sold since 2001.
It's an extremely practical, nimble and comfortable family vehicle that can easily seat seven passengers, and has lots of character.
Although it's backed by Honda's legendary reliability, the Acura MDX has had its share of issues over the years.
In this article, we'll take a look at the common problems owners have experienced.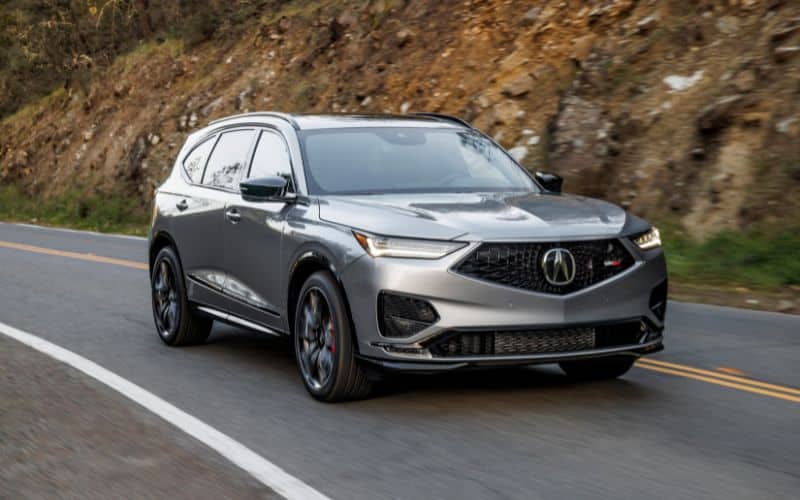 1. Transmission Issues
Some model years of the Acura MDX suffered from widespread transmission issues.
It's not unusual for these transmission problems to occur in vehicles that were only a couple of years old and had low miles on the clock.
The 2001 and 2002 model years of the first generation MDX had the highest number of severe gearbox failures.
Transmission problems in these models had symptoms such as:
Slipping or lack of acceleration even when the RPMs are high
Shuddering at highway speeds often described as sounding like 'rumble strips'
Hard shifts from low to high gear
Failing to shift into gear
Some first generation MDX owners have even had to replace their transmission more than once.
Here is one unhappy owner's account:
"The first transmission on our 02 MDX went out at 35000 miles in 2004. Acura handled that with alacrity. Now, the replacement transmission is bad at 88000 miles. So, with less than 90000 miles, we are to have transmission #3."
Acura updated the MDX's transmission in 2003 which resulted in fewer failures, but many owners of the 2004 to 2006 models still had issues with 'shuddering' when traveling at 30 to 40 miles per hour.
On the Car Complaints website, the 2014 MDX had the highest number of reported issues, many of which could be narrowed down to transmission issues.
Many owners had problems with hesitation during acceleration and noticed that the RPMs would go up and down erratically. The vehicle would eventually lurch forward after a couple of seconds.
The 2016 Acura MDX, which was the first year the ZF 9-speed transmission was offered in the third generation model, also had lots of complaints such as:
Hard or 'jerky' shifts
Trouble finding the right gear
Squeaking noises when shifting
Acura updated the transmission software in later model years to address the jerkiness and hesitation of the transmission, but there are still complaints with the 2017 and 2018 models. By the 2019 model year, the MDX's 9-speed became significantly smoother to use.
Solution
Many first-generation MDX owners have been able to resolve their transmission issues by draining and replacing the transmission fluid three times — with short drives in between — to completely flush the system.
If the drain and fill doesn't work, a vital component like a pressure sensor, solenoid or torque converter might be broken. A good mechanic should be able to replace these parts quite easily and tell you if you need a new transmission.
The 'shuddering' or 'rumble strip' noise issue can be usually fixed by replacing the torque converter and updating the car's software.
Manually shifting into D4 also completely eliminates the shuddering and noise because it usually only happens when the transmission shifts into D5 or the overdrive gear which should only be used on the highway.
For the 2014 MDX, Acura issued a TSB (Technical Service Bulletin) to fix the third generation six speed's hesitation issues. All it requires is a fluid change and a software update.
Issues with the 2016 to 2018 Acura MDX's transmission can also be improved after doing a fluid flush and software update. Some owners report that this doesn't completely remove the hard shifting, but the transmission does run much smoother.
The issues also tend to go away once the 9-speed transmission has warmed up a little bit.
2. Excessive Oil Consumption
The second generation Acura MDX from 2010 to 2013 had lots of complaints of excessive oil consumption.
Early second-gen models from 2007 to 2009 also used the same engine, but the facelifted cars had different piston rings which can get clogged with carbon buildup and fail to remove oil from the combustion chamber.
Although it's normal for older, high-mileage vehicles to lose oil in between oil changes due to leaks and worn-out engine components, the 2010 to 2013 models can start having issues after just a few years and at much lower miles — and get progressively worse over time.
Here is how a few MDX owners described their experience:
"The car has no leaks. I have had it checked out by a few dealers. Car has 96,000 miles. After an oil change, the oil level would be consumed back down to close to low when recheck after driving 1500 miles in 2 months."
"Vehicle purchased used with 47k miles on it. By the time I noticed the oil consumption problem (which I certainly didn't expect) the used car warranty had expired. I am currently burning 1 qt of oil every 1k miles. As the vehicle has a factory 70k powertrain warranty I brought it to my local Acura dealer and was told that this was normal and acceptable under Acura guidelines."
"The vehicle started consuming oil around 80,000 miles. At 90,000 miles the engine was consuming 1 quart every 1,000 miles at 110,00 it was consuming 1 quart every 500 miles. At 117,000 miles the vehicle consumes 1 quart every 250 miles."
Solution
Acura issued a recall for all 2010 to 2013 model years of the MDX to address the oil consumption issue in 2019. The company also extended the engine warranty on all affected vehicles to 8 years or 125,000 miles.
However, to qualify for the recall, the car has to undergo an oil consumption test at the dealer. If the car doesn't lose enough oil after 1,000 miles, the warranty claim can be denied.
Some MDX owners also reported their warranty claim was rejected because they were unable to submit enough proof of previous service history, which can be difficult to find if you bought the vehicle used.
Performing the recall requires tearing down the engine and replacing the pistons and piston rings, among many other things, which is a pretty big task to say the least.
It's also possible to just keep checking and topping up the oil to make sure it never runs out — especially when going on a long trip.
But if worse comes to worst, the excess carbon buildup could damage the piston and the piston rings could score the cylinder walls which will eventually lead to compression loss and complete engine failure.
3. Auto Idle Stop Stalling
Lots of people have complained about the third generation MDX's Auto Idle Stop system which was introduced in the 2016 model.
Normally, Auto Idle Stop turns off the engine when the brake pedal is fully depressed while waiting at a stop light or intersection to save on fuel. It should automatically and seamlessly turn the engine back on once you step on the gas to get going again.
But lots of MDX owners have found that it will sometimes shift into neutral when the engine starts back up and something keeps them from shifting back into drive. To get the car going again, they'd have to restart the car manually.
Here is how some owners described their experience:
"My car was stopped at a light with idle auto on. The car shut off and switched into neutral with check engines lights on the dash. I was not able to switch the car to drive. I had to restart the car. This has happened twice in 2 weeks at busy intersections."
"We were stopped at a red light in the middle of a busy intersection. The car was in idle mode. When I went to turn left the car shifted into neutral. I could not go into drive. I had to turn the car off and turn it back on again to get it to move out of the intersection."
"On several occasions when auto start/stop is engaged the vehicle will shift into neutral on its own upon restart. The engine will just rev and not go back into drive until you put it in park and then drive again."
There's also no way to permanently disable the Auto Idle Stop system which adds to people's frustration. You have to turn it off manually every time you start the car.
Other MDX owners have also reported that the idle stop feature will randomly throw errors on the dash saying that it's 'unavailable'.
Solution
Issues with the idle stop feature can usually be solved by replacing the 12-volt battery.
Idle stop puts a lot of strain on the 12-volt battery because it needs to keep the air conditioning and electronics running without the help of the alternator, so it can wear out pretty quickly — especially in colder climates.
Some Acura owners were able to resolve their idle stop issues by taking it back to the dealer and getting a software update or a reset.
It's also possible to trick the idle stop system by only lightly stepping on the brake pedal to prevent it from engaging.
Related: 9 Acura MDX Locking Problems (Solved & Explained)
4. Adaptive Damper System Problems
Some trim levels of the second generation Acura MDX, such as the Sport and Advance models, came with an electronic Adaptive Damper System (ADS) which used magnetic struts to give it better handling, but are much more expensive to replace when they fail.
A single shock absorber costs around $700 to $800, so replacing all four corners can easily exceed $2,000 — and there are no cheaper aftermarket alternatives.
Most people can get around 100,000 miles per set, but some have reported that they've needed to replace theirs at 30,000 miles.
Solution
The only way to fix these failing suspension components is to replace them altogether.
A lot of owners end up converting to regular shocks but it requires some modification. Replacing all four corners typically ends up costing as much as one magnetic strut so it's definitely worth a look if you're trying to save on repairs.
Fortunately, the conversion process is widely documented on different Acura forums and it can be easily done by a competent mechanic if you're not capable of doing it yourself.
5. Excessive Battery Drain
The second generation MDX was equipped with an HFL (Hands Free Link) module that handled Bluetooth functionality, but it would quickly drain the battery once it started failing after a couple of years.
A bad HFL module usually causes what's called a 'parasitic drain' on the 12-volt battery even if the vehicle is turned off. Once the battery is drained, the car won't be able to start.
Jump-starting the car or replacing the battery is only a temporary solution because the HFL module will just keep discharging the battery over and over again.
Solution
Most second gen MDX owners simply disconnect the HFL module to get rid of the battery drain issue, but this also disables the car's Bluetooth functions.
Acura eventually revised the HFL module in later years to make it more reliable.
Replacement HFL modules can be found for around $200 so most people just look for cheaper aftermarket solutions to get the Bluetooth working again.
If the HFL module has already been disconnected and the battery is still getting drained, other possible causes could be a faulty alternator, A/C compressor relay, head unit or audio amplifier.
6. Clunking Noise from Suspension
Many owners of early third generation MDXs reported hearing a clunking or thumping noise from the rear suspension when going over bumps at low speed when the vehicle was still relatively new.
The second generation MDX is also prone to developing clunks in the front suspension, although this would normally occur in older higher mileage vehicles.
Suspension components do wear out over time so this could be considered normal wear and tear, but it can be hard to track down which components need replacing.
Solution
There were enough complaints about the third generation MDX's clunky rear suspension for Acura to release a TSB (Technical Service Bulletin) in 2016 to address the issue.
The TSB recommends replacing the rear shock absorbers and rear upper damper mount bushings to get rid of the annoying clunks in the rear end.
The clunks in the second gen's front suspension could be caused by worn out:
Sway bar end links
Sway bar bushings
Lower control arm ball joint
Shock absorbers
Replacing all of these all at once will be expensive, so it's best to take it to a mechanic so they can isolate the problem correctly instead of throwing different parts at the problem.
Related: 22 Best & Worst Acura MDX Years (With Facts & Stats)
Acura MDX Model Years With the Most Problems
To get a better idea of which Acura MDX has the most problems the fairest way is to compare models based on the number of vehicles sold in relation to the number of reported problems.
We're using Car Complaints PPMY index which means problems reported per thousand vehicles per Year.
For example, newer cars will have fewer complaints simply because they've been around for less time.
Based on this index, the most problematic years are:
2019 – 0.44 PPMY
2017 – 0.41 PPMY
2014, 2018 – 0.37 PPMY
And the least problematic years are:
2008 – 0.07 PPMY
2011 – 0.12 PPMY
2006, 2010 – 0.13 PPMY
Acura MDX
Model Year
Problems
Sales
Vehicle Age
PPMY Index
2022
24
–
–
–
2021
–
–
–
–
2020
29
76,981
2
0.19
2019
66
50,333
3
0.44
2018
60
40,272
4
0.37
2017
144
69,458
5
0.41
2016
253
79,007
6
0.53
2015
81
45,879
7
0.25
2014
205
69,269
8
0.37
2013
33
25,402
9
0.14
2012
77
50,783
10
0.15
2011
70
51,211
11
0.12
2010
55
34,678
12
0.13
2009
64
34,545
13
0.14
2008
54
57,382
14
0.07
2007
121
53,703
15
0.15
2006
106
51,380
16
0.13
2005
215
60,334
17
0.21
2004
216
62,585
18
0.19
2003
246
55,942
19
0.23
2002
222
49,057
20
0.23
2001
251
44,331
21
0.27
Source: Car Problem Zoo
Acura MDX Pros and Cons
If you're considering an Acura MDX as your next car you might be wondering what its strengths and weaknesses are…
Pros
Upscale interiors and updated infotainment in latest generation
SH-AWD provides nimble handling for an SUV
Quiet and comfortable cabin
Good value for money
Outstanding reliability and build quality
Comes with third-row seats
V6 engine provides decent power and towing capacity
Cons
Infotainment system in older models are not very intuitive to use
Not as luxurious or fast as some rivals
Third-row seats are a bit cramped
Average fuel economy
No hybrid option in latest generation
Related: 14 Acura MDX Facts and Statistics You Should Know
Acura MDX Reliability Compared to Similar Cars
Consumer Reports rankings detailed below is based on the model's newest three years, the Acura MDX sits near the top, with a relatively good score of 61/100.
| | |
| --- | --- |
| Make & Model | Consumer ReportsReliability Score |
| Lexus GX | 100 |
| Lexus RX | 76 |
| Lexus RX L | 76 |
| Acura MDX | 61 |
| BMW X5 | 58 |
| Audi Q7 | 45 |
| GMC Acadia | 43 |
| Porsche Cayenne | 43 |
| Cadillac XT6 | 37 |
| Lincoln Nautilus | 31 |
| Infiniti QX60 | 30 |
| Land Rover Defender | 25 |
| Land Rover Discovery | 25 |
| Land Rover Range Rover Sport | 25 |
| Jaguar I-Pace | 24 |
| Volvo XC90 | 17 |
| Audi Q8 | 5 |
| Audi e-Tron | 5 |
| Genesis GV80 | 5 |
| Mercedes-Benz GLE | 5 |
| Tesla Model X | 5 |
| Lincoln Aviator | 3 |
Source: Consumer Reports
Acura MDX Used Value
We've taken a look on Car Gurus to gauge the resale value of a Acura MDX, below are typical asking prices for each model year.
According to Car Edge, an Acura MDX will depreciate 33% after 5 years and have a 5 year resale value of $43,674.
Note: Used model prices will vary depending on trim level.
| | | |
| --- | --- | --- |
| Model Year | Mileage (miles) | Resale Price |
| 2022 | 5,937 | $46,395 |
| 2020 | 85,668 | $33,750 |
| 2019 | 5,801 | $39,998 |
| 2018 | 71,377 | $28,935 |
| 2017 | 62,092 | $31,971 |
| 2016 | 100,336 | $22,359 |
| 2015 | 104,330 | $18,997 |
| 2014 | 106,267 | $18,485 |
| 2013 | 105,225 | $12,900 |
| 2012 | 92,865 | $15,455 |
| 2011 | 132,066 | $10,995 |
| 2010 | 81,712 | $14,950 |
Source: Car Gurus
Related: How Long Do Acura MDX Last?
What Do Owners Like and Dislike About the Acura MDX?
Based on owner feedback from the Kelley Blue Book site here are what real-life owners love and hate about the Acura MDX.
Likes
Sporty
Powerful
Nice cabin
Build quality
Styling
Fun to drive
Comfortable seats
Dislikes
No remote start
Gas pedal needs to be pressed harder
Tire noise
Owners Reviews
"… Love the underfloor storage. Third row very usable and easy to access. Also drives well with very smooth engine and a responsive transmission. Front seats are awesome. I like the touchpad interface. The other tech works great…"
Source: Kelley Blue Book
"I purchased an A-spec package, overall the build quality is top notch… it has enough power to haul the family around and no issues on highways.. I am impressed by the autopilot feature…"
Source: Kelley Blue Book
"…this MDX model was the most enjoyable to drive for comfort and engine power. Exterior of the 2022 MDX is elegant but sporty – and looks and drives like a smaller car than the actual dimensions reveal. The front Acura grill is very much to my taste…"
Source: Edmunds
How Reliable Are Acura Cars?
According to a recent report from Consumer Reports, Acura are ranked the 8th most reliable car manufacturer out of 28 brands, with a score of 64/100.
| | | |
| --- | --- | --- |
| Ranking | Brand | Score |
| 1 | Lexus | 76 |
| 2 | Mazda | 75 |
| 3 | Toyota | 71 |
| 4 | Infiniti | 69 |
| 5 | Buick | 66 |
| 6 | Honda | 66 |
| 7 | Subaru | 66 |
| 8 | Acura | 64 |
| 9 | Nissan | 63 |
| 10 | Mini | 60 |
| 11 | Hyundai | 56 |
| 12 | Chrysler | 54 |
| 13 | Porsche | 52 |
| 14 | Chevy | 48 |
| 15 | Audi | 47 |
| 16 | Cadillac | 47 |
| 17 | BMW | 45 |
| 18 | Ford | 44 |
| 19 | Kia | 43 |
| 20 | Volvo | 42 |
| 21 | Ram | 40 |
| 22 | GMC | 37 |
| 23 | Mercedes-Benz | 34 |
| 24 | Volkswagen | 31 |
| 25 | Genesis | 30 |
| 26 | Jeep | 26 |
| 27 | Tesla | 25 |
| 28 | Lincoln | 18 |
Source: Consumer Reports
Related: Where Are Acura MDX Made?
Sources
https://www.consumerreports.org/cars/acura/mdx/
https://www.carcomplaints.com/Acura/MDX/
https://www.carproblemzoo.com/acura/mdx/
https://www.kbb.com/acura/mdx/
https://www.edmunds.com/acura/mdx/
https://caredge.com/acura/mdx/depreciation