The Acura MDX is America's best selling three-row luxury SUV of all time, and it's not hard to imagine why.
It features a roomy upscale cabin, an ultra-wide panoramic moonroof and a powerful 3.5L V6 engine as standard.
If you're thinking of buying an MDX, be sure to read our useful guide first.
We'll cover all the useful facts and stats you should know before signing on the dotted line…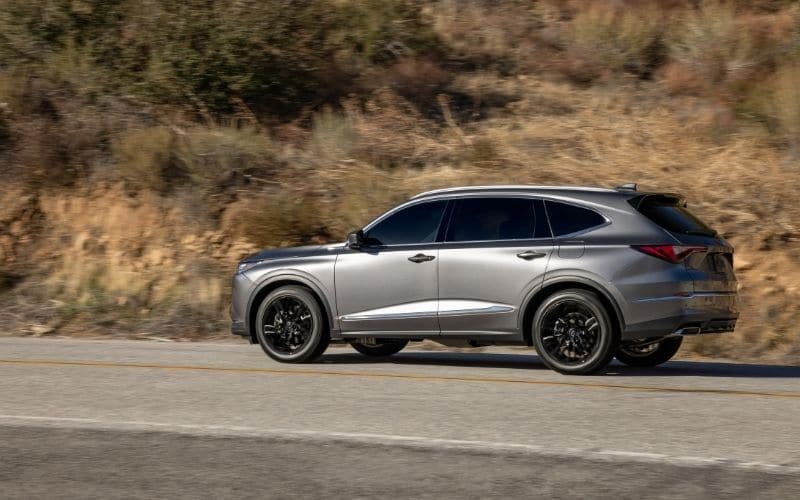 How Many Acura MDX Have Been Sold in the US Per Year?
The Acura MDX is one of the top picks in the highly competitive luxury midsize SUV segment and has consistently amassed respectable sales figures since it was officially launched in October 2000 as a 2001 model.
The Acura MDX recorded the highest number of sales in 2014, with a total of 65,603 units sold, and was followed closely by 2004 and 2007 with 58,606 and 57,948 units sold respectively. However, 2021 Could see these figures surpassed.
In 2020, there was a minor decline in sales, with the MDX only securing 47,816 purchases.
This should not worry MDX enthusiasts though as initial reports show an upward trend in sales for the fourth generation 2022 model, indicating that perhaps buyers were waiting for the new arrival.
In March 2021 Acura reported that the 2022 MDX model set an all-time monthly SUV sales record of over 7,500 units in one month, affirming its new role as the flagship of the brand.
Below is a table listing the annual sales of the Acura MDX in the US since its introduction in 2000:
| | |
| --- | --- |
| Year | Units Sold |
| 2000 | 9,750 |
| 2001 | 40,950 |
| 2002 | 52,955 |
| 2003 | 57,281 |
| 2004 | 59,505 |
| 2005 | 57,948 |
| 2006 | 54,121 |
| 2007 | 58,606 |
| 2008 | 45,377 |
| 2009 | 31,178 |
| 2010 | 47,210 |
| 2011 | 43,271 |
| 2012 | 50,854 |
| 2013 | 53,040 |
| 2014 | 65,603 |
| 2015 | 58,208 |
| 2016 | 55,495 |
| 2017 | 54,886 |
| 2018 | 51,512 |
| 2019 | 52,019 |
| 2020 | 47,816 |
Related: 22 Best & Worst Acura MDX Years (With Facts & Stats)
What Year Did Acura Start the MDX Model?
The Acura MDX began production in 2000 and was offered in the US in October of the same year.
Acura is the luxury branch of Japanese automaker Honda.
The MDX shares a lot of the same DNA as its Honda equivalent, the Honda Passport, both vehicles ride on the same platform although they differ in size.
The Passport is slightly larger than the MDX and its engine produces slightly less horsepower although both come standard with a 3.5L V6.
The MDX was one of the first luxury vehicles to offer a three-row seating configuration and served as a replacement for the Acura SLX, which is a re-badged version of the Isuzu Trooper.
The latest fourth-generation MDX was hotly anticipated and features some noticeable upgrades from its predecessors:
"The redesigned 2022 MDX houses a 290-HP V-6 engine paired to a new double-wishbone front suspension for precision cornering. Handling is further enhanced by the Integrated Dynamics System and available wider 20-in alloy wheels for adrenaline-inducing performance."
Acura MDX Model Year List
Below is a list of Acura MDX models per year based on the US market:
First Generation (2000 – 2006)
2001 Acura MDX
2002 Acura MDX
2003 Acura MDX
2004 Acura MDX
2005 Acura MDX
2006 Acura MDX
Second Generation (2007 – 2012)
2007 Acura MDX
2008 Acura MDX
2009 Acura MDX
2010 Acura MDX
2011 Acura MDX
2012 Acura MDX
Third Generation (2013 – 2021)
2013 Acura MDX
2014 Acura MDX
2015 Acura MDX
2016 Acura MDX
2017 Acura MDX
2018 Acura MDX
2019 Acura MDX
2020 Acura MDX
2021 Acura MDX
Fourth Generation (2021 – Present)
How is the Fuel Economy of the Acura MDX?
The luxury midsize SUV segment is not well known for being environmentally friendly, however the MDX's 3.5-liter Direct Injection V-6 is reasonably efficient and has been engineered in such a way to use significantly less fuel during engine starts.
The Acura MDX has an average fuel economy for its class and there are negligible differences between the two drivetrains offered.
AWD models will generally consume more gas as it takes more energy to power 4 wheels vs. 2.
Below are the EPA fuel economy figures for the 2022 Acura MDX:
| | | | |
| --- | --- | --- | --- |
| Model | City | Highway | Combined |
| Acura MDX FWD | 19 MPG | 26 MPG | 22 MPG |
| Acura MDX AWD | 19 MPG | 25 MPG | 21 MPG |
Is the Acura MDX better than the Acura RDX?
For those looking for a midsize SUV that offers a 7-seater configuration, with a more powerful engine and superior cabin space, the Acura MDX is a better option than the RDX.
For those looking for a slightly smaller, luxury compact SUV that has good maneuverability and can park in tight spots, the Acura RDX is a better option than the MDX.
Both vehicles are very similar and ultimately it will come down to what size SUV you really want.
How Quickly Does Acura MDX Depreciate?
An Acura MDX model is expected to depreciate by 53% after 5 years, this means if you buy a base level MDX at $47,200 your vehicle will be worth $22,184 after 5 years of normal use, providing it is well maintained and in good condition.
This means that the Acura MDX models will lose a little over half of their value five years from the date of purchase.
A 53% 5-year depreciation rate is definitely high when compared to other SUVs on the market.
The Lexus RX for example has a 5-year depreciation rate of 38%.
Although, when compared to the Audi Q7, with a depreciation rate of 59% the MDX begins to look more favorable.
To fetch the best possible price for your MDX make sure you look after your vehicle's interior and exterior, as well as staying up to date with the recommended maintenance schedule.
Related: 6 Most Common Acura MDX Problems (Explained)
Did Acura Recall Any of the MDX Models?
According to the NHTSA, the Acura MDX has been recalled a total of 59 times since its inception.
A recall is issued when a manufacturer or the NHTSA (National Highway Traffic Safety Administration) deems that a vehicle or one or more of its components creates an unreasonable safety risk or does not meet minimum safety requirements – recall related problems are fixed free of charge.
Below is a table showing the annual recall campaigns per year for the Acura MDX in the US:
| | |
| --- | --- |
| Year | Recall Campaigns |
| 2001 Acura MDX* | 2 |
| 2002 Acura MDX | 1 |
| 2003 Acura MDX | 11 |
| 2004 Acura MDX | 7 |
| 2005 Acura MDX | 0 |
| 2006 Acura MDX | 8 |
| 2007 Acura MDX | 0 |
| 2008 Acura MDX | 0 |
| 2009 Acura MDX | 0 |
| 2010 Acura MDX | 1 |
| 2011 Acura MDX | 0 |
| 2012 Acura MDX | 1 |
| 2013 Acura MDX | 0 |
| 2014 Acura MDX | 6 |
| 2015 Acura MDX | 5 |
| 2016 Acura MDX | 3 |
| 2017 Acura MDX | 4 |
| 2018 Acura MDX | 5 |
| 2019 Acura MDX | 4 |
| 2020 Acura MDX | 1 |
| 2022 Acura MDX | 0 |
How Much Do the Acura MDX Models Pollute?
We were unable to find reputable sources providing the carbon emissions of the Acura MDX however we do know that the MDX features a very similar 3.5L V6 engine as the Honda Pilot and so we can make the assumption that both vehicles will have a similar effect on the environment, we have based our figures on this assumption.
The MDX comes in two drivetrains All-Wheel Drive and Front-Wheel Drive, with the FWD variant polluting slightly less, although neither variants are particularly eco-friendly.
Acura MDX AWD
Has a Greenhouse Gas Emissions rate of 406 grams per mile and 6.1 metric tons per year.
It has an energy impact score of 15.0 barrels and an EPA smog rating of 4/10, which is below average.
Acura MDX FWD
Has a Greenhouse Gas Emissions rate of 388 grams per mile and 5.8 metric tons per year.
Has an energy impact score of 14.3 barrels and an EPA smog rating of 5/10.
Acura confirmed that it has no plans for a new MDX hybrid.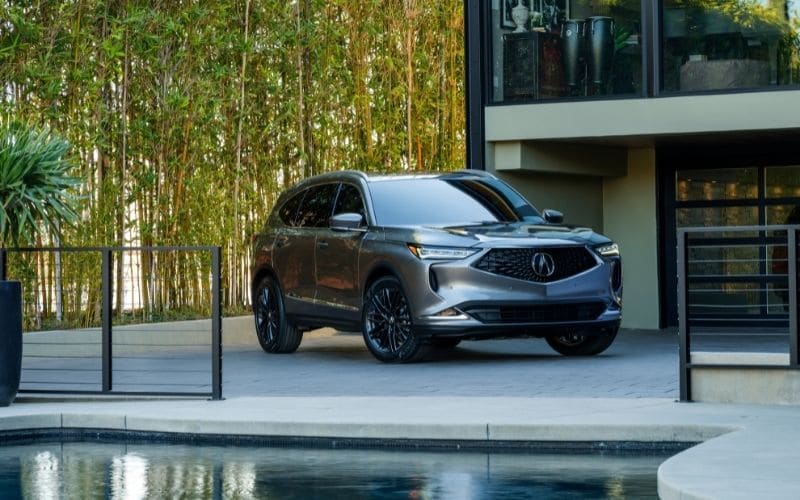 How Much Do the Acura MDX Tow?
Most models of the Acura MDX have a towing capacity of 3,500 pounds, which means it can tow small campers, motorcycles and jet skis, be sure to double-check the weight of any objects before towing.
In addition, certain AWD models of the MDX have a reported maximum towing capacity of 5,000 pounds, which can accommodate medium campers and small-sized boats.
Do not tow beyond the limits of your vehicle not only is it dangerous to do so it can also damage the transmission and warp the chassis.
How Reliable is an Acura MDX?
The Acura MDX is widely regarded by critics, owners and auto journalists alike as a very reliable SUV.
This should come as no surprise however as Japanese automaker Honda is well known for building dependable vehicles.
RepairPal gave the MDX a reliability rating of 4.0 out of 5.0, placing the model in 2nd place out of 14 in the luxury midsize SUV segment.
Based on customer reviews, Kelley Blue Book gave a perfect 5.0 out of 5.0 for the model.
J.D. Power gave a quality and reliability rating of 80 out of 100, which is equivalent to an "average" score.
In addition, the average total annual cost for maintenance and repairs for the MDX is $571, which is significantly lower than the luxury midsize SUV average of $807.
How Long Do Acura MDX Last?
The Acura MDX is a very reliable SUV that can last between 250,000 – 300,000 miles when properly maintained and driven conservatively. Based on 15,000 miles driven per year, you can expect 16 – 20 years of service from your MDX before it breaks down or requires expensive repairs.
The MDX is a very durable vehicle that will last for a long time when well looked after.
Related: How Long Do Acura MDX Last?
How Safe is an Acura MDX?
The Acura MDX has received excellent safety reviews over the years, in particular the 2022 model.
The 2022 MDX earned top scores in terms of crashworthiness, crash avoidance, and mitigation, among other categories according to IIHS.
In fact, the MDX was the recipient of the Top Safety Pick+ award by the same institution as it earned the highest possible ratings for every safety test.
The insurance-industry funded IIHS exceeds the outdated crash testing conducted by the NHTSA and also evaluates driver-assistance systems and the efficacy of headlights.
Here is a list of advanced safety features for the Acura MDX:
Collision Mitigation Braking System (CMBS)
Road Departure Mitigation (RDM)
Adaptive Cruise Control (ACC) with Low-Speed Follow
Lane Keeping Assist System (LKAS)
Pedestrian Detection
Traffic Sign Recognition
Traffic Jam Assist
What are the Typical Buyer Demographics for the Acura MDX?
Based on our findings, we have identified the target market for the Acura MDX to be males in their 30s to early 40s who are married with children with a household income exceeding $160,000, live an upscale lifestyle but would still like to make practical, low-maintenance choices when it comes to purchasing a luxury vehicle.
Where are Acura MDX Made?
The Acura MDX is built at Honda's East Liberty Plant in Anna, Ohio in the United States using domestic and globally sourced parts. This is the only plant in the world where the MDX is made, previously it has been produced in Ontario in Canada and also Lincoln Alabama.
The 1st and 2nd generation of MDX were built at the Honda of Canada Manufacturing (HCM) plants in Alliston, Canada, this included model years from 2001 – 2013.
For the 3rd generation of MDX, production was moved to Honda's plant in Lincoln Alabama.
At one point the MDX was being produced simultaneously in both Ohio and Alabama however from the fall of 2017, the MDX has been built solely at the East Liberty Plant.
Related: Where are Acura MDX made?
Acura MDX Theft Numbers
In our search for reliable theft figures for the Acura MDX, we were not able to find any site that provided accurate figures on an annual basis.
This may be due to the fact that Acura belongs to the luxury vehicle segment and there is not enough data to consolidate actual theft figures.
Despite the absence of figures, Acura has done very well in ensuring that their vehicles are prepared for any attempts of theft through the theft-deterrent systems and electronic immobilizer.
To reduce the risk of theft, we advide:
Keeping the vehicle locked at all times
Do not keep valuables on display where thieves can see them
Invest in a steering lock and car key signal blocking wallet
Researching anti-theft technology
Never leave your vehicle running unattended
Resources