Launched in '96, the Audi A3 is one of the original luxury compact cars.
It packs plenty of premium content despite its small four-door body and is a frontrunner in the segment.
The A3, like any other vehicle has had its share of problems over the years, we'll dive into these in this article.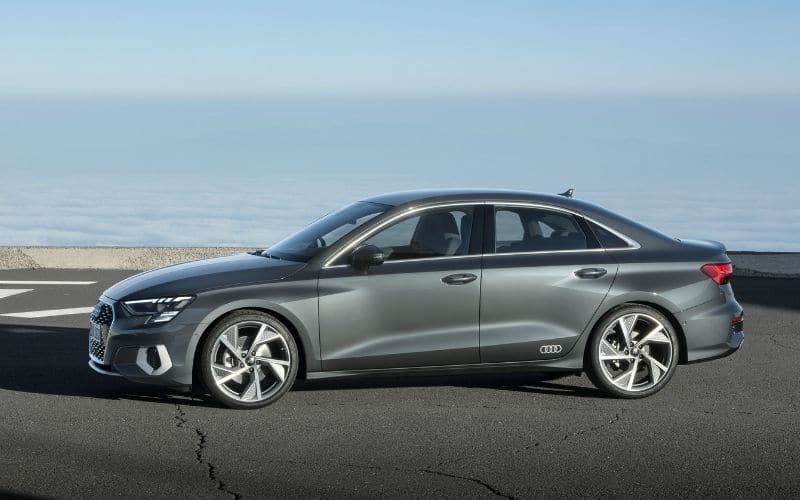 1. Airbag Problems
According to Car Problem Zoo, a site that logs driver feedback, the most commonly reported problem with the Audi A3 is due to its airbags.
Throughout its history, the A3 has had a few high-profile airbag recalls, affecting thousands of owners.
Certain model 2005 – 2013 Audi A3's were recalled as part of the infamous Takata recall.
The airbags were known to rupture due to excessive internal pressure which had the potential to fire fragments of metal at the driver and occupants resulting in serious injury or death.
More recently, Audi recalled more than 150,000 A3 sedans, model years from 2015 to 2020, due to a faulty sensor that could prevent the car's front passenger airbag from deploying in a crash – even if there is a person sitting in the passenger seat.
The problem is caused by a faulty passenger occupant detection system (PODS), which as the name suggests – determines whether someone is sitting in the front passenger seat.
If the sensor is not working or has become damaged, the airbags may not deploy properly in the event of a crash.
This will often cause the airbag light on the dashboard to illuminate, signaling that the airbag is OFF for the passenger.
The fix for this problem is to replace the faulty sensor and fit a protective cover for the new one.
Several owners have also complained that Audi has taken an unreasonable amount of time to fix the issue due to the unavailability of parts.
Solution
Whether you're an A3 owner or you've got your eye on a second-hand one – always run the car's VIN using either Audi's recall lookup tool on their website or on the NHTSA website to see if the vehicle has been subject to a recall.
There have been a number of very serious airbag recalls for the A3 so it's a good idea to do a bit of research.
Due to the technical nature of this problem you should leave this to the dealership to sort out, playing around with your car's airbags will also void the warranty.
If your A3 has been recalled Audi will carry out the repairs free of charge.
2. Failed Water Pump
A commonly reported complaint from Audi A3 owners is that their car is leaking coolant from the water pump housing, the problem is often due to a defective water pump.
A water pump is a vital part of the car's cooling system, Its main function is to continually circulate coolant from the radiator to the vehicle's engine block to prevent overheating.
Water pumps are meant to be fairly long-lasting pieces of equipment with lifespans often exceeding 70,000 miles, however many A3 owners were experiencing failure of this part at around 30,000 miles.
There have been a couple of high-profile recalls regarding Audi water pumps, and the German brand has been plagued by the issue.
Here's what an owner of a 2015 A3 had to say:
"Coolant leak from faulty water pump. This is a known issue from numerous models of Audis and has been the subject of recalls and extended warranty campaigns – but not on this particular model. I was forced to pay for the replacement of this known faulty part out of pocket."
If the water pump fails, it can cause the engine to overheat – the hotter the engine gets the higher the chance of serious damage, including a cracked engine block and damage to the cylinders, pistons, and head gasket.
A number of owners have experienced catastrophic engine damage as the fuel pump imploded, sending shrapnel throughout the entire fuel system.
Solution
First things first – run a VIN check to see if you have been affected by one of Audi's water pump recalls.
If you aren't covered by a recall and you have noticed coolant leaking from your A3, the problem is still most likely attributed to a failed water pump, in which case it will need to be replaced.
If the fuel pump has circulated metal parts through the fuel system, this is a big repair job, many parts will need to be replaced including a new engine.
According to Repair Pal the average cost for an Audi A3 water pump replacement is between $1,412 and $1,963, including parts and labor.
3. Excessive Oil Consumption
A commonly reported problem for the Audi A3 is excessive oil consumption, you can find this complaint reported on models mostly from the 2012 – 2017 era and it affects A3 models with 2.0T engines. This problem is often linked to a piston rings defect.
On the online forum AudiWorld.com, you can find numerous threads on this issue.
It's fair to say this problem was widespread and it affected many other models including the TT, A3, A4, A5, A6, Q3 and Q5.
The piston defect can cause the pistons and the engine itself to fail at any moment and you'll find numerous complaints from owners that their Audi is burning oil, this is because its combustion chamber is not properly sealed.
Here's what one unhappy driver had to say:
"Excessive oil consumption – car has 2,300 miles left to the 10k oil service and it's showing low oil. This is not normal Audi is trying to say to just top off the oil, yet excessive oil consumption will cause the car to need an engine replacement earlier than it should at about 70-80-100k miles at best. There are many complaints and a class action that involved this issue but they refuse to do more than change oil and check for leaks when they know it is due to defective parts and I am under a certified warranty until October 2019."
A lawsuit was filed against Audi and VW claiming the automakers have "wrongfully and intentionally" tried to cover up the apparent defect, which can allegedly cause the piston rings to not seat properly in the grooves of the piston head.
Solution
If your Audi A3 is burning oil then you may need to replace the pistons rings and possibly even the pistons themselves and the connecting rod bearings.
Piston rings create a seal between the piston and cylinder wall, this prevents pressurized combustion gases from entering the oil sump. They also help regulate oil consumption by preventing excessive oil from going into the combustion chamber and burning.
You should take your Audi to your local dealer and they will perform a 2 part oil consumption test.
Keep in mind some Audi A3s do burn a lot of oil, which is normal, although if it is excessive the oil consumption test will show this.
4. Headlights Flickering
Flickering headlights are a common problem associated with Audi A3s equipped with xenon headlights.
Xenon bulbs (also known as high-intensity discharge or HID) are more expensive but typically last longer, are much brighter and emit a white light that's a bit like daylight.
Many owners have reported that whilst driving the headlight flickers and goes out, others report that the headlights dim to such an extent that it makes driving at night unsafe.
There are several reasons why this occurs but the most frequent ones are:
A faulty ballast
A dying xenon bulb
Bad/loose wiring/connections
Solution
If you need a quick, temporary fix to this problem you should be able to get the headlights working again by turning them off and then back on again.
If you're mechanically inclined, before you contact the dealer here are a few things you can try:
Firstly, check the connection on the bulb inside the headlight.
If that doesn't work, try switching the xenon bulbs from one side to the other (if now the other side turns all black on you, it's probably the bulb itself).
Then, find the same type of xenon bulb and replace them.
If you're still in the dark, at least you now know the bulbs aren't the problem.
In which case the most likely cause is a defective ballast.
If you need new bulbs, do not buy them at Audi, they will cost considerably more than other places.
Note: ALWAYS disconnect the battery when working on xenon lights.
Related: 8 Best & Worst Audi A3 Years (With Facts & Stats)
5. Vibration When Driving
A common complaint from Audi A3 drivers is that their car vibrates when driving, this is often reported at higher speeds.
You might be able to spot a common theme in these owners' comments:
"I've got a vibration that only starts at 65MPH, and then lets up at 80MPH. I can see the headrest of the passenger seat shaking, drink in cup holder shaking, etc. This is only while cruising, no shuddering under braking, no noise at lower speeds."
"Hi guys Ive had a vibration in my car at 70 plus mph coming more from the front"
"I had the same issue, was bad when cruising at 50mph+ when accelerating the vibration increased with the revs"
Solution
If your Audi A3 is shaking whilst driving, then this can often be fixed by replacing the wheel bearings, this should be repaired under warranty.
However other possible fixes may include having the wheels balanced – this will usually be the first thing that is checked.
Audi A3 Model Years With the Most Problems
To get a better idea of which Audi A3 has the most problems the fairest way is to compare models based on the number of vehicles sold in relation to the number of reported problems.
We're using Car Complaints PPMY index which means problems reported per thousand vehicles per Year.
For example, newer cars will have fewer complaints simply because they've been around for less time.
Based on this index, the most problematic years are:
2010 – 1.97 PPMY
2011 – 1.51 PPMY
2013 – 1.40 PPMY
And the least problematic years are:
2018 – 0.36 PPMY
2019 – 0.37 PPMY
2016 – 0.42 PPMY
Audi A3
Model Year
Problems
Sales
Vehicle Age
PPMY Index
2020
11
11,192
2
0.49
2019
12
10,667
3
0.37
2018
30
20,938
4
0.36
2017
63
19,379
5
0.65
2016
89
35,455
6
0.42
2015
175
44,045
7
0.57
2014
–
–
8
–
2013
24
1,905
9
1.40
2012
47
3,282
10
1.39
2011
48
2,897
11
1.51
2010
58
2,454
12
1.97
2009
59
3,731
13
1.22
2008
46
5,352
14
0.61
2007
61
6,920
15
0.59
2006
131
11,074
16
0.74
2005
–
–
17
–
2004
6
–
18
–
2003
2
–
19
–
2002
–
–
20
–
2001
1
–
21
–
Source: Car Problem Zoo
Audi A3 Pros and Cons
If you're considering a Audi A3 as your next car you might be wondering what its strengths and weaknesses are…
Pros
Agile handling
Fuel efficient engine
Tech-rich cabin
Classy cabin
Cons
Many driver-assistance features are optional
You'll need to pay for the S3 if you want the very best driveability
Toggle shifter can be awkward
Related: How Long Do Audi A3 Last? (11 Important Facts)
Audi A3 Reliability Compared to Similar Cars
Consumer Reports rankings detailed below is based on the model's newest three years, the Audi A3 sits near the top, with a relatively good score of 50/100.
| | |
| --- | --- |
| Make & Model | Consumer ReportsReliability Score |
| Acura ILX | 64 |
| Audi A3 | 50 |
| BMW 2 Series Gran Coupe | 50 |
| Mercedes-Benz A-Class | 34 |
| Mercedes-Benz CLA | 34 |
Source: Consumer Reports
Audi A3 Used Value
We've taken a look on Car Gurus to gauge the resale value of a Audi A3, below are typical asking prices for each model year.
According to Car Edge, a Audi A3 will depreciate 42% after 5 years and have a 5 year resale value of $23,428.
Note: Used model prices will vary depending on trim level.
| | | |
| --- | --- | --- |
| Model Year | Mileage (miles) | Resale Price |
| 2022 | 4,097 | $38,880 |
| 2021 | – | – |
| 2020 | 20,667 | $28,500 |
| 2019 | 40,796 | $25,996 |
| 2018 | 19,628 | $25,495 |
| 2017 | 76,692 | $18,999 |
| 2016 | 56,394 | $23,495 |
| 2015 | 56,143 | $19,490 |
| 2014 | – | – |
| 2013 | 76,336 | $14,700 |
| 2012 | 117,640 | $9,800 |
| 2011 | 110,397 | $10,172 |
| 2010 | 136,812 | $7,699 |
Source: Car Gurus
What Do Owners Like and Dislike About the Audi A3?
Based on owner feedback from the Kelley Blue Book site here are what real-life owners love and hate about the Audi A3.
Likes
Powerful engine
Fun to drive
Quality
Upscale
Speed
Handling
Overall driving experience
Good mileage
Dislikes
Expensive parts
Noisy
Owners Reviews
"The car is fun to drive and has a powerful engine. The warranty is great and the service is very professional."
Source: Kelley Blue Book
"The car has far exceeded expectations. Gas mileage is awesome, and handles and hugs corners quite nicely. I have had no problems out of this car, consistently following all maintenance protocol."
Source: Kelley Blue Book
"I am so impressed with the new A3, it's quick, it handles great, and it has great luxury. You get a car that has all-wheel drive and gets amazing gas mileage on regular fuel with the hybrid system. To me it's the perfect car."
Source: Edmunds
How Reliable Are Audi Cars?
According to a recent report from Consumer Reports, Audi are ranked the 15th most reliable car manufacturer out of 28 brands, with a score of 47/100.
| | | |
| --- | --- | --- |
| Ranking | Brand | Score |
| 1 | Lexus | 76 |
| 2 | Mazda | 75 |
| 3 | Toyota | 71 |
| 4 | Infiniti | 69 |
| 5 | Buick | 66 |
| 6 | Honda | 66 |
| 7 | Subaru | 66 |
| 8 | Acura | 64 |
| 9 | Nissan | 63 |
| 10 | Mini | 60 |
| 11 | Hyundai | 56 |
| 12 | Chrysler | 54 |
| 13 | Porsche | 52 |
| 14 | Chevy | 48 |
| 15 | Audi | 47 |
| 16 | Cadillac | 47 |
| 17 | BMW | 45 |
| 18 | Ford | 44 |
| 19 | Kia | 43 |
| 20 | Volvo | 42 |
| 21 | Ram | 40 |
| 22 | GMC | 37 |
| 23 | Mercedes-Benz | 34 |
| 24 | Volkswagen | 31 |
| 25 | Genesis | 30 |
| 26 | Jeep | 26 |
| 27 | Tesla | 25 |
| 28 | Lincoln | 18 |
Source: Consumer Reports
Sources
https://www.consumerreports.org/cars/audi/a3/
https://www.carcomplaints.com/Audi/A3/
https://www.carproblemzoo.com/audi/a3/
https://www.edmunds.com/audi/a3/
https://caredge.com/audi/a3/depreciation