The A3 is a slick, stylish executive car that was first introduced in 1996.
It's Audi's smallest sedan and is a popular choice thanks to its cushioned ride, luxury features and selection of turbocharged engines.
In this article we'll take a closer look at its average lifespan.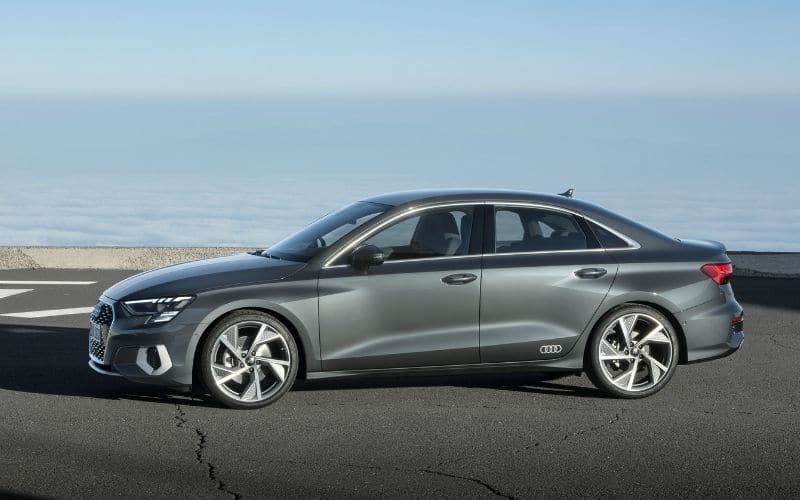 Here is the short answer to how long the Audi A3 lasts:
The Audi A3 is a robust car that can last 200,000 miles on average when properly maintained per the owner's manual and driven conservatively. Based on an annual mileage of 15,000 miles, this equates to 13 years of service before requiring expensive repairs.
How Many Miles Can You Expect from an Audi A3?
German automaker Audi are known for building sleek, luxurious cars and although they don't always receive the highest reliability ratings their cars are proven to withstand the test of time.
There's plenty of evidence to suggest an A3 is good for 200,000 miles, for example on used car websites such as Car Gurus and Autotrader there's no shortage of high mileage examples.
The problem with Audis (and BMWs for that matter) is that as the car gets older it will need more repairs as vital components will have incurred lots of wear and tear, which ultimately means they'll need to be replaced.
The cost of replacing these items can be costly and past a certain point, uneconomical.
Most people will look to replace their A3 after it reaches around 200,000 miles and this sentiment is echoed across Audi owner forums too (that's not to say the can't last longer).
The most important thing to keep in mind is that ownership habits are the deciding factor when determining how long any car will last.
Regular oil changes and sticking to the service intervals religiously can add thousands of available miles to the clock.
Driving sensibly will also keep wear and tear on parts to a minimum especially the engine which is the most expensive item to replace.
Audi offers a 4-year / 50,000 mile basic warranty and a 4-year / 50,000-mile powertrain warranty.
Do Audi A3 Rust Easily?
The Audi A3 does not rust easily. This is an area Audi really excels in, and it's one of the big advantages of luxury German cars, generally speaking, they are far more rust resilient than cheaper alternatives.
To be clear – the A3 isn't immune from rust, no vehicle is, but what you can expect from an Audi is top-tier rust protection applied during the manufacturing process.
This includes good quality paint, galvanized bodywork and an additional coating of zinc.
As a general rule, the models will have the best rust protection due to advances in rustproofing technology.
Depending on climate and geographical location, rusting issues can vary. For example, people living in drier states won't have to worry too much about rust whereas those living in the Salt Belt states will need to be extra vigilant.
Moisture, salt, dirt and grime will accelerate rusting so it's important to give your A3 regular washes including the underbody, especially during the winter.
You'll find a few complaints online online about rust on the A3 however this is normal for any car, some problem areas to watch out for include:
Rockers behind the front wheels
Fenders
Additional rustproofing isn't generally recommended for a new Audi and some forms of rustproofing may in fact void the vehicle's warranty.
Related: 5 Most Common Problems With Audi A3 (Explained)
What is High Mileage for an Audi A3?
An Audi A3 with over 100,000 miles is considered high mileage.
Buying an Audi A3 with significant miles on the clock isn't necessarily a bad decision – you just need to keep in mind that you may have to fork out for expensive repairs sooner rather than later.
This also really depends on how well the car has been looked after – a well-kept A3 with 100,000 miles on the clock can still be a good investment.
Mileage can give some indication of the car's worth but it's important to assess the whole car and not just the odometer reading.
If you're buying a used Audi A3, consider the following:
Service history: The owner should be able to provide documents proving they've followed the service schedule.
How long you are planning on keeping the car: If you're planning on keeping the car for a long time, evaluate whether the short-term savings outweigh spending a bit more on something more reliable.
Examine the interior: The condition of the interior can show how well a cars been cared for and the type of person your dealing with.
Take it for a test drive: Ask the owner to leave the car cold, you want to make sure it starts up first time and listen out for any strange noises.
Check the car's VIN and get a full history report: Was it a taxi or rental car? Recalls? How many owners? Real mileage? Stolen? Any accidents? If you're buying a used Audi, always check the VIN – you never know what the car has been through.
How Long Does the Audi A3 Last Compared to Similar Car Models?
In this section, we'll look at some of the Audi A3's closest competitors and see how they stack up in terms of durability and repair costs.
Audi A3 vs. BMW 3 Series
Audi and BMW are German rivals known for producing high-quality luxury cars.
The BMW 3 Series can last 200,000 on average, equal to what is expected of the Audi A3.
Audi A3
BMW 3 Series
RepairPal Reliability Rating
3.5/5.0
3.0/5.0
RepairPal Reliability Ranking
4th / 17
Luxury Compact Cars
19th / 31
Luxury Midsize Cars
Average Annual Repair Cost
$741
$773
Kelley Blue Book Reliability Score
4.3/5.0
4.5/5.0
JD Power Quality & Reliability Score
86/100
79/100
Choosing between an Audi or BMW will really come down to personal preference as they both have their own unique style.
Some say the A3's interior is plain in comparison to a 3 Series however there's no denying the exterior styling on both cars is superb.
You may also be interested in our article: How Long Do BMW 3 Series Last?
Audi A3 vs. Mercedes A-Class
The Mercedes A-Class is a compact executive sedan that offers a refined ride, luxury features and an upscale interior.
The average Mercedes A-Class is expected to last up to 250,000 miles, slightly longer than an A3.
Audi A3
Mercedes A-Class
RepairPal Reliability Rating
3.5/5.0
NA
RepairPal Reliability Ranking
4th / 17
Luxury Compact Cars
NA
Average Annual Repair Cost
$741
$908
Kelley Blue Book Reliability Score
4.3/5.0
3.9/5.0
JD Power Quality & Reliability Score
86/100
76/100
Both models are premium choices although the Mercedes is known for having slightly better tech and a little bit more in the performance department.
It's a close call though and we'd suggest taking both for a test drive.
Audi A3 vs. Lexus IS
Lexus is the luxury branch of Toyota, the Japanese carmaker that has become synonymous with reliability.
The Lexus IS can last 250,000 – 300,000 miles or 17 – 20 years, greater than what is expected of the Audi A3.
Audi A3
Lexus IS
RepairPal Reliability Rating
3.5/5.0
4.0/5.0
RepairPal Reliability Ranking
4th / 17
Luxury Compact Cars
9th / 31
Luxury Midsize Cars
Average Annual Repair Cost
$741
$543
Kelley Blue Book Reliability Score
4.3/5.0
4.4/5.0
JD Power Quality & Reliability Score
86/100
86/100
The IS is notably more reliable and is expected to last longer than the average A3.
Audi does offer more updated engine options though and the Quattro all-wheel drive is hard to beat.
You may also be interested in our article: How Long Does the Lexus IS Last?
Comparison Chart
| | | | | |
| --- | --- | --- | --- | --- |
| | Audi A3 | BMW 3 Series | Mercedes A-Class | Lexus IS |
| Annual Repair Cost | $741 | $773 | $908 | $543 |
| Reliability Rating | 3.5/5.0 | 3.0/5.0 | NA | 4.0/5.0 |
| KBB Consumer Rating | 4.3/5.0 | 4.5/5.0 | 3.9/5.0 | 4.4/5.0 |
| J.D. Power Rating | 86/100 | 79/100 | 76/100 | 86/100 |
| Lifespan (miles) | 200k | 200k | 250k | 250k – 300k |
Is the Audi A3 Reliable?
The Audi A3 has received good reviews for reliability, its not the most reliable car by any means however for the luxury compact car segment it does rank highly.
According to Consumer Reports, Audi rank about mid-pack in terms of reliability and overall we think that's a fair assessment.
The most commonly reported problem for the A3 is related to the air bags. They have had a number of recalls for these and some owners have expressed their frustration at how slowly Audi is addressing the problem.
Other owners have experienced issues with the air bag light that randomly goes off, these problems are well documented on Car Problem Zoo.
The Audi A3 received the following reliability reviews:
RepairPal gave the A3 a reliability rating of 3.5/5.0 and ranked it 4th / 17 in terms of reliability for luxury compact cars.
Kelley Blue Book's consumer rating index gave the Audi A3 an above-average reliability rating of 4.3/5.0.
J.D. Power provided the Audi A3 with an average reliability rating of 86/100.
Consumer Reports gave the Audi A3 an average reliability score of 3/5
As with longevity, the reliability of your Audi A3 will also depend on keeping up to date with the service schedule and adopting good driving habits.
Reliability Compared to Other Compact Luxury Cars
| | |
| --- | --- |
| Model | Reliability |
| Lexus CT200h | 4.5 / 5.0 |
| Acura ILX | 4.5 / 5.0 |
| Volvo S40 | 3.5 / 5.0 |
| Audi A3 | 3.5 / 5.0 |
| Cadillac ATS | 3.5 / 5.0 |
| Volvo C30 | 3.5 / 5.0 |
| Mercedes-Benz CLA250 | 3.5 / 5.0 |
| Lexus HS250h | 3.5 / 5.0 |
| Volvo C70 | 3.5 / 5.0 |
| Mercedes-Benz A-Class | 3.0 / 5.0 |
| Mercedes-Benz SLK350 | 3.0 / 5.0 |
| Audi TT Quattro | 3.0 / 5.0 |
| Audi A3 Quattro | 3.0 / 5.0 |
| BMW 128i | 3.0 / 5.0 |
| BMW Z4 | 3.0 / 5.0 |
| Porsche Boxster | 2.5 / 5.0 |
| Porsche Cayman | 2.0 / 5.0 |
| BMW 135i | 2.0 / 5.0 |
| Avg. Luxury Compact Car | 3.5 / 5.0 |
Mercedes A-Class Reliability is predicted, all data is from Repair Pal.
The Best and Worst Years for the Audi A3
We've done some research on customer feedback sites Car Complaints and Car Problem Zoo to find the best and worst model years for the Audi A3.
Worst Model Year
The worst model years for the Audi A3 are 2015 and 2006.
According to Car Complaints, the 2015 A3 was prone to excessive oil consumption however this was covered under warranty as it usually occurred within the first 17,000 miles.
The 2015 model year received a worryingly high number of complaints ranging from wiring problems to fuel pump problems.
2006 was another poor year for the Audi A3 with numerous owners complaining about the infamous 'Takata air bag recall'.
The Takata air bags were known to deploy accidentally causing serious harm; Audi customers were particularly annoyed at the slow pace at which this was addressed.
One disgruntled driver posted "Have been on the waiting list for 8 months, and unable to obtain any estimate or promise of repair. One dealer service manager told us 2 – 3 years"
Best Model Year
The best model years for the Audi A6 are from 2019 onwards.
After 2019 Audi finally got their act together regarding air bag problems and you can see a big drop off in the number of complaints from 2019 onwards.
The newer models will also have all the latest updates, tech and safety features.
If you're looking for an older model, 2013 and 2012 A3s are safe bets too just make sure that the air bag recall has been addressed.
Related: 8 Best & Worst Audi A3 Years (With Facts & Stats)
Model Year and Number of Complaints
Here is the total number of complaints and problems for the Audi A3 from the CarComplaints and Car Problem Zoo databases:
Model Year
Car Complaints
No. of Complaints
Car Problem Zoo
No. of Problems
2022
NA
NA
2021
NA
NA
2020
0
4
2019
0
8
2018
1
26
2017
0
52
2016
5
73
2015
29
150
2014
1
NA
2013
6
22
2012
0
45
2011
2
48
2010
4
58
2009
6
56
2008
0
46
2007
1
61
2006
3
131
What About Recalls for These Models?
The Audi A3 has had a total of 31 recall campaigns since 2006.
Data is sourced from cars.com.
You can check to see what recall campaigns have been issued for your A3 on the Audi recall web page, all you need is your Vehicle Identification Number.
Recalls are manufacturing faults and safety issues repaired by the manufacturer at no charge to the consumer.
Here is the total number of recall campaigns for every model year of the Audi A3:
2021 Audi A3: 0
2020 Audi A3: 0
2019 Audi A3: 0
2018 Audi A3: 0
2017 Audi A3: 0
2016 Audi A3: 4
2015 Audi A3: 6
2014 Audi A3: 0
2013 Audi A3: 2
2012 Audi A3: 3
2011 Audi A3: 3
2010 Audi A3: 4
2009 Audi A3: 4
2008 Audi A3: 2
2007 Audi A3: 2
2006 Audi A3: 1
Audi A3 Model Year List
First Generation (1996 – 2003)
1996 Audi A3
1997 Audi A3
1998 Audi A3
1999 Audi A3
2000 Audi A3
2001 Audi A3
2002 Audi A3
2003 Audi A3
Second Generation (2004 – 2012)
2004 Audi A3
2005 Audi A3
2006 Audi A3
2007 Audi A3
2008 Audi A3
2009 Audi A3
2010 Audi A3
2011 Audi A3
2012 Audi A3
Third Generation (2013 – Present)
2013 Audi A3
2014 Audi A3
2015 Audi A3
2016 Audi A3
2017 Audi A3
2018 Audi A3
2019 Audi A3
2020 Audi A3
2021 Audi A3
2022 Audi A3
Are Audi A3 Expensive to Maintain?
An Audi A3 will cost an average of $741 per year in repairs and maintenance. This is lower than the average of $801 for other luxury compact cars but higher than the average for all vehicles in different segments, which is estimated at $652.
The Audi A3 is a luxury vehicle and therefore prices for parts and servicing are going to be higher than that of a regular car.
Having your A3 serviced by an independent mechanic who specializes in German cars will help keep costs down however it is advised to have your car serviced by Audi whilst it's inside the warranty period.
Model
Avg. Annual
Repair Cost
Frequency of
Unscheduled
Repairs (per year)
Probability of
Severe Repairs
Lexus CT200h
$386
0.4
5%
Acura ILX
$435
0.3
6%
Volvo S40
$693
0.5
9%
Audi A3
$741
0.5
9%
Cadillac ATS
$741
0.3
12%
Volvo C30
$720
0.8
9%
Mercedes-Benz CLA250
$736
0.9
8%
Lexus HS250h
$361
0.9
15%
Volvo C70
$818
0.7
10%
Mercedes-Benz SLK350
$808
0.6
14%
Audi TT Quattro
$924
0.5
15%
Audi A3 Quattro
$824
1.5
8%
BMW 128i
$801
1.2
11%
BMW Z4
$894
0.7
16%
Porsche Boxster
$952
0.6
17%
Porsche Cayman
$1,135
0.7
19%
BMW 135i
$1,031
1.2
18%
Avg. Luxury Compact Car
$801
0.7
11%
How Long Do the Brakes Last?
Audi A3 brakes will typically last between 30,000 and 70,000 miles, this can vary greatly depending on your style of driving. For example driving in start-stop rush hour traffic will cause the brakes to wear out much faster.
Brake pad replacement, which includes parts and labor, can cost anywhere between $197 and $233.
Allowing plenty of stoping distance and using a smooth, controlled braking motion will ensure you get the most life from your brakes.
How Long Do the Tires Last?
Audi A3 tires should last about 3-4 years or 40,000 to 60,000 miles based on an annual mileage of 15,000 miles. They can wear out much sooner though depending on road conditions and driving habits.
Have your tires rotated roughly every 5,000 miles to ensure even wear.
Make sure your tires are at the correct air pressure, this will also help with fuel economy. Check every 2-3 weeks.
Have a qualified technician check your wheel alignment at 6 monthly intervals.
How Long Do Audi A3 Engines Last?
The Audi A3 engine should last at least 200,000 miles with regular oil changes and routine servicing.
Audi engines are well-built pieces of kit and the A3 uses a 2.0-liter turbocharged four-cylinder which are well known for their reliability.
You may also be interested in our article: How Long Do Infiniti Q50 Last?
How Long Do Audi A3 Batteries Last?
The Audi A3 battery will last 3 – 5 years. Battery life can vary depending on factors such as climate, driving habits, and battery type.
To get the most life from your battery:
Limit short rides: Quick car rides prevent the battery from fully charging.
Control Corrosion: Clean the terminals (toothbrush dipped in baking soda and water mixture) and keep them free from build-up.
Keep your battery tightly fastened: The vibrations of your car can loosen the connections, potentially resulting in short circuits and internal damage.
How Long Do the Spark Plugs Last?
For 2018 models or earlier the spark plugs on an Audi A3 require replacing every 40,000 miles or every 6 years, whichever comes first. For 2019 models or later, the spark plugs require replacing every 80,000 miles.
If you're experiencing reduced gas mileage, a lack of acceleration, rough idling, hard starts or the engine misfires then you could well be due some new spark plugs.
Spark plugs should be inspected every time you take your car for a tune-up.
What About Insurance Costs?
The average cost of full comprehensive coverage for an Audi A3 is $1,706 per year or around $142 per month.
Insurance costs can differ based on a wide range of factors, it's always best to get multiple quotes.
Tips to Prolong the Life of Your Audi A3
Drive smoothly
Follow the service intervals outlined in the owners manual
Use quality luids and parts
Have repairs, recalls and technical service bulletins addressed as soon as possible to prevent further problems.
Inspect tire pressure and fluid levels regularly ensuring they are correct.
Take your car to a reputable mechanic who specializes in Audis or use Audi directly.
If possible, keep your A3 stored in a garage to protect it from bird dropping and harsh weather.
Familiarize yourself with the owners manual and learn the various warning lights on the gauge cluster.
Resources