The Audi A4 a compact executive sedan that was first introduced in the US for the 1996 model year.
It boasts a conservative exterior, well-balanced handling and a premium interior.
It makes a great car for commuting and road trips too, but just what are the common problems associated with the A4?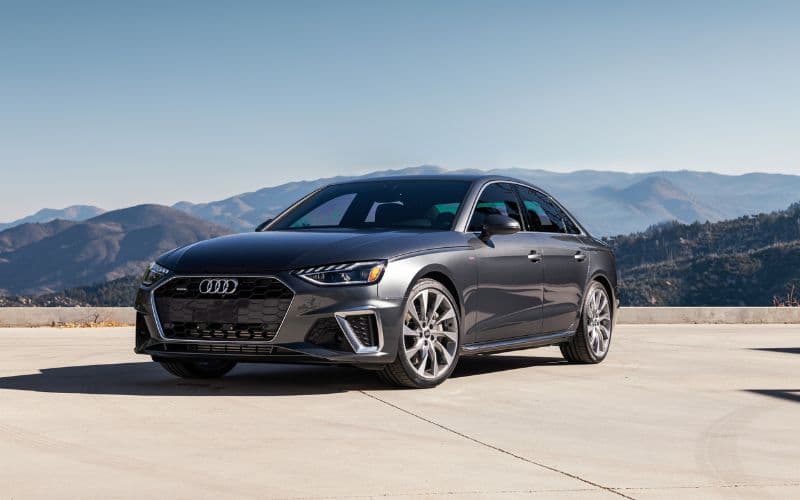 1. Airbag Problems
According to Car Problem Zoo, a site that collates owners' feedback, the most commonly reported problem with the Audi A4 is due to its airbags.
Throughout its history, the A4 has had a number of issues with its airbags, these problems date back to models as far as 2002 and are reported on models as recent as 2020.
As you can imagine a number of these issues have been covered by recalls as it directly impacts safety.
Audi recently recalled 208,332 cars, and a number of Audi A4 models from 2017-2020 were impacted by this.
The problem was caused by faulty wiring associated with the passenger occupant detection system which could disable the front passenger airbag.
Thus, in the event of a crash, the passenger is not protected as the airbag is disabled.
Many owners have also complained that Audi has taken an unreasonable amount of time to fix the issue due to the unavailability of parts.
Audi also recalled over 62,000 vehicles from 2000 – 2002, including the A4 in order to replace a faulty driver's side airbag.
These badly designed airbags were known to allow moisture in which could cause them to deploy without enough force or in some cases too much force, therefore not offering proper protection to the occupants.
Although these were Takata airbags this recall was separate from the wider Takata recall that affected tens of millions due to exploding airbags.
Solution
Whether you're the owner of an Audi A4 or you've got your eye on a used one – always run the car's VIN using either Audi's recall lookup tool on their website or on the NHTSA website to see if the vehicle has been subject to a recall.
There have been a number of airbag recalls for the A4 so it's a wise idea to find out and see if you have been affected.
You will find a number of online reports from owners who have crashed their A4s and the airbags haven't deployed – we suspect many of these are due to unaddressed recalls.
Due to the technical nature of this problem, it is imperative that you leave this to the dealership to fix.
If your car has been recalled they will carry out the repairs free of charge.
2. Failed Water Pump
A commonly reported complaint from Audi A4 owners is that their car is leaking coolant from the water pump housing, the problem is often due to a failed water pump.
A water pump is a vital part of the car's cooling system, Its main function is to continually circulate coolant from the radiator to the vehicle's engine block to prevent overheating.
Water pumps are meant to be fairly robust pieces of kit and are meant to last at least 70,000 miles, and many A4 owners were experiencing failure of this part well before 40,000 miles.
There have been a couple of high-profile recalls regarding Audi water pumps.
Aftermarket water pumps made for certain 1995-2005 A4s were known to cause timing belt failure.
2013 – 2016 Audi A4's were recalled as debris in the cooling system would clog the pump and cause it to overheat and fail.
If the water pump fails, it can cause the engine to overheat – the hotter the engine gets the higher the chance of serious damage, including a cracked engine block and damage to the cylinders, pistons, and head gasket.
Solution
First things first – run a VIN check to see if you have been affected by one of Audi's water pump recalls.
If you aren't covered by a recall and you have noticed coolant leaking from your A4, the problem is still most likely attributed to a failed water pump, in which case it will need to be replaced.
According to Repair Pal the average cost for an Audi A4 water pump replacement is between $1,412 and $1,963, including parts and labor.
3. Excessive Oil Usage
A commonly reported complaint from Audi A4 owners is that their car is burning oil – that is oil consumption is way above what it should be. You can find this complaint reported on models mostly from the 2012 – 2017 era and it affects A4 models with 2.0T engines.
On the Audi dedicated forum AudiWorld.com, you can find a huge number of threads on this hot topic, and it's fair to say this issue was widespread.
Here's what one disgruntled driver had to say:
"Add oil warning light on. The car tells me to add 1 quart of oil every 200-300 miles. Car has a known excessive oil consumption issue because Audi made a bad batch of piston rings on engine code CAE and they refuse to admit it. Class action lawsuit was filed against them and was settled in sept 2014 and now its time for a recall on this issue."
Excessive oil consumption occurs because the combustion chamber is not properly sealed off from the A4's turbo engine parts that need to stay lubricated.
Because of insufficient lubrication, fragments of the piston rings flow through the engines causing damage.
This can also cause a sudden loss of engine power.
Solution
If your Audi is burning oil then you may need to replace the pistons rings and possibly even the pistons themselves and the connecting rod bearings.
Piston rings create a seal between the piston and cylinder wall, this prevents pressurized combustion gases from entering the oil sump. They also help regulate oil consumption by preventing excessive oil from going into the combustion chamber and burning.
You should take your Audi to your local dealer and they will perform a 2 part oil consumption test.
Keep in mind some Audi A4s do burn a lot of oil, which is normal, although if it is excessive the oil consumption test will show this.
In some instances, owners have been forced to replace the engine which can cost over $10,000.
4. Headlights Flickering
Flickering headlights are a common problem associated with Audi A4's equipped with xenon headlights.
Xenon bulbs (also known as high-intensity discharge or HID) are more expensive but typically last longer, are much brighter and emit a white light that's a bit like daylight.
Numerous owners have reported that whilst driving the headlight flickers and goes out, others report that the headlights dim to such an extent that it makes driving at night unsafe.
Here's what owners are up against:
"I get a "right dipped headlight" message and my right headlight goes out. The car has been doing this with increasing frequency, especially over the past year. It occurs more when it's raining and more after dark-when you most need the headlights. It will cost me about $1600 to get the headlights replaced but apparently there is no guarantee that this will fix the issue. I have in no way damaged the headlights. We are the original owners of this car. This situation has been occurring for several years."
There are several reasons why this occurs but the most frequent ones are:
A faulty ballast
A dying xenon bulb
Bad/loose wiring/connections
Solution
If you need a quick, temporary fix to this problem you should be able to get the headlights working again by turning them off and then back on again.
If you're mechanically inclined, before you contact the dealer here are a few things you can try:
Firstly, check the connection on the bulb inside the headlight.
If that doesn't work, try switching the xenon bulbs from one side to the other (if now the other side turns all black on you, it's probably the bulb itself).
Then, find the same type of xenon bulb and replace them.
If you're still in the dark, at least you now know the bulbs aren't the problem.
In which case the most likely cause is a defective ballast.
If you need new bulbs, do not buy them at Audi, they will cost considerably more than other places.
Note: ALWAYS disconnect the battery when working on xenon lights.
Related: How Long Do Audi A4 Last? (Solved & Explained)
5. Ignition Coil Failure
A large number of Audi A4 owners have suffered from premature failure of ignition coils, this mostly affected Audi A4s from the early to mid-2000s.
The problem was so widespread that Volkswagen and Audi were forced to recall more than half a million vehicles to replace a defective ignition coil.
The most common symptom owners experienced from this was breaking down, although other common symptoms of a faulty ignition coil include:
Check engine light On
Bad fuel economy
Backfiring
Jerking and vibrating
Misfiring engine
Hard starts
Stalling
Spluttering and coughing sounds
If you drive your A4 for an extended period with a bad coil, it can overheat the catalytic converter and cause critical engine damage.
Solution
Many owners will find they have this problem and many of which won't be covered by the recall as it only covered certain 2001, 2002 and 2003 Audi A4s although this problem was known on other model years too.
In which case the only solution is to pay for the ignition recoil to be replaced.
Alternatively, if you're a hands-on kind of person you can do this fairly easily yourself – but remember that you're dealing with high voltages so you must disconnect your battery before you start.
6. No Manual Transmission
Although this isn't a huge deal for some people for those who enjoy the fun of changing gears when driving it can be a deal breaker.
In 2019 the A4 received a refresh and was no longer offered with a six-speed manual transmission.
Audi A4 Model Years With the Most Problems
To get a better idea of which Audi A4 has the most problems the fairest way is to compare models based on the number of vehicles sold in relation to the number of reported problems.
We're using Car Complaints PPMY index which means problems reported per thousand vehicles per Year.
For example, newer cars will have fewer complaints simply because they've been around for less time.
Based on this index, the most problematic years are:
2006 – 0.45 PPMY
2017 – 0.37 PPMY
2021 – 0.36 PPMY
And the least problematic years are:
2020 – 0.05 PPMY
2019 – 0.06 PPMY
2001 – 0.14 PPMY
| | | | | |
| --- | --- | --- | --- | --- |
| Audi A4Model Year | Problems | Sales | VehicleAge | PPMY Index |
| 2022 | 2 | – | – | – |
| 2021 | 6 | 16,688 | 1 | 0.36 |
| 2020 | 1 | 10,826 | 2 | 0.05 |
| 2019 | 5 | 29,394 | 3 | 0.06 |
| 2018 | 26 | 43,943 | 4 | 0.15 |
| 2017 | 94 | 50,709 | 5 | 0.37 |
| 2016 | 33 | 18,457 | 6 | 0.30 |
| 2015 | 43 | 28,993 | 7 | 0.21 |
| 2014 | 77 | 37,314 | 8 | 0.26 |
| 2013 | 119 | 39,893 | 9 | 0.33 |
| 2012 | 54 | 31,561 | 10 | 0.17 |
| 2011 | 57 | 35,079 | 11 | 0.15 |
| 2010 | 72 | 30,863 | 12 | 0.19 |
| 2009 | 165 | 39,069 | 13 | 0.32 |
| 2008 | 215 | 45,417 | 14 | 0.34 |
| 2007 | 232 | 50,781 | 15 | 0.30 |
| 2006 | 341 | 47,677 | 16 | 0.45 |
| 2005 | 248 | 47,280 | 17 | 0.31 |
| 2004 | 200 | 46,704 | 18 | 024 |
| 2003 | 223 | 47,487 | 19 | 0.25 |
| 2002 | 186 | 38,468 | 20 | 0.24 |
| 2001 | 130 | 43,015 | 21 | 0.14 |
| 2000 | 96 | 25,045 | 22 | 0.17 |
| 1999 | 193 | – | 23 | – |
| 1998 | 260 | – | 24 | – |
| 1997 | 100 | – | 25 | – |
| 1996 | 89 | – | 26 | – |
Source: Car Problem Zoo
Audi A4 Pros and Cons
If you're considering a Audi A4 as your next car you might be wondering what its strengths and weaknesses are…
Pros
Excellent handling
Quattro AWD on every model
Loaded with tech goodies
Handsome styling
Refined interior
Well-built
Cons
Style may be too conservative for some
Awkard access for tall people
Not a huge amount of storage space
Can get very expensive for higher trims and coolest features
Related: 12 Best & Worst Audi A4 Years (With Facts & Stats)
Audi A4 Reliability Compared to Similar Cars
Consumer Reports rankings detailed below is based on the model's newest three years, the Audi A4 sits near the top, with a respectable score of 77/100.
Make & Model
Consumer Reports
Reliability Score
Infiniti Q50
90
Acura TLX
87
Audi A4
77
Tesla Model 3
59
BMW 3 Series
58
Lexus IS
58
Genesis G70
55
Volkswagen Arteon
49
Kia Stinger
46
Volvo S60
29
Polestar 2
28
Cadillac CT5
27
Alfa Romeo Giulia
18
Source: Consumer Reports
Audi A4 Used Value
We've taken a look on Car Gurus to gauge the resale value of a Audi A4, below are typical asking prices for each model year.
According to Car Edge, a Audi A4 will depreciate 31% after 5 years and have a 5 year resale value of $32,819.
Note: Used model prices will vary depending on trim level.
| | | |
| --- | --- | --- |
| Model Year | Mileage (miles) | Resale Price |
| 2022 | 2,786 | $39,999 |
| 2021 | 5,316 | $34,983 |
| 2020 | 14,471 | $35,000 |
| 2019 | 41,357 | $30,995 |
| 2018 | 57,145 | $23,794 |
| 2017 | 71,355 | $21,781 |
| 2016 | 58,692 | $19,590 |
| 2015 | 58,868 | $15,990 |
| 2014 | 102,430 | $12,995 |
| 2013 | 153,200 | $5,500 |
| 2012 | 107,431 | $7,999 |
| 2011 | 70,756 | $10,995 |
| 2010 | 100,557 | $8,495 |
Source: Car Gurus
What Do Owners Like and Dislike About the Audi A4?
Based on owner feedback from the Kelley Blue Book site here are what real-life owners love and hate about the Audi A4.
Likes
Tech
Styling
Elegance, sport, luxury
Fun to drive
Easy to drive
Reliable
Acceleration
Dislikes
Steering
Rear seat legroom
Turbo lag
Uncomfortable leather seats
Faulty electronics
Owners Reviews
"Even after reading the owner's manual front to back and nearly a month of ownership, I'm still discovering cool new features related to the way the car operates and integration with the phone and Audi app. Winter handling has been superb on secondary roads that aren't regularly plowed. Car heating system generally works great – seat heaters are excellent. Steering wheel heater isn't really noticeable, but the car warms up quickly so this isn't really a feature that I miss or use."
Source: Kelley Blue Book
"I've loved every second of this car. For its price, it has it all. Luxury, sport, comfort, style, reliability, fuel economy, and more."
Source: Kelley Blue Book
"The two best cars I have owned prior to this A4 were both Audis – 2002 S4 and and 1999 A4 back in the day. No idea why I got away from Audi's but I'm glad to be back!"
Source: Edmunds
Related: 5 Most Common Problems With Audi A6 (Explained)
How Reliable Are Audi Cars?
According to a recent report from Consumer Reports, Audi are ranked the 15th most reliable car manufacturer out of 28 brands, with a score of 47/100.
| | | |
| --- | --- | --- |
| Ranking | Brand | Score |
| 1 | Lexus | 76 |
| 2 | Mazda | 75 |
| 3 | Toyota | 71 |
| 4 | Infiniti | 69 |
| 5 | Buick | 66 |
| 6 | Honda | 66 |
| 7 | Subaru | 66 |
| 8 | Acura | 64 |
| 9 | Nissan | 63 |
| 10 | Mini | 60 |
| 11 | Hyundai | 56 |
| 12 | Chrysler | 54 |
| 13 | Porsche | 52 |
| 14 | Chevy | 48 |
| 15 | Audi | 47 |
| 16 | Cadillac | 47 |
| 17 | BMW | 45 |
| 18 | Ford | 44 |
| 19 | Kia | 43 |
| 20 | Volvo | 42 |
| 21 | Ram | 40 |
| 22 | GMC | 37 |
| 23 | Mercedes-Benz | 34 |
| 24 | Volkswagen | 31 |
| 25 | Genesis | 30 |
| 26 | Jeep | 26 |
| 27 | Tesla | 25 |
| 28 | Lincoln | 18 |
Source: Consumer Reports
Related: How Long Do Audi A3 Last? (11 Important Facts)
Sources
https://www.consumerreports.org/cars/audi/a4/
https://www.carcomplaints.com/Audi/A4/
https://www.carproblemzoo.com/audi/a4/
https://www.edmunds.com/audi/a4/
https://caredge.com/audi/a4/depreciation