The A4 is a polished and progressive upmarket sedan that made its debut for the '96 model year.
It offers exceptional cabin space for a full-size car, athletic handling and is generally well-rounded.
In this article, we'll take a closer look at the A4's average lifespan.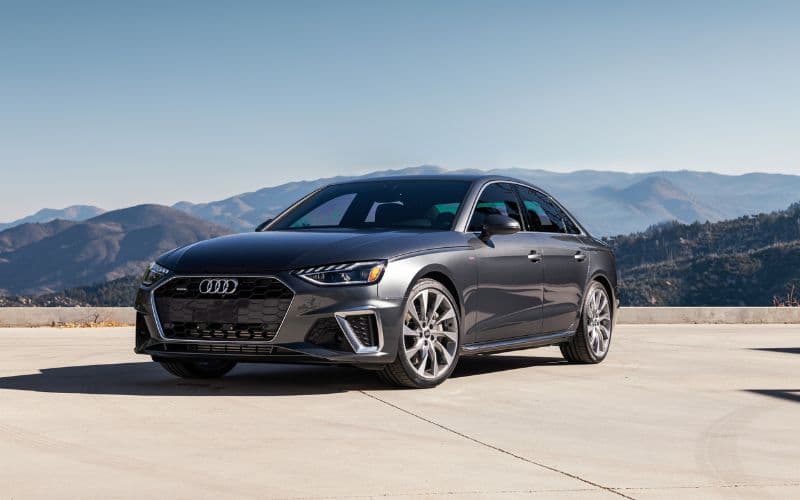 Here is the short answer to how long the Audi A4 lasts:
The Audi A4 is can last 200,000 miles on average when properly maintained, some may last over 250,000 miles although these are the outliers. Based on an annual mileage of 15,000 miles, you can expect 13 years of reliable service before requiring uneconomical repairs.
How Many Miles Can You Expect from an Audi A4?
German automaker Audi is a subsidiary of the Volkswagen Group, and although neither brand receives the highest reliability scores from auto critics – there is no questioning their durability.
Audi placed 15th out of 28 car brands for reliability from a recent Consumer Reports survey, VW placed 24th.
There's plenty of data to suggest that the A4 can last 200,000 miles and on second-hand car websites we even came across a few A4's with close to 250,000 miles on the clock.
When so many miles have been accumulated, reliability tends to wane and if you were to incur failure of a big-ticket part like the engine or transmission, the repair costs could equate to more than the car is worth.
Like any luxury German car, outside of warranty repairs can be costly.
The lifespan of your A4 will largely be dependent on how well you look after it, maintain it and your driving habits.
Sure, these car are designed for spirited driving, but treating your A4 like a Nascar will cause components to acquire wear and tear and a faster rate.
Routine oil changes and staying up to date with factory scheduled maintenance can also add thousands of available miles to the odometer.
Audi offers a 4-year / 50,000 mile basic warranty and a 4-year / 50,000-mile powertrain warranty.
What Problems Do Audi A4 Have?
Despite being a good all-rounder the A4 has been around long enough to showcase some of its flaws.
Storage Space
Auto review sites and owners have criticized the A4 for having a distinct lack of cubby storage space.
Awkward Ingress and Egress
This is more of an issue for taller people and is made more difficult with the sports seats although they are much more comfortable than the base seats.
Airbag Recalls
The Audi A4 has received a large number of complaints about its airbags over the years, it's not so much a problem for newer models (2018 and onward) although there have been a number of high-profile recalls including the infamous Takata recall.
It's always a good idea to run a VIN check on your vehicle to see if you have been affected by a recall.
Engine Problems
On the customer feedback website Car Problem Zoo, you'll find a number of A4 owners who have experienced engine problems mostly due to high oil consumption.
This has been linked to faulty piston rings, although some Audis do burn high amounts of oil even when everything is running as it should.
We go into more detail about this in our article 5 Most Common Problems of the Audi A4 (Explained)
What is High Mileage for an Audi A4?
An Audi A4 with over 100,000 miles is considered high mileage. Although the car may still have plenty more life left, it will have acquired some degree of wear and tear and will be in need of replacement parts sooner rather than later, outside of warranty these can be expensive.
Purchasing an Audi A4 with 100k on the odometer won't necessarily equate to a sour purchase – it really depends on how well it's been looked after.
A well-kept A4 that clocked big numbers would be a wiser choice than a lower mileage equivalent that's been poorly maintained, had lots of owners or was involved in an accident.
If you're buying a used Audi A4, consider the following:
Maintenance history. The owner should be able to provide documented evidence that the car has been serviced at Audi's required intervals.
Get a second opinion. There's no harm in bringing a knowledgeable friend or relative along to the viewing, better yet have a mechanic take a look.
Check for rust. Rust is a problem that will spread, although Audi's are generally quite rust resilient always check under the car.
Number of previous owners. As a general rule, less is better – more owners usually equate to more wear-and-tear.
How long you are planning on keeping the car. If its for a long time, decide whether the short-term savings outweigh spending extra on something more reliable.
Examine the interior. The condition of the interior will give some big clues as to how the car has been treated.
How Long Does the Audi A4 Last Compared to Similar Cars?
Audi A4 vs. Mercedes-Benz C-Class
The Mercedes-Benz C-Class is a compact luxury sedan boasting a punchy turbo four-cylinder powertrain.
The Mercedes-Benz C-Class can last 200,000 miles or 13 years, similar to what is expected of the Audi A4.
Audi A4
Mercedes-Benz C-Class
RepairPal Reliability Rating
3.5/5.0
3.5/5.0
RepairPal Reliability Ranking
14th / 31
Luxury Midsize Cars
13th / 31
Luxury Midsize Cars
Average Annual Repair Cost
$739
$739
Kelley Blue Book Reliability Score
4.5/5.0
3.0/5.0
JD Power Quality & Reliability Score
74/100
81/100
Both these cars will offer nice handling, upscale cabins and plenty of tech goodies.
The A4 has a more spacious cabin and offers better fuel economy although the C Class has a more eye-catching design.
Related: How Long Do Mercedes-Benz C300 Last?
Audi A4 vs. BMW 3 Series
The BMW 3 Series is a compact executive sedan that offers top-of-the-range features, driving enjoyment and plenty of luxury.
The BMW 3 Series can last 200,000 – 250,000 miles or 13 – 17 years, slightly longer than what is expected of the Audi A4.
Audi A4
BMW 3 Series
RepairPal Reliability Rating
3.5/5.0
3.0/5.0
RepairPal Reliability Ranking
14th / 31
Luxury Midsize Cars
19th / 31
Luxury Midsize Cars
Average Annual Repair Cost
$739
$773
Kelley Blue Book Reliability Score
4.5/5.0
4.2/5.0
JD Power Quality & Reliability Score
74/100
79/100
Both the A4 and the 3 Series offer top-tier driving characteristics and a spacious well-equipped cabin.
The base trim A4 is slightly cheaper although choosing between the two will likely come down to which styling you prefer as the A4 is much more conservative.
Related: How Long Do BMW 3 Series Last?
Audi A4 vs. Volvo S60
The Volvo S60 is a classy car that's more of a luxury cruiser than a sports sedan.
The Volvo S60 can last 200,000 miles or 13 years, equal to what is expected of the Audi A4.
Audi A4
Volvo S60
RepairPal Reliability Rating
3.5/5.0
3.5/5.0
RepairPal Reliability Ranking
14th / 31
Luxury Midsize Cars
11th / 31
Luxury Midsize Cars
Average Annual Repair Cost
$739
$750
Kelley Blue Book Reliability Score
4.5/5.0
4.3/5.0
JD Power Quality & Reliability Score
74/100
78/100
If you want something that's fun to drive the A4 is the obvious choice as the S60 has a somewhat underwhelming powertrain.
Both cars are very comfortable although the S60 comes out on top in this category.
Both cars have limited interior cubby space.
Comparison Chart
| | | | | |
| --- | --- | --- | --- | --- |
| | Audi A4 | Mercedes-Benz C-Class | BMW 3 Series | Volvo S60 |
| Annual Repair Cost | $739 | $739 | $773 | $750 |
| Reliability Rating | 3.5/5.0 | 3.5/5.0 | 3.0/5.0 | 3.5/5.0 |
| KBB Consumer Rating | 4.5/5.0 | 3.0/5.0 | 4.2/5.0 | 4.3/5.0 |
| J.D. Power Rating | 74/100 | 81/100 | 79/100 | 78/100 |
| Lifespan (miles) | 200k | 200k | 200k-250k | 200k |
Is the Audi A4 Reliable?
The Audi A4 has received middle-of-the-pack ratings for reliability over the years, however the newer models from 2018 onwards have received notably higher scores for reliability from auto critics.
When people think of the most reliable car brands it's often the Japanese companies that spring to mind, that being said, in recent times German automaker Audi has improved the reliability on a number of their models including the A4.
According to data from Consumer Reports, since 2018 the A4 has scored an average of 4/5 for reliability, prior to 2018 reliability scores were closer to 2/5.
The reliability scores in earlier years took a hammering from some high-profile recalls including faulty water pumps and defective airbags. Another common issue is high oil consumption.
Although there will be a few disgruntled customers this is normal for any car, here's what a few owners had to say about the reliability of their A4:
"I had a cracked differential at about 30k or so on my 2017 Allroad – obviously fixed under warranty, other than that rock solid."
"My B9 will be 5 years old in three months. It has been trouble-free. My 2009 wasn't, however."
"My 2017 bought in May 2016 has close to 76k miles now. It has been rock solid other than a slight leak of coolant at the water pump."
The Audi A4 has received the following reliability scores:
Repair Pal gives the A4 a respectable score of 3/5 which ranks it 14th out of 31 luxury midsize cars
JD Power gave the A4 an average reliability score of 74/100
The Kelley Blue Book gave the A4 a reliability score of 4.7/5.0
Reliability Compared to Other Luxury Cars
| | |
| --- | --- |
| Model | Reliability |
| Acura TLX | 4.5 / 5.0 |
| Acura TSX | 4.5 / 5.0 |
| Lexus ES300h | 4.5 / 5.0 |
| Lexus ES350 | 4.0 / 5.0 |
| Infiniti G25 | 4.0 / 5.0 |
| Acura TL | 4.0 / 5.0 |
| Lexus IS250 | 4.0 / 5.0 |
| Infiniti G37 | 4.0 / 5.0 |
| Lexus IS350 | 4.0 / 5.0 |
| Infiniti Q50 | 4.0 / 5.0 |
| Volvo S60 | 3.5 / 5.0 |
| Mercedes-Benz C350 | 3.5 / 5.0 |
| Mercedes-Benz C300 | 3.5 / 5.0 |
| Audi A4 | 3.5 / 5.0 |
| Mercedes-Benz C250 | 3.5 / 5.0 |
| Hyundai Genesis Coupe | 3.5 / 5.0 |
| Cadillac CTS | 3.5 / 5.0 |
| Cadillac STS | 3.0 / 5.0 |
| BMW 328i | 3.0 / 5.0 |
| Lincoln MKZ | 3.0 / 5.0 |
| Audi A4 Quattro | 3.0 / 5.0 |
| Jaguar XF | 3.0 / 5.0 |
| Audi A5 Quattro | 3.0 / 5.0 |
| BMW 328i xDrive | 2.5 / 5.0 |
| Porsche 911 | 2.0 / 5.0 |
| BMW 335i xDrive | 2.0 / 5.0 |
| Audi S4 | 2.0 / 5.0 |
| BMW 335i | 2.0 / 5.0 |
| BMW M3 | 2.0 / 5.0 |
| Audi S5 | 2.0 / 5.0 |
| BMW 335d | 1.5 / 5.0 |
| Avg. Lux. Midsize Car | 3.5 |
The Best and Worst Years for the Audi A4
Worst Model Year
The worst model years for the Audi A4 are 2004 – 2008 and 2013.
Like any car model that's been around a while, the A4 has had some years that were notoriously problematic.
According to data from Car Problem Zoo, A4 models from 2004 – 2008 were known to have the following issues:
Headlights dropping out and going on and off intermittently
Takata airbag recalls
Carbon build-up on the intake valves
2013 was another bad year for the Audi A4 with many owners complaining of power steering failure, one minute they'd be driving along fine and then the steering wheel would randomly lock while the car was in motion – making it hard or impossible to steer.
As you can imagine this is extremely dangerous and left a number of drivers quite shaken.
Best Model Year
The best Audi A4 models are from 2018 onwards, these have received the highest scores for reliability, have received the fewest overall complaints and they benefit from the latest technology and features.
At the end of the day, cars are machines, not fine wines, so it shouldn't come as too much of a surprise that the latest A4 models are the best.
Audi has ironed out many of the A4's flaws.
The newer models also have a more updated design and there is also the availability of the Black Optic Plus package on all-wheel-drive Premium Plus and Prestige models.
Newer models will also have the latest MMI infotainment system which is continually updated and some trims even have a Bang and Olufsen sound system.
The latest 2023 models come standard with LED headlamps.
Model Year and Number of Complaints
Here is the total number of complaints and problems for every Audi A4 model year from the CarComplaints and Car Problem Zoo databases:
Model Year
Car Complaints
No. of Complaints
Car Problem Zoo
No. of Problems
2021
0
6
2020
1
1
2019
0
5
2018
0
27
2017
15
94
2016
3
33
2015
1
43
2014
12
77
2013
19
119
2012
12
54
2011
26
57
2010
19
72
2009
35
165
2008
20
215
2007
13
232
2006
18
341
2005
6
248
2004
16
200
2003
11
223
2002
10
186
2001
2
130
2000
5
96
1999
4
193
1998
0
260
1997
3
100
1996
4
89
What About Recalls for These Models?
The Audi A4 has had a total of 73 recall campaigns since 1996.
You can check if your Audi A4 has been subjected to a recall campaign by entering your VIN (Vehicle Identification Number) on Audi's recall site or the NHTSA recall database.
It is important to note that recalls are manufacturing faults repaired at no charge for the consumer.
Here is the total number of recall campaigns for every model year of the Audi A4:
2022 Audi A4: 2
2021 Audi A4: 3
2020 Audi A4: 3
2019 Audi A4: 1
2018 Audi A4: 4
2017 Audi A4: 6
2016 Audi A4: 3
2015 Audi A4: 4
2014 Audi A4: 4
2013 Audi A4: 4
2012 Audi A4: 0
2011 Audi A4: 0
2010 Audi A4: 0
2009 Audi A4: 5
2008 Audi A4: 5
2007 Audi A4: 4
2006 Audi A4: 4
2005 Audi A4: 3
2004 Audi A4: 1
2003 Audi A4: 0
2002 Audi A4: 1
2001 Audi A4: 1
2000 Audi A4: 2
1999 Audi A4: 1
1998 Audi A4: 1
1997 Audi A4: 0
1996 Audi A4: 19
Audi A4 Model Year List
First Generation (1994-1999)
1994 Audi A4
1995 Audi A4
1996 Audi A4
1997 Audi A4
1998 Audi A4
1999 Audi A4
Second Generation (2000-2004)
2000 Audi A4
2001 Audi A4
2002 Audi A4
2003 Audi A4
2004 Audi A4
Third Generation (2005-2008)
2005 Audi A4
2006 Audi A4
2007 Audi A4
2008 Audi A4
Fourth Generation (2009-2016)
2009 Audi A4
2010 Audi A4
2011 Audi A4
2012 Audi A4
2013 Audi A4
2014 Audi A4
2015 Audi A4
2016 Audi A4
Fifth Generation (2017-2022)
2017 Audi A4
2018 Audi A4
2019 Audi A4
2020 Audi A4
2021 Audi A4
2022 Audi A4
Sixth Generation (2023-Present)
2023 Audi A4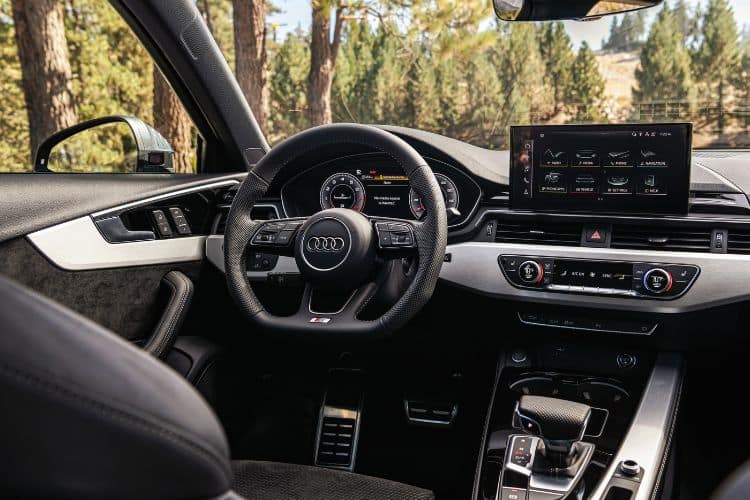 Are Audi A4 Expensive to Maintain?
According to Repair Pal an Audi A4 will cost an average of $739 per year in repairs and maintenance. This is equal to the average of $739 for luxury midsize cars and greater than the average for all vehicles across different segments, which is estimated at $652.
As a luxury German brand, you can expect an Audi to be more expensive to maintain than the average car, although maintenance costs will be on a similar level to Mercedes and BMWs.
Model
Avg. Annual
Repair Cost
Frequency of
Unscheduled
Repairs (per year)
Probability of
Severe Repairs
Acura TLX
$440
0.2
6%
Acura TSX
$415
0.4
6%
Lexus ES300h
$524
0.4
4%
Lexus ES350
$468
0.6
6%
Infiniti G25
$533
0.5
7%
Acura TL
$467
0.4
9%
Lexus IS250
$487
0.6
8%
Infiniti G37
$540
0.5
8%
Lexus IS350
$543
0.7
9%
Infiniti Q50
$648
0.6
8%
Volvo S60
$750
0.5
8%
Mercedes-Benz C350
$724
0.5
10%
Mercedes-Benz C300
$739
0.7
9%
Audi A4
$739
0.4
13%
Mercedes-Benz C250
$770
0.8
9%
Hyundai Genesis Coupe
$621
0.4
17%
Cadillac CTS
$663
0.4
16%
Cadillac STS
$669
0.4
17%
BMW 328i
$773
1.0
12%
Lincoln MKZ
$831
0.6
15%
Audi A4 Quattro
$925
0.7
14%
Jaguar XF
$1,066
0.7
12%
Audi A5 Quattro
$887
1.2
12%
BMW 328i xDrive
$900
1.2
12%
Porsche 911
$1,072
0.5
22%
BMW 335i xDrive
$1,079
1.2
16%
Audi S4
$1,171
0.9
17%
BMW 335i
$1,030
1.2
18%
BMW M3
$1,161
0.8
21%
Audi S5
$1,164
1.2
17%
BMW 335d
$1,113
1.4
24%
Avg. Lux. Midsize Car
$739
0.6
12%
How Long Do the Brakes Last?
Audi A4 brake pads will typically last between 30,000 and 60,000 miles. This can vary and really depends on how you drive, if you live in a city or rural location and how bad the traffic conditions are.
You can expect your brakes to wear out sooner if you frequently stop and accelerate in rush-hour traffic
Full and complete stops from a high speed are the #1 cause of premature brake pad wear.
A sporty driving style will lead to faster deterioration of brakes. A slow and steady style will help them last longer.
How Long Do the Tires Last?
The Audi A4's stock tires usually last between 40,000 to 50,000 miles or roughly 3 years. This really depends on factors, such as driving habits, climate, and road conditions.
Rotate tires every 5,000 miles to ensure even wear.
Check your tire pressure every few weeks to make sure they're at the correct tire pressure.
Have a mechanic or tire shop check your wheel alignment every 6 months.
How Long Do Audi A4 Engines Last?
A well-maintained Audi A4 engine should last at least 200,000 miles, although they can last much longer.
The A4 is powered by a 2.0-liter turbo-four engine which sends output through a seven-speed dual-clutch transmission to Audi's Quattro AWD system.
How Long Do Audi A4 Batteries Last?
The Audi A4 12V battery should last between 3 – 5 years. A vehicle's battery life varies depending on many factors such as climate, driving habits, and battery type, among many others.
Keep your battery tightly fastened: The vibrations of your car can loosen the connections, potentially resulting in short circuits and internal damage.
Limit short rides: Quick car rides prevent the battery from fully charging.
Storage: Keep your Audi A4 stored indoors to protect it from extreme temperature changes.
Control Corrosion: Clean the terminals (toothbrush dipped in baking soda and water mixture) and keep them free from build-up.
How Long Do the Spark Plugs Last?
Audi A4 spark plugs should typically last 100,000 miles, although these will be inspected when you take your car for a tune-up, and if needed replaced.
Signs of a fouled spark plug include:
Reduced gas mileage
Lack of acceleration
Rough idling
Hard starts
Engine misfires
What About Insurance Costs?
The average cost of full comprehensive coverage for a Audi A4 is $1,766 per year or around $147 per month.
Insurance costs can vary from person to person; be sure to shop around to find the best potential deal for your Audi A4.
Tips to Prolong the Life of Your Audi A4
Try to drive conservatively, this will help reduce wear and tear on major parts and components
Wash your A4 regularly, including the underside of the car – this will help keep rust at bay.
Wax your car a couple of times a year minimum, this will help protect the paintwork.
If you encounter any problems, have them addressed asap before they get any worse.
Check for recalls and TSBs and have them addressed.
Keep your A4 stored in a garage to protect it from the elements and bird droppings
Familiarize yourself with the owners manual and the warning symbols on the dash
Keep up to date with the routine maintenance outlined in the owners manual
Sources
https://repairpal.com/reliability/audi/a4
https://www.jdpower.com/cars/2021/audi/a4
https://www.consumerreports.org/cars/audi/a4/
https://www.carcomplaints.com/Audi/A4/
https://www.carproblemzoo.com/audi/a4/
https://www.cars.com/research/audi-a4/recalls/
https://repairpal.com/estimator/audi/a4/brake-pad-replacement-cost