The Audi Q5 is a compact luxury SUV that debuted for the 2009 model year.
It boasts stylish bodywork, a tech-rich cabin and is available in a wide range of configurations.
However, the Q5 isn't flawless – in this article we'll take a closer look at its most common problems.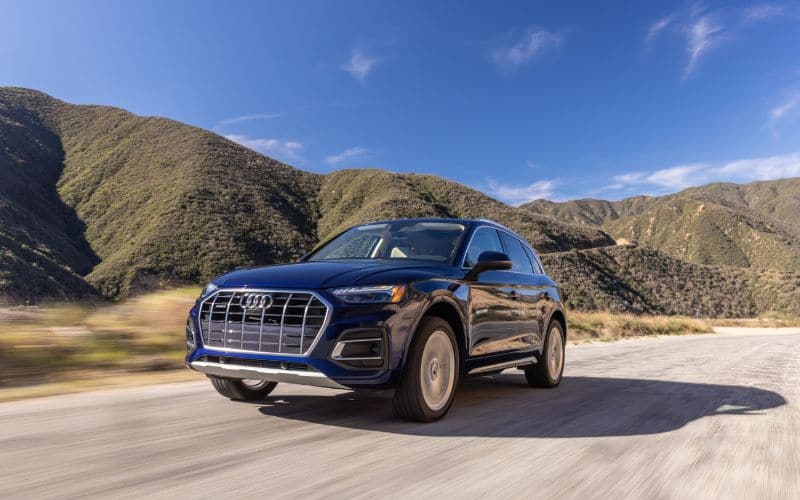 1. Airbag Problems
According to Car Problem Zoo, a site that gathers owner feedback, the most commonly reported problem with the Audi Q5 is due to its airbags.
Throughout the years, the Q5 has had a number of complaints regarding its airbags, many of these have been covered by the infamous Takata recall.
A recall is issued when the manufacturer or NHTSA determines that a vehicle fails to meet certain safety standards.
In 2018, Audi recalled a large number of Q5's from the model years 2009 – 2012 due to a driver's side frontal air bag that may explode on deployment due to excessive internal pressure.
This was part of the widespread Takata airbag recall that affected tens of millions of vehicles, these airbags were known to cause serious injury or even death.
To make matters worse, some owners were left waiting an unreasonable amount of time for the dealerships to fix the problem due to a shortage of parts.
Solution
Whether you're in the market for a Q5 or you're the owner of one – always run the car's VIN using Audi's recall lookup tool on their website or on the NHTSA website to see if the vehicle has been recalled.
There has been more than one airbag recall for the Q5 so it's a good idea to check and see if you have been affected.
Due to the technical nature of this problem you should leave this to the dealership to fix – and they should do it free of charge.
Tampering with your Q5's airbags will also void the warranty.
2. Leaking Sunroof
One of the most common problems associated with the Q5 is a leaking sunroof, this problem plagued the 2011 – 2017 Q5 models. Although this problem may sound like a minor inconvenience it actually had a serious impact on safety as it caused damage to the airbag system.
The problem itself was with a badly designed sunroof drainage system that allowed water to soak into the foam surrounding the side airbag inflator canister resulting in corrosion of the canister.
The corrosion would then weaken the integrity of the canister and in the event that the side airbag is deployed, the inflator can fracture and fire fragments into the cabin.
Here's what one owner had to say:
"Front left door pillar is becoming soaked from an apparent water leak possibly coming from the panoramic sunroof or windshield. Regardless it has to be running into the pillar airbag and has to be a safety concern."
Some owners have also reported that their sunroof motor was affected and was no longer functioning due to water damage.
Solution
This problem was so widespread that Audi was forced to recall a large number of 2011 – 2017 Q5s. To see if you have been affected, run a VIN check on Audis website on their recall page or on the NHTSA website.
Owners have been advised that passengers should not use the second-row seating until this recall repair has been performed.
As this is a recall, you should leave it to the dealership to fix, they will need to inspect and possibly replace the airbag canister.
This problem has been linked to a defective drain hose connected to the sunroof, this will need to be fixed also.
3. Excessive Oil Consumption
A common complaint from Audi Q5 owners is that their vehicle is burning oil. This was a common problem across a number of 2010 – 2017 Audi models with 2.0L turbo engines and is caused by a piston defect, there was a lawsuit against Audi for this problem.
You can find many threads on this topic on forums such as AudiWorld.com, MyAudiQ5.com and Audizine.com as this issue was so widespread.
Here is what Q5 owners are saying:
"Oil consumption is getting worse and worse. Currently, I am adding a quart of oil every 3 days in between regular oil changes. This is a real issue. I just spent $5,000 on a tune-up at a foreign car body shop but they could not repair the oil issue. This is now a known issue with Audis."
"All of a sudden around 75,000 miles oil consumption is extreme. We have to add 1 quart of oil every 3 weeks or ~700 miles. Dealer is asking for an oil consumption test which costs $500 to determine the issue. There was a lawsuit for the same issue against Audi, 126,000 were affected."
Excessive oil consumption occurs because the combustion chamber is not properly sealed off from the Q5's turbo engine parts that need to stay lubricated.
Because of insufficient lubrication, fragments of the piston rings flow through the engines causing damage.
This can also lead to a sudden loss of engine power.
This problem was most prevalent on 2014 and 2015 Q5s, however models from 2010 – 2017 were affected too
Solution
If your Q5 is getting through oil at an alarming rate then you may need to replace the pistons rings and possibly even the pistons themselves and the connecting rod bearings.
Piston rings create a seal between the piston and cylinder wall, this prevents pressurized combustion gases from entering the oil sump. They also help regulate oil consumption by preventing excessive oil from going into the combustion chamber and burning.
You should take your Audi to your local dealer and they will perform a 2 part oil consumption test.
Keep in mind some Audis do burn a lot of oil, which is normal, although if it is excessive the oil consumption test will show this.
4. Timing Chain Failure
Timing chain failure was a common problem for Q5 models from 2009 – 2013 and the issue was widespread across numerous Volkswagen and Audi models.
The timing chain is located in the engine – it synchronizes the rotation of the crankshaft and camshaft and is made of metal links like a chain. This enables it to grab on to the different gears and wheels.
The biggest problem with timing chain failure is that when it slips it can critically damage the engine beyond repair, often leaving owners with huge repair bills of around $7,000.
The problems typically occurs at the 60,000 – 70,000 mile mark, common symptoms include:
Rattling sound on starting the engine or idling
Check engine light ON
Misfiring engine
Solution
Timing chain failure often results in owners needing a new engine, although you may be able to repair or replace the timing chain if you catch the problem early.
The Audi / VW timing chain saga eventually went to the courts and in June 2018 a settlement was agreed covering a number of vehicles.
As part of the settlement, 2011-2012 Q5 vehicles were given an extended "new vehicle limited warranty" to cover future repairs or replacements of the timing chains and tensioners.
If you've already repaired or replaced the timing chain system or the engine, you may be eligible for reimbursement.
Related: 9 Best & Worst Audi Q5 Years (With Facts & Stats)
5. Leaking Fuel
A common problem faced by owners of the Audi Q5 is fuel leakage. This affected certain model year 2013 – 2017 Q5s and the problem was caused by a fuel pump flange that was prone to cracking, allowing fuel to leak.
A fuel pump flange is a protective collar or rim that is used to keep the fuel pump in its place, especially when driving over bumpy terrains. The flange stops fuel from leaking out by sealing off fuel pump connections.
In 2017, Audi issued a recall.
Solution
If you have been affected by this recall, then Audi should have notified you or your dealer and you should have it fixed free of charge.
If there are cracks present, the fuel pump flange will need replacing.
If there are no cracks, the flanges will have a protective film applied.
6. Power Steering Failure
During our research we came across a number of Q5 owners who have experienced power steering failure, the complaints are mostly for Q5 models from 2015 – 2021.
The problem is often accompanied by a warning message on the digital display, reading: "Steering: Malfunction! Please stop the vehicle".
Some owners have experienced the power steering failure whilst driving at high speeds and it seems to happen when the weather is very cold.
Here is one owners account:
"I drove my car early in the morning to go to church. When I came back to the car to go home, there was a very loud alarm and a warning 'steering defective – unsafe to drive'. I turned the car off and tried to restart it and the same loud alarm and warning occurred. I waited 5 minutes and tried again and got the same result. I got the car towed to my nearby Audi dealer. I did some research and saw that this steering issue is a real problem with Audi Q5."
There seems to be a lot of controversy surrounding this issue and Audi is aware of it.
Solution
This problem has been attributed to a faulty steering rack with replacements costing around $2500. However in some instances, the problem has been resolved by a software update.
If the car is under warranty then Audi should sort this out for you and give you a loaner car whilst it's being fixed.
Related: How Long Do Audi Q5 Last? (11 Important Facts)
Audi Q5 Model Years With the Most Problems
To get a better idea of which Audi Q5 has the most problems the fairest way is to compare models based on the number of vehicles sold in relation to the number of reported problems.
We're using Car Complaints PPMY index which means problems reported per thousand vehicles per Year.
For example, newer cars will have fewer complaints simply because they've been around for less time.
Based on this index, the most problematic years are:
2021 – 0.76 PPMY
2011 – 0.72 PPMY
2012 – 0.51 PPMY
And the least problematic years are:
2020 – 0.14 PPMY
2016 – 0.16 PPMY
2019 – 0.17 PPMY
| | | | | |
| --- | --- | --- | --- | --- |
| Audi Q5Model Year | Problems | Sales | VehicleAge | PPMY Index |
| 2022 | 10 | – | – | – |
| 2021 | 43 | 56,890 | 1 | 0.76 |
| 2020 | 12 | 41,870 | 2 | 0.14 |
| 2019 | 29 | 58,142 | 3 | 0.17 |
| 2018 | 92 | 114,162 | 4 | 0.20 |
| 2017 | 33 | 34,524 | 5 | 0.19 |
| 2016 | 50 | 53,362 | 6 | 0.16 |
| 2015 | 63 | 42,675 | 7 | 0.21 |
| 2014 | 89 | 34,887 | 8 | 0.32 |
| 2013 | 87 | 27,624 | 9 | 0.35 |
| 2012 | 176 | 33,618 | 10 | 0.51 |
| 2011 | 185 | 23,434 | 11 | 0.72 |
| 2010 | 106 | 19,031 | 12 | 0.46 |
| 2009 | 30 | 6,512 | 13 | 0.35 |
Source: Car Problem Zoo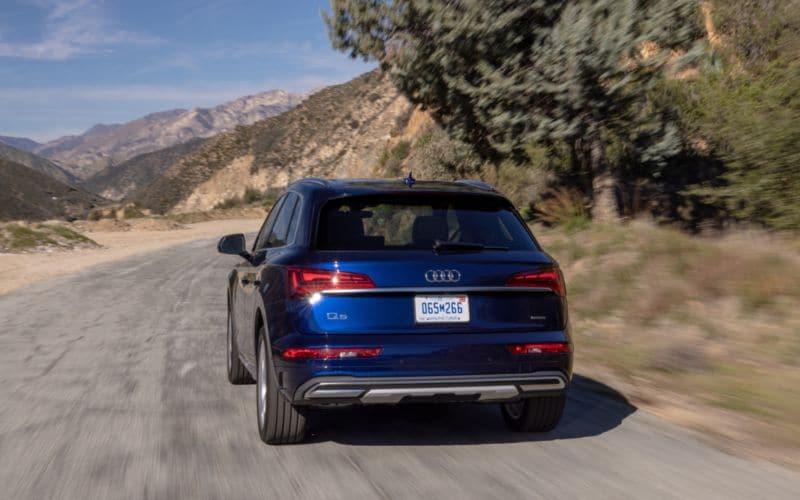 Audi Q5 Pros and Cons
If you're considering an Audi Q5 as your next car you might be wondering what its strengths and weaknesses are…
Pros
Slick styling
Lots of tech goodies
Plenty of configurations to pick from
Well rounded SUV
Cons
Not as spacious and cargo friendly as some competitors
Basic warranty
Not that much fun to drive
Audi Q5 Reliability Compared to Similar Cars
Consumer Reports rankings detailed below is based on the model's newest three years, the Audi Q5 sits near the top, with a relatively good score of 64/100.
| | |
| --- | --- |
| Make & Model | Consumer ReportsReliability Score |
| Buick Envision | 90 |
| Cadillac XT5 | 89 |
| Lexus NX | 78 |
| Audi Q5 | 64 |
| Mercedes-Benz GLC | 63 |
| Porsche Macan | 61 |
| Volvo XC60 | 61 |
| Infiniti QX50 | 49 |
| BMW X3 | 47 |
| Acura RDX | 43 |
| Mercedes-Benz GLB | 34 |
| Genesis GV70 | 30 |
| Jaguar F-Pace | 25 |
| Land Rover Discovery Sport | 25 |
| Land Rover Range Rover Evoque | 25 |
| Land Rover Range Rover Velar | 25 |
| Volkswagen ID4 | 21 |
| Lincoln Corsair | 20 |
| Alfa Romeo Stelvio | 18 |
| Tesla Model Y | 18 |
Source: Consumer Reports
Audi Q5 Used Value
We've taken a look on Car Gurus to gauge the resale value of a Audi Q5, below are typical asking prices for each model year.
According to Car Edge, a Audi Q5 will depreciate 39% after 5 years and have a 5 year resale value of $32,323.
Note: Used model prices will vary depending on trim level.
| | | |
| --- | --- | --- |
| Model Year | Mileage (miles) | Resale Price |
| 2022 | 5,894 | $50,984 |
| 2021 | 49,142 | $35,990 |
| 2020 | 58,156 | $36,888 |
| 2019 | 29,685 | $32,795 |
| 2018 | 49,737 | $35,988 |
| 2017 | 73,989 | $21,999 |
| 2016 | 104,428 | $19,990 |
| 2015 | 109,042 | $14,995 |
| 2014 | 100,770 | $15,995 |
| 2013 | 133,686 | $9,950 |
| 2012 | 92,524 | $11,995 |
| 2011 | 101,500 | $11,900 |
| 2010 | 96,403 | $12,495 |
Source: Car Gurus
What Do Owners Like and Dislike About the Audi Q5?
Based on owner feedback from the Kelley Blue Book site here are what real-life owners love and hate about the Audi Q5.
Likes
Interior
Styling
Fun to drive
Great response
Sporty
Design
Handling
Dislikes
Messy technology
Safety issues
Bad engine quality
Backseat space
Owners Reviews
"We got this new car about a month ago. So far, great suv. Very good handling, great interior/exterior. Good response. It's came with premium plus and black package"
Source: Kelley Blue Book
"I love love love this car. There really isn't one thing I don't like about my car. It is very comfortable, smooth driving, very quiet, handles my fast driving and it is beautiful (great sound system too)."
Source: Kelley Blue Book
"Great SUV with many bells and whistles. Smooth ride with nice looks. Lots of technology that for an older person like myself can be difficult to use. However, Audi supplies online many tutorials which are a huge help."
Source: Edmunds
How Reliable Are Audi Cars?
According to a recent report from Consumer Reports, Audi are ranked the 15th most reliable car manufacturer out of 28 brands, with a score of 47/100.
| | | |
| --- | --- | --- |
| Ranking | Brand | Score |
| 1 | Lexus | 76 |
| 2 | Mazda | 75 |
| 3 | Toyota | 71 |
| 4 | Infiniti | 69 |
| 5 | Buick | 66 |
| 6 | Honda | 66 |
| 7 | Subaru | 66 |
| 8 | Acura | 64 |
| 9 | Nissan | 63 |
| 10 | Mini | 60 |
| 11 | Hyundai | 56 |
| 12 | Chrysler | 54 |
| 13 | Porsche | 52 |
| 14 | Chevy | 48 |
| 15 | Audi | 47 |
| 16 | Cadillac | 47 |
| 17 | BMW | 45 |
| 18 | Ford | 44 |
| 19 | Kia | 43 |
| 20 | Volvo | 42 |
| 21 | Ram | 40 |
| 22 | GMC | 37 |
| 23 | Mercedes-Benz | 34 |
| 24 | Volkswagen | 31 |
| 25 | Genesis | 30 |
| 26 | Jeep | 26 |
| 27 | Tesla | 25 |
| 28 | Lincoln | 18 |
Source: Consumer Reports
Sources
https://www.consumerreports.org/cars/audi/q5/
https://www.carcomplaints.com/Audi/Q5/
https://www.carproblemzoo.com/audi/q5/
https://www.edmunds.com/audi/q5/
https://caredge.com/audi/q5/depreciation
https://www.cargurus.com/Cars/t-Used-Audi-Q5-2.0T-quattro-Premium-Plus-AWD-t37352