Making its debut in 2008, the Q5 is Audi's entry into the highly competitive luxury compact SUV segment.

It's the best-selling vehicle of the premium German brand, offering an upscale look, a host of high-end features and a trio of engine options.

If you're looking to purchase a Q5, you might be wondering about its average lifespan, reliability, and quality.

We'll cover all that and more in this article…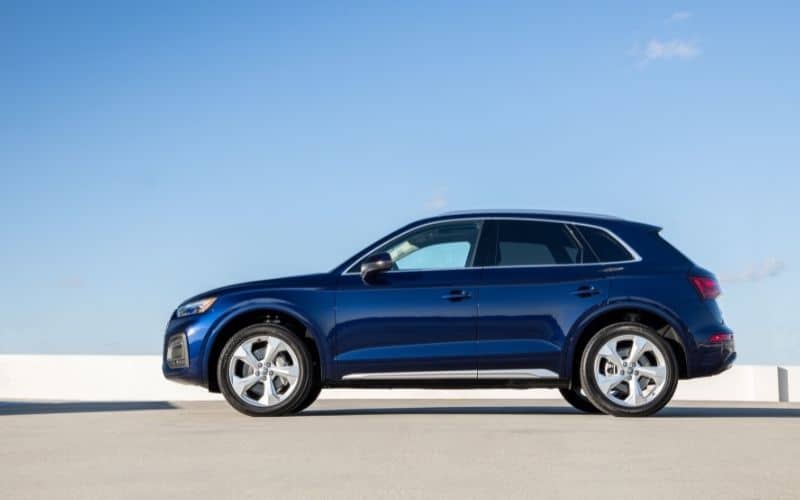 Here is the short answer to how long Audi Q5 last:
The Audi Q5 can last between 150,000 – 200,000 miles on average when properly maintained and driven conservatively. Based on an annual mileage of 15,000 miles per year, the Q5 will offer 10 to 13 years of service before breaking down or requiring uneconomical repairs.
How Many Miles Can You Expect from an Audi Q5?
The Q5 is a reasonably durable luxury SUV, and as most owners will tell you – if you look after your Audi, it'll look after you.
Across owner forums, you'll find a mixed bag of opinions, some say this car isn't built to last but the truth is once you dig a little deeper you'll uncover plenty of reports of satisfied owners who have breezed past the 100k mark with relatively few issues.
Q5's with 150k – 200k miles on the odometer however, do have a much higher chance of big-ticket items failing such as the engine or transmission.
When this happens, the cost of repairs may outweigh the cost of the vehicle.
Of course, there are Q5s that will surpass these projections and you'll find plenty of high mileage examples some with over 250,000 miles, although these are generally the outliers.
Quality of design and materials will only get you so far and each model will need to be properly cared for in order to hit the high numbers.
The life expectancy of your Q5 will be cut short if you avoid:
Service appointments
Routine oil changes
Tire rotations
Using quality parts
Driving smoothly
As a general rule, the newer Q5 models are expected to last longer due to an increase in reliability in recent years.
Do Audi Q5s Rust Easily?
Audi Q5s do not rust easily and are generally considered to be very rust resilient. During the manufacturing process the Q5 is subject to rustproofing including an electrocoating of all sheet metals and underbody parts – E-coats are known for their superior corrosion resistance.
Audi offers a 12-year limited warranty against corrosion perforation with all Q5 models – this will not include surface rust, although you should always speak to your dealer if you have any issues – rust caused by a defect in parts or manufacturing should be covered.
In our research, we found only a handful of rust complaints from owners over the two generations of this model.
Rust on a new Q5 is uncommon and the few complaints we did uncover were generally on vehicles that were over 7 years old.
Some owners reported rust in the following places:
Around the door handles
On the brake rotors
Rust can be much more of an issue depending on your location, especially in regions where salt is used on the roads during the winter and coastal areas due to salt air. However, additional rustproofing isn't generally recommended on a new Audi unless you plan on keeping it well past its warranty.
Tips to keep your Q5 rust-free:
Regularly wash and dry your car: This includes its underside (especially during the winter) to remove the salt, dirt and grime that causes rust.
Repair paint damage and scratches: Exposed metal will oxidize. If it's beyond a DIY fix speak to your local body repair shop.
Garage: Store your Q5 in a garage to protect it from harsh weather and bird droppings.
Waxing: Wax your car twice a year. Not only will this make your Q5 look amazing, it also gives a protective coating against rust.
We recommend having a Detail Shop wash everything underneath at the end of each winter.
Related: 6 Most Common Problems With Audi Q5 (Explained)
What is High Mileage for an Audi Q5?
An Audi Q5 with over 85,000 miles is considered high mileage, these vehicles can last longer however they will be more prone to repairs, niggles and issues once they have hit higher numbers and are at a greater risk of transmission failure. Important factors include the overall condition of the car and its maintenance history.
Buying one with over 85k miles won't necessarily equate to a bad investment.
A well-maintained Q5 with 85,000 miles might be a better purchase than one with 50,000 miles that had lots of owners and led a rough life or was a prior rental car.
It's important to always do a thorough investigation of the vehicle.
When buying a second-hand Q5, consider the following:
Maintenance history. Check that the car was properly serviced and the owner can provide evidence of this.
Get a second opinion: Take it to an independent auto diagnostic clinic or have it inspected by a mechanic.
Check the CarFax. This doesn't guarantee anything but it will help provide a clearer picture of wear-and-tear. Ensure it has minimal damage if any. Review the information to make sure if something happened, it wasn't engine related or mechanical.
Number of previous owners. As a general rule, less is better. More owners usually mean more wear and tear. If one family owned it and drove the full mileage and serviced the car, then you can almost guarantee they took good care of it throughout their ownership.
How long you are planning on keeping the car. If you're planning on keeping the car for a long time, you should evaluate whether the short-term savings outweigh spending a bit extra into something more reliable.
If the car has averaged a lot more or a lot less than 10,000-15,000 miles per year, you might want to further investigate why e.g. a 4-Year-old car with 100,000 miles.
How Long Do Audi Q5 Last Compared to Similar Car Models?
In this section we'll compare the Q5 to other SUVs.
Audi Q5 vs. BMW X3
Launched in 2003, the X3 is regarded as the first luxury compact crossover and is currently one of the most popular choices in its segment thanks to its comfort and range of high-tech features.

The BMW X3 can last between 150,000 to 200,000 miles or 10 – 13 years, which is on par with the Audi Q5.

According to RepairPal's website:
The BMW X3 scores a below average reliability rating of 2.5/5 placing it 10th out of 11 luxury compact SUVs.
The Audi Q5 scores a below average reliability rating of 3.0/5, which places it 11th out of 14 luxury midsize SUVs.
The X3 has an annual average repair and maintenance cost of $1,034 vs. $928 for the Q5.
Those looking for a roomier SUV should opt for the Q5 which has slightly more interior space and is generally regarded as the more reliable of the two.
You may also be interested in our article: How Long Do BMW X3 Last?
Audi Q5 vs. Volvo XC60
The XC60 is a comfortable SUV that offers industry-leading safety, innovative technology and plenty of space.

The XC60 can last between 200,000 to 250,000 miles or 13 – 16 years, slightly higher than the Q5's expected lifespan of 150,000 – 200,000 miles or 10 – 13 years.

According to RepairPal's website:
The XC60 scores an above average reliability rating of 4.0/5.0 placing it 4th out of 11 luxury compact SUVs.
The Audi Q5 scores a below average reliability rating of 3.0/5.0, which places it 11th out of 14 luxury midsize SUVs.
The XC60 has an annual average repair and maintenance cost of $746 vs. $928 for the Q5.
The Q5, however, outsells the Volvo XC60 in the United States, with buyers opting for the brand appeal of Audi over that of the Swedish car brand Volvo. In terms of reliability, the XC60 outperforms the Q5.
You may also be interested in our article: How Long Do Volvo XC60 Last?
Audi Q5 vs. INFINITI QX50
Powered by a a turbocharged four-cylinder engine the QX50 is a stylish SUV from Nissan's luxury brand Infiniti.

The QX50 can last between 250,000 to 300,000 miles or 16 – 20 years, which is considerably more than that of the Q5's 150,000 – 200,000 miles or 10 – 13 years.

According to the CarEdge and RepairPal websites:
The QX50 has an above average reliability rating when compared to SUVs in its class, with an average score 7.4% higher than its rivals.
The Q5 has an above average reliability rating of 3.3% over its segment rivals.
The QX50 has an annual average repair and maintenance cost of $608 vs. $928 for the Q5.
There is no RepairPal Reliability Rating for the Infiniti QX50 due to insufficient data.
While the QX50 has greater longevity, reliability, and lower ownership costs, the Q5 outsells the INFINITI QX50 in the United States.
You may also be interested in our article: How Long Do Infiniti QX50 Last?
Comparison Chart
| | | | | |
| --- | --- | --- | --- | --- |
| | Q5 | X3 | XC60 | QX50 |
| Annual Repair Cost | $928 | $1034 | $746 | $608 |
| Reliability Rating | 3/5 | 2.5/5 | 4/5 | – |
| Ranking | 11th | 10th | 4th | – |
| Lifespan (miles) | 150k-200k | 150k-200k | 200k-250k | 250k-300k |
Is the Audi Q5 Reliable?
Earlier Q5 models were known to be less dependable however in recent years it has received solid reliability scores from consumers and auto review sites.
The Kelley Blue Book consumer rating index gives the Q5 a reliability rating of 4.6 out of 5.
RepairPal scored the Q5 a reliability rating of 3.0 out of 5.
JD Power rated the Q5 with a consumer reliability rating of 65 out of 100.
Consumer reports shows an upward trend in its overall reliability verdict.
| | |
| --- | --- |
| Q5 Model Year | Consumer Reports Reliability |
| 2021 | 3/5 |
| 2020 | 2/5 |
| 2019 | 4/5 |
| 2018 | 3/5 |
| 2017 | 4/5 |
| 2016 | 4/5 |
| 2015 | 3/5 |
| 2014 | 3/5 |
| 2013 | 1/5 |
| 2012 | 1/5 |
How Reliable is the Audi Q5 Compared to Other Luxury SUVs
In this section we compare the Audi Q5 to the other luxury SUVs, this is based on data collected from Repair Pal.
As you can see, the Q5 sits in the middle of the pack.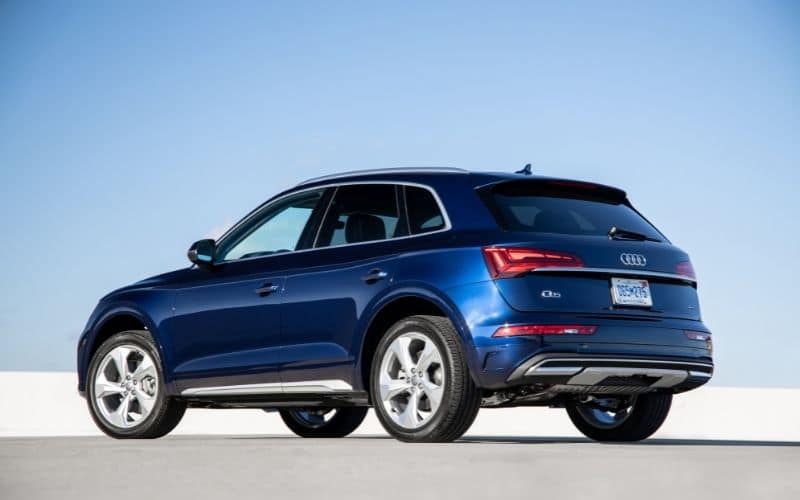 The Best and Worst Years for Audi Q5
As with any vehicle on our roads, the Q5 has had its good and bad years.
Worst Model Year
According to Car Complaints, the 2014 Q5 was the worst model year while the 2012 Q5 received the most overall complaints. The 2014 model was deemed worse due to possible factors such as higher repair costs or more problems at lower mileage.
Two of the Q5's most serious issues are also all for the 2014 model year, including 'died while driving / won't start' and power steering failure.
The most reported problem for 2012 Q5 was excessive oil consumption.
This occurred at an average mileage of 80,750 miles and carried a repair cost that averaged $940.
Best Model Year
The best model years for the Q5 are the most recent ones – in particular 2019 onwards.
We've noticed reliability scores pick up in recent years as well as a drop in overall complaints which shows Audi is fine-tuning their approach to the Q5 and are getting it right.
Our choice would be the 2021 model thanks to its bolder styling, increase in base-engine power and included tech features.
The 2021 Q5 has also received the Top Safety Pick+ award by the IIHS – vehicles that perform best in their evaluations qualify for this award.
Related: 9 Best & Worst Audi Q5 Years (With Facts & Stats)
Model Year and Number of Complaints
Here are the number of complaints for each Q5 model year from the Car Complaints database.
| | |
| --- | --- |
| Model Year | No. of Complaints |
| 2021 | 0 (Best year) |
| 2020 | 0 |
| 2019 | 0 |
| 2018 | 8 |
| 2017 | 0 |
| 2016 | 3 |
| 2015 | 7 |
| 2014 | 14 |
| 2013 | 19 |
| 2012 | 33 (Worst year) |
| 2011 | 13 |
| 2010 | 5 |
| 2009 | 4 |
What About Recalls for These Models?
The Q5 has 40 recalls across all model years.
You can check if your Q5 has been subject to a recall campaign by entering your Vehicle Identification Number into the Audi Recall / Service Campaign Lookup tool on their website.

It is important to note that recalls are manufacturing faults repaired at no charge to the consumer.

Here are the total number of recall campaigns per year for the Audi Q5:
2021: 3
2020: 2
2019: 4
2018: 3
2017: 7
2016: 1
2015: 1
2014: 1
2013: 2
2012: 3
2011: 3
2010: 2
2009: 2
2008: 3
2007: 3
Audi Q5 Model Year List
First Generation:
2007 Audi Q5
2008 Audi Q5
2009 Audi Q5
2010 Audi Q5
2011 Audi Q5
2012 Audi Q5
2013 Audi Q5
2014 Audi Q5
2015 Audi Q5
2016 Audi Q5
2017 Audi Q5
Second Generation:
2017 Audi Q5
2018 Audi Q5
2019 Audi Q5
2020 Audi Q5
2021 Audi Q5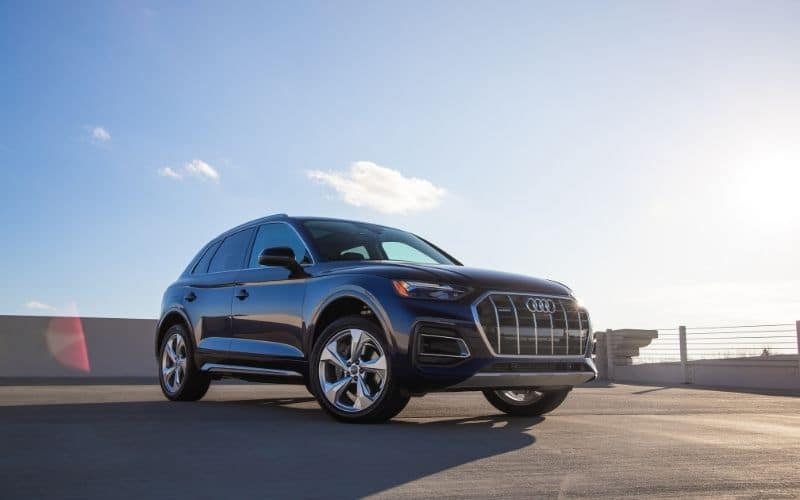 Are Audi Q5 Expensive to Maintain?
According to RepairPal, the Q5 has an annual maintenance and repair cost of $928, while the average annual cost for luxury midsize SUVs is $807. The average total annual cost for repairs across all car model years is $652.
Below is a full comparison of other luxury SUVs you might be interested in.
Model
Average Annual
Repair Cost
Frequency of
Unscheduled Repairs
Probability of
Severe Repairs
Lexus RX 450h
$540
0.5
7%
Acura MDX
$571
0.4
8%
Lexus RX 350
$550
0.4
8%
Infiniti FX35
$617
0.7
9%
Cadillac SRX
$703
0.4
15%
Lexus GX 640
$770
0.8
9%
Volvo XC70
804
0.6
10%
Lincoln MKX
$811
0.7
15%
Volvo XC90
$851
0.6
15%
Audi Q5
$928
1.2
9%
Mercedes-Benz ML350
$1,020
0.6
13%
Mercedes-Benz ML550
$1,084
0.8
16%
BMW X3
$1,034
0.8
14%
BMW X5
$1,166
0.8
17%
Land Rover LR4
$1,241
0.9
15%
Porsche Cayenne
$1,231
1.1
21%
Average score for
Midsize Luxury SUVs
$807
0.6
11%
How Long Do the Brakes Last?
The Q5's brakes last between 30,000 – 70,000 miles depending on driving habits.
You can expect your brakes to wear out sooner if you frequently stop and accelerate in rush-hour traffic
Brake pad replacement, which includes parts and labor, can cost anywhere between $150 – $300 per axle.
Full and complete stops from a high speed are the #1 cause of premature brake pad wear.
Front brakes will typically wear out faster
How Long Do the Tires Last?
Audi Q5 tires usually last 50,000 – 60,000 miles or 3 to 5 years, however they can wear out much sooner. This is dependent on various factors such as driving habits, climate and road conditions.
Rotate tires every 5,000 miles to ensure even wear.
Check your tire pressures every few weeks to make sure they're at the correct tire pressure.
Have a mechanic check your wheel alignment every 6 months
How Long Do Audi Q5 Engines Last?
The engine of the Audi Q5 will typically last 150,000 – 200,000 miles or 10 – 13 years. This can vary drastically depending on maintenance and the overall care of the vehicle.
If you take good care of your Audi there's no reason why these mileages can't be exceeded.
You may also be interested in our article: How Long Do Audi Q7 Last?
How Long Do Audi Q5 Batteries Last?
The Audi Q5 battery usually lasts between 3-5 years. A vehicle's battery life varies depending on factors such as climate, driving habits, the type of battery, and more.
Keep your battery tightly fastened: The vibrations of your car can loosen the connections, potentially resulting in short circuits and internal damage.
Limit short rides: Quick car rides prevent the battery from fully charging.
Storage: Keep your Q5 stored indoors away from extreme changes in temperature.
Control Corrosion: Clean the terminals (toothbrush dipped in baking soda and water mixture) and keep them free from build-up.
How Long Do the Spark Plugs Last?
According to Audi, Q5 spark plugs should be replaced every 3 years.

Spark plugs are usually inspected, and if needed, replaced when you go for routine maintenance.
Signs of a fouled spark plug include:
Reduced gas mileage
Lack of acceleration
Rough idling
Hard starts
Engine misfires
What About Insurance Cost?
A Q5's average cost for full comprehensive coverage is $1,678 per year, or $140 per month. In comparison, its segment competitors cost an average of $1,523 per year to insure.

Insurance costs can vary from person to person; be sure to shop around to find the best possible deal.
You may also be interested in our article: How Long Do Audi Q8 Last?
Tips to Prolong the Life of Your Audi Q5
Adopt smooth driving habbits.
Keep up to date with factory-recommended maintenance.
Use quality parts and fluids.
Keep on top of repairs to prevent them from developing into larger problems.
Regularly wash your Q5 to remove dirt and grime to protect the paint and undercarriage from rust developing.
Check your Q5's engine oil, coolant, brake, and transmission fluid levels and top them up when required.
Keep your Q5 in a garage to help protect it from the elements.
Read the owner's manual to learn the location of important components, what your Q5 needs and what quantity and to understand the symbols and dashboard warning lights.
Resources
https://www.autotrader.com/cars-for-sale/audi/q5
https://www.cargurus.com/Cars/l-Used-Audi-Q5-d1988
https://www.audiusa.com/us/web/en/models/q5/q5/2021/overview.html
https://www.cars.com/research/audi-q5/recalls/
https://www.carcomplaints.com/Audi/Q5/
https://www.iihs.org/ratings/vehicle/audi/q5-4-door-suv/2021
https://www.consumerreports.org/cars/audi/q5/
https://www.jdpower.com/cars/2021/audi/q5
https://repairpal.com/reliability/audi/q5
https://repairpal.com/reliability/bmw/x3
https://caredge.com/infiniti/qx50/maintenance
https://repairpal.com/reliability/volvo/xc60
https://caredge.com/audi/q5/maintenance
https://caredge.com/infiniti/qx50/maintenance